As one of southeast Asia's most famous destinations, and Thailand's biggest island, Phuket is full of amazing things to do. In fact there's so much to see that it can be a little overwhelming… so here's a list of the best places to visit in Phuket to help you decide what to do!
♦♦♦
1) Best places to visit in Phuket – Wat Chalong Temple:
If you're looking for a serene and peaceful environment, right in the heart of busy Phuket, the beautiful Wat Chalong Temple is the place to go! It's one of the most important historical landmarks in Thailand, and still plays an important role in the lives of many locals.
There are several different buildings to tour at Wat Chalong, but what makes it a Phuket must-see is the beautifully decorated grand pagoda, or 'Cedhi', which houses a splinter of a bone from Buddha.
Intricate golden wall and ceiling paintings can be found throughout the pogada, so when visiting myself I made sure to spend plenty of time exploring and taking in the magnificent artwork… In truth, the temple was probably the most beautiful place I visited during my whole time Thailand island hopping!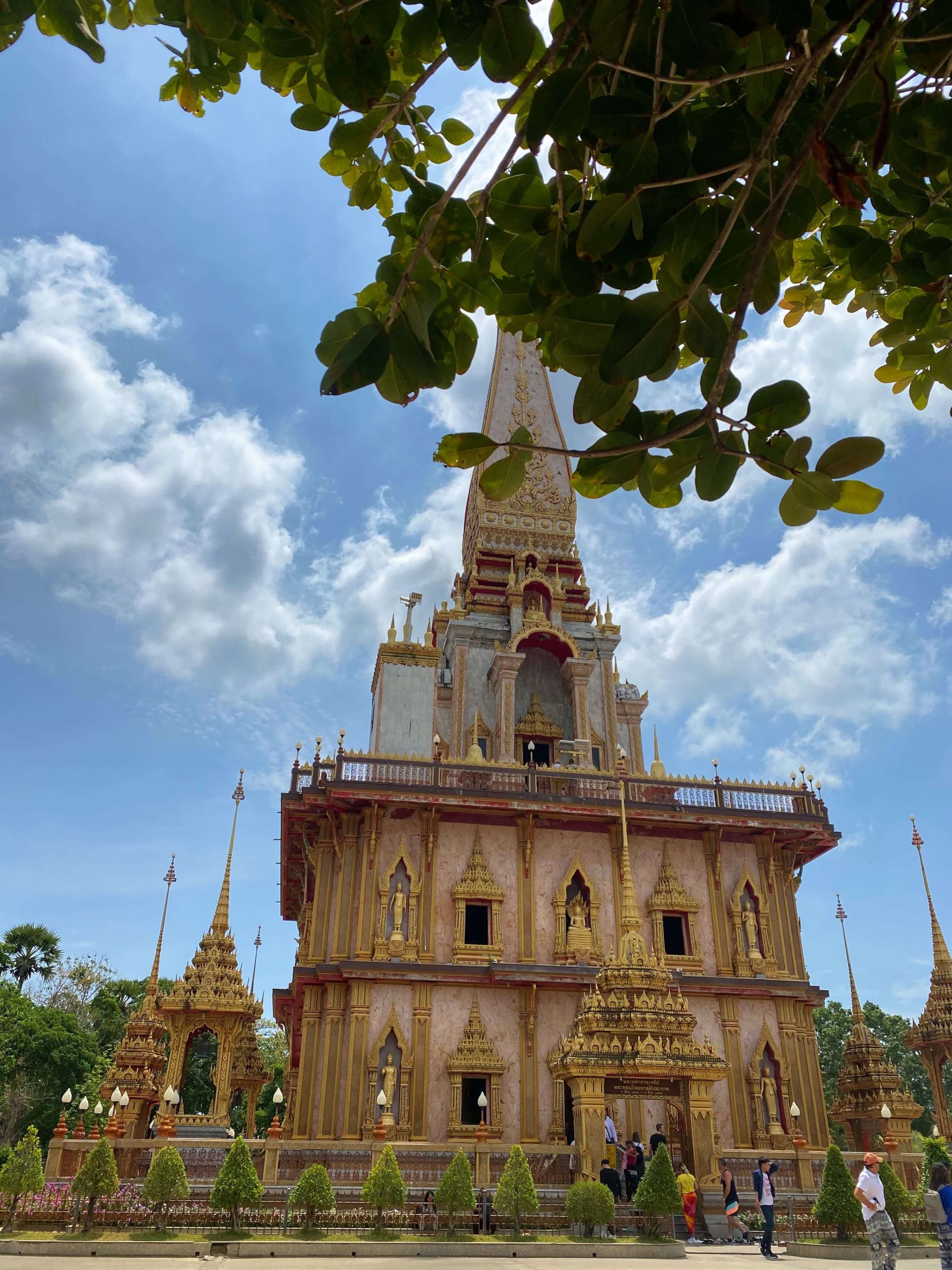 Don't forget to walk up to the top floor terrace of the Cedhi, to get an impressive birds-eye view over the entire temple grounds.
TOP TIP: as part of the Buddhist religion it's customary to remove your shoes before entering any temple buildings, so make sure to wear something that you can easily slip on and off when visiting! 
---
2) Phuket Old Town:
Close to Wat Chalong temple is another of the best places to visit in Phuket, the islands charming old town, which is simply picture perfect!
At the beginning of the 1800s, traders from across both Europe and Asia came to Phuket looking to make money from tin-mining. Thus, as the old town developed, its buildings also reflected this colourful blend of colonial and Asian culture… Quite literally thanks to the rainbow of colour which you can now see on many of the houses.
Today, the old town is quite compact, but there's plenty of independent shops, museums, and traditional restaurants to enjoy. Meaning you can easily spend a whole morning or afternoon wandering around its pretty streets.
---
3) Phuket Sightseeing – Karon Viewpoint:
Phuket actually gets its name from the local word for hill, which means there are many magical viewpoints scattered throughout the island.  However, the most popular is on doubt Karon Viewpoint. This offers panoramic views over the three main beaches/bays of northern Phuket, as they are placed seemingly perfectly one after the other in front of you!
After seeing the magnificent landscape for myself, I quickly understood why the view is regarded as one of the top things to see in Phuket. In fact, the spot has become so popular that it's almost a crime not to get your own version of the iconic three beaches photo!
---
4) Promthep Cape Viewpoint:
From one viewpoint to another: Promthep Cape. Less well known than Karon viewpoint, the cape is actually visited more by locals than tourists. This makes visiting an interesting experience as it's not uncommon to come across local children training for Thai Boxing, or families simply enjoying a day out!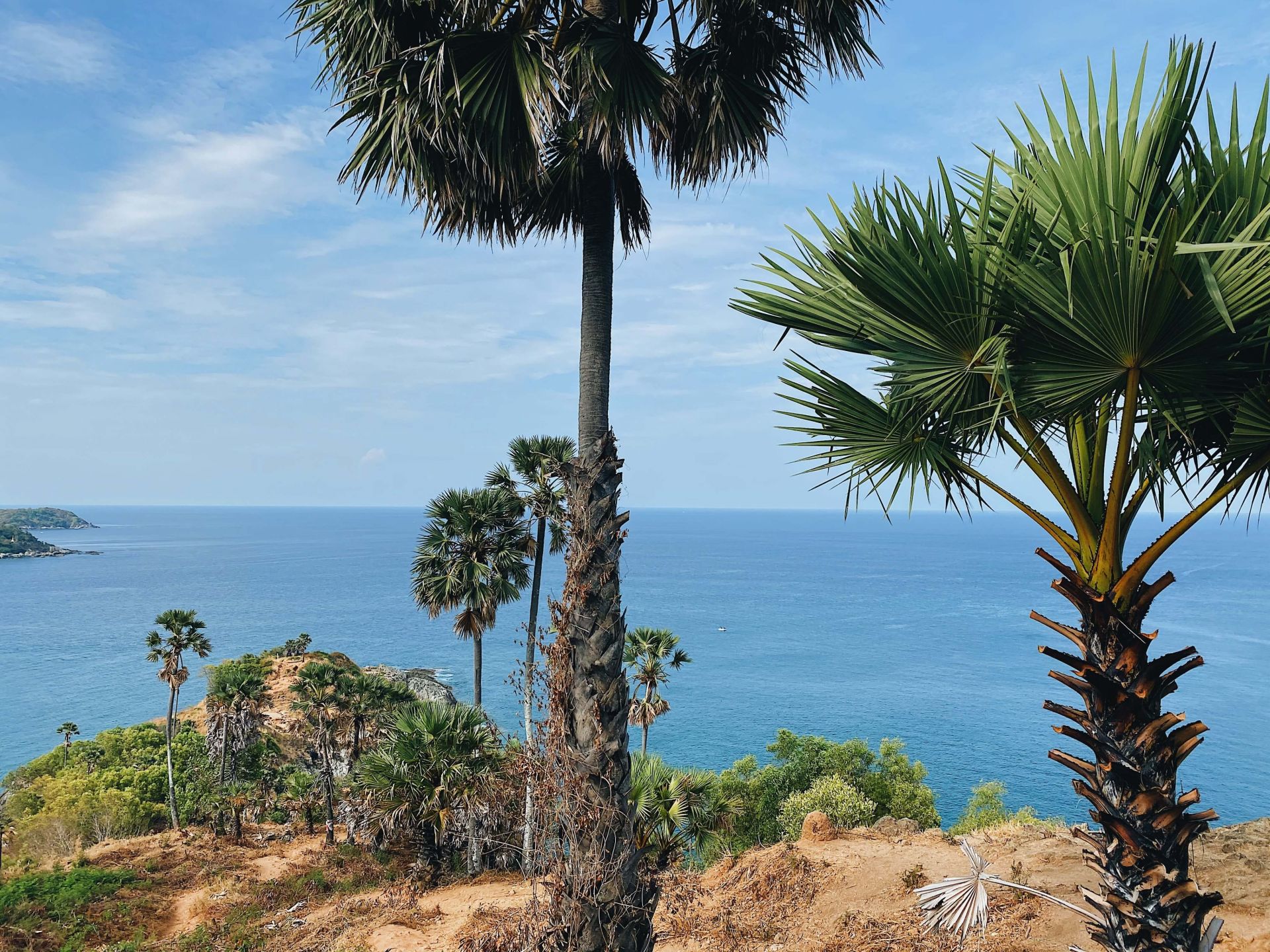 In addition, the end of the cape is the perfect spot for a picture as it actually marks the most southerly point in Phuket… However, what I enjoyed the most was the nearby elephant shrine! Here statues and carvings of elephants can be found in all shapes and sizes, you can even buy one from a local vendor and add it to the ever-growing and colourful collection.
---
5) What to do in Phuket? Visit an Elephant Sanctuary:
Speaking of elephants, no trip to Phuket is complete without visiting an ethical elephant sanctuary.  In my opinion, one of the best places to go in Phuket is the Phuket Elephant Jungle Sanctuary!
Here the elephants enjoy as natural a life as possible, free from any inhumane 'elephants rides' or jungle trekking. Interacting with these beautiful creatures is all the more satisfying when you can tell they're happy and healthy!
Making friends with these gentle giants is something you're not likely to forget in a hurry…
TOP TIP: While there are plenty of worthwhile elephant sanctuaries that are doing great work in Phuket,  hotels and city tours may still try and take you to one which is only a 'sanctuary' in name, so please make sure to do some research before visiting any!
---
6) Bangla Road:
Phuket has an image of being a party island, and while most of it is actually pretty tranquil, no list of the best places to visit in Phuket would be complete without mentioning the infamous Bangla Road, which more than lives up to this reputation…
Experiencing the famous nightlife at Bangla Road (located in Patong) certainly isn't for the faint-hearted, but trust me when I say that you'll never forget stopping at one of its bars for a drink… Or two!
---
7) Best Things To Do In Phuket –  Night Food Market:
If you're looking for a more tame activity, why not visit one of the island's delicious night-time food markets. This is one of the more unusual things to do in Phuket, but I found browsing through the stalls to be quite delightful. Plus there's some really amazing food to be discovered!
There are several different night markets that you can visit depending on where you're staying in Phuket! For example, as I was based in Patong, I walked over to the nearby Malin Plaza Night Market which is open daily until 12am! It's located opposite the shopping mall, and you'll find everything from freshly cooked fish, to roasted scorpions!!
However, a more well-known market can be found in Phuket's old town, on walking street. Open every Sunday from 5 to 9pm, it's a hive of activity! The popular market is unique and exciting and therefore deserves to be added to any list of things to do in Phuket Town.
---
8) Phuket Island hopping –
Some of the best places to visit in Phuket are actually the many beautiful Islands surrounding it … Thanks to its location, just south of mainland Thailand, Phuket is perfectly situated for adventures along the Andaman Coast. 
For example, day trips to magical islands such as Koh Phi Phi, are very popular! A truly tranquil paradise, Koh Phi Phi's soft white sand beaches are some of the best in the whole of Asia! Once you arrive, you'll probably never want to leave (I know I didn't)…
Likewise, Phang Nga Bay is a must-visit! When you ask people what to do in Phuket? They'll probably suggest going to the famous James Bond Island which can be found within the Phang Nga Bay National Park!
Although a bit of a tourist trap, the island is beautiful and visiting gives the perfect excuse for going on a wider Phang Nga Bay tour whereby you can discover stunning limestone karsts, underwater caves and diverse wildlife.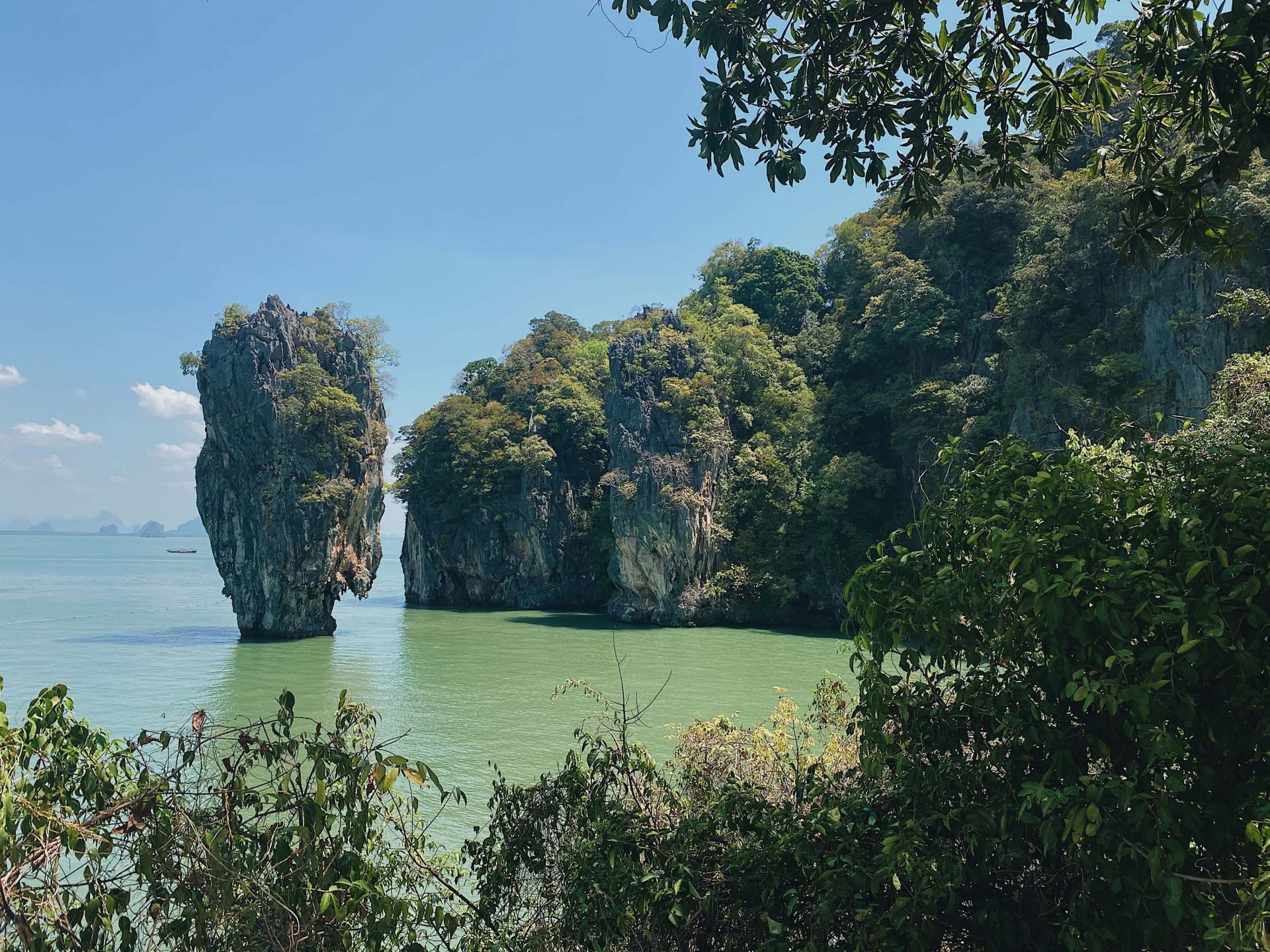 As a result, it's no surprise that one of the best things to do in Phuket is to go island hopping!
---
 9) Best places to visit in Phuket – The Big Buddha Statue:
Out of all of the Phuket attractions, probably the most recognisable is the colossal and beautiful Big Buddha Statue. 45 meters tall, and sitting on the top of the Nakkerd Hills, the statue can be seen from almost everywhere in Southern Phuket, but it only gets more magnificent close-up.
Layered with beautiful Burmese white jade marble, and accents of gold, the Buddha is really a sight to behold, and it's not yet even finished! Construction began in 2002, but progress is slow as it relies entirely upon donations from the public…
Although a major tourist attraction, there is an overriding spiritual feeling present when you visit. While this and the craftsmanship alone makes the Buddha one of the most amazing places to see in Phuket, the cherry on top has to be the sweeping 360-degree views that you can enjoy from its hilltop location!
TOP TIP:  One of the important things to know before visiting Thailand is that it's respectful for women to have their shoulders and knees covered when visiting religious sites such as the Big Buddha. This said the attraction does provide free sarongs to cover up with if needed. 
---
10) Phuket's amazing beaches:
Finally, one of the most popular things to do in Phuket is a simple one: spending the day on the beach… You don't need to go island hopping to find pristine coastlines and soft sand, as Phuket has plenty of amazing beaches to choose from. It essentially invented 'beach bumming'!
Enjoying a beach day is also one of the best family activities in Phucket. However, whoever you're with travelling, some of the best beaches in Phuket to visit (in my opinion) include Freedom Beach,  Kata Noi and Laem Singh. These tend to be the least crowded and provide the most relaxing environments!
♦♦♦
That completes my list of the Top 10 Best Places To Visit In Phuket! Sweeping views, stunning temples, and gorgeous beaches… What's not to love? And this only scratches the surface of all there is to see and do on this magical island!
Like this post? PIN FOR LATER: