Have you dreamt of seeing the Northern Lights (Aurora Borealis) dancing magically across the night sky? Iceland just so happens to be one of the best places in the world to see this magnificent light display. Despite this, the phenomenon is unpredictable and often proves elusive to many visits. So, in order to help improve your chances, this is your ultimate guide on how to see the Northern Lights in Iceland!
What Are The Northern Lights –
Let's start by understanding how the Aurora Borealis is created… Simply put, the Northern Lights are the visible result of charged solar particles colliding with gas in the Earth's atmosphere. This ionisation emits light in varying colours, most commonly green. However, occasionally purple, red, pink, orange, and even blue can be observed.
But why can the Aurora only be seen in some locations? Usually, the Earth's magnetic field deflects these solar particles before they reach the atmosphere. Yet, at the poles, the magnetic field is weaker. So, during high levels of solar activity, some particulars are able to pass through…
In this way, places like Iceland, Alaska, Finland and Norway are all accessible places close to the North Pole where the phenomena can be observed. Although less famous, it's also possible to see the display in the Southern Hemisphere. The Aurora Australis (Southern Lights) can be equally as mesmerising!
When Is The Best Time To See The Northern Lights In Iceland –
The Iceland Northern Lights season stretches all the way from September until early April. Some people are even lucky enough to see them well into August. Therefore, it's difficult to say for sure the ideal time to see the Aurora.
Having said this, the famous midnight sun does make any sightings during spring/summer a lot fainter. After all, common sense dictates that the darker it is, the better your chance of seeing more vibrant Northern Lights in Iceland!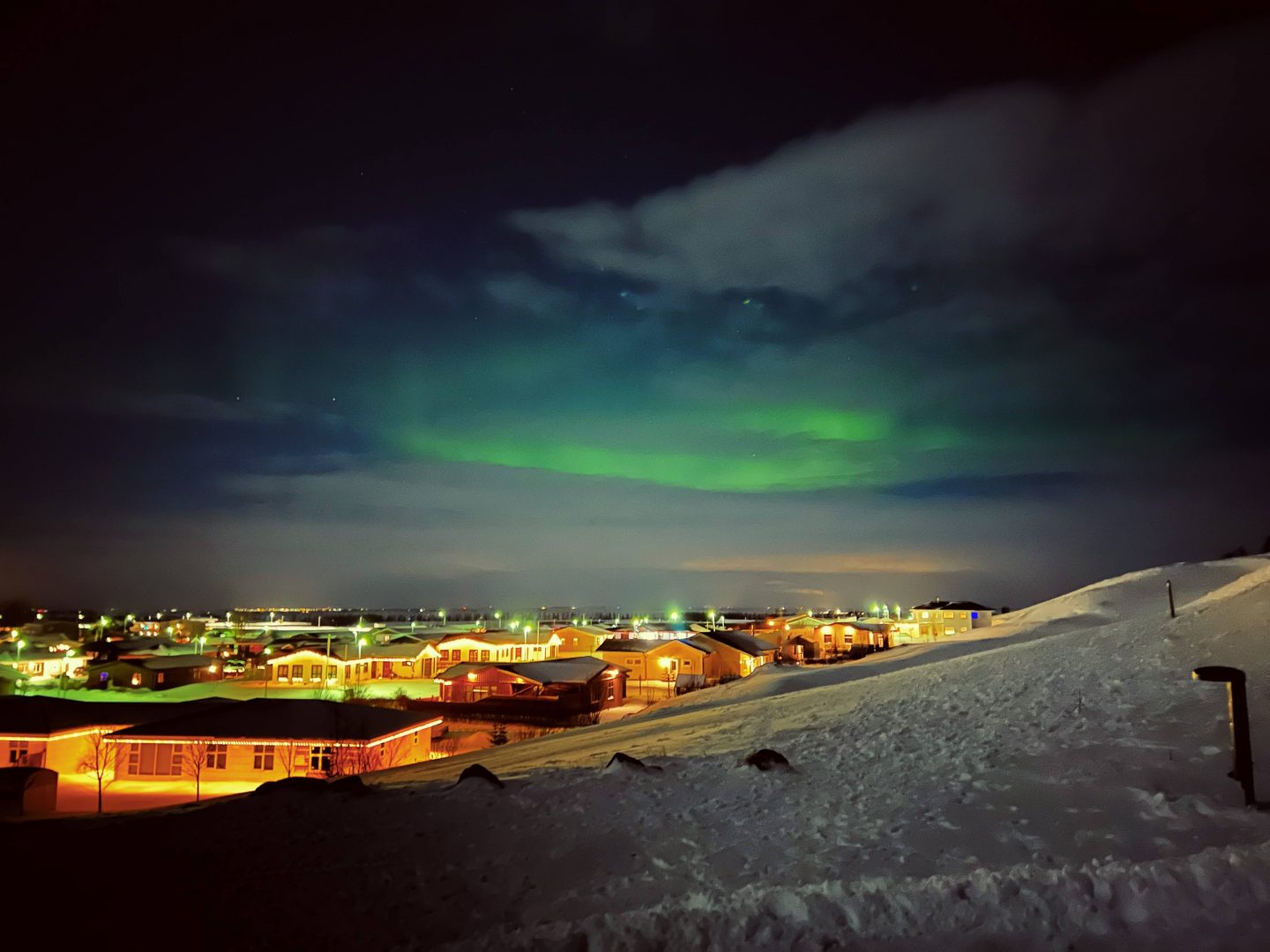 In this way, since the hours of darkness are prolonged between November and February, this is often seen as the best time to see Northern Lights in Iceland. Darkness peaks around the winter solstice in December when you can expect up to 20 hours a day… Yet, whilst this creates the longest possible window for seeing the lights, it's also when you can expect the worst weather.
Unfortunately, the weather is another factor that strongly influences your chance of viewing the Aurora (see more on this below). Therefore, I'd recommend visiting at either the start or end of winter. For example, I travelled to Iceland in February and was treated to magnificent displays on several nights thanks to clear skies. Meanwhile, the slightly longer daylight hours enabled me to enjoy all the other amazing things to do in Iceland. Thus for me, the very best month to see the Northern Lights in Iceland has to be February.
Where Is The Best Place To See The Northern Lights In Iceland –
How to see the Northern lights in Iceland is often thought to be strongly influenced by location. Whilst this is true to some extent, if the conditions are right the Aurora can actually be seen from almost anywhere in the country, including the capital city of Reykjavík.
That being said, you're more likely to see the Northern Lights in Iceland if you move away from the cities and towns to locations where there is little or no light pollution. For example, many of the country's stunning National Parks are popular places to go hunting for the Aurora. Likewise, The Westfjords and Northern Iceland are both more sparsely populated and benefit from longer hours of darkness and typically fewer clouds. Thus making them arguably the best place to see the Northern Lights in Iceland.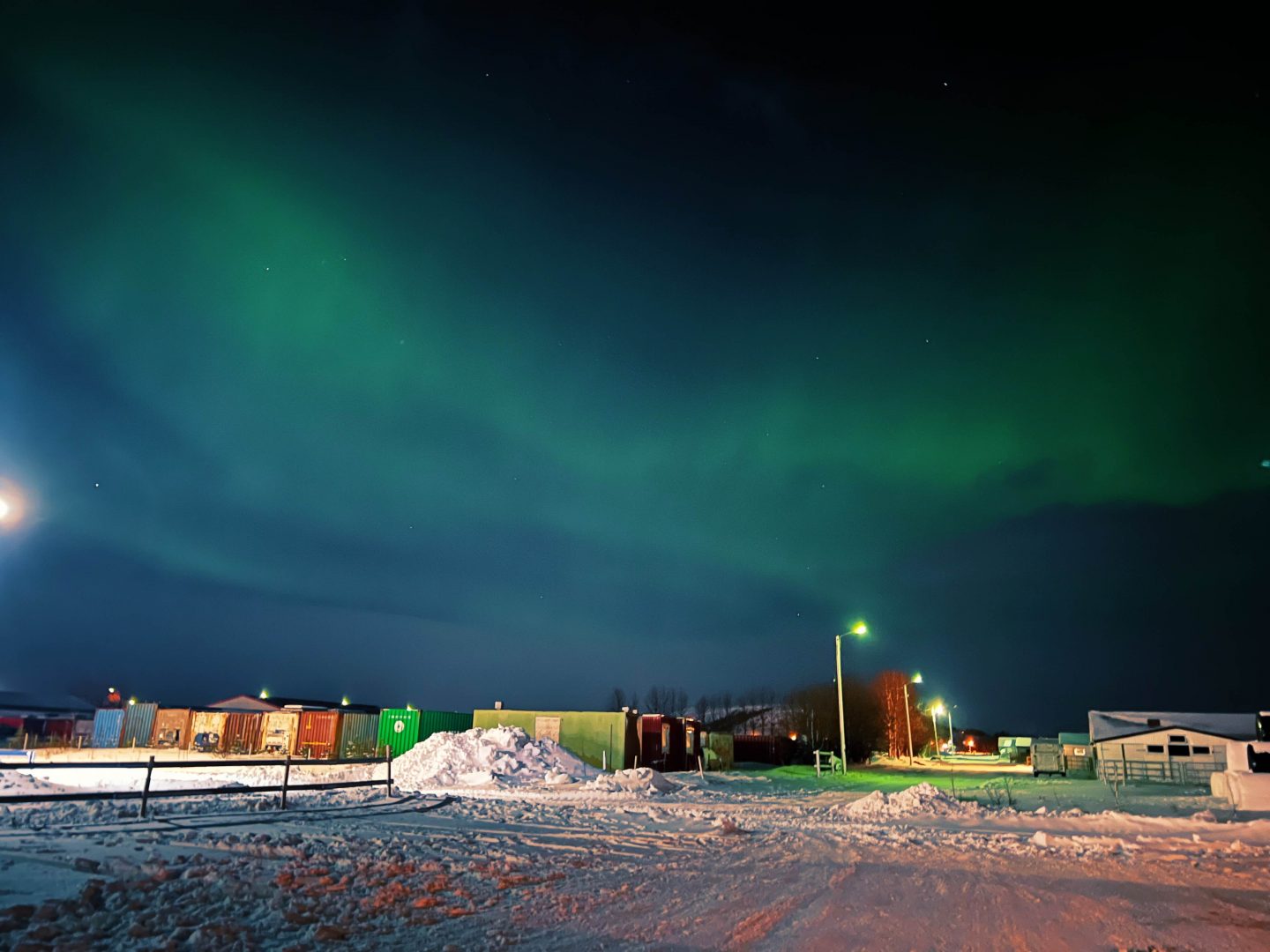 Best Place To Stay In Iceland For The Northern Lights –
Leading on from the above, if you want to increase your chances of seeing the Northern Lights in Iceland, I highly recommend leaving the city and staying for several nights in more rural hotels or specialised accommodation. These can be found throughout Iceland, and most are in stunning isolated locations where light pollution is low. Even better, popular places to stay even tend to offer wake-up services whereby they'll call your room and let you know if the Northern Lights happen to appear.
I've been lucky enough to see the Northern Lights right outside my hotel on two occasions in Iceland. Firstly at the family-run Midgard Base Camp, and then later at the sleek Fosshotel Núpar. Both were amazing places to stay and I highly recommend them for your own trip!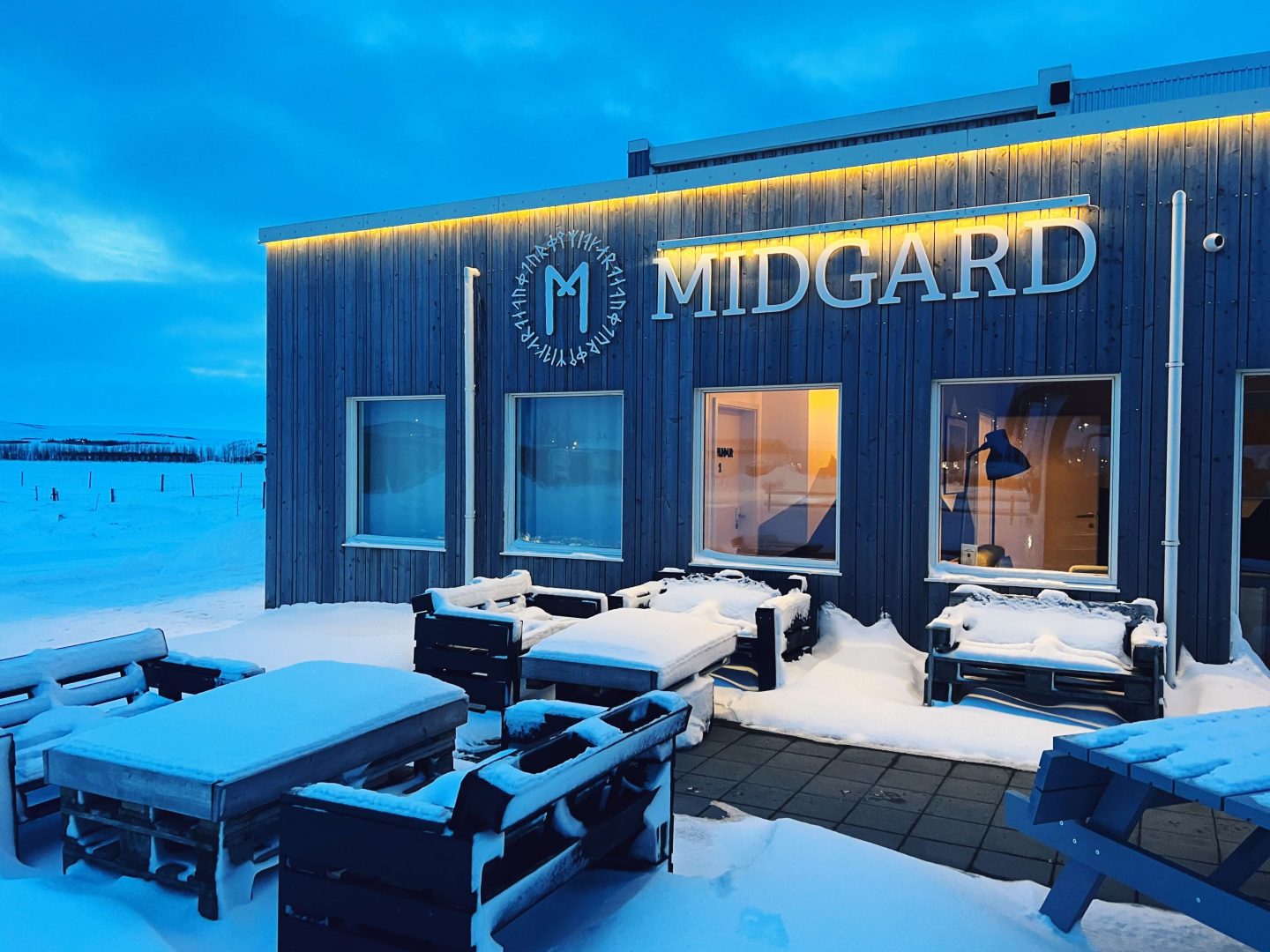 Top Tips For How To See The Northern Lights In Iceland –
A few more things to bear in mind when you're thinking about how to see the Northern Lights in Iceland include:
Monitor The Weather:
As briefly mentioned above, the weather is a strong influence on whether or not the Aurora will be visible. Whilst it's hard to predict in advance, once you arrive in Iceland be sure to check the forecast for clear nights when there is little or no clour cover.
Watch For Solar Activity:
Similar to the above, there must also be enough solar activity for the Northern Lights to be visible. Dedicated Aurora forecasts monitor levels, which are generally expressed through a Kp index of 0-9. Here anywhere above 5 is usually deemed as a good opportunity to see the lights. Plus, if activity suddenly moves into the higher range you can sign up for alerts online. Yet I personally found it far easier and more user friendly to use an app, such as the popular Aurora Borealis Forecast & Alerts.
Prepare To Stay Up Late:
Unfortunately, the Aurora doesn't have a bedtime and it can put on the best light displays well into the early hours of the morning. Therefore, be prepared to jump out of bed if the Aurora forecast alerts you to high levels. Plus always wrap up warm when heading out, as if conditions aren't quite right you could be on the lookout for hours. Having said this, you may well just get as lucky as I did on my second night in Iceland, and see a cascade of beautiful dancing lights as early as 6pm…
Take A Northern Lights Tour:
Another way to increase your chances of seeing the Northern Lights in Iceland is a simple one, take a guided tour! Specialised guides are experienced at finding the perfect spots for viewing and expertly know how to translate the Aurora forecast to find the right conditions. In this way, whilst they can't guarantee that the lights will appear, they'll help make sure that you don't miss them if they do.
When visiting Iceland, and in particular Reykjavík, you'll be spoilt for choice thanks to a wide range of different guided tour options. From large bus tours to small jeep safaris and private snowmobile adventures, there's something for everyone!
Expanding on the above, if you're visiting within the peak Iceland Northern Lights season, a few operators in Reykjavík even offer amazing Northern Lights boat tours from the harbour. This is an incredible experience. Not only does it provide a possibility of seeing the Aurora, but you also get to enjoy breathtaking scenery whilst gaining a unique perspective of the surrounding landscape.
Whatever type of tour you decide to go with, I recommend booking it for the start of your trip (even if the conditions aren't ideal). This is because if your search is unsuccessful, most tour operators in Iceland tend to offer you a second attempt to see the lights for free. Therefore, booking early in your trip will leave you enough time to do another tour if needed.
Try Not To Be Disappointed:
Finally, whilst seeing the Northern Lights is a true bucket-list experience, remember that there are lots of other things to see and do in Iceland in winter as well! From hiking up ancient glaciers to gazing at wonderous waterfalls. Accordingly, my advice is to make sure you plan a wider itinerary… For example, my one week in Iceland itinerary ensured that I had a dreamy experience, whereby seeing the Northern Lights simply became the cherry on top of the cake.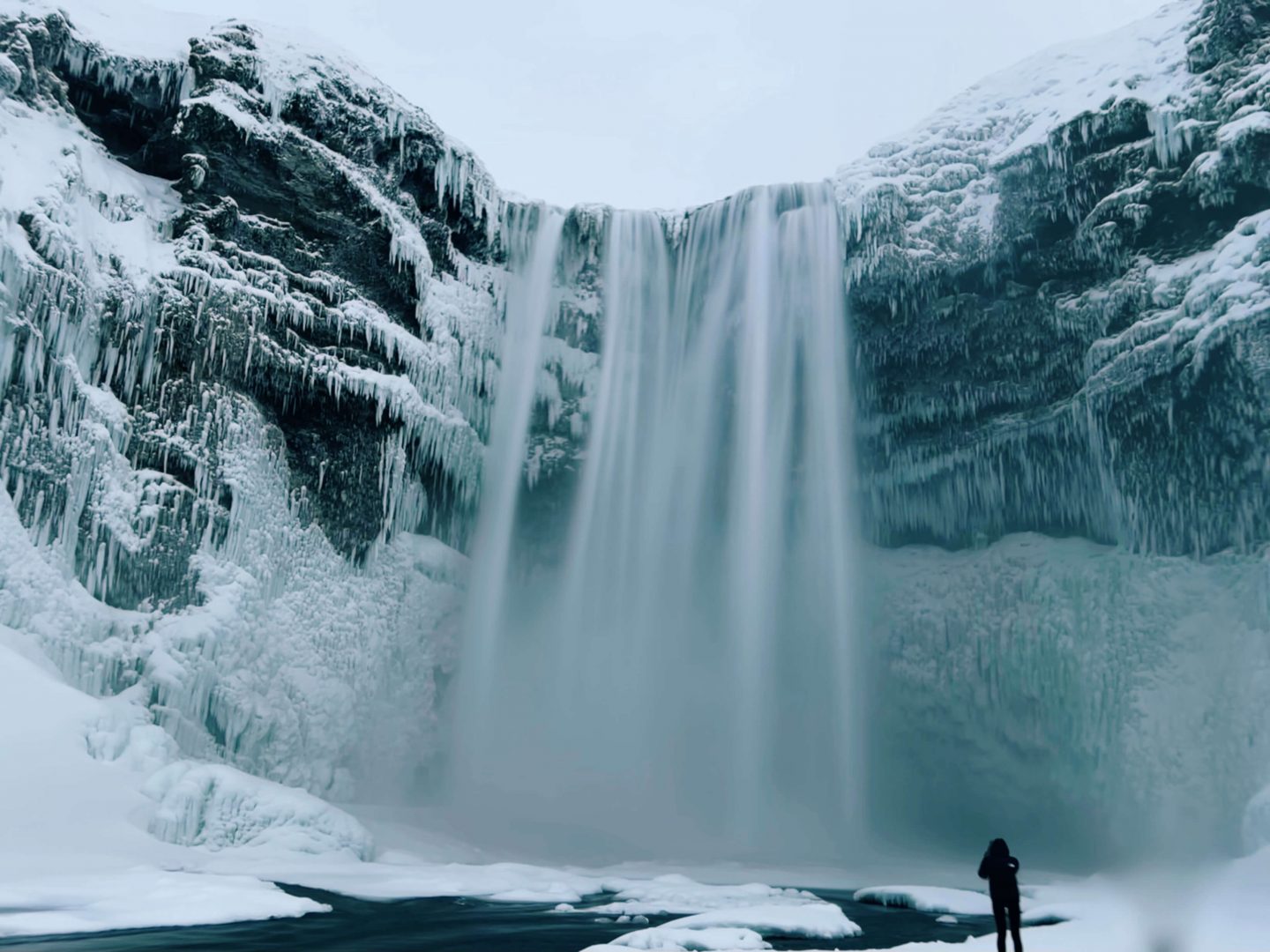 ♦♦♦
I hope this post answers all your questions about How to see the Northern Lights in Iceland? From the best time to see the northern lights in Iceland to where you can stay, and what type of guided tours are available. In summary, happy hunting! If you are lucky enough to see the Aurora in Iceland, I know it will be something you'll never forget. I myself found the experience even more thrilling than I ever expected…
Like This Northern Lights Iceland Post? PIN FOR LATER: