Famous for spectacular hot air balloon rides, Cappadocia is a destination further characterised by its captivating landscape. Whimsical rock formations and awe-inspiring canyons frame centuries-old cave churches and underground cities. In truth, you need to visit to appreciate the area's true beauty. Luckily, this guide covers all the best things to do in Cappadocia to help you understand what all the hype is about…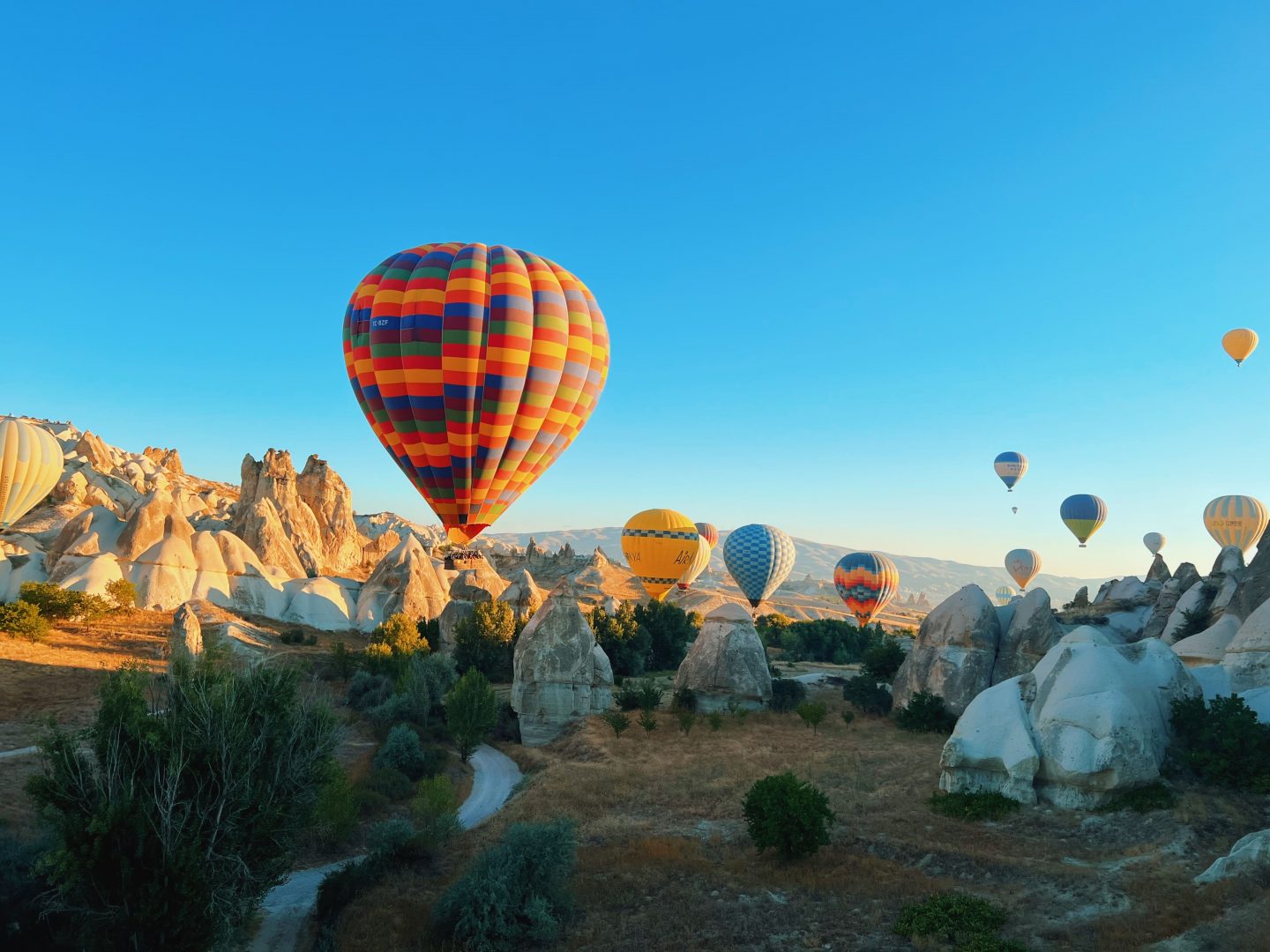 Where is Cappadocia?
Before delving into the best Cappadocia things to do, it's worth noting that rather than being one specific town, the name actually refers to an entire region… Located right in the heart of central Turkey, Cappadocia means the "land of beautiful horses" in Persian, and in fact, covers about 5,000 square kilometres of vast and beautiful landscapes.
At its corners, four towns can be found, the biggest of which is Nevşehir. Yet, the main tourist hub in Cappadocia is the charming village of Göreme as it's central to a lot of the main attractions. Thus, when looking for where to stay in Cappadocia, Göreme is a fantastic option.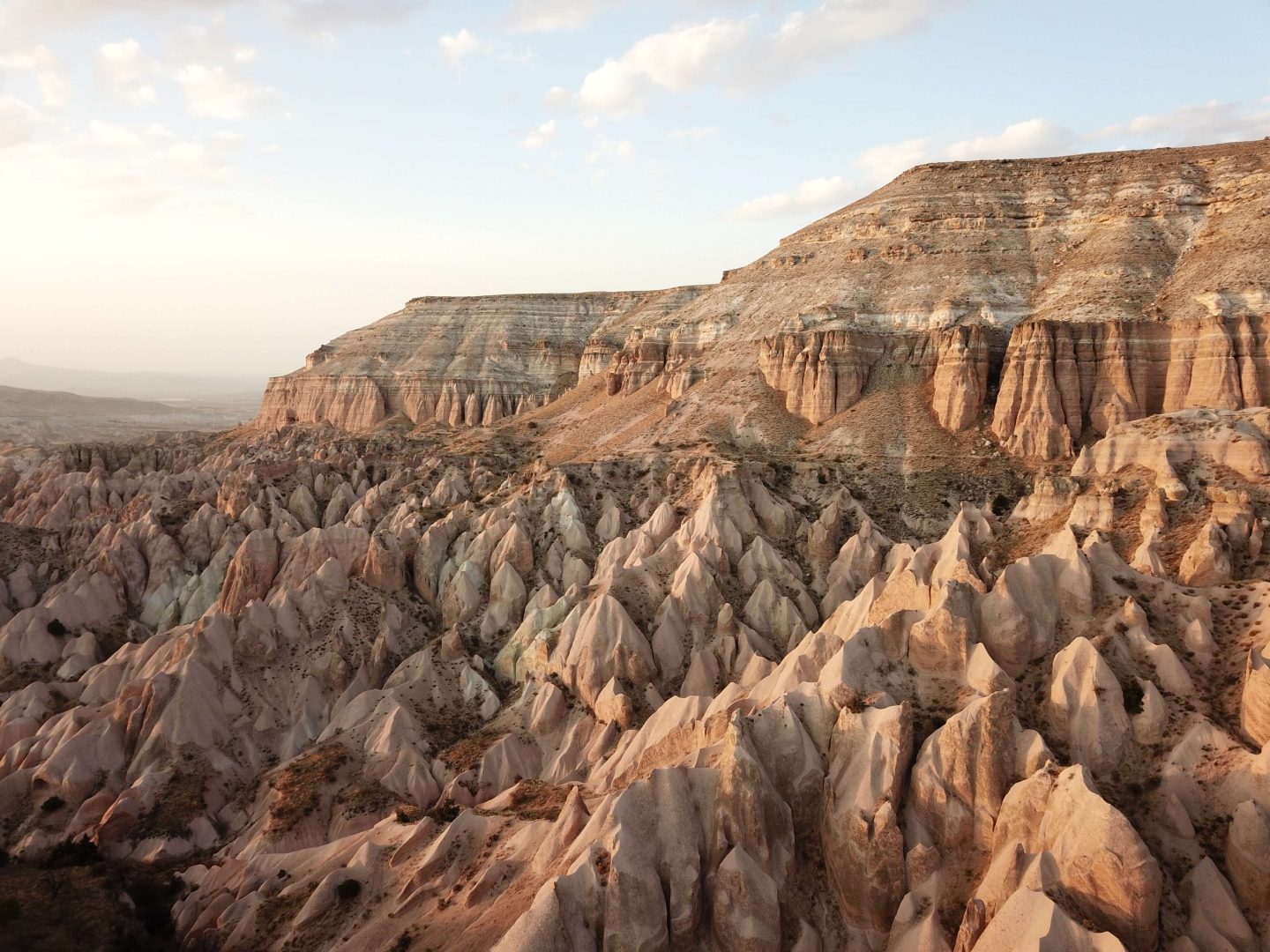 Visiting Cappadocia Turkey –
When considering what to do in Cappadocia, you should first think about how to actually get there. As stated above, the region is located in central Turkey, and as such is at least 300 miles (500km) away from other popular destinations such as Antalya on the south coast, and Istanbul.
In this way, by far the easiest (and quickest) way to reach Cappadocia is via plane. Turkish Airlines operates daily flights within peak season from both Antalya and Istanbul to Nevşehir Airport, which is then around 40 minutes away from Göreme.
Personally, I drove to Cappadocia from Istanbul as part of a wider two-week itinerary around Turkey. Without stopping, this journey is around 10 hours. Whilst it's a fantastic way to see more of the country, with hindsight, I would have preferred to fly to maximize my time in the region.
In line with this, its remote location obviously means that it's difficult to visit Cappadocia on a day trip. Hence, you should allow several days to visit! But, if you're anything like me you'll never want to leave, so having a few days to soak up the magical scenery is really a bonus.
The Best Things To Do In Cappadocia –
1) Take a sunrise Cappadocia balloon tour –
In recent years, Cappadocia has become best known for one thing: hot air balloon rides. Illuminating the sky above the region most mornings, up to 100 balloons take flight, ebbing and flowing above the valleys below, creating a truly breathtaking vista.
Like many, seeing Cappadocia's hot air balloons on my Instagram feed was actually the sole reason I wanted to visit, and thankfully I wasn't disappointed!
I suggest opting for a sunrise flight as I truly can't think of anything more magical than the feeling I got as we slowly ascended into the sky whilst the sun appeared on the horizon. On top of this, the rock formations below almost seemed to come alive in the rippling morning light. On my flight, we even drifted low into Love Valley and almost touched the treetops before sweeping back up the other side. Overall, the whole experience was simply spectacular.
Therefore, taking a Cappadocia balloon tour is a truly once-in-a-lifetime experience that I highly recommend. Yet unfortunately, it's far from cheap! I paid €160 to fly with Kaya Balloons (who were fantastic). However, in peak times average prices can be as high as €350 per person.
With this high price tag, I was actually surprised by how many people they put in each balloon. The standard in the region is between 20-30 people in each basket, which can feel quite crowded. I was very lucky and got a corner section with only two other people. This meant we had plenty of room to move around and take photos. Meanwhile, other spaces in the balloon were packed much tighter. So, I would suggest it's worth taking the plunge and spending a bit more so you can enjoy the experience with fewer people.
TOP TIP: An important thing to note if you want to enjoy the Cappadocia Turkey hot air balloons, is that the flights often get cancelled due to poor weather conditions. Therefore, to avoid disappointment it's best to allow for a few days in Cappadocia to maximize your chances of getting on a flight.
2) Visit Göreme Open Air Museum –
Long before Cappadocia became famous for its hot air balloons, the region was a safe haven for Byzantine Christians… Remarkably, their presence is still felt at the Göreme Open Air Museum, which gained UNESCO World Heritage status in 1985.
Undoubtedly one of the best places to visit in Cappadocia, the open-air museum is a collection of impressive cave churches that were carved out between 900-1200AD. Formed following volcanic eruptions over 60 million years ago, the rocks found in Cappadocia are in fact layers of soft lava and ash. This made it easy for the ancient Christians to shape the rock into beautifully ornate churches, whilst also enabling them to remain hidden and avoid persecution.
Whilst some are slightly damaged, many of the Churches still feature exquisite biblical frescoes. The most impressive are found inside the Dark Church (Karanik Kilise), which you can enter for an additional small fee.
TOP TIP: Tickets for the Göreme Open Air Museum cost 150 Turkish Liras and can be purchased on the day.
3) Walk Through Love Valley Cappadocia –
You can't visit Cappadocia without taking the time to hike through its exceptional natural landscapes. In this way, I'd recommend taking a stroll through the uniquely fascinating "Love Valley". Featuring numerous somewhat questionably shaped rock formations, it's not hard to guess where this particular valley derives its name.
It's an equally fun and interesting experience to walk amongst the phallic shapes (some of which reach up to 30m into the air). In addition, found just 10 minutes outside of Göreme, the valley is easy to reach and has a fantastic scenic viewpoint whereby you can get a wonderful outlook over the entire area.
4) Stop Off At Pigeon Valley Cappadocia –
Close by to Love Valley is another of the best viewpoints in Cappadocia, the equally as originally named Pigeon Valley. Here you'll quickly spot the hundreds of ancient pigeon houses that were carved into the soft rock as far back as the 9th century when pigeons were first domesticated in the region.
The valley is also another popular hiking/trekking route since it has a 4km track that starts in the village of Uchisar and stretches onto link up with Love Valley and Göreme.
TOP TIP: For adrenaline seekers, a fantastic way to explore Cappadocia's valleys is via hiring an ATV, or going on a guided tour!
5) Explore Uchisar Castle –
One of the most unique things to do in Cappadocia is to explore Uchisar Castle. Found at the highest point in the region, the 'castle' is more of a natural tower carved out of an exceptional 60m high rock. Like most things in Cappadocia, it's stunningly beautiful and unique. I felt like Indiana Jones exploring the interconnecting rooms and tunnels, which are thought to have once been home to 1,000 people.
This said the real star of the show is the magnificent views! Climbing to the top of the castle, I was captivated by the panoramic vistas, even spotting Mount Erciyes in the distance. This is thought to be the ancient volcano that sculpted the fascinating landscapes of Cappadocia.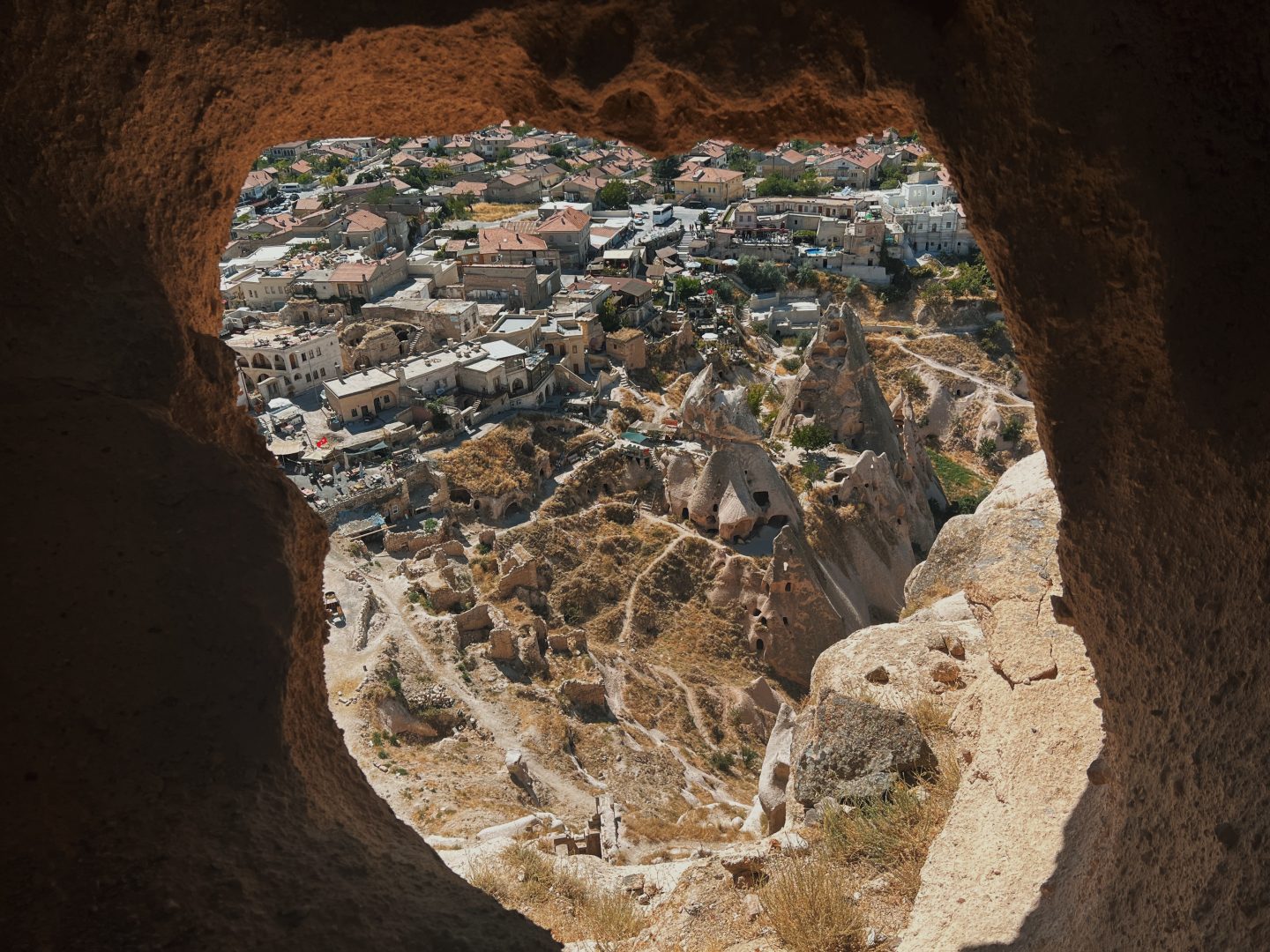 When visiting Uchisar Castle, it's also worth walking down the small hill and into Uchisar village. Not only is it a fantastic spot for lunch, as local restaurants serve delicious Turkish cuisine, but it's also the perfect place to pick up a souvenir.
6) Explore Goreme Cappadocia (Göreme) –
As briefly mentioned, Göreme is probably the best-known town in Cappadocia. Neighboring the open-air museum, it's also worth visiting in its own right. Uniquely charming, it almost feels like stepping back into the stone age when you wander through the town since the majority of the buildings, homes, and hotels are still carved out of the rock!
In addition, nestled between wondrous valleys, the scenery surrounding Göreme is unreal. Rock formations and "fairy chimneys" stand high between the buildings, whilst taking a short walk into the surrounding hills (especially at sunrise and sunset) will leave you speechless.
7) Stay In A Traditional 'Cave Hotel' –
Linking to my previous top thing to do, rather than simply visiting Göreme or Uchisar another must-have experience is to spend the night in a 'cave hotel'. Whilst this may sound a little primitive, most of the hotels are in fact incredibly luxurious, and it'll take mere moments to forget that your atmospheric cave room was likely carved out by early Christian's thousands of years ago.
Unfortunately, given their unique appeal (and often prime locations) a lot of the top cave hotels are quite expensive. However, it's definitely another 'once-in-a-lifetime' experience that you won't forget, especially since they also tend to have stunning rooftop balconies and terraces for guests to enjoy.
Two popular options within Göreme (that you've likely seen all over Instagram) are the Mithra Cave Hotel and Sultan Cave Suites. Within Uchisar however, you'll get a little more for your money, with options like the stunning Museum Hotel featuring a pool.
8) Discover The Underground City Of Derinkuyu –
Bored of exploring Cappadocia above ground? Whilst this feels unlikely, the region still has you covered with vast underground cities waiting to be explored. The deepest and largest is Derinkuyu, which was amazingly only discovered in 1963. It's thought that the city was created by the Ancient Anatolians in the 7th-8th century BCE to be used as a hiding place during the Byzantine wars.
Remarkably, this means that the underground city is thousands of years old! Yet, hidden behind discrete entrances, it included everything the ancient settlers needed from schools and churches to stables and food stores, all connected through a labyrinth of alleyways.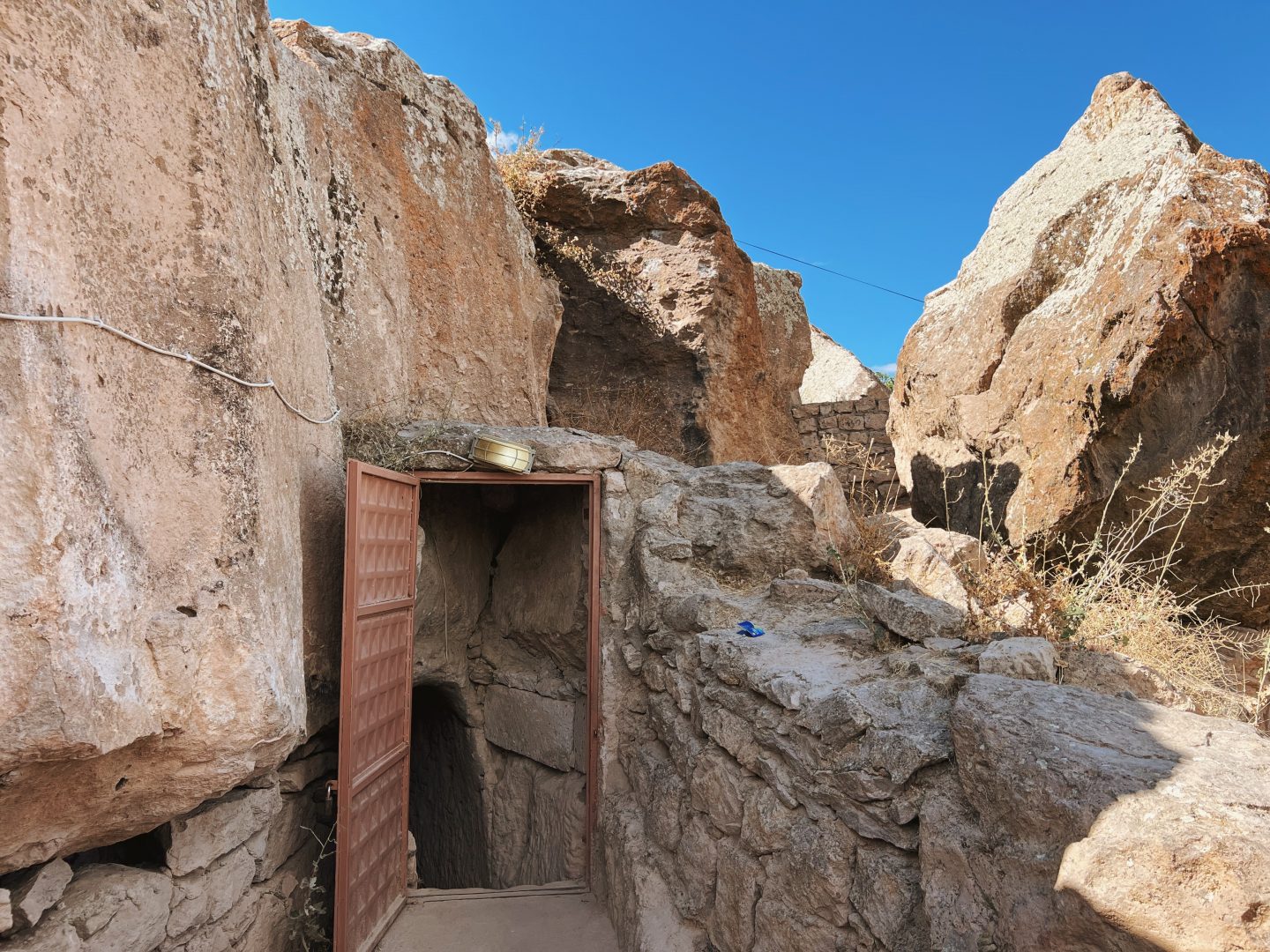 When I visited for myself, descending through the narrow twisting tunnels felt like a true adventure. Whilst I wouldn't recommend it to anyone who suffers from claustrophobia, the sheer scale (it's 8 levels deep and could hide around 20,000 people) and history were enchanting. Therefore, for me, it's the most underrated of all the things to do in Cappadocia.
9) Relax At A Local Turkish Hamam-
After a busy day enjoying Cappadocia things to do, there's no better way to relax than stopping off at a local Hamam (Turkish bathhouse). You'll find plenty dotted throughout Cappadocia's villages, and in fact in most hotels. Whilst popular throughout Turkey, there's something especially unique about relaxing in beautiful marble steam rooms in a cave!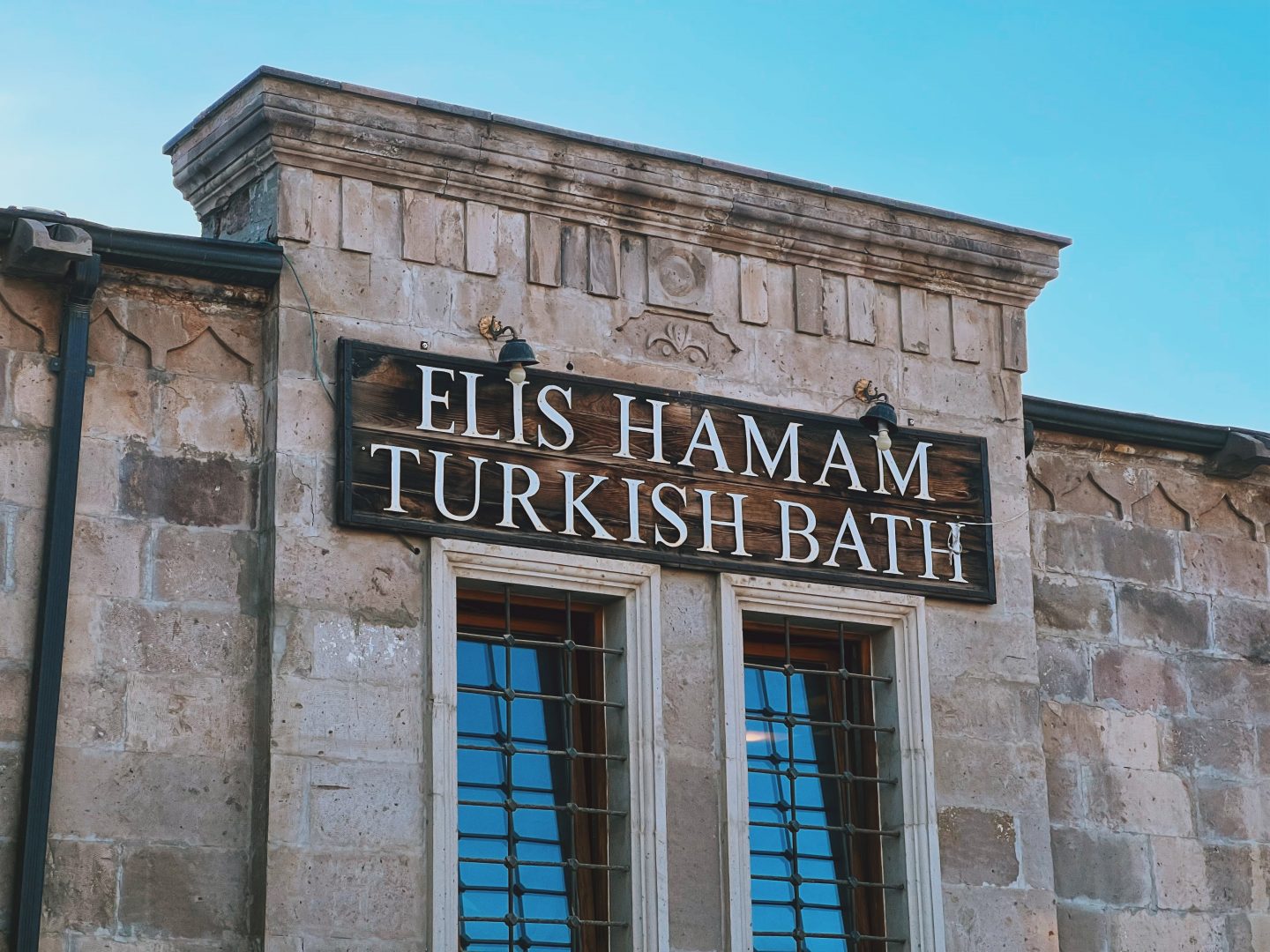 10) Watch The Hot Air Balloons Cappadocia From The Ground –
My list of unmissable things to do in Cappadocia started with riding in its famous hot air balloons. Therefore, it only seems right to end the list with a suggestion of waking up for additional sunrises during your time in the region, so that you can also enjoy the spectacle from the ground.
I truly loved taking in the balloons from as many different vantage points as possible and especially recommend visiting Love Valley's viewpoint, as here the balloons fly very low overhead. In some cases, it almost feels like you can reach up and touch them!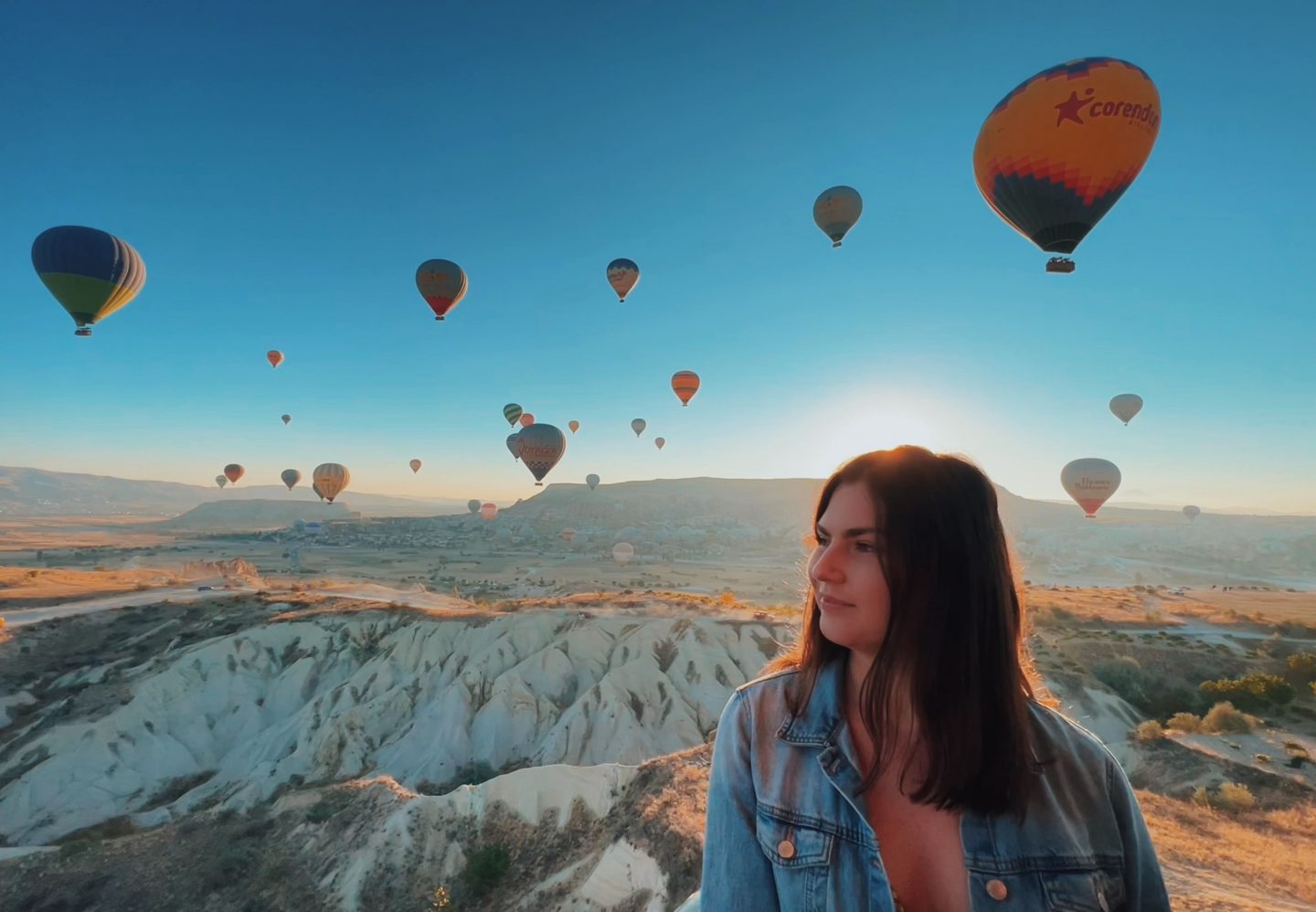 Further magical places to see the balloons in flight include the Aydin Kiraği sunrise viewpoint (which is a short walk from Göreme). Plus, for a truly wonderful experience, some companies even offer early morning horse riding treks to see the balloons from within the valleys. Whilst this isn't something I personally experienced, it looks fantastic!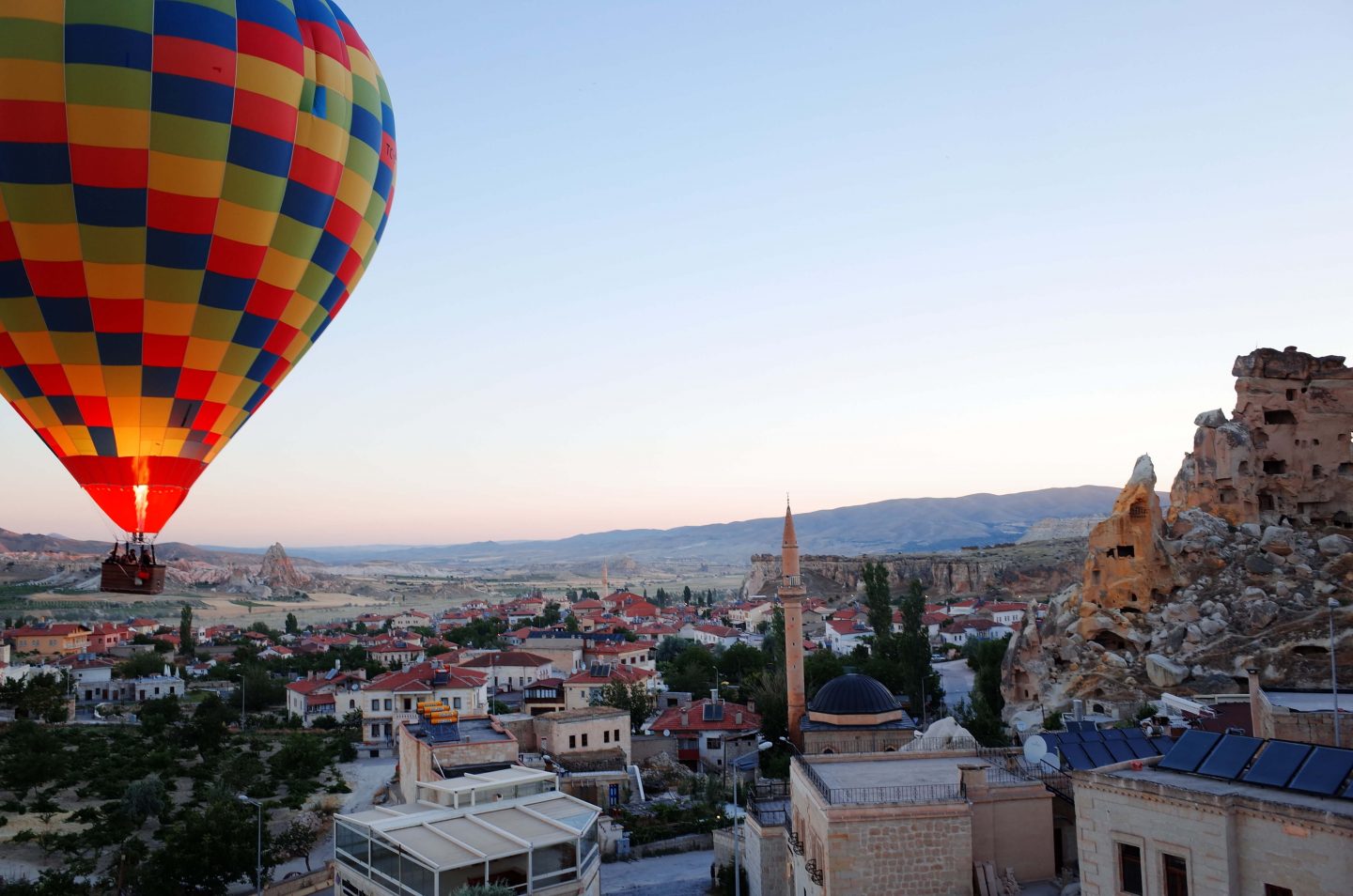 TOP TIP: Remember, if you're staying within Göreme or Uchisar one of the best ways to see the balloons is often right from your hotel, so make sure your book accommodation with a rooftop terrace!
♦♦♦
I hope you enjoyed this guide on what to do in Cappadocia! From my experience, it's one of those very rare places that manages to live up to the perfectly curated pictures that you see online. In fact, in person, it's somehow even more beautiful. Thus, make sure you visit the wonderful region as soon as possible…
LIKE THIS POST? PIN FOR LATER: