Despite travelling to Italy several times before with my family, I've never visited the countries bucket-list destinations. This summer I decided to change this fact and planned a trip to Italy stopping in Venice, Florence, Cinque Terre and Rome. Thus here's my ultimate 2 week Italy Itinerary.
♦♦♦
Best way to travel in Italy –
I found that the best way to travel in Italy is by train, as it's by far the quickest and one of the cheapest ways to get around the country.
I planned my train trips between destinations using the Italia Rail website, which was easy to use and featured discounts on some tickets. Another option is to purchase an Interrail ticket. However, I personally found that pre-booking individual tickets online was cheaper.
---
Accommodation in Italy – 
Since I was travelling to very popular destinations in Italy, I found that hotels were ridiculously expensive (especially in Venice). In this way, I discovered that the best accommodation option for my trip was Airbnb. I stayed in lovely, affordable apartments for each leg of my trip and would, therefore, recommend it for when you visit Italy yourself.
---
2 Week Italy Itinerary –
Now the 'admin' is out of the way, let's get into the details of my 2 Week Italy Itinerary:
Venice (Days 1-3):
I started my trip to Italy in Venice, arriving at Marco Polo Airport in the evening. The public water taxi took longer than I had expected to reach the 'floating city'. However, I'm not complaining because the views out the window were simply to die for! What's more, although I'd previously thought Venice would be over-rated, as soon as I stepped off the boat I fell in love with it…
This love affair continued as I reached my Airbnb and met up with a good friend of mine (who'd be my travelling companion for the 2 weeks). Although relatively late by this point, we made the most of the evening by having dinner next to one of the cities beautiful canals.
Following this, we spent the next two days exploring the magical city. Visiting highlights such as the Doge Palace and St Marks Square, all the while getting lost amongst Venice's maze of streets.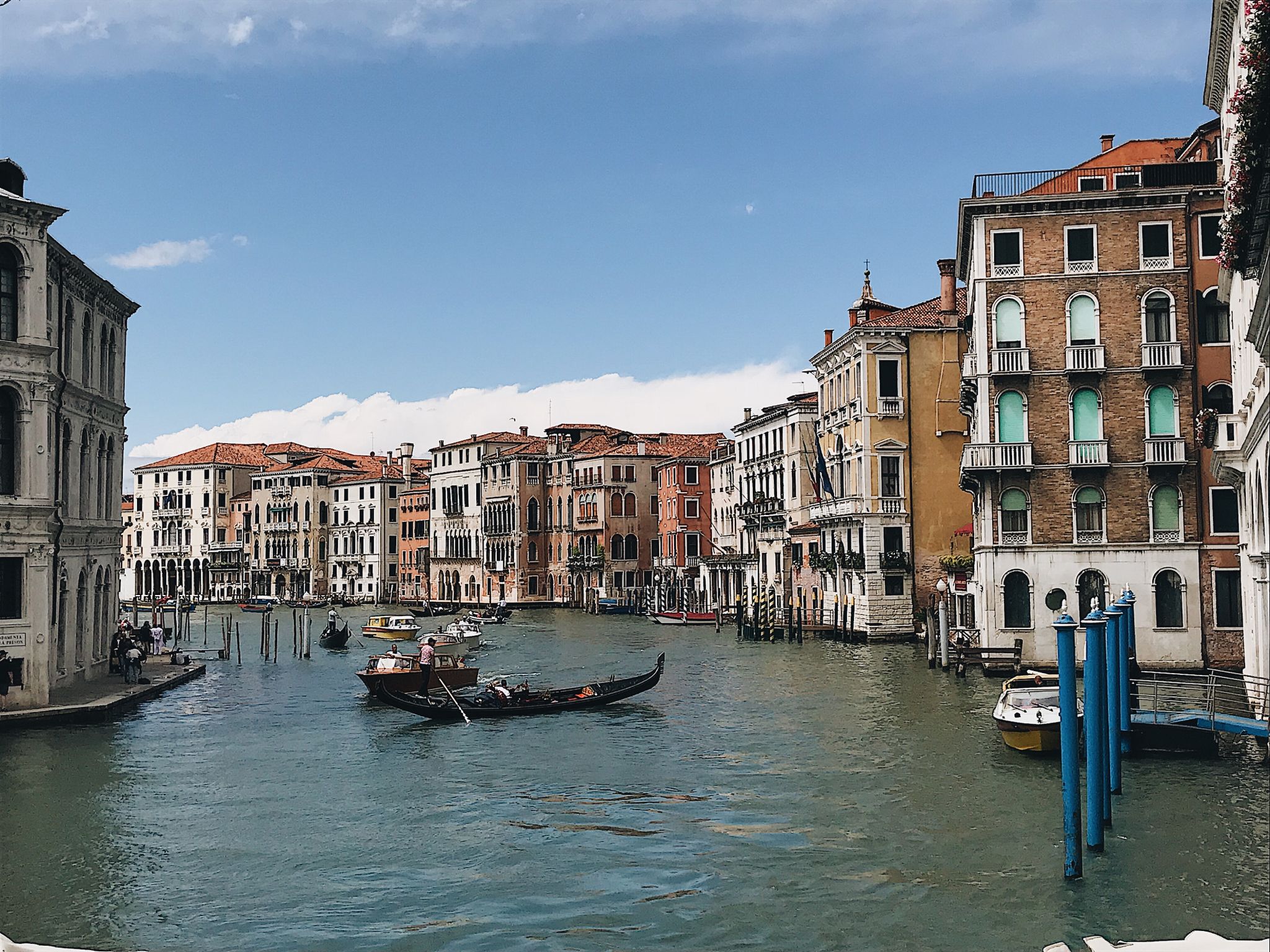 Although our two days in Venice were busy, I found it to be the perfect amount of time. If we'd spent another day here, I feel that I would have become bored as we'd done most of the top things to do.
However, if you do find yourself with more time in Venice, then you can always head to the mountains! The beautiful Dolomites are only 2 hours away from the city and make for a fantastic day trip!
Florence (Days 4-5):
Ready to move on to the next destination of our trip, we woke up early on our fourth day in Italy and took the water taxi (Vaporetto) to Venice's train station, getting one last look at the grand canal on the way.
The Station (Santa Lucia) was quieter than I'd expected and easy to navigate, meaning we boarded our train to Florence (which is no doubt one of the best places to visit in Italy) with ease.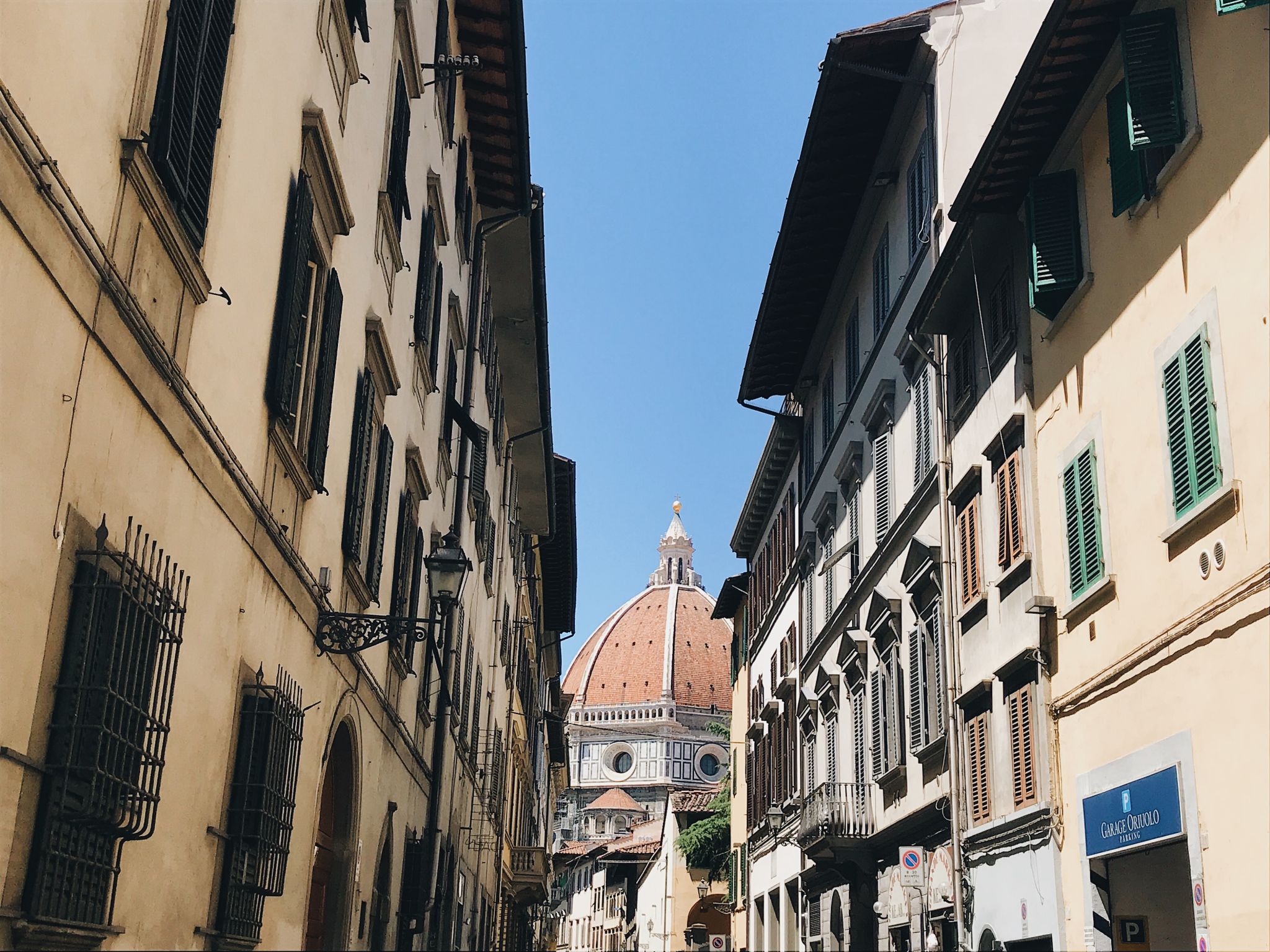 The journey took around 2hours, and we, therefore, arrived in Florence at around 11am. Unlike Venice, the station here (Santa Maria Novella) was rather chaotic! But, we were eventually able to find a taxi to take us to our Airbnb apartment. The drive was a memorable one as we passed right by the magnificent Duomo (Florence's Cathedral).
Seeing the Cathedral made us very excited to tour the city, so we wasted no time and headed back to the Duomo on foot, once we'd left our bags at the apartment. Sadly we hadn't pre-booked tickets to go inside the cathedral, and the free queue was hours long. Therefore we instead decided to visit Boboli Gardens before making our way to Piazzale Michelangelo, via the Ponte Vecchio bridge.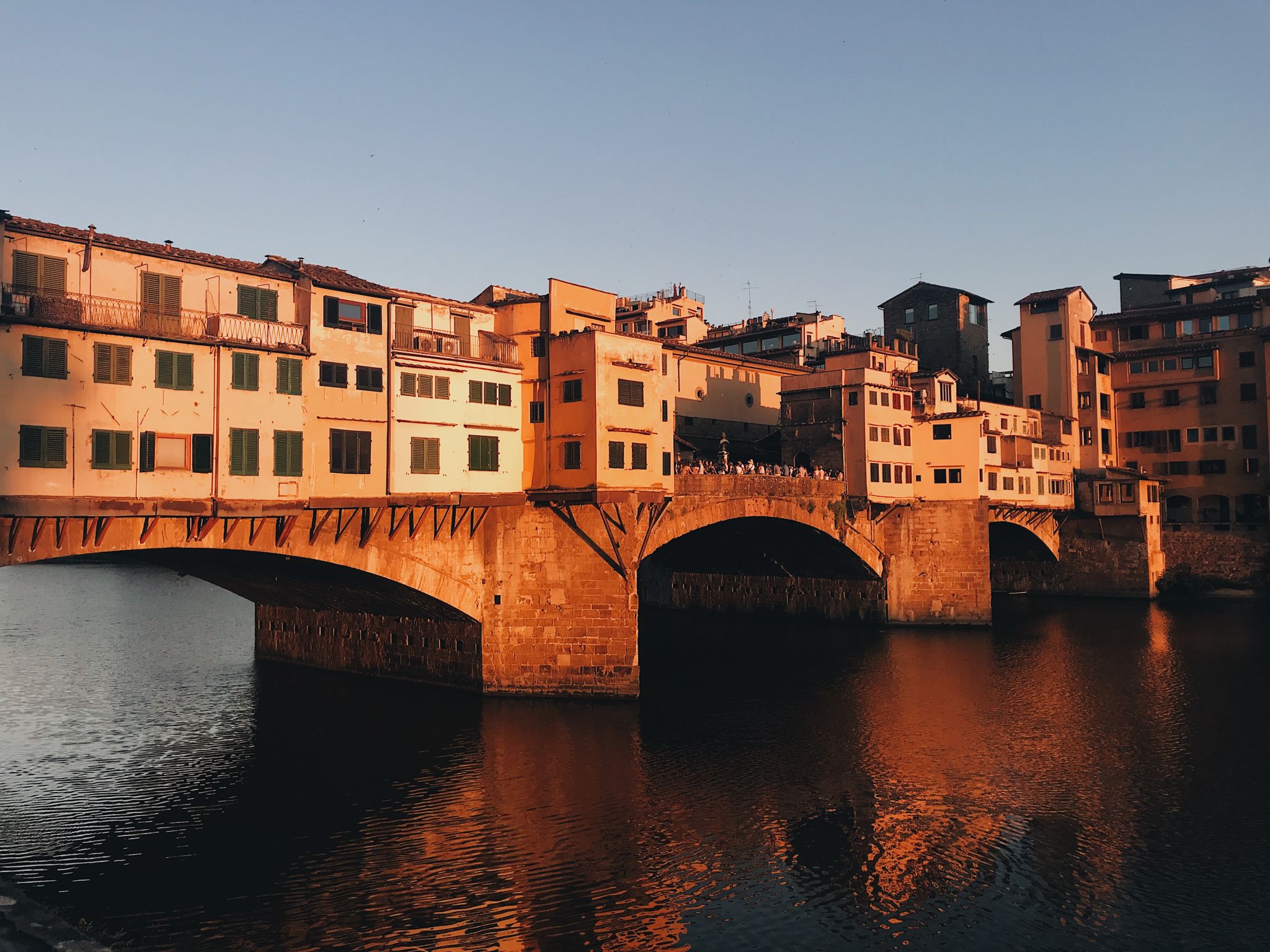 Each of these sites was beautiful, none more so than the Duomo, which has to be the most stunning building I've ever seen. It alone makes Florence one of the best Italy holiday destinations…
We spent the majority of the next day in Florence as well because our train to Cinque Terre (the next stop on my 2 Week Italy Itinerary) wasn't until 5pm. We'd originally planned to use this extra time to visit the world famous Uffizi Gallery or Galleria Dell'Accademia. However again tickets were sold out. You really do need to prebook tickets in Florence in summer!!
Luckily, this proved not to be the end of the world as we instead visited Palazzo Vecchio, the 'peoples palace', which has been around since the 14th century. Touring this palace was fascinating as we got to learn many intresting facts about Italy and Florence. Further, by climbing its tower we also got to see some breath-taking views over the city.
Plus, we then had the time to find a wonderful local restaurant where we enjoyed some of the finest food, sourced from all around Tuscany. Of course, since Florence is also seen as one of the best wine regions in Italy we made sure to keep our glasses full and sampled lots of local bottles too!
Cinque Terre (Days 5-9):
As I mentioned above, our 2 Week Italy Itinerary continued in Cinque Terre, which took around 3hours to reach from Florence. The train journey was relaxing and featured some amazing views of rural Italy. We did have to change trains at La Spezia station. However, this was no trouble as trains run very regularly between here and Cinque Terre.
The area of Cinque Terre is actually made up of five distinct villages: Riomaggiore, Manarola, Corniglia, Vernazza and Monterosso al Mare. Each has a unique charm and they're famous worldwide for their gorgeous postcard views.
We opted to stay in Monterosso al Mare, which is the furthest village from La Spezia, but it only took about 20 minutes to reach. Therefore we arrived in the village just as the sun was setting… I've certainly had worse introductions to a new destination!!
Over the next four days, we explored each of the villages and took quite naturally to eating and drinking in their adorable seafront restaurants and cafes. We also spent a fair amount of time relaxing on Monterosso al Mare's beach! However, what I enjoyed the most was hiking between the villages as the views from the cliffs were breath-taking.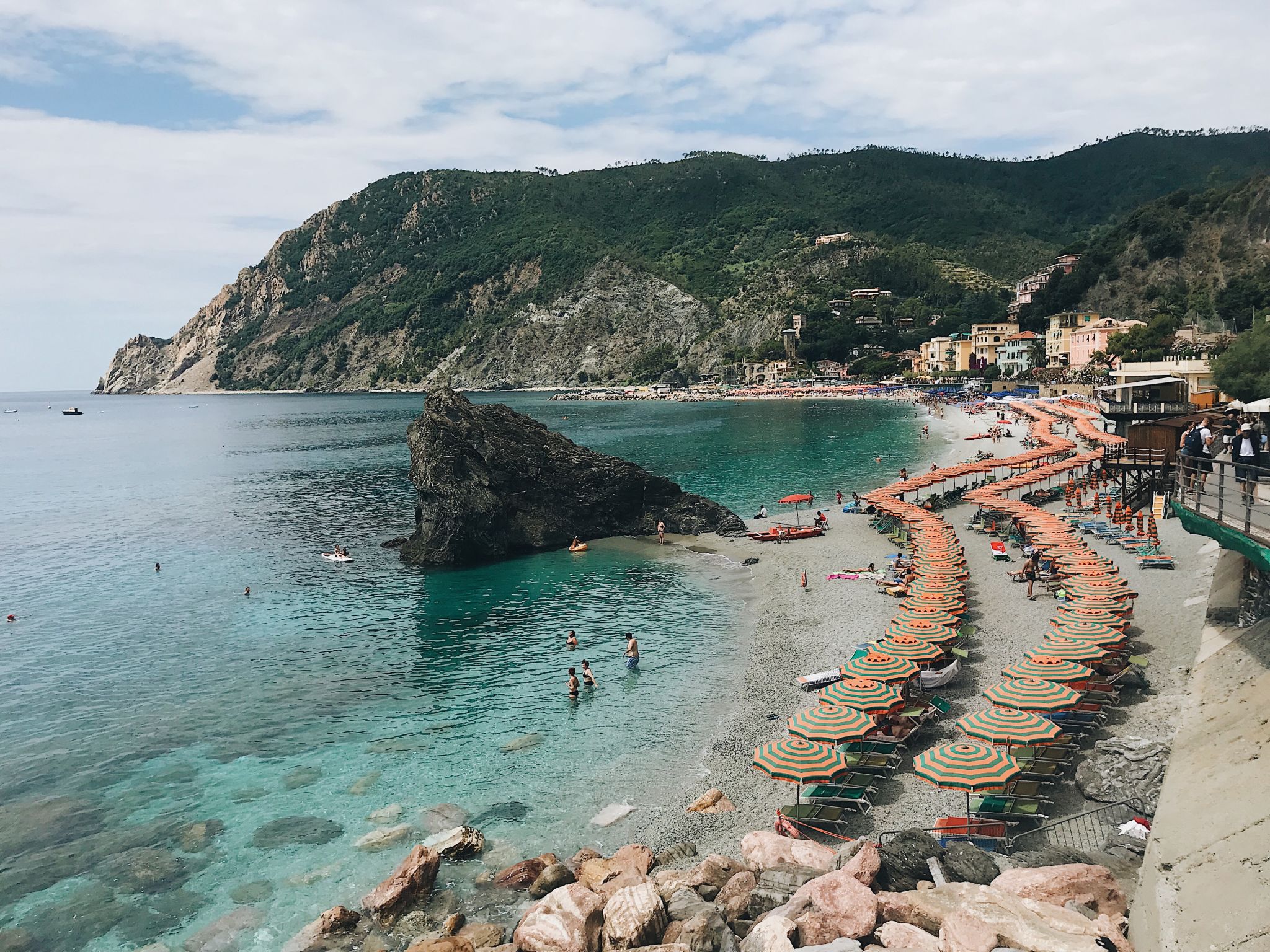 More than this I found there to be something magical about walking along paths carved out by villages hundreds of years ago.
Overall, our time in Cinque Terre was so relaxing, it was like a holiday away from the holiday. I simply loved it, and next time someone asks me 'where to go in Italy' Cinque Terre will be my top suggestion…
Rome (Days 9-14):
Our time in Cinque Terre came to an end all too quickly. Thankfully, leaving was bittersweet because the final stop on our Italy travel itinerary was none other than the 'Eternal City': Rome.
Rome is a city that has long been on my Bucket-list and I'm glad to say that it didn't disappoint! However, I've actually already written a detailed post about what I did during my 5 days in the city (which you can read here).
♦♦♦
So that completes my Ultimate 2 Week Italy Itinerary. I truly feel that its the perfect Itinerary for two weeks in Italy! I was able to visit many of the countries most famous cities, whilst also getting to spend some time on the wonderfully scenic Italian Rivera. Whatsmore, my time in each destination wasn't rushed, meaning I left with the feeling that I had gotten to experience everything each place had to offer!
Like this Post? PIN FOR LATER:
Have any questions about my Ultimate 2 Week Italy Itinerary? Then leave me a comment below: