Turkey has been captivating travelers for centuries with its world-renowned archaeological sites, unique landscapes (such as those found at Pamukkale and Cappadocia), and its cosmopolitan cities (say hello to Istanbul). As such, with so much to see, this 2 weeks itinerary Turkey is here to help you uncover the best of this mesmerising country…
How long to spend in Turkey –
The first thing you need to know when planning a Turkey 2 week itinerary is that the country is huge! It's more than 3X larger than the UK (or the combined size of Texas and Louisiana), so one of the biggest mistakes visitors can make is underestimating how long it takes to travel between destinations.
In this way, a week in Turkey doesn't really allow enough time to see everything, making anywhere between 10-14 days preferable. With my 2 week Turkey itinerary, I was able to squeeze in visiting a lot of the most iconic sites without feeling rushed. For me, it was the perfect balance between historical cities, scenic landscapes, and all-important beach days…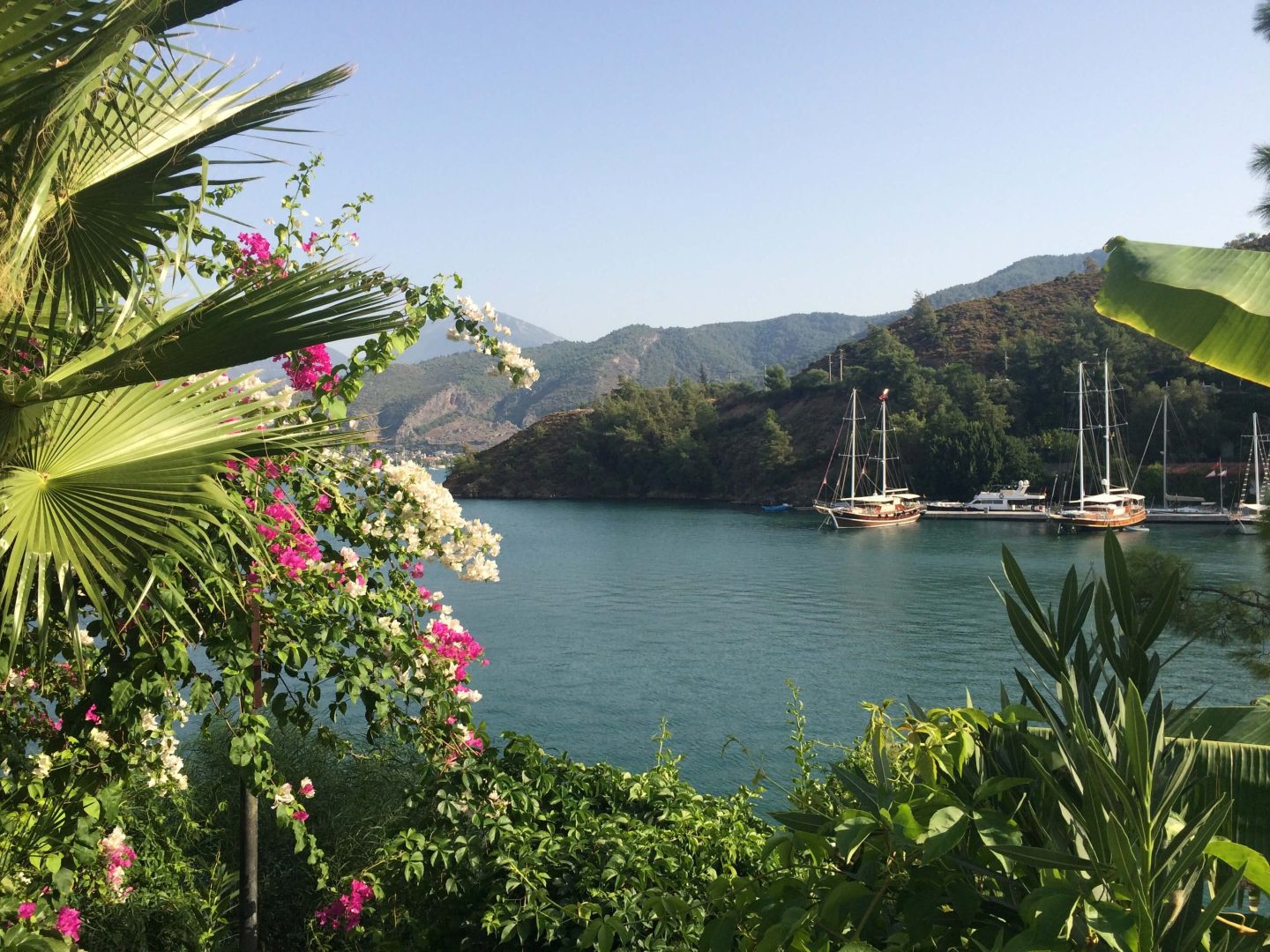 Best time to visit Turkey? –
Turkey is a year round travel destination, yet April, May, and September are largely considered to be the best months to visit.
This is because the summer months are often uncomfortably hot, especially when you're planning to spend lots of time outdoors exploring. Plus, June-August is also when you can expect the most crowds. Comparatively, winter can be quite cold, with snow in Istanbul and Cappadocia.
Therefore, I personally chose to visit in September, as there were fewer crowds, yet the weather was still warm (averaging around 18-25°C) which is perfect for both touring and relaxing.
Top Tip: Due to Turkey's size, the weather can vary across the country. For example, Istanbul tends to be far colder than the south coast throughout the year. Therefore, it's best to pack layers when planning a cross-country trip.
Turkey Travel Tips (Religion, Language & Currency) –
Straddling the border of two continents, Turkey's culture is a unique melting pot of both Western and Eastern customs. Thus, whilst the vast majority of its people are Muslim, the country is still quite liberal with no restrictions on how visitors should dress, etc. Plus, whilst the official language is Turkish, English is also widely spoken.
Leading on from the above, when visiting you can expect a warm hospitality from the Turkish people. Yet it's important to remain vigilant as the country did face political unrest in the late 2010s and has experienced some recent terrorist incidents. This said, overall it is considered safe to travel and I didn't experience anything that made me worried or uncomfortable during my time in the country.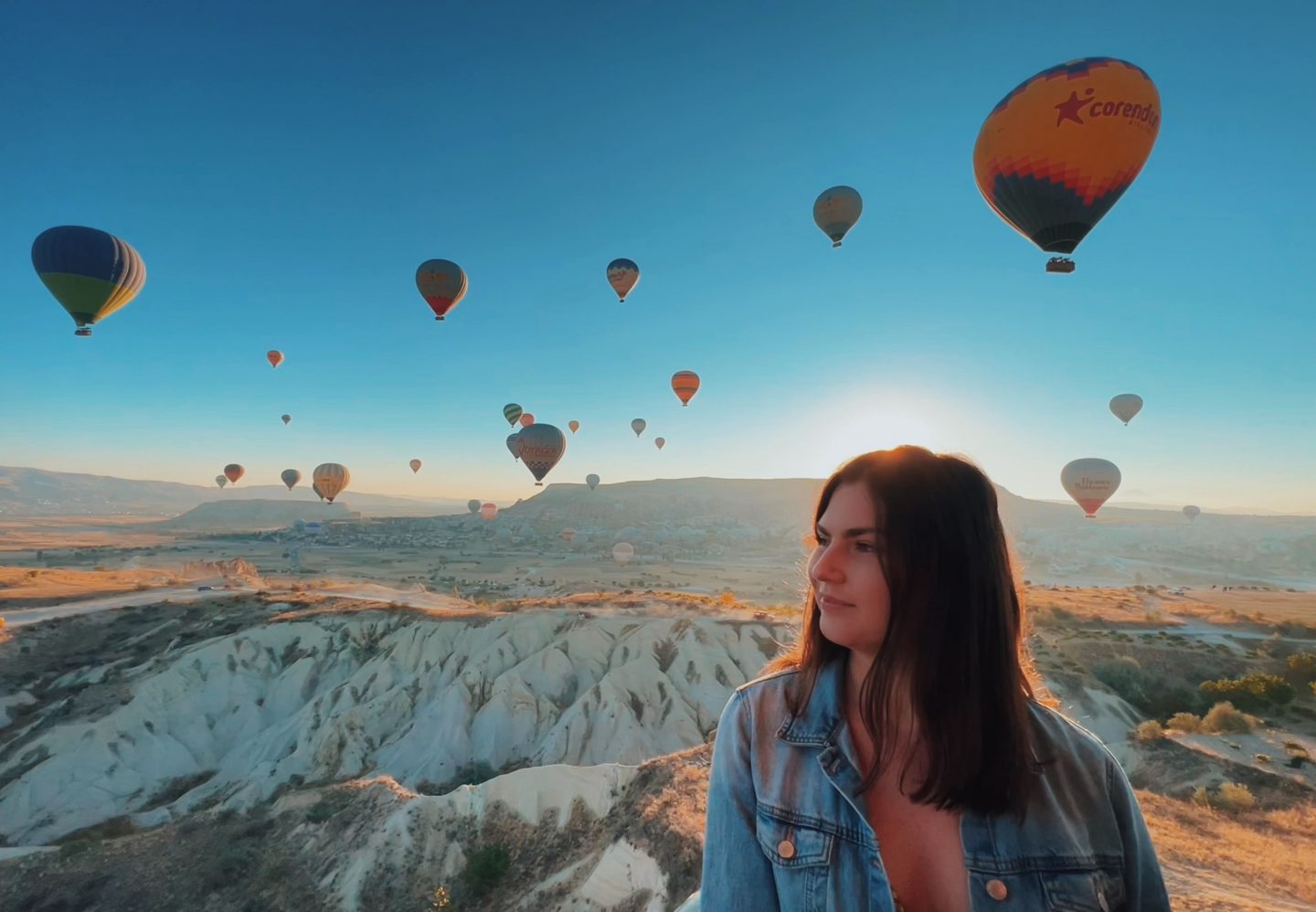 Luckily for your bank account, it's also relatively inexpensive to travel in Turkey, with food, transport, and accommodation all being very affordable. The Turkish Lira (TL) is the official currency used, yet you may find that some places also accept Euros. I found it best to exchange a small amount of cash for Turkish Lira pre-travel, and then find an ATM or bank to withdraw any extra needed.
Top Tip: Whilst Turkey is not extremely conservative, I'd recommend that ladies carry a scarf or wrap to cover their heads/shoulders if needed, especially if you plan to visit any Mosques.
How To Travel in Turkey –
The cheapest option for traveling around Turkey is via public transport. Even so, whilst it's possible to travel by train or bus (together they connect much of the country) I would suggest hiring a car to explore. This will allow you to be more flexible with your itinerary, and means you can stop off to see more places along the way!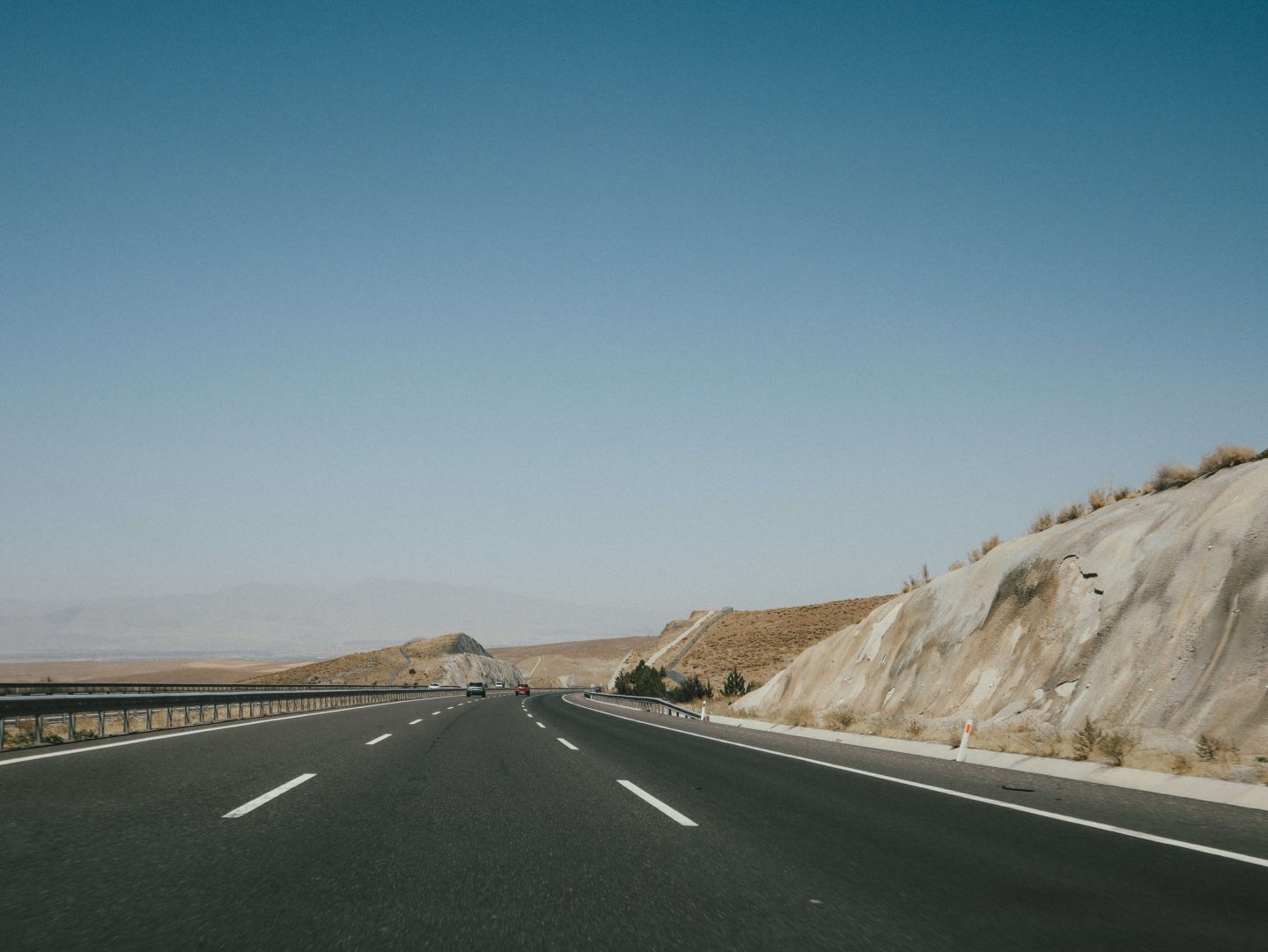 It's easy to navigate around Turkey as the roads are in great condition. Plus, they're serviced by plenty of petrol stations and restaurants if you need a break. I did discover that there's a strong police presence along the highways, so be prepared that you may be stopped at checkpoints and asked to show your passport.
You may also find that the quickest way to travel between some popular destinations is by taking an internal flight. With only 2 weeks in Turkey, time is limited, so heading to the airport for key journeys will save you many precious hours (more on this in my itinerary below).
TOP TIP: If you're traveling solo or worried about driving in Turkey, going on a group tour is another fantastic way to discover the country!
2 Weeks Itinerary Turkey –
Ready to get into my day-by-day suggestions for what to see and do? This 2 weeks itinerary Turkey delves into Istanbul, Cappadocia, Antalya, Fethiye, and more…
Days 1-2 Istanbul:
All the best Turkey itineraries start from its cultural capital: Istanbul. The city has fantastic flight connections to most places in Europe, thus making it the easiest place to start your trip. More than this though, the city can't be missed due to its sheer number of bucket list sites and 3,000 year history.
During my own two weeks in Turkey, my flight into Istanbul landed in the afternoon. This meant I sadly only had 24 hours to explore the city the following day. This is a tough ask since Istanbul is now one of the largest cities in Europe. Yet, with a carefully planned 1 day Istanbul Itinerary, I found enough time to see the highlights.
Leading on from above, with limited time in Istanbul, it's important to prioritise what you most want to see and do. My top suggestions include: Topkapi Palace (the former home of Ottoman Sultans), the breathtakingly beautiful Blue Mosque, the Basilica Cistern, and Hagia Sophia (which is argued to be the 8th wonder of the ancient world).
DID YOU KNOW? Istanbul is a "bridge" between continents. The city spreads across both sides of the Bosphorus Strait, meaning one-half of Istanbul sits in Europe, and the other in Asia. Thus, a fantastic way to see the city if you have time is by taking a Bosphorus river cruise.
Day 3 Fly or Drive to Cappadocia:
Above I mentioned that you may want to take internal flights during your Turkey itinerary for key journeys. This was mainly in reference to traveling to and from Cappadocia. Insanely beautiful, the region is a must-visit. It's become famous for its captivating landscapes and photogenic hot air balloon rides. Yet, unfortunately, it's around 500 miles (756km) away from Istanbul.
In this way, it takes around 8-10 hours to reach by car. In contrast, Turkish Airlines operates daily hour-long flights out of Istanbul to Nevşehir (Cappadocia's airport). Meaning, flying is by far the most convenient and quickest way to reach Cappadocia. This is important since you'll want to spend as much time as possible discovering the beautiful "land of the horses".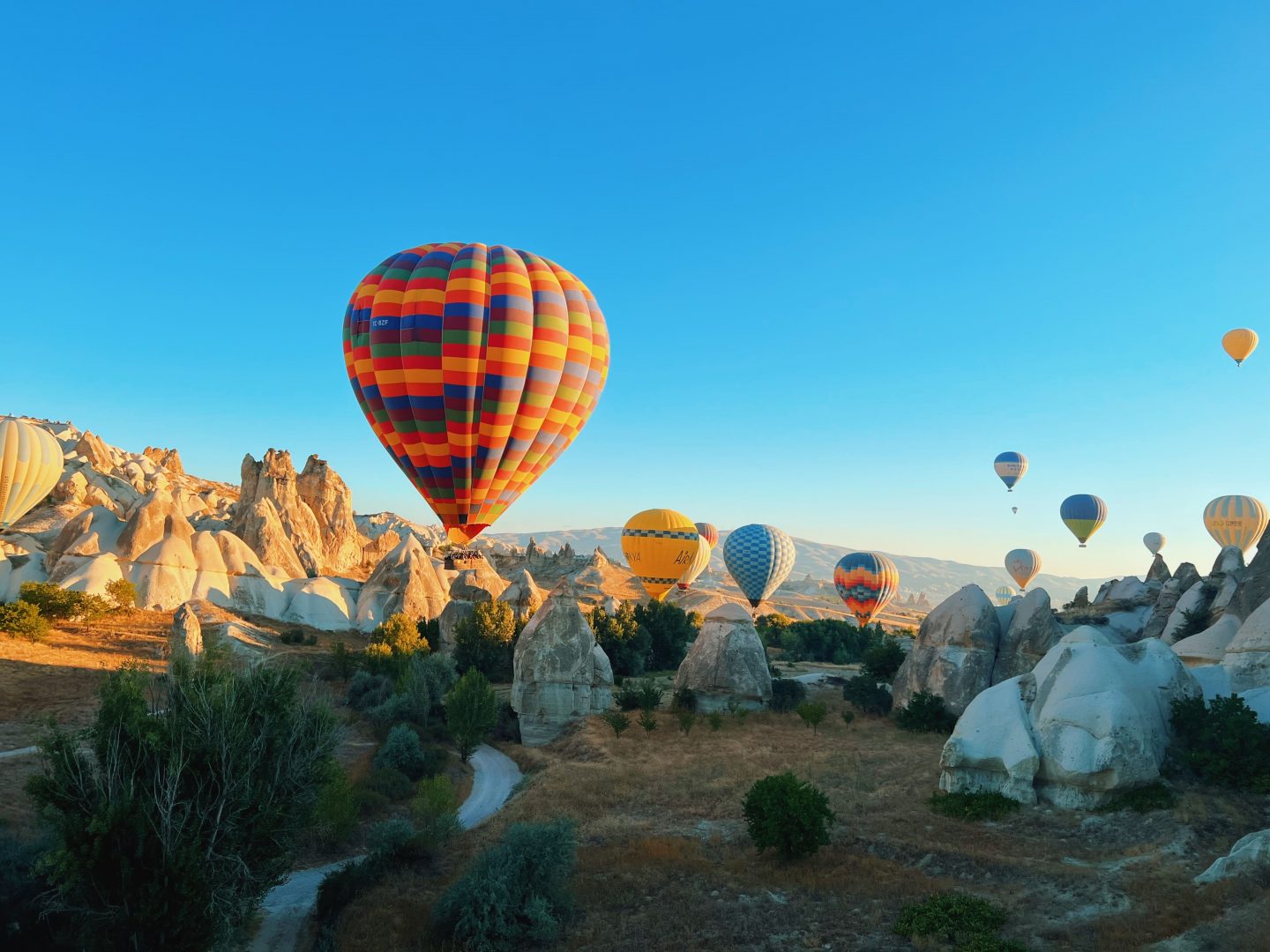 On the other hand, I did actually drive from Istanbul to Cappadocia during my own trip (it's with hindsight that I suggest flying instead, as I would have loved more time in the region). This said driving is a fantastic way to see more of the country.
For example, we broke up the drive by stopping overnight in the vibrant university town of Eskisehir. Sitting along the banks of the Porsuk River, it has a cosmopolitan, modern, yet relaxing vibe, which I very much enjoyed after the chaos of Istanbul.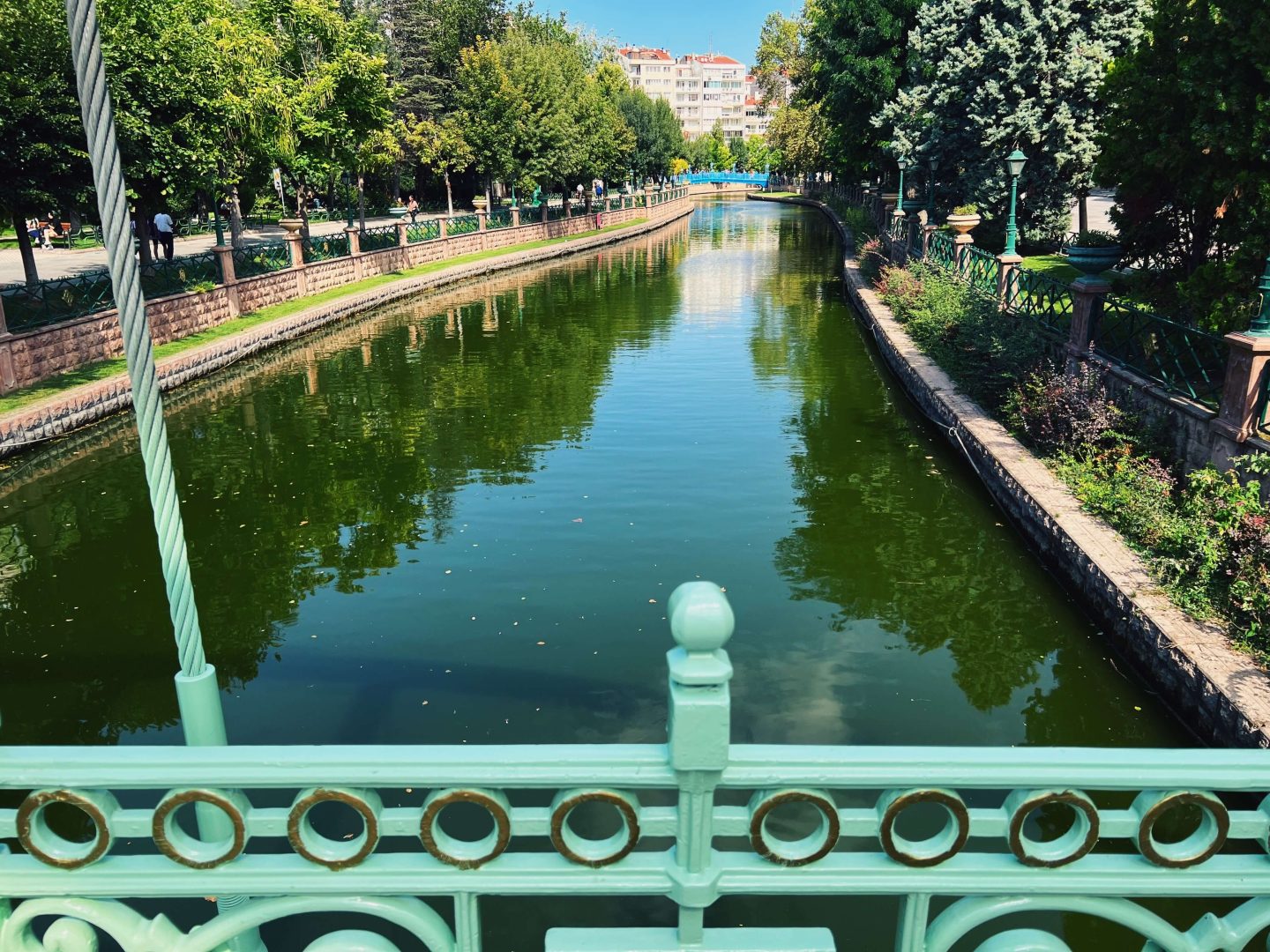 Another surprising destination to see on the road between Istanbul and Cappadocia is the beautiful Tuz Gölü (Salt Lake). Despite being the second-largest lake in Turkey, it's extremely shallow. Couple this with its vast natural salt flats, and you get a seemingly endless panoramic view of glittering white as far as the eye can see!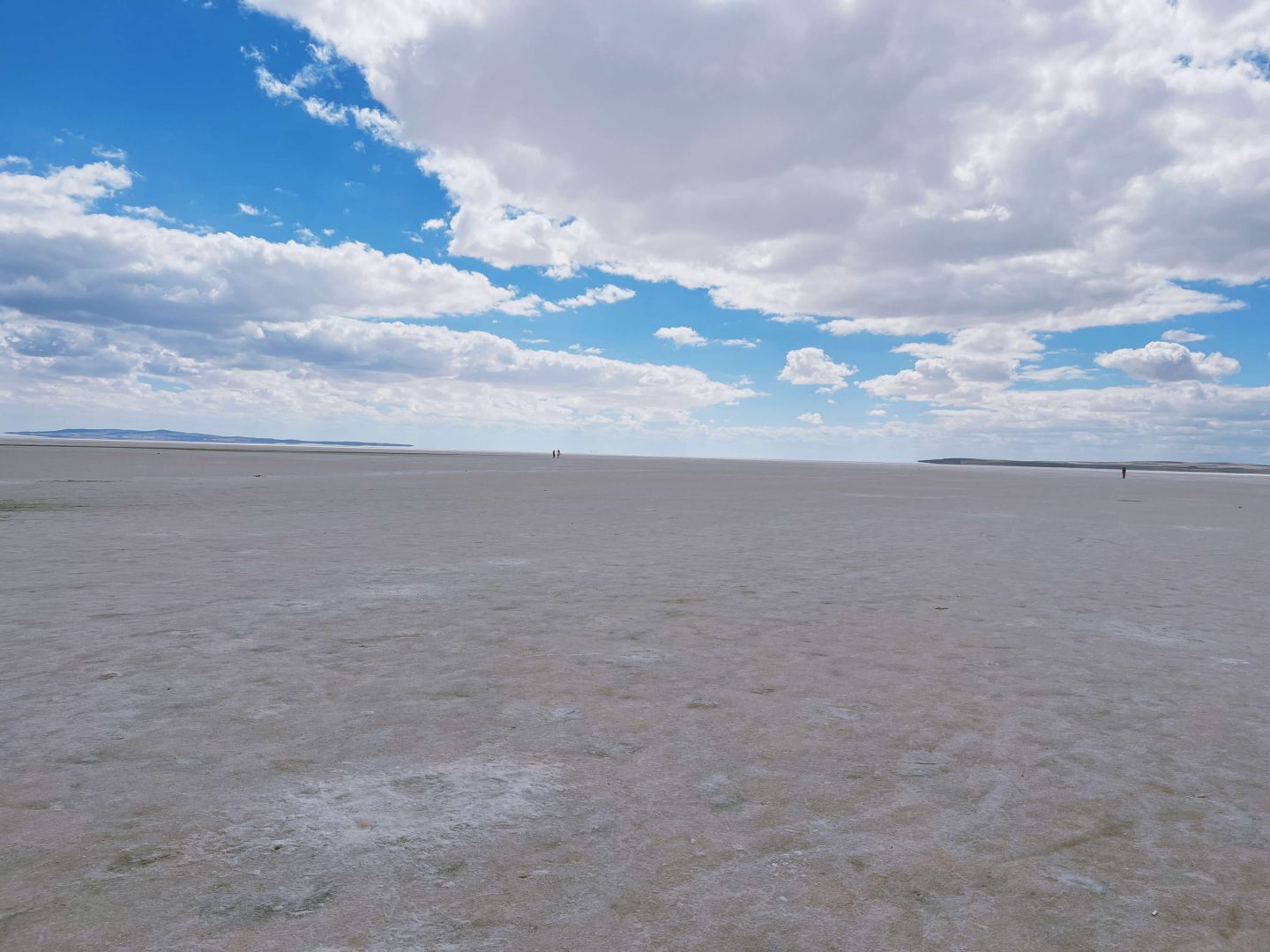 SIDE NOTE: Tuz Gölü had dried up when I visited, somewhat minimising the sparkling reflection. But, this is not to say that the visit wasn't worthwhile, and I'd still recommend stopping if you decide to drive from Istanbul to Cappadocia.
Days 4-6 Cappadocia:
However you decide to reach Cappadocia, with my Turkey itinerary 14 days you'll have a minimum of 48 hours to enjoy the iconic destination and its spectacular landscapes.
Of course, the main reason a lot of people want to visit Cappadocia (myself included), is to enjoy arguably the most beautiful hot air balloon ride in the world! Most mornings, 100s of balloons take flight in the region, drifting through wondrous valleys as the sunrises. A true once in a lifetime experience!
In addition to the hot air balloons, I was pleased to discover that there are plenty of other wonderful things to do in Cappadocia. For one, there's a plethora of unmissable viewpoints that offer different perspectives over the unique terrain and "fairy chimneys" found in the area. Incredibly, these are thought to have been created via an eruption from the nearby Mount Erciyes 30-60 million years ago.
Another must-see is the Göreme Open Air Museum where you can discover thousand year old caves that feature intricate religious frescoes and drawings.
Furthermore, whilst in Cappadocia, I recommend basing yourself out of the uniquely charming historic village of Göreme. Close to the Open Air Museum, it feels like stepping back in time since the majority of the buildings are still carved out of the rock, including the restaurants and hotels! Staying in a so-called "Cave Hotel" is thus all part of the Cappadocia experience.
Overall, its blend of natural beauty and distinctive history made Cappadocia my favourite destination of this entire Turkey itinerary!
TOP TIP: When planning your Cappadocia itinerary make sure you try and book a hot air balloon ride for your first morning. This is because it's worthwhile having a few "backup" days in case the flight gets cancelled, which isn't uncommon.
Days 6-8 Antalya:
Whilst, I could have easily spent a whole two weeks exploring Cappadocia, the diversity of Turkey means that there are more beautiful destinations to discover, none more so than Antalya.
Sitting along Turkey's Mediterranean coast, Antalya is known for its sun-drenched beaches, and as such is the perfect place to sit back and relax for a few days.
More than this though, the 'Old Town' is full of charm and character. Marked by Hadrian's Gate, a triumphant triple arch that was built in 130AD to celebrate the visit of Emperor Hadrian, it's full of Ottoman-style houses, delicious restaurants, and local shops. Plus, if you head towards the traditional harbour you'll be treated to terrific views out across the water!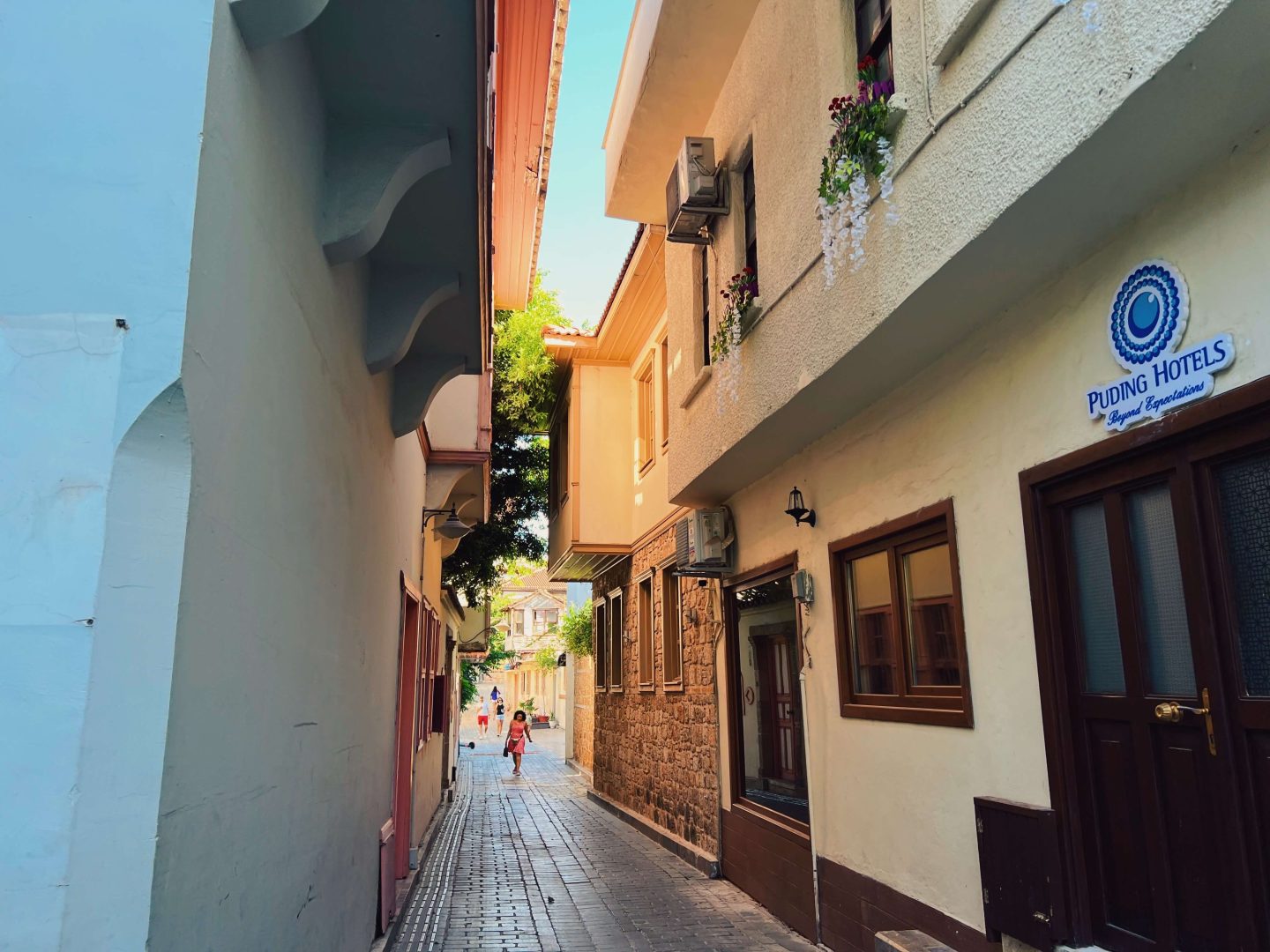 Similarly to traveling from Istanbul, there are daily flights from Cappadocia to Antalya which take around one hour. Again, this would be my recommended option as the drive is 7-8 hours long and there's not much to see on the way.
Day 9 Travel to Fethiye (Via Saklikent Gorge):
Located in the Aegean region of southwest Turkey, Fethiye is the next stop on my suggested itinerary. As such, more immaculate beaches and turquoise waters await. But first, Saklikent Gorge can't be missed en route from Antalya…
Pristinely beautiful, Saklikent is one of the deepest canyons in the world! 1000m deep and 18km long, it's a delight to explore. For a slight fee, visitors are invited to traverse wooden walkways, discover waterfalls and step into ancient caves.
TOP TIP: The entrance fee to Saklıkent Gorge is super affordable at just 10TL per person.
Whilst I did find the Gorge to be quite busy, once passed the bulk of the crowds, it felt like a true adventure. I loved ambling over the rocks and wading through the refreshing river! Plus, its natural beauty is undeniably striking.
After exploring the delights of Saklikent Gorge, it's only a short drive onto the aforementioned town of Fethiye. Framed by towering mountains and marked by a natural harbour, it's another paradise for sun-seeking in Turkey…
Day 10 Fethiye:
With just one day of this Turkey travel itinerary to spend in Fethiye, you may be tempted to just chill at your hotel and wander the local area. However, the true highlight here is the magical Aegean Sea. Therefore a day on the water cannot be missed!
In this way, you'll find that there are countless options when it comes to choosing a boat tour, but I'd suggest bargaining with locals to find a good deal (or you can book online).
Prices can vary from £300 to just £30 for a tour on large 'pirate' styled ships. For me, these seemed extremely crowded and busy (far from the relaxing trip I was after). So, I opted to spend a bit more money to enjoy a more local experience and wasn't disappointed. Not much can beat sailing between aquamarine bays, snorkelling, and lounging in the sun!
Once back ashore, if you're an adrenaline seeker, you may want to head straight to Ölüdeniz beach and Mount Babadağ (which sits above the bay). This is because Fethiye is seen as one of the best places in the world to go paragliding!
This is one experience I regret missing out on during my 2 weeks in Turkey. However, I won't complain about having a reason to return to the heavenly Fethiye!
Day 11 Pamukkale (Stay in Kusadasi):
After several days of enjoying Turkey's fantastic Mediterranean and Aegean coasts, I felt ready to jump back into sightseeing and continue my 2 weeks itinerary Turkey by visiting more bucket-list attractions, starting with Pamukkale (which is a three-hour drive from Fethiye).
Translating to mean "Cotton Castle", Pamukkale is one of the most spectacular landscapes in the world. It's comprised of gleaming white terraced pools that were formed via ancient hot springs flowing over the mountain's edge.
No one quite knows when Pamukkale was created, but the springs have drawn visitors since the second century BC. With average temperatures between 35-100°C, the aquamarine water still flows, meaning visitors can still bathe in the 'travertines' today.
This said you won't need long to explore the pools at Pamukkale. As one of the most popular tourist destinations in Turkey, the travertines get extremely busy. Thus, I found it to be more of a "dip your toes in" experience as opposed to sitting down to relax in the hot springs.
TOP TOP: The oldest travertines, found at the top of the hill, are now closed to visitors to help preserve them. This has created a wonderful viewpoint whereby you can look out over the pools without seeing any people.
Pamukkale is also home to the incredible ancient Greco-Roman city of Hierapolis, which sits atop the "Cotton Castle". A UNESCO World Heritage Site since 1988, the "Holy City" is littered with well-preserved Byzantine ruins. These include a theatre built to accommodate 10 thousand people, and of course, a Roman Baths.
Another popular attraction is the Antique Pool, which Cleopatra is rumoured to have swum in… Today, the pool has a clear manmade influence, with retaining walls and marble columns placed at the bottom. Nonetheless, it's definitely a unique place to take a dip!
TOP TIP: To enter both Hierapolis and Pamukkale tickets cost 25TL. Note though that access to Cleopatra's pool is an extra 32TL.
After spending a good few hours exploring Pamukkale, continue your Turkey travel itinerary with a three-hour drive to Kusadasi (my recommended base for the next few nights). This growing modern city is home to a large cruise port, meaning it's got a bustling atmosphere and fantastic nightlife. However, it's also 'the gateway to Ephesus' and therefore can't be missed…
Day 12 Ephesus (Visit from Kusadasi):
Ephesus was one of the attractions that I was most excited to visit during my two weeks in Turkey, and it didn't disappoint…
Thought to have been founded in the eleventh century B.C., Ephesus is one of the best-preserved Roman cities in the world! Once an important port, it was home to incredible monuments like the Temple of Artemis (one of the original 7 wonders of the world). As such, at its peak, the city was second only to Rome as a cosmopolitan center of culture.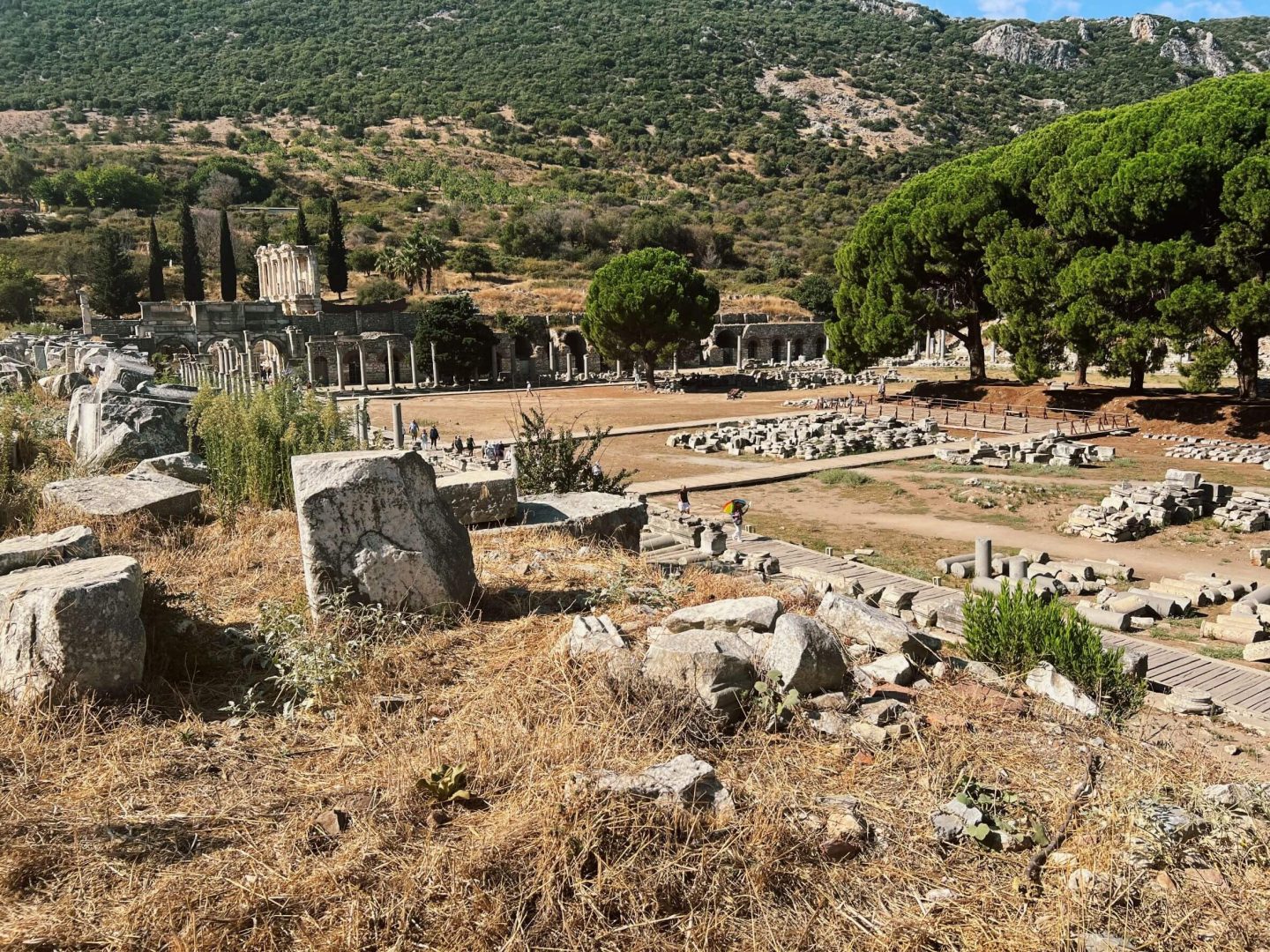 Therefore, it's no surprise that Ephesus is an extremely popular place to visit in Turkey. So, despite staying in Kusadasi (which is only 25 minutes away), I recommend visiting as early in the morning as possible to avoid the crowds, namely cruise day-trippers.
As such, when visiting I made sure to arrive when the gates opened at 8:30am, and headed straight for the main sights. Some of the most popular things to see at Ephesus are the iconic Library of Celsus, the amphitheatre, and the main harbour street. Walking around, I found it easy to imagine how impressive the city must have been!
TOP TIP: Tickets to Ephesus cost 200TL (10 Euros), and the summer opening hours are 8:30am to 6pm.
Another thing not to be missed is the covered Terrace House Complex. You do have to pay a small additional fee to enter, but the excavated villas offer a captivating insight into the inhabitant's everyday lives, with graffiti-covered walls, and amazingly preserved mosaics and frescoes.
Overall, touring Ephesus will take a good few hours. Yet, by visiting early in the morning, you'll still have time in the afternoon for a bit of relaxation back in Kusadasi. "Ladies Beach" is within close proximity to the city center and has excellent facilities with sun lounges to rent and several beach bars. Better still simply hit up your hotel pool as I did!
Day 13 Ancient City of Troy and Pergamon (Stay in İzmir):
The penultimate day of my 2 weeks itinerary Turkey, ends in the vibrant city of İzmir. Yet first, more ancient cities await starting with Hisarlik, which historians have identified as the legendary city of Troy…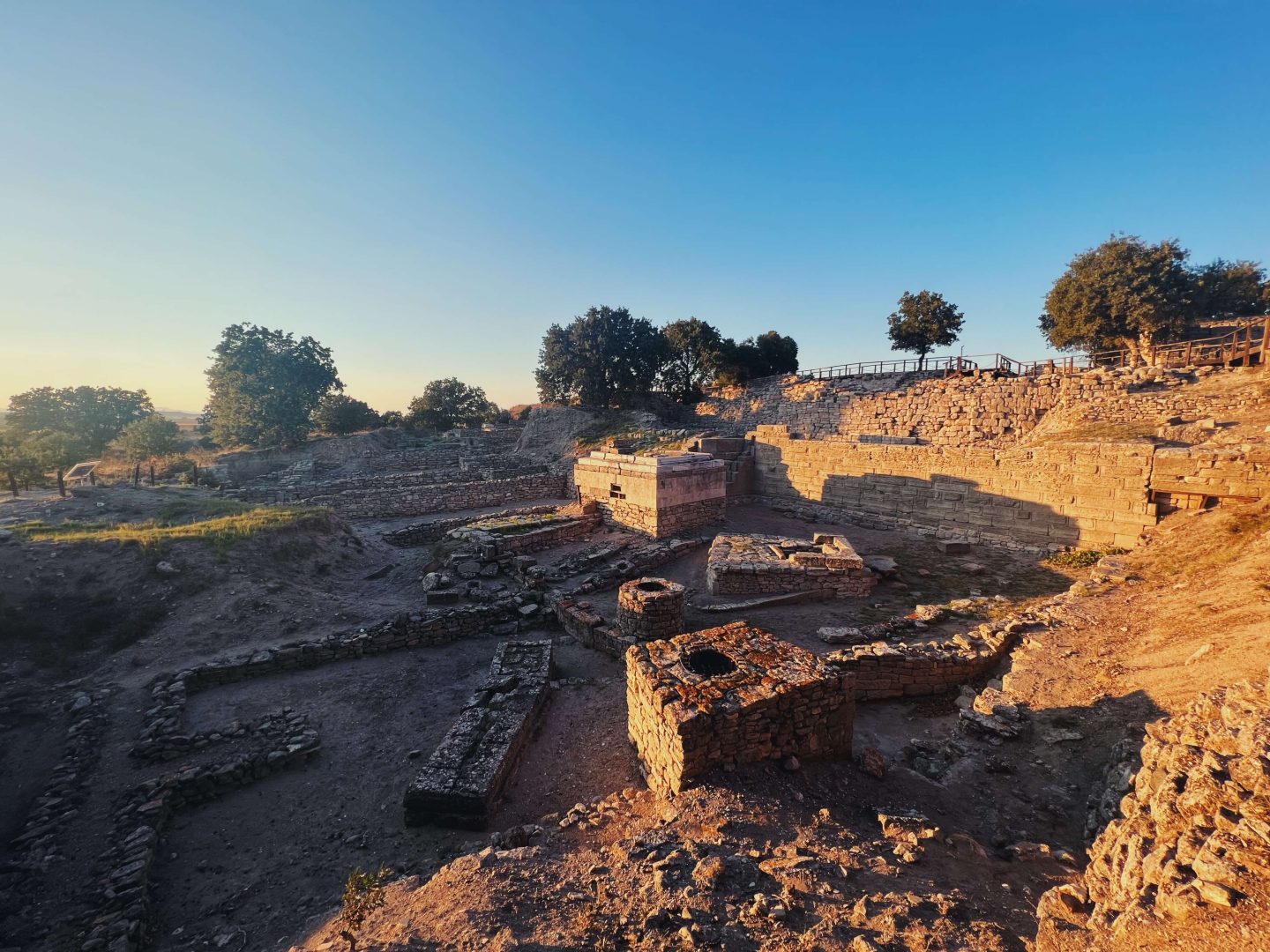 Just 90 minutes from Kusadasi, this stop is honestly a slight novelty, but any fans of Greek Mythology (or the Brad Pitt movie 'Troy') would enjoy it. The first thing to know is yes there is a "Trojan Horse" replica, but overall, the site is quite underwhelming since the city was actually repeatedly destroyed and rebuilt.
This said I did find it fascinating to learn about the archaeological research that has gone into unpacking the city's secrets. In addition, being able to distinctly see the different "layers" of the city, as it was rebuilt throughout each century, is quite unique.
After spending a little bit of time exploring Troy, we drove onwards towards the often-overlooked Acropolis of Pergamon, which is located just north of İzmir.
Founded in the 3rd century BC, Kale Hill sets the scene for Pergamon as it's marked by steep sloping terrain. The Acropolis (Royal City) crowns the hill, with further Byzantine and Ottoman remains found on the lower slopes.
This hilltop position means the views at Pergamon are enough to warrant a visit alone. Plus, they can be enjoyed from the outset as you ride a cable car up towards the ancient city. What I loved most about Pergamon however was how quiet it was. We basically had the whole site to ourselves and it made exploring the ruins even more exciting!
Although less well preserved and excavated than Ephesus, notable things to look out for in Pergamon include its theatre (the steepest in the ancient world) and library, which once had an incredible collection of 200,000 scrolls, until Mark Antony gifted them all to Cleopatra…
As stated, I think Pergamon is severely underrated as in many ways I preferred it to Ephesus! Even so, you only need around an hour to discover the much smaller site, meaning you should arrive in İzmir before it gets too late.
İzmir is another Turkish city located on the Aegean Sea. With a palm-lined promenade and Instagramable streets, it undoubtedly has a youthful feel, and intriguing cross-cultural history. However, as the third largest city in Turkey, it's the international airport that makes İzmir the perfect place to end a Turkey itinerary.
Day 14 Travel Back To Istanbul from Izmir:
The final day of my Turkey 2 week itinerary is sadly largely a travel day. As stated above İzmir is perfectly located for easy direct flights to other destinations across Europe. Likewise, there are regular flights back to Istanbul if you'd like to make your 2 weeks in Turkey a circular trip. I opted for the latter to enjoy some time back in Istanbul, which I'd highly recommend as there's always more to see in the bustling city.
♦♦♦
That concludes my guide on how to see the best of Turkey in 2 weeks. As you can probably tell, there is a seemingly endless amount of beautiful and interesting places to visit across the country. So, whilst this is definitely the best Turkey itinerary for seeing the highlights in two weeks, there are lots more places to discover. Thus I'm in no doubt that I'll soon be returning…
Like this 2 weeks itinerary Turkey? PIN FOR LATER: