Despite living my whole life just an hour away from the University town of Cambridge, I'm ashamed to say that I only recently made time to visit with a friend… But boy was it worth the wait! Its classical stone architecture easily makes it one of the prettiest towns in England.  Moreover, with over 1,000 years of history, there's plenty of things to see/do. I'd highly recommend a visit, thus here's how you can spend one day in Cambridge on a Cambridge day trip:
♦♦♦
Travelling to your Cambridge Day Trip – 
Just an hour away from London, Cambridge is the perfect place to visit on a day trip from the capital, especially since it's so easy to reach. For example, you can travel to Cambridge from London very easily by train as there's a direct line that travels from London's King Cross Station to the town! I'd suggest checking out Train Line for accurate train times, although the usually run every half an hour.
This said, my friend and I chose to drive to spend the day in Cambridge. Parking in the city centre is a nightmare but, Cambridge Park and Ride provides the perfect solution – Located just outside the town, you can park and catch the bus into the centre for just £5.
CHECK OUT MY GUIDE FOR A FIRST TIME VISIT TO LONDON 
---
Top Things To Do In Cambridge in a day- 
Take A Punting Tour –
When you visit Cambridge you'll quickly notice that the town perfectly blends modern life with tradition. One traditional activity you'd be a fool to miss on your Cambridge day trip is a punting tour along the beautiful river Cam.
There are several different companies that offer the opportunity to hire your own  'punt' for the day. However, since everyone we saw on the river seemed to be having trouble controlling their boats, my friend and I decided to save ourselves the stress and opted for a guided group tour with the Scudamore Punting Company. 
Booking online in advance, our tickets were only £15 each which, for a 45minute tour is a pretty good deal. If you're looking for something a little more private/romantic Scudamore also offers private tours for £30!
Cruising along the river is such a relaxing and charming experience, it also allows a unique look at the University of Cambridge's famous colleges including Kings, Trinity, Clares and St Johns. Having a guide also meant we got to learn a great deal about the university's fascinating history.
Visit King's College Chapel –
Without a doubt, the most famous of the attractions in Cambridge is Kings College Chapel. Taking over a century a build, it has the largest fan vault ceiling in the world. pair this with gorgeous stain glass windows and intricate carvings, and its really no surprise that visiting the chapel is said to be one of the best things to do in Cambridge!
In this way, a visit to King's College Chapel should definitely be on your Cambridge Itinerary.  Sadly on my own 'one day in Cambridge', I made the rookie error of not checking when the chapel grounds close (3pm for those that are wondering). My friend and I, therefore, missed the opportunity to tour the chapel. But seeing it from the outside is still an amazing experience!
Climb Great St Mary's Church Tower –
Despite not being able to visit the inside of Kings College Chapel, we were still able to appreciate its beauty thanks too Great St Mary's Chruch, which sits opposite.
Although its chapel is quite pretty, it's the Church's Tower which makes Great St Mary's a must visit on your 'One Day In Cambridge'… For £4 (£3.50 for students) you can climb to the top of the tower and experience panoramic views over all of the famous Cambridge Sights (including Kings College Chapel).
Tour The University Colleges –
A day trip to Cambridge wouldn't be complete without taking the time to explore one or more of its university colleges on foot! During our Punting tour, St John's was the college which (thanks to its amazingly grand building) called to me most.
However, we realised that it costs £6 to visit the grounds of St Johns… Short on time (and money as students) My friend and I decided to instead tour the beautiful courtyards of the lesser known colleges which you can enter for free!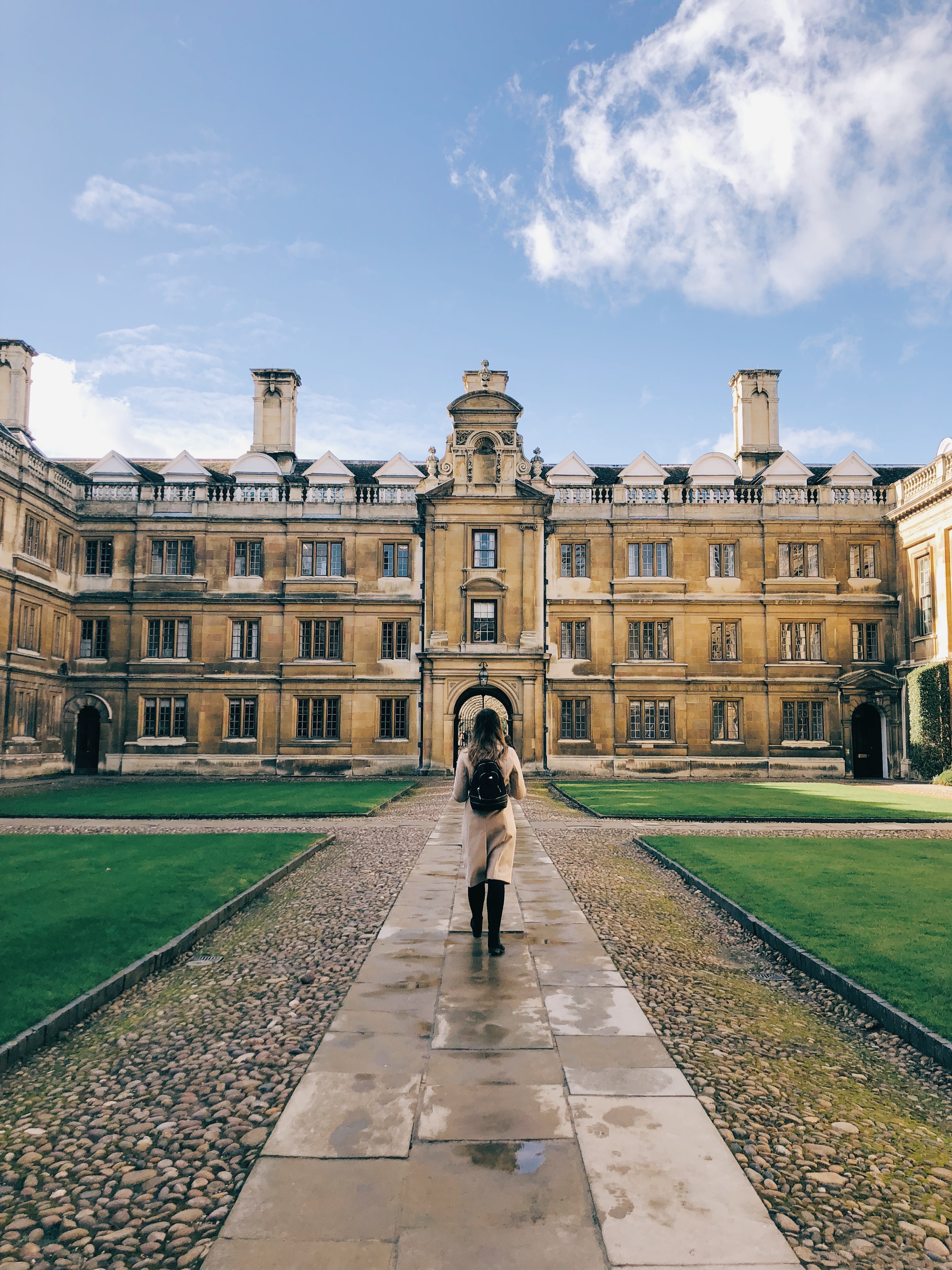 The architecture of the buildings throughout the centre of Cambridge are simply stunning. It's therefore really not hard to see why so many famous academics have chosen to study in the town throughout the years. In this way, simply wandering around the towns buildings was probably my favourite part of my Cambridge day trip!
NOTE: Kings College Chapel and the rest of its grounds also cost £7 to enter.
Gaze at the Towns Many Bridges –
Since Cambridge grew from a small settlement that surrounded the first bridge over the river Cam, it's no surprise that the town is now full of beautiful and unique bridges. Its most intricate is arguably the 'bridge of sighs' which was inspired by the bridge of the same name in Venice. It's best seen from the river (another reason to book a punting tour) but you can also view the beautiful structure from a bridge opposite. Either way, it's a must see during your 1 day in Cambridge.
Wonder around Market Square –
End your 'One Day In Cambridge' by exploring the many stalls at the centrally located Market Square. The market sells anything from fresh flowers and fruit to souvenirs and sweets, making it the perfect place to do some unique shopping in Cambridge.
---
Where To Eat When  you Spend a day in Cambridge – 
A short walk away from Market Square, Regent Street offers a great variety of bars and international restaurants. Venturing down the side streets leading off from here you'll find many more independent restaurants and cafes where you can fill your stomach during your Cambridge day trip.
Alternatively, We opted to eat at Honest Burger (located just off Trumpington Street). The burgers here were just heavingly and perfect for any meat and cheese lover… They even accidentally gave me a double, which I courageously managed to eat. 😉
♦♦♦
My one day in Cambridge was magical and I left with the feeling of wanting to return as soon as possible! In this way I thoroughly suggest going on a day trip to Cambridge if you have time during a visit to London.
Like this one day in Cambridge post? PIN FOR LATER:
I hope this post provides ideas of what to do in Cambridge! But, If you have any more suggestions of things to do in Cambridge let me know in the comments below. 
[blog_subscription_form]