Let me introduce you to a medieval city that oozes beauty from every corner; Dubrovnik Croatia. Surrounded by the Adriatic Sea, and those famous city walls, it's quickly becoming one of the most popular places to visit in the whole of Europe! As luck would have it, I recently got to spend a day in Dubrovnik, and whilst brief, it was ample time to be captivated… So, keep reading to discover what to do in Dubrovnik in one day!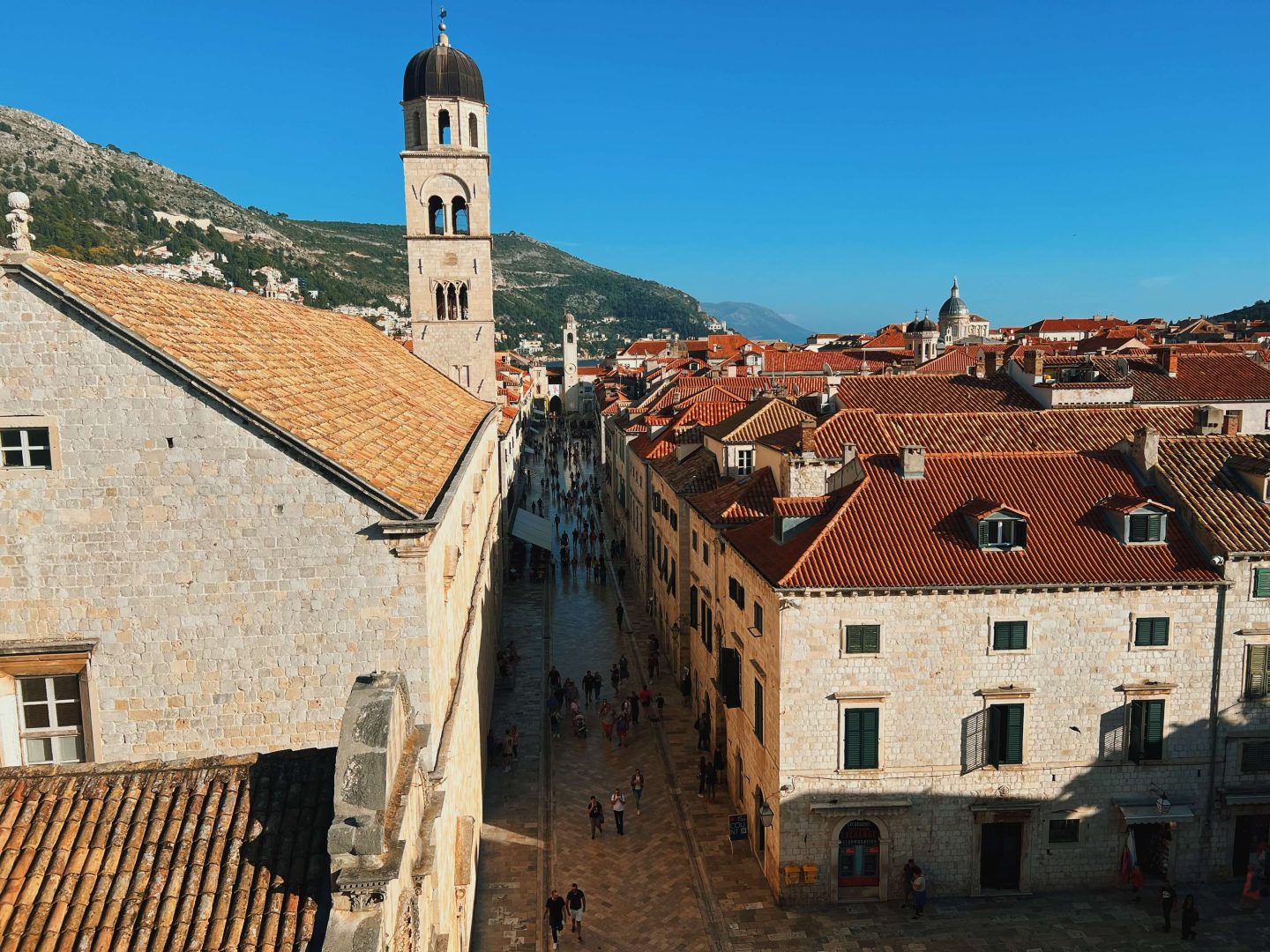 Tips For Visiting Dubrovnik In One Day –
Before visiting, I was worried that trying to see all of Dubrovnik in a day would be impossible! Yet, most of the best things to do in Dubrovnik are actually located within (or very near to) the old town. As such it's easy to see the majority in just 24 hours… And here's all you need to know:
Best Time To Visit Dubrovnik –
One important thing to bear in mind when planning any Dubrovnik itinerary is the crowds… Unfortunately, the city's dazzling beauty, increased exposure following Game Of Thrones, and an expanding cruise port, have all led to increased tourism numbers (over 1 million in 2022)!
In this way, encountering crowds during your 1 day in Dubrovnik is fairly likely… However, there are some top tips that will help make your day all the more enjoyable…
Firstly, if you can, avoid visiting Dubrovnik during the peak summer season. This may seem obvious, but all the beautiful places to visit in Dubrovnik remain open year-round. Plus, I visited in October and still got to enjoy some glorious weather!
Secondly, I highly recommend checking the cruise port schedule and trying to plan your one day in Dubrovnik for when there are no (or fewer) ships docked! But, If you are visiting from a cruise ship, start your day as early as possible. This way you can enjoy Dubrovnik before the majority of passengers disembark.
Likewise, if you're planning a day trip from elsewhere in Croatia (such as the equally as enchanting Split), I'd recommend staying well into the evening as this was my favourite time of day in Dubrovnik. On my visit, practically all of the crowds departed by 4pm, and the old town somehow seemed even more magical lit up at night!
Getting around Dubrovnik –
As briefly mentioned above, Dubrovnik is a highly walkable city, thus the best way to get around is on foot. In fact, the entire old town is pedestrianised. So, make sure you wear comfortable shoes as those ancient flagstones are a killer!
What to do in Dubrovnik in one day –
Time for the fun bit; what to do in Dubrovnik!
1) Take The Cable Car To Mt.Srd :
Standing 400m above the old town, I found the best way to start a day in Dubrovnik is to take the cable car up to the top of Mt.Srd, where you can enjoy spectacular panoramic views. Ticking this attraction off your list of things to do in Dubrovnik early means you get to admire the vistas before the viewpoint becomes too busy!
Even better, the Panorama Restaurant/Cafe located on top of Mt.Srd is no doubt the best spot in Dubrovnik to enjoy a morning coffee.
TOP TIP: You can buy tickets for the Dubrovnik Cable Car online in advance. Prices for an adult return ticket are around €30, with the cars starting from 9am year-round.
2) Explore The Old Town:
When exploring Dubrovnik in one day, the old town is the star of the show! Enclosed by the city walls, the whole area is a UNESCO World Heritage site charmed by paved limestone streets and hidden alleyways. Completed in the 13th century, it has remained virtually unchanged to the present day. Therefore, walking around feels like stepping back in time!
From the bottom of the cable car, it's just a short walk to the eastern entrance of the old town; Ploce Gate. With beautiful views out across to the old harbour, it's a fitting entrance! Especially when the morning sun flickers off the turquoise waters…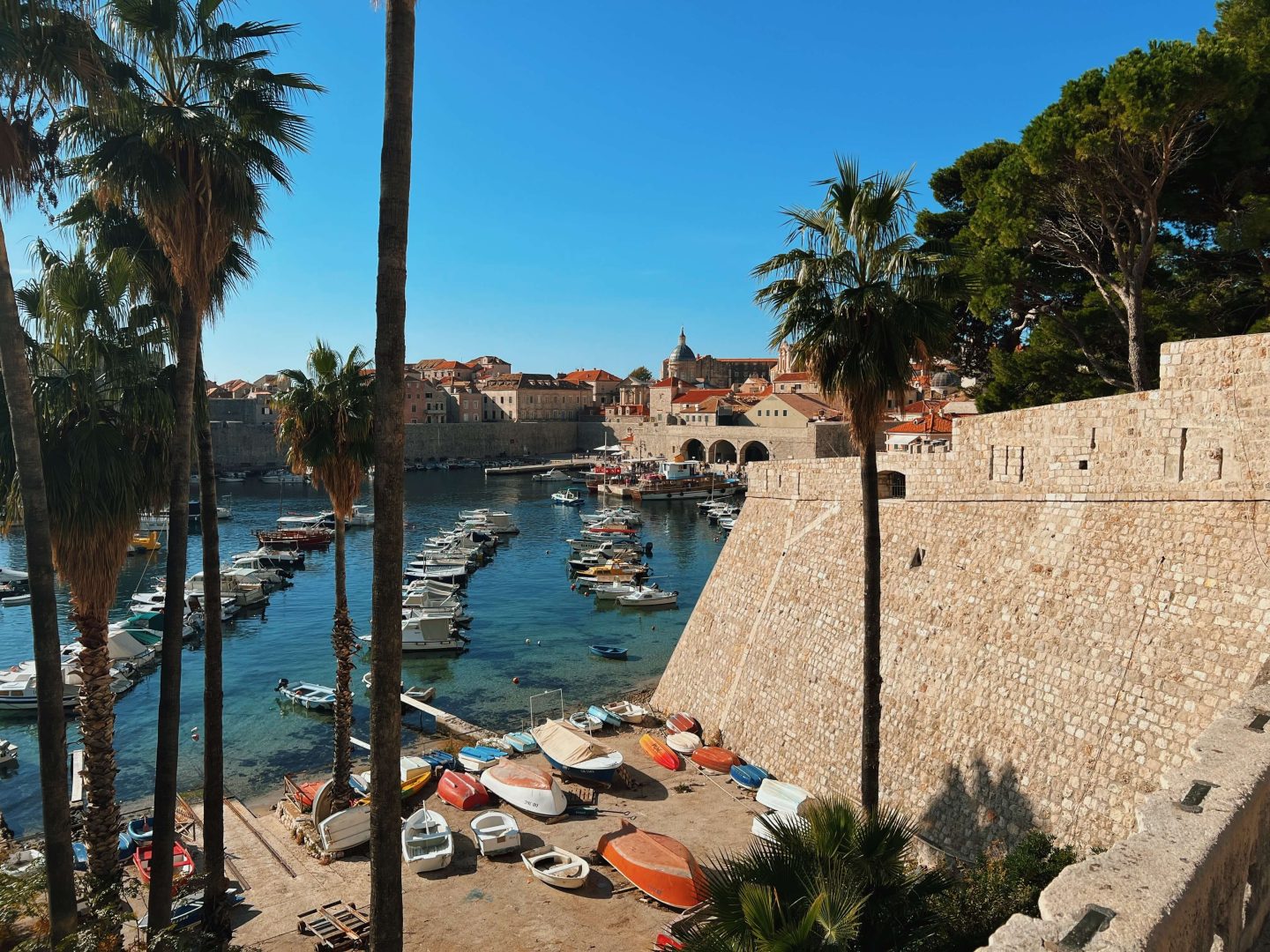 Once in the old town, it's easy to navigate as everything leads off the Stradun (main street). Lined by historic buildings on both sides, you'll find Dubrovnik Cathedral, Rector's Palace, and Onforio's Fountain all nearby!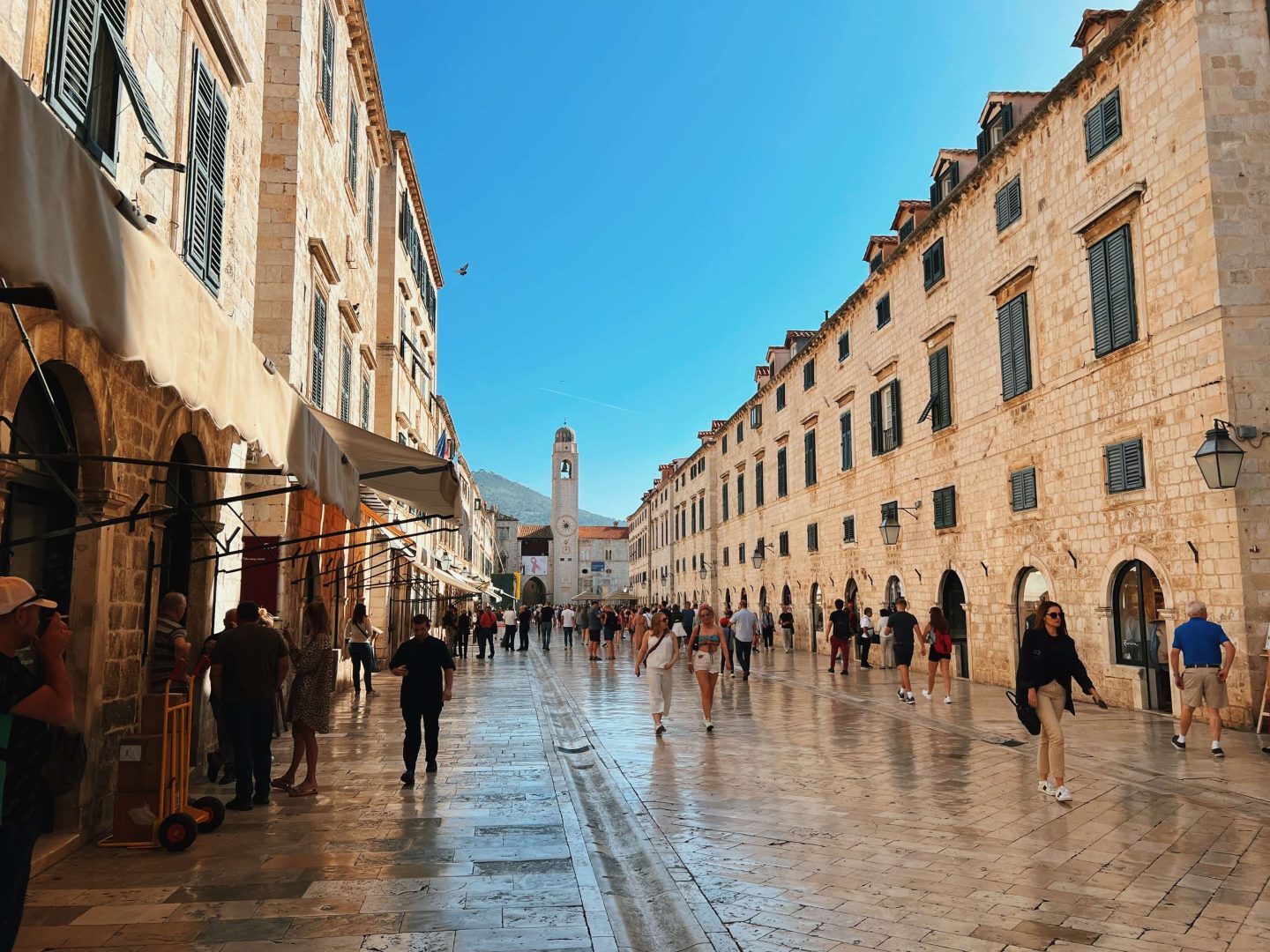 That said, whilst it's interesting to tour these best places to visit in Dubrovnik, my favourite thing to do was simply find quiet hidden corners in the old town and watch the world go by!
3) Take A Game Of Thrones Tour Dubrovnik:
If Dubrovnik has become synonymous with one thing, it's Game of Thrones… Throughout the series the old town portrayed Kings Landing, meaning there's a seemingly endless amount of Game of Thrones filming locations in Dubrovnik! Including sites that doubled as the Red Keep, Blackwater Bay, and most famously Cersei's "Walk of Shame"…
If you're an avid Game of Thrones fan like me, I'm sure you'll want to head straight for the Jesuit Staircase. Or instead, why not take an entire Game of Thrones tour of Dubrovnik?! Even if you're not a big fan of the show, it's actually a great way to learn more about the old town, as most tours take you to popular places to visit such as Rector's Palace and Lovrijenac Fortress.
SIDE NOTE: Did you know that there are also exciting Game of Thrones filming locations in Morocco?!
4) Hit The Water… Or Beach:
Surrounded by the shimmering Adriatic it's almost a crime if you don't dip your toes into the sea when discovering Dubrovnik in one day! Thus, there are several ways to hit the water, starting with the most physical; sea kayaking.
One of the most popular activities in Dubrovnik, 2-3 hour kayaking tours allow you to enjoy a unique perspective of the old town as you cross the Adriatic and paddle around the small Island of Lokrum!
Top Tip: Entirely uninhabited, Lokrum island is a delight to explore if you ever have more time in Dubrovnik; with highlights including a famous Botanical Garden and 11th-century Monastery.
Personally, on my own Dubrovnik itinerary, there wasn't quite enough time to head out to sea. So instead, we headed to the popular Banje Beach for a little bit of downtime. Just a 10-minute walk from the old town, it's the perfect place to soak up the sun, with fantastic views, crystal clear water, and even sun loungers to rent.
TOP TIP: If you want to remain in the old town, head to Buža bar which is located on the rocks beneath the city`s walls. Here there are uninterrupted sea views and cold beers on offer! You can even jump into the Adriatic if you're feeling brave…
5) Enjoy A Delicious Meal:
So far I've mainly mentioned sightseeing, but if you're wondering what to do in Dubrovnik in one day beyond this, my answer would be to eat… The local cuisine is simply fantastic, with the old town offering everything from classic Croatian fish restaurants to beautiful al fresco dining. In this way, a long leisurely lunch is well worth your time.
Highly recommended, we stopped for lunch with a view at Nautika Restaurant. Located next to Pile Gate (alongside the western entrance to the old town) its outside terrace offers a one-of-a-kind view across to the city walls and Lovrijenac fortress, plus the food was equally delightful.
6) Watch The Sunset From The City Walls:
Undoubtedly the most popular of all the things to do in Dubrovnik is walk the city walls! In this way, a lot of itineraries suggest doing so first thing in the morning. However, when exploring Dubrovnik in one day, I discovered that the evening is actually a better time… This is because: A) most organised tours will have left, and B) it's the perfect vantage point for watching the sunset!
Built throughout the city's history, the walls you see today were strengthened in the 15th century to protect against invasion from the Turks. They run uninterrupted for 2km, stand up to 25m high, and are fortified by four strong fortresses and 2 round towers.
Seen by many as the best-maintained city walls in the world, history oozes out of every meter! Yet even more captivating are the views. As you walk along the walls, the sweeping vistas of Dubrovnik's terracotta rooftops are unparalleled. I particularly loved the juxtaposition against the azure waters of the Adriatic!
TOP TIP: Walking the city walls can be quite strenuous, with over 1080 steps to tackle. In this way, whilst visitors are required to walk in one direction, it's worth noting that there are 3 exit points along the walls if you're worried about walking the whole 2km.
In total, it takes around two hours to walk the entire loop. However, my advice would be not to rush, take your time to soak in the fairy-tale views! Luckily this is made easy thanks to several bars dotted along the route whereby you can sit back for a while to take in the view.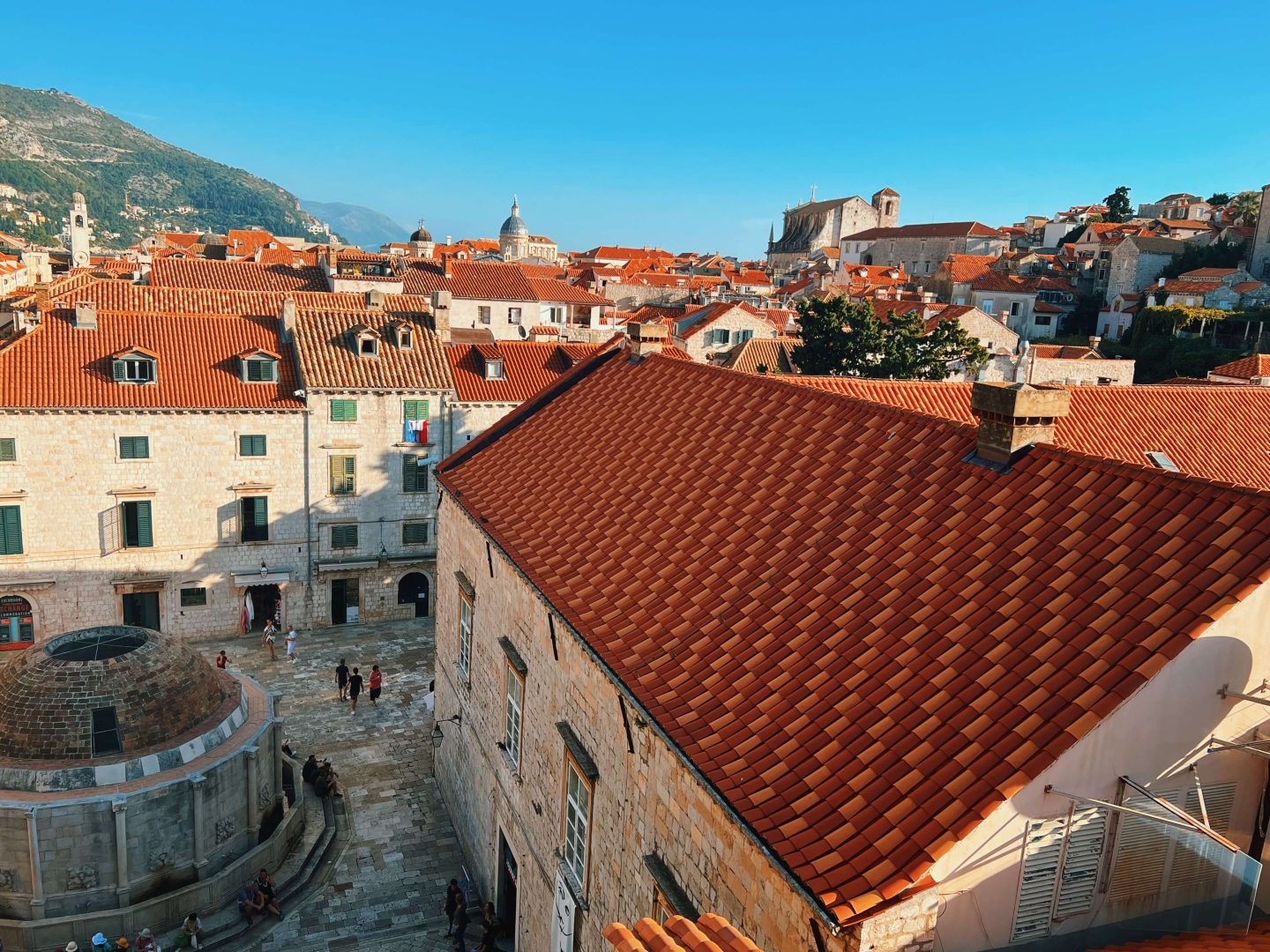 As the most popular activity in Dubrovnik, walking the city walls isn't cheap with prices recently increasing to over €30 per person. This said the experience is still more than worth it and tickets can be brought on the day.
7) Visit Lovrijenac Fortress:
Whilst Fort Minčeta is the biggest Dubrovnik attraction actually on the city walls, freestanding Lovrijenac (St. Lawrence) Fortress also shouldn't be missed during 1 day in Dubrovnik. Not least for the fact it's included in the price of your city wall ticket.
Perched on a massive block of stones, the fort serves as a vivid reminder of the threats medieval Dubrovnik faced. This said, again, the views take precedence with Lovrijenac providing a spellbinding vantage point back across the water to Dubrovnik's old town.
In truth, I found the entrance to Lovrijenac Fortress a little difficult to find. However, if you head through Pile Gate, and onwards towards the West Harbour (another of the most beautiful places to visit in Dubrovnik), you should then see signposts pointing towards the fort!
8) Rediscover The Old Town At Night:
At the start of this guide on what to do in Dubrovnik in one day I suggested staying until the sun goes down if you can. This is simply because the old town has an incredible atmosphere at night! I loved wandering the almost empty streets, which get bathed in a soft orange glow.
More than this, the opportunity to enjoy a second meal in Dubrovnik shouldn't be missed! As such, we stayed to have dinner at the amazing Lokanda Peskarija. More top picks include Pronto, Restaurant 360, and Azur.
♦♦♦
I hope you enjoyed this guide on what to do in Dubrovnik in one day! Whilst I personally loved exploring the captivating city in just 24 hours, there's definitely something on those old brick alleyways which is already pulling me back for another longer visit…
LIKE THIS POST? PIN FOR LATER: