Thinking about taking a day trip to Lake Bled Slovenia? I recently had an opportunity to stop off in Ljubljana and instantly knew it was somewhere I needed to visit… In this way (after being captivated by its insane beauty) I've compiled a Lake Bled travel guide to help you find out all you need to know about visiting this incredible hidden gem:
Is Lake Bled Worth Visiting? –
My answer to whether Lake Bled is worth visiting is a simple one: 100% YES! Despite flying relatively under the radar, it offers spellbinding beauty and some of the most picturesque views I've ever seen!
Found within Triglav National Park, Lake Bled sits peacefully below the Julian Alps. This means its glacier-fed water appears impossibly blue. This alone is enough to create postcard-worthy views. Yet, Lake Bled is also home to a medieval castle and a charming island, making it a true alpine fairytale.
Lake Bled Day Trip From Ljubljana –
Lake Bled is the most famous destination in Slovenia. Thus, there are plenty of different transport options available from its capital, Ljubljana, to get you there. I opted for a direct bus, as this was the most convenient (and cheapest) way to reach the lake.
Buses depart regularly from the Ljubljana bus terminal, and tickets can be bought on the day for €6.30 each way. The journey only takes around an hour and a half and can be even quicker depending on the company/route.
I enjoyed the independence that the bus offers, as you can then explore Bled at your own pace. However, for a hassle-free experience organised day trips are always a good option. Further, you may even decide to hire a car, which will get you from Ljubljana to Lake Bled in just 45 minutes.
Best Time To Visit Lake Bled –
Now you know how to get to Lake Bled, you may be wondering if there's a best time to visit. Luckily Bled is an excellent year-round destination, with each season bringing different touches of magic to the landscape.
This said April to May and between September and October are largely seen as the most ideal periods to visit when considering the weather and crowds. For example, whilst summer brings high temperatures of up to 30°C (making a dip in that turquoise water irresistible) it also draws in much larger crowds and rain from the surrounding mountains.
In contrast, I happened to visit Slovenia in October and enjoyed pristine blue skies during my day at Lake Bled. This was coupled with the trees displaying iconic autumnal shades, and barely any other visitors.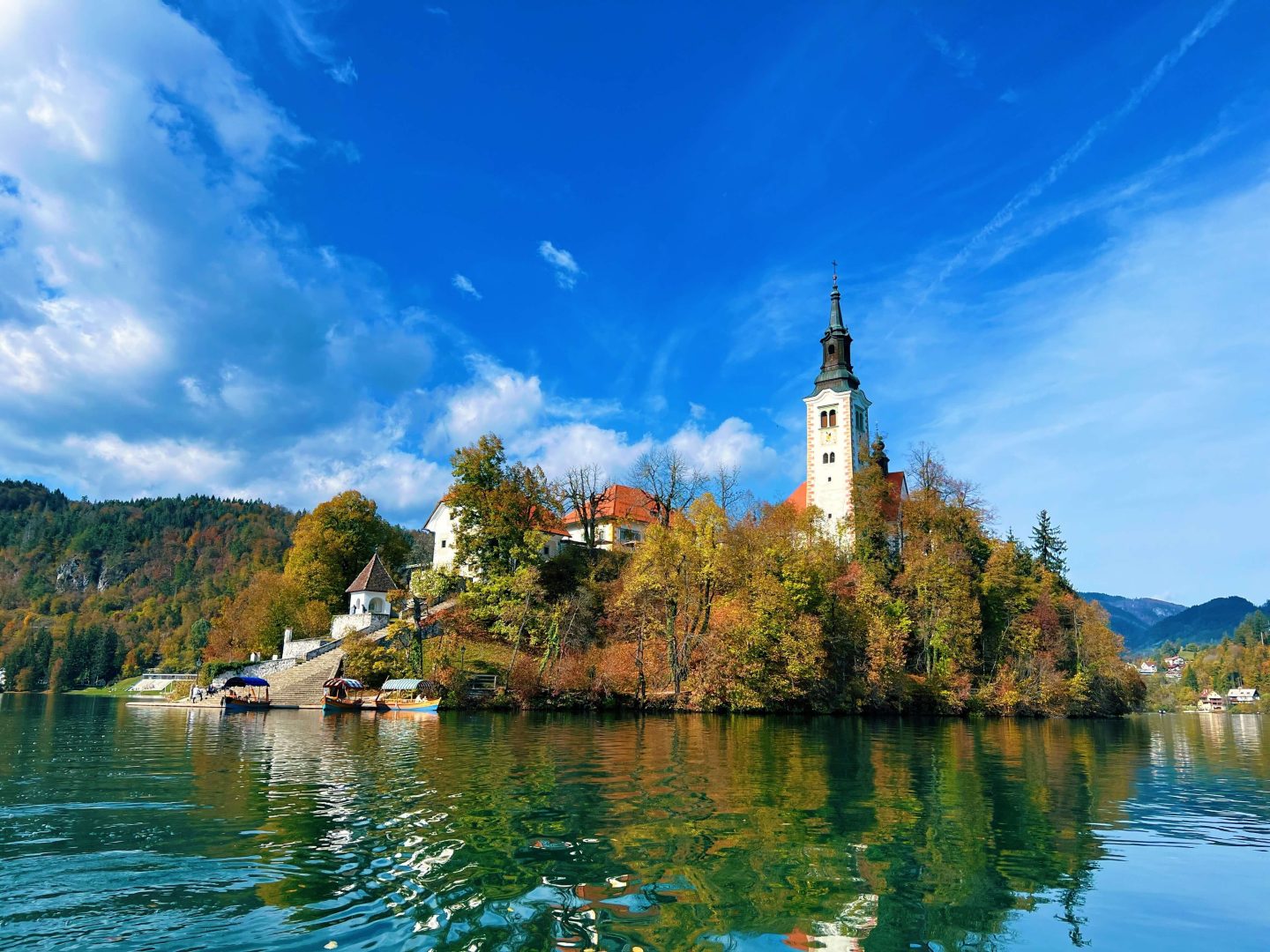 TOP TIP: Like with any mountainous region the weather in Slovenia can change rapidly! So, it's best to bring layers on your day trip to Lake Bled.
Where To Stay In Lake Bled –
Whilst this is a guide for how to spend one day in Lake Bled, there are enough things to do in the region to warrant staying for at least a couple of days if you have the time! And let's be honest, who wouldn't want to admire those views for as long as possible…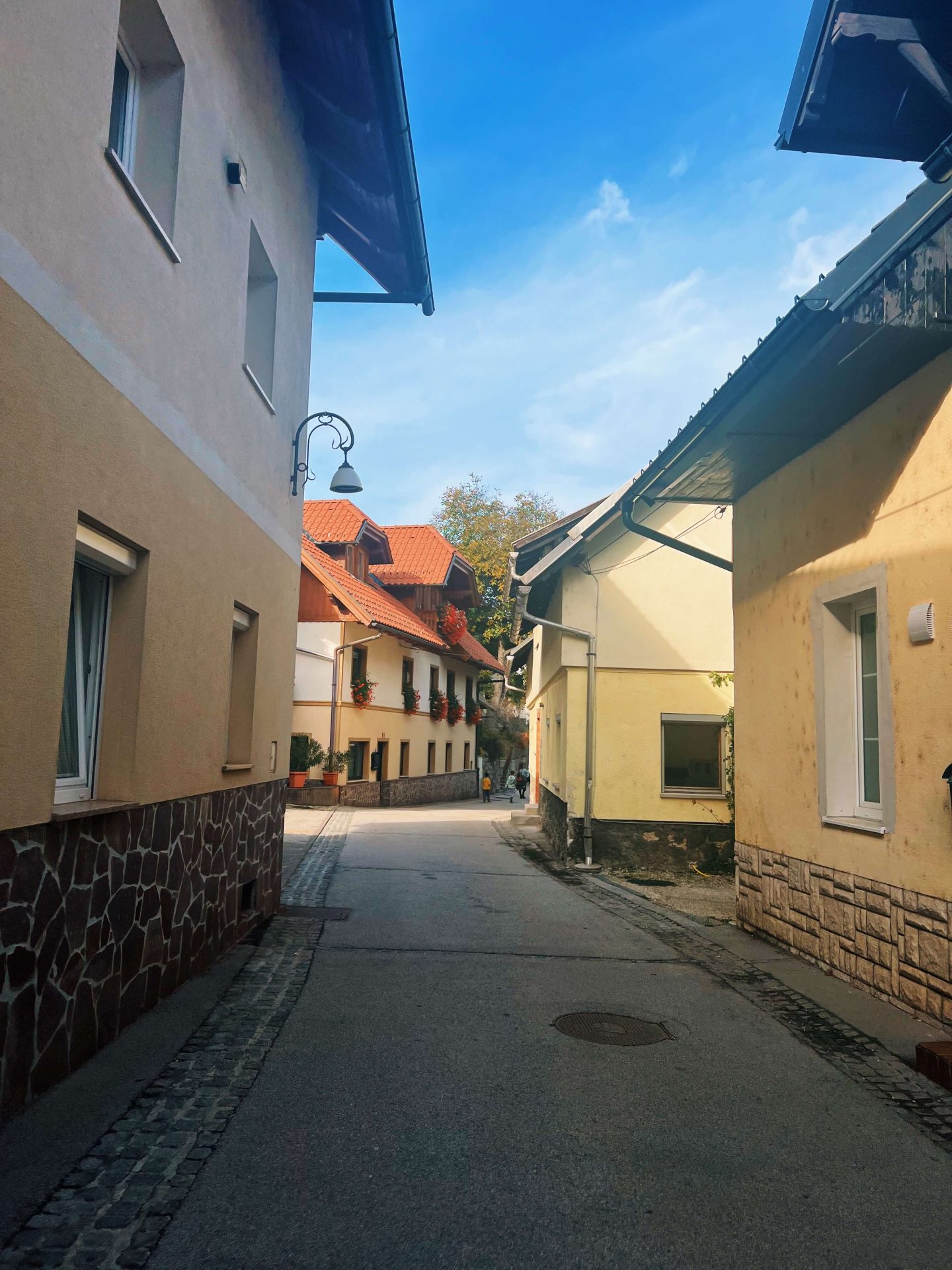 In this way, if you want to extend your Lake Bled itinerary, some of the highest recommended places to stay on the lake include Vila Bled, Rikli Balance Hotel, and Adora Luxury Hotel.
Things To Do In Lake Bled Slovenia –
With lots to discover, let's unpack the best Lake Bled things to do on a day trip:
1) Hire a boat or paddle to Lake Bled Island:
Since Bled is famously characterised by the beautiful island (Blejski Otok) in its center, it only seems right to start any day trip to Lake Bled by hitting the water.
Fun Fact: Blejski Otok is the only natural island in the whole of Slovenia.
One thing to note before heading to the island is that motorised boats are banned on Lake Bled. So instead, if you're feeling adventurous, you can hire paddleboards, kayaks, and even traditional rowboats to paddle across the lake.
But, if you're anything like me, you'll want to sit back and take in the views from a Pletna boat. Unique to Lake Bled, but similar to a gondola, these seat up to twenty people and are controlled via an oarsman who stands at the back and propels it through the water. This is a local skill passed down the generations, making a Pletna ride an authentic Lake Bled experience.
TOP TIP: There are four Pletna docking stations found around the exterior of Lake Bled where you can purchase a round trip for €12 per person (the journey to the island takes about 15 minutes each way). Rowboats are a little more expensive at around €20 per hour, but again can be hired from various points around the lake.
2) Explore the island –
Once you reach Lake Bled Island, it won't take long to explore… At just under an acre in size, it's home to a charming 15th-century Gothic church dedicated to the Assumption of Mary. The church has drawn visitors to Lake Bled for centuries, with legend stating whoever rings its bell will have their wishes come true…
In this way, most visitors head straight to ring the wishing bell. But first, you need to climb the 99-stone steps leading up from the lake. This beautiful baroque staircase is itself shrouded in legend… Slovenian newlyweds will often visit since it's tradition for grooms to carry their brides up the stairs for good luck.
Folklore asides, despite its tiny size, Lake bled island is extremely beautiful. So, make sure you head behind the church to explore every inch and take in the gorgeous views.
3) Walk around Lake Bled –
Once you're back shoreside, another of the most popular things to do in Lake Bled in a day is to simply take a stroll around the exterior. It takes roughly an hour and a half to walk the total 6km loop, or around 30 minutes if you decide to rent a bike to cycle the distance.
Rather than walking all the way around the Lake, I opted to wander along the western side. Here the path winds under the cover of trees (and away from any roads), making it the most peaceful and serene part of the lake. Plus, the views are stunning, especially as you look out onto Bled Island.
5) Enjoy Lake Bled Hikes –
One thing I was sad to miss during my day trip to lake bled was the Instagram-famous hike to the top of Velika Osojnica. Nestled in the Julian Alps, it's no surprise that Lake Bled hiking is extremely popular, as the surrounding hilltops make for spectacular viewpoints.
From this, the most popular Lake Bled hikes both start on the western shore. The first viewpoint is Mala Osojnica, which takes roughly 45 minutes to summit. Snaking up through the surrounding woodland, the hike is relatively steep but the views at the top are said to be more than worth it!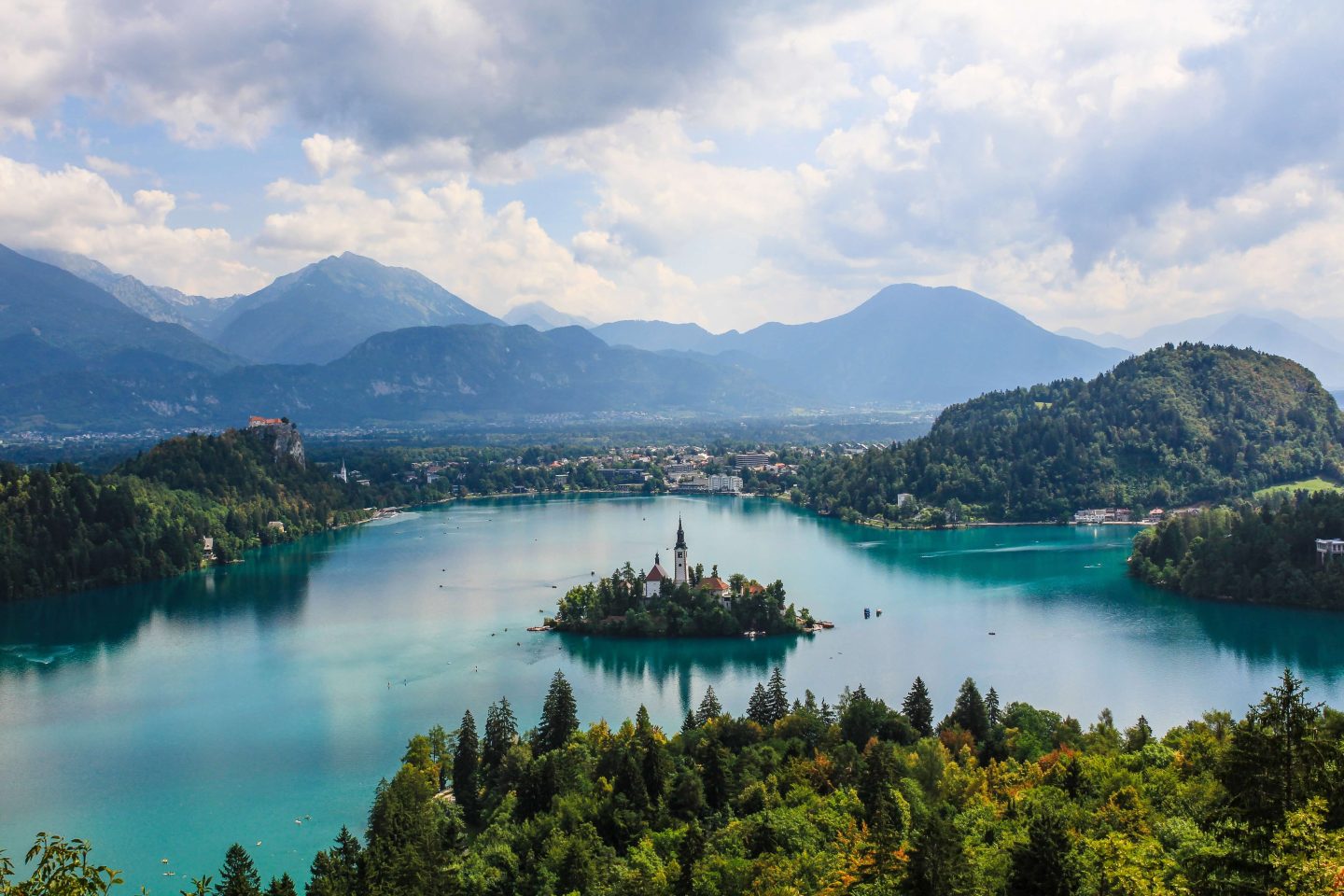 From here you can continue hiking up to Velika Osojnica. This takes an additional 20-30 minutes, and with a name that translates to mean "sharp peak" it's certainly not easygoing! This said the rewards are again plentiful… A famous solitary bench can be found at the top overlooking Lake Bled, which makes for the perfect photo spot.
6) Eat lunch with a view –
After all the rowing and walking, you'll be pleased to know the next of my things to do in Lake Bled requires a more relaxed frame of mind. This is because I highly recommend taking time out of your Lake Bled day trip to simply sit and enjoy the view.
Luckily, Bled Town provides the perfect location to do just that! With a cozy center and narrow streets, the small town still oozes authentic Slovenian charm. Plus, it's filled with lakefront cafés and restaurants. One treat you shouldn't miss off the menus here is a Bled Cream Cake (an indulgent regional dessert).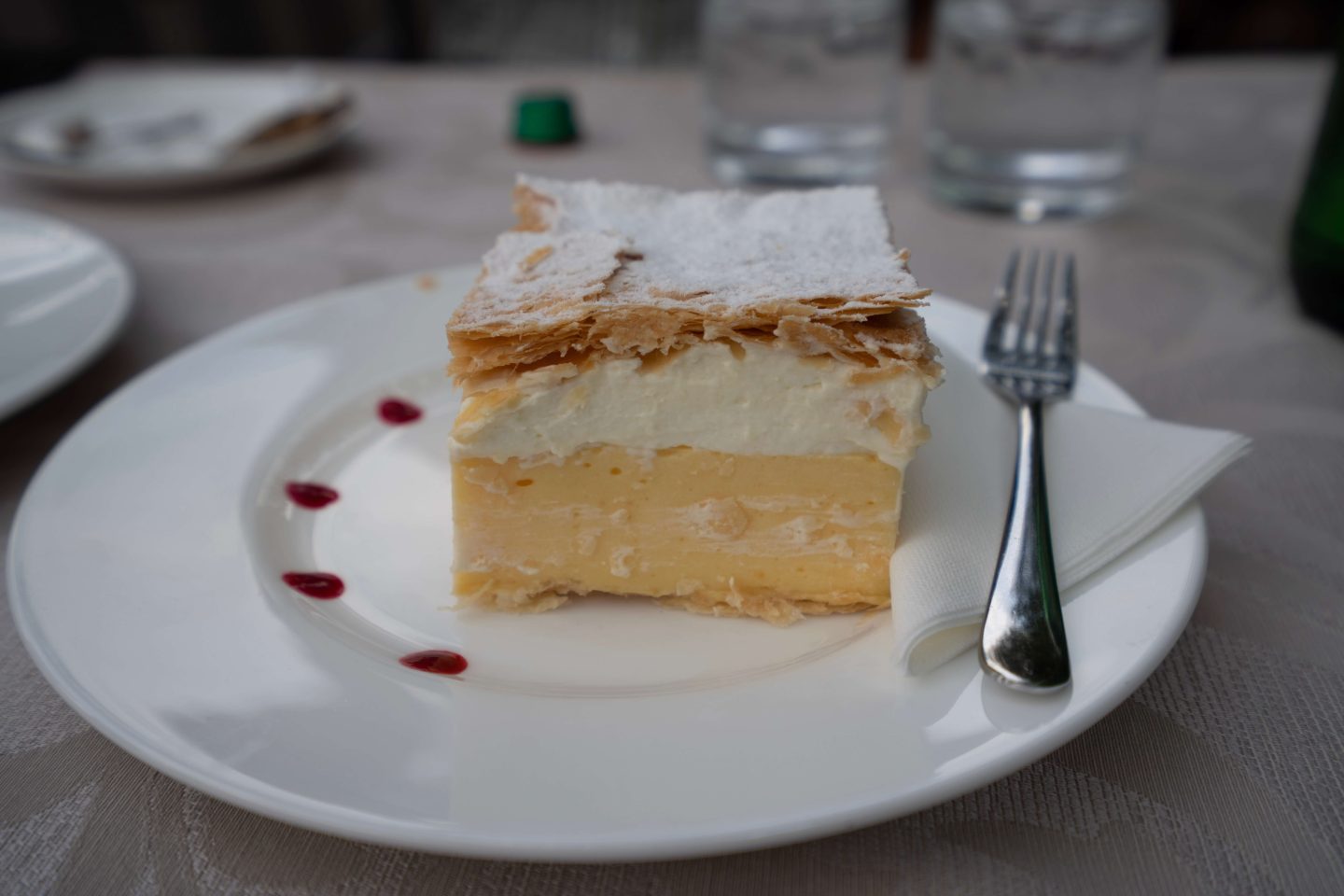 7) Visit The Lake Bled Castle –
Last, but by no means least. after a late lunch, it's onwards to the final of my things to do in Lake Bled Slovenia; visiting its castle!
Perched high above the lake, a castle has sat atop Bled's cliffs since 1011, making it the oldest in Slovenia. Today much of Bled Castle features a Romanesque architectural style, which creates a charming fairytale outpost that is a delight to explore.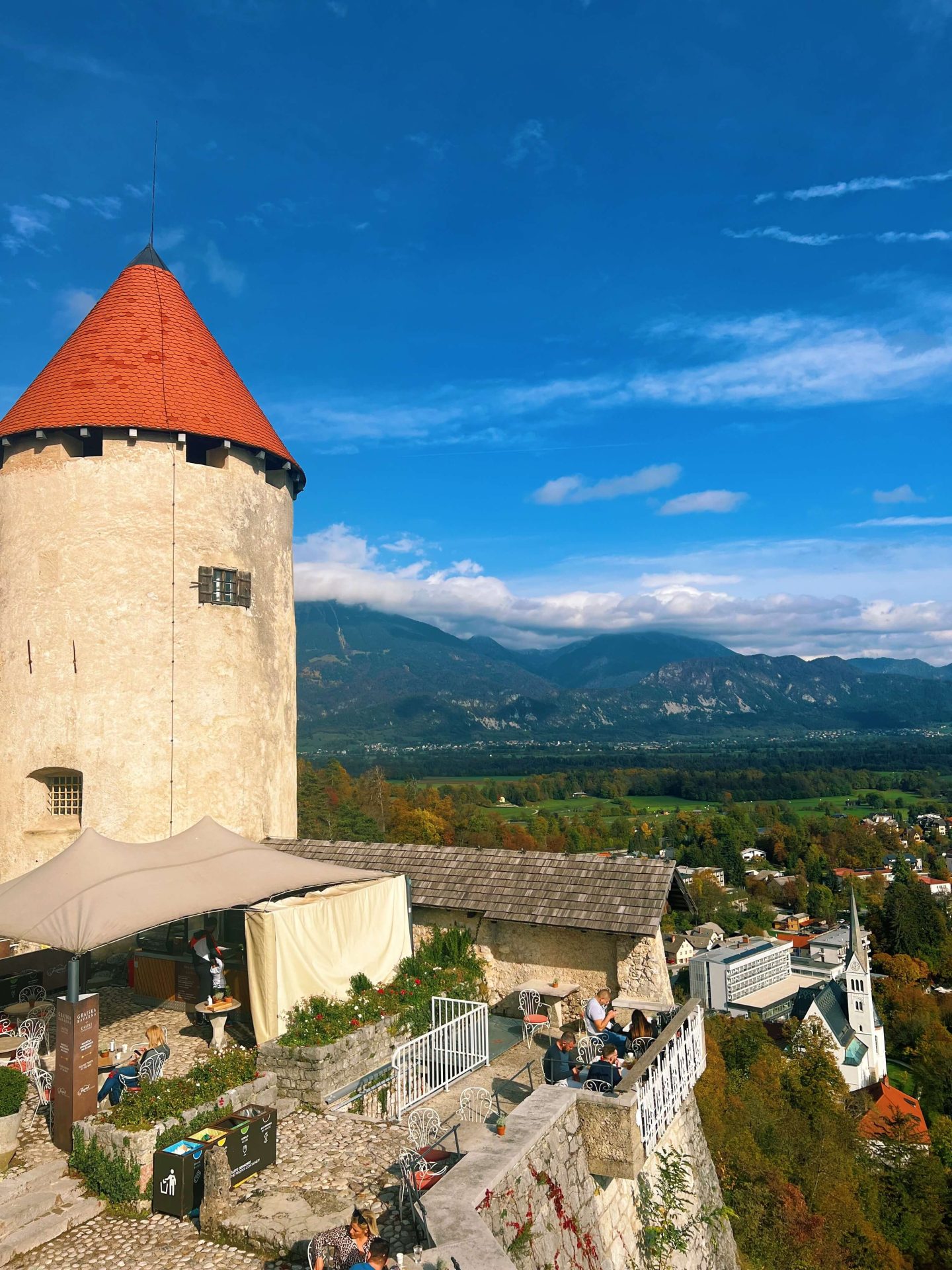 Tickets cost between €6-€15 per person and grant you access to the Castle Museum and Chapel, as well as the stunning upper and lower courtyards. Decorated with illusionist frescoes, the 16th-century Gothic chapel is the best-preserved part of the castle. Yet, for me, the spectacular mountain views from its terraces yet again stole the show. The scenery is particularly beautiful if you manage to time your visit with the sunset!
TOP TIP: You can walk to Bled Castle from the town center. Whilst it only takes around 10 minutes, the walk is quite steep (as I'm sure you can imagine) and up through the woods. So, there is also a shuttle service that you can take instead.
As if the above isn't enough, Lake Bled Castle also has its own winery, where you can try local Slovenian wine and seal your own bottle with medieval wax. Likewise, the castle restaurant is highly recommended, even if you choose to just stop by for a coffee like I did.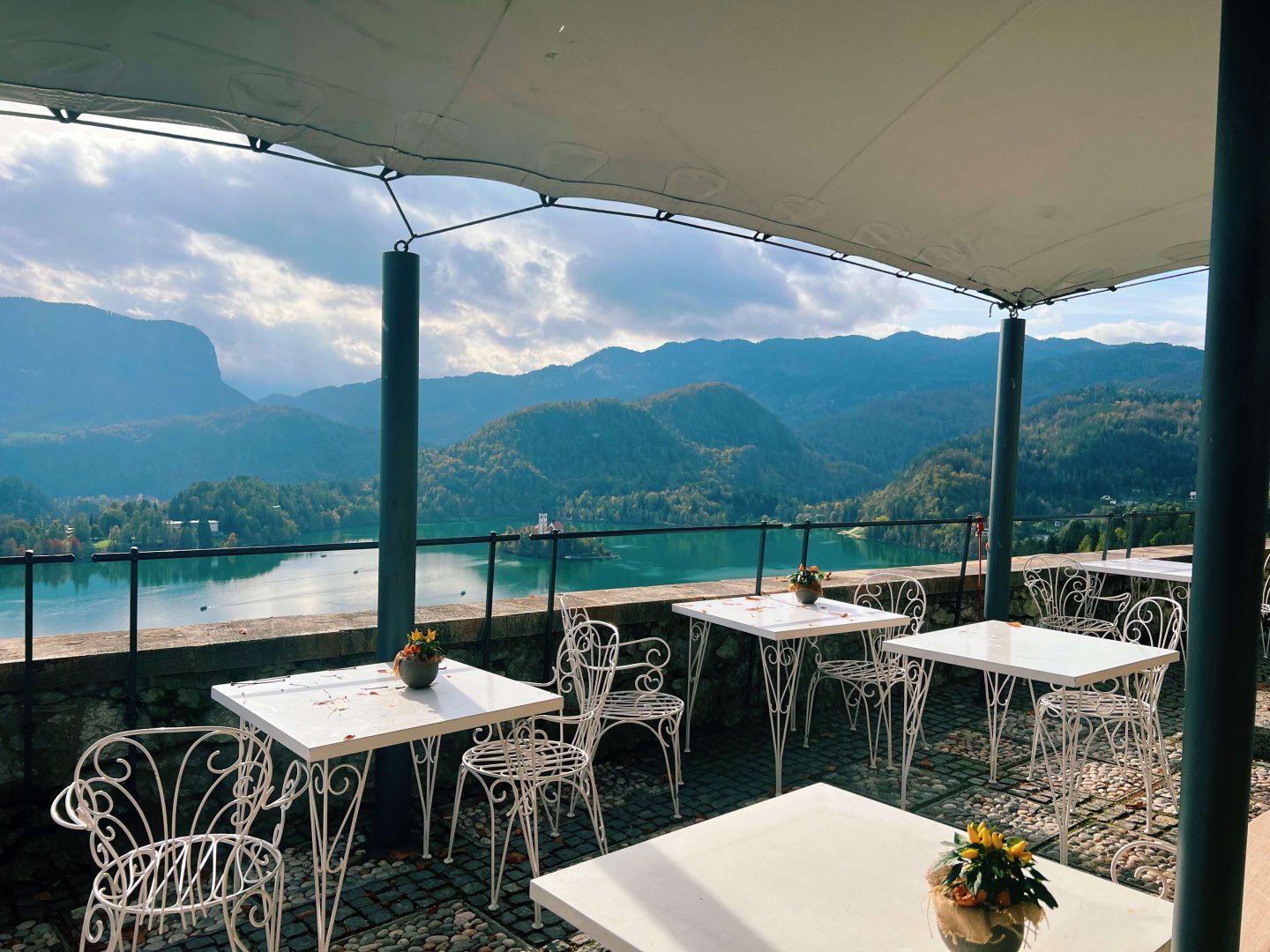 Overall, I would have to say that Bled Castle was actually my favourite attraction in this entire Lake Bled Itinerary!
8) Head out to walk Vintgar Gorge –
Whilst I ended my day in Lake Bled at the castle, if you find yourself with some extra time, another of Slovenia's top places to visit can be found nearby… Vintgar Gorge is just 4km from Lake Bled, and it offers yet more dramatic scenery! Over thousands of years, the crystal clear Radovna River has cut between the hills of Hom and Boršt, creating the deep gorge which is now flanked by steep overgrown forests on each side.
Visitors can experience this captivating landscape, thanks to a well-maintained wooden boardwalk that hangs to the cliffs and zig-zags across the river for the entire length of the gorge. Hidden gems to look out for along the way include pools, rapids, and the stunning 13m high Šum waterfall.
TOP TIP: It takes around 30 minutes to walk Vintgar Gorge and tickets cost €10 per person. But note that the area is closed during the winter.
♦♦♦
And that completes my Lake Bled Slovenia travel guide! From it, I hope you can see why taking a day trip to Lake Bled is the most popular thing to do from Ljubljana. Not only is there a lot to do, but the landscape is also out of this world… I've been lucky enough to visit many beautiful places on my travels, but I have to say that Lake Bled easily takes first place! So, if I were you, I'd get booking that one day in Lake Bled ASAP…
LIKE THIS POST? SAVE FOR LATER: