The Danish Monarchy is one of the oldest in the world. Thus, it's no surprise that Denmark's capital city: Copenhagen, is stuffed full of castles and palaces. However if you have limited time in the city you may be wondering which is the best Copenhagen castle to visit…
Amalienborg Palace, Rosenborg Castle and Christiansborg Palace are all worth your time and I've reviewed each below:
♦♦♦
Christiansborg Palace – 
The tiny island of Slotsholmen has been home to a Copenhagen castle or palace for over 800 years. The modern-day Christiansborg Palace was constructed in 1907 after a horrific fire burnt down its predecessor.
Although the Danish royal family relocation to Amalienborg Palace in 1794, reception rooms at Christiansborg Palace still provide the backdrop for many royal functions and events. More than this, the palace has been home to the Danish Parliment and the countries Supreme Court since the early 1800's.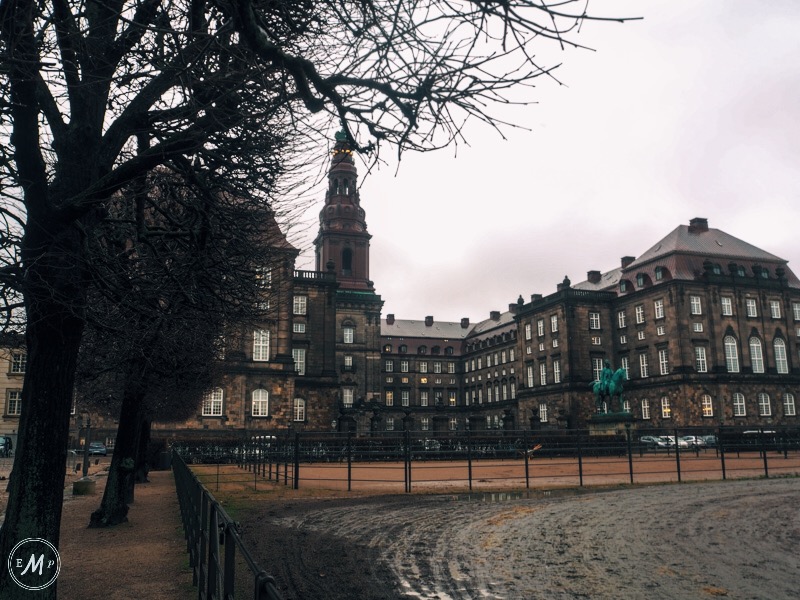 Because of this, Christiansborg Palace is perhaps the royal attraction that has the most things to see. A combination ticket, priced at 150 DKK (€20), will grant you entry to the Royal Reception rooms, ruins, kitchen and stables.
As a horse owner/lover, the lure of being able to tour the Royal stables meant that Christiansborg was the royal attraction I was most excited to visit. However, upon my arrival, I was disappointed…
Despite the advertised opening hours (which I triple checked online) BOTH times I visited Christiansborg, it was closed!! There wasn't even anyone around to tell me when the palace would actually be open. For this reason, I'd perhaps avoid pinning your hopes on a Christiansborg palace tour, especially if visiting in winter as I did!
(Although I did get to see some Royal Horses training outside the palace, so my trip to the palace wasn't a complete waste)!
Find out more about Christiansborg Palace on the VisitCopenhagen Website 
---
Amalienborg Palace –
As mentioned above, Amalienborg Palace Cophenhagen is the current official residence of the Danish Royal family. Totally unique to most other European palaces, Amalienborg Palace is actually made up of four identical buildings that surround an octagonal courtyard, the centrepiece of which is a statue of King Frederik V.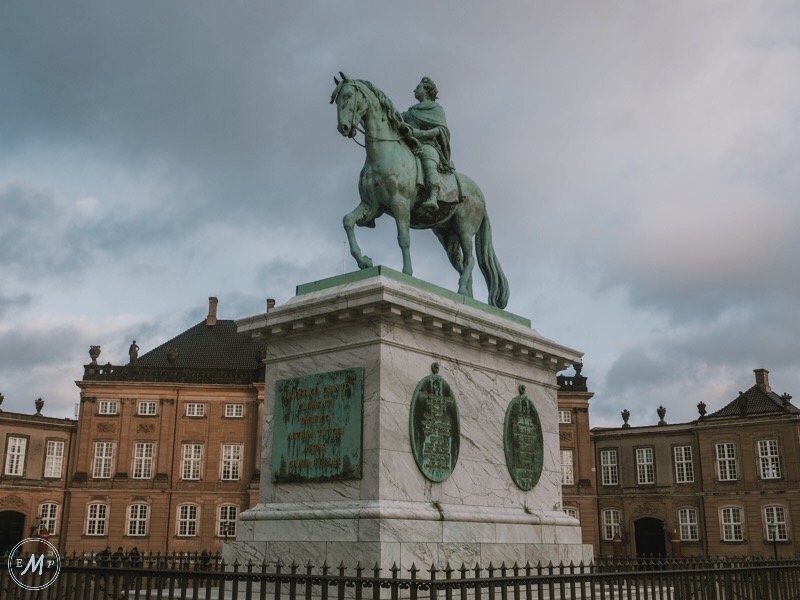 The classical facades of the buildings are simply beautiful. Whatsmore, there's something magical about the symmetry and repetition of Amalienborg Palace, it certainly left me speechless!
In terms of things to see, two of the four buildings at Amalienborg Palace are open to visitors. They confusingly have very similar names:
1) Christian VIII palace –
This building is home to the Amalienborg museum (Amalienborgmuseet) which can be toured for the very reasonable price of 75 DKK (€10). It comprises mostly of reproduced studies of the more recent Danish Kings. In this way, the museum is rather unique as it recreates the personal living spaces of Danish monarchs and shows off more recent decorative styles.
Personally, however, I found the small rooms to be a little too crammed with artefacts. At times I didn't quite know where to look! None the less, the museum is very interesting to visit, and its small size is great if you're short on time in Copenhagen!
2) Christian VII palace –
If you're more prepared than I, you can book in advance to tour representation rooms in the 'Christian VII' building. This Amalienborg palace tour is guided, and thus a little more expensive – prices start at 95 DKK.
None the less, the price is more than worth it as you'll see the palaces magnificent rococo style staterooms which make Amalienborg perhaps the most beautiful Danish royal palace.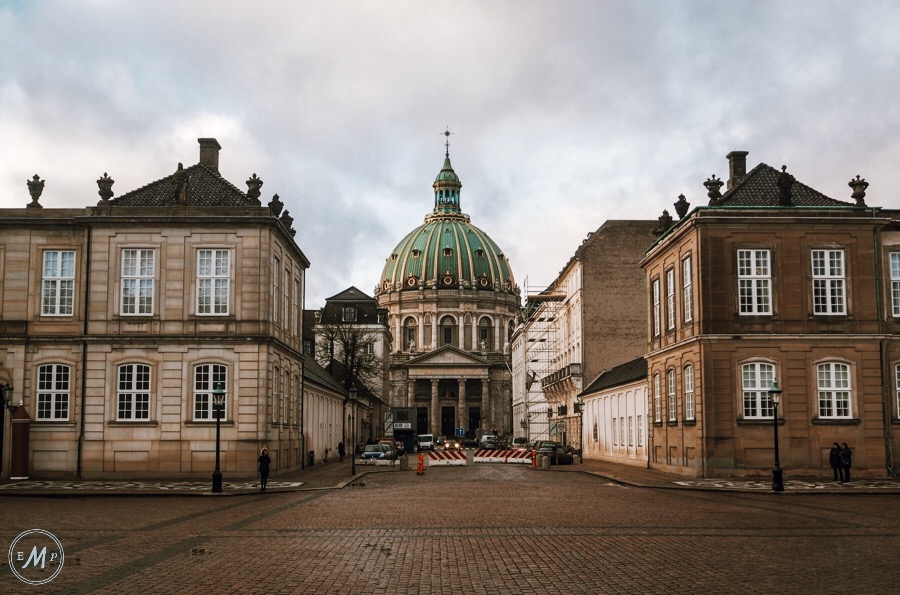 BOOK YOUR TOUR OF AMALIENBORG PALACE HERE
---
Rosenborg Castle –
Differing from the other palaces in Copenhagen, Rosenborg Castle gives an insight into Denmark's period of 'Absolute Monarchy' between the 17th and 19th century. Built in the early 1600's, by Christian IV, Rosenborg Castle is a fantastic display of Dutch Renaissance architecture, meaning its exterior very much reminded me of a Disney castle!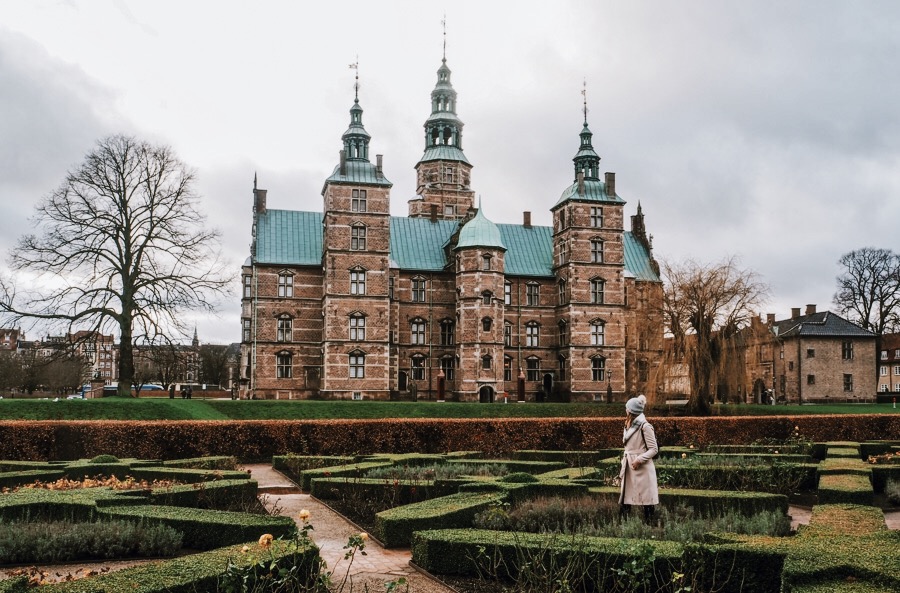 The Rosenborg Castle entrance fee is 110 DKK. For this price you can tour the castles well-preserved royal rooms that are a celebration of the pomp and pageantry of the period – even if they are a little too overpowering for my taste! Among the main attractions is the Knights' Hall (which contains the coronation thrones and three life-size silver lions).
BOOK YOUR TICKETS TO ROSENBORG CASTLE HERE 
The Rosenborg Castle gardens are also beautiful and the perfect place to stop for a picnic in summer months, or to simply walk through. In this way, if you're looking for a Unique Copenhagen Castle, then I think Rosenborg takes the edge!
♦♦♦
I hope my quick analysis of Christiansborg Palace, Amalienborg Palace and Rosenborg Castle Copenhagen, helps you choose which of Copenhagen's Castles to visit!
Personally, I'd put Amalienborg palace forward as the top Copenhagen Castle. As it has the most impressive rooms, plus it's not every day you get to visit a Royal home still in use. This said, you'd be silly not to take a quick walk past the stunning Rosenborg castle, even if just to take in its fairy-tale exterior.
Looking for more information on Copenhagen? CHECK OUT MY GUIDE OF THE TOP THINGS TO DO!
Like this post on 'Which Copenhagen Castle to visit'? PIN IT FOR LATER: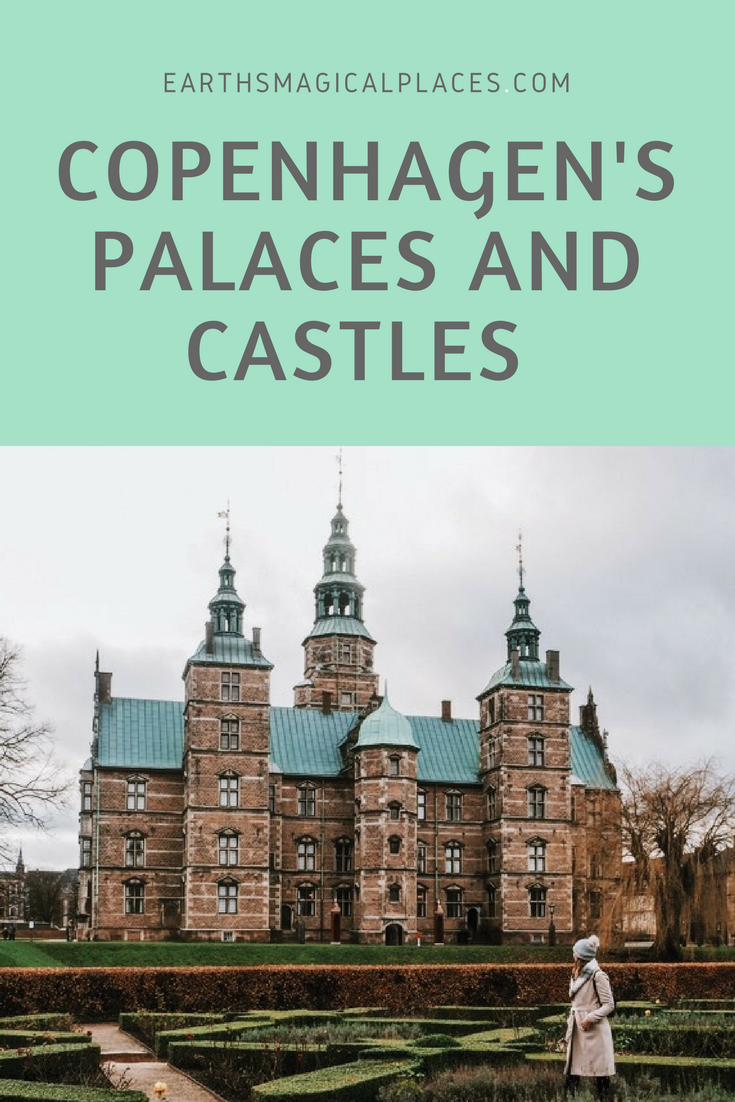 [blog_subscription_form]