Although I usually prefer to travel to warmer climates in the winter months, I spotted return flights to Copenhagen in Ryanair's flash winter sale for just £15!! Since this was a deal too good to miss, I packed my bags and visited Copenhagen in December. I found it to be a truly magical destination. Thus, here's my 'Guide To Visiting Copenhagen In Winter':
♦♦♦
Copenhagen in Winter Weather –
As I briefly mentioned above, Copenhagen in winter is chilly! Temperatures average around 2°C meaning you'll want to wrap up warm. My gloves, hat and scarf were certainly my best friends during my time in the city.
More than this, you can almost guarantee that rain will be forecast for when you visit Copenhagen, even if you're just visiting for a day. After all, Copenhagen is one of the 'rainiest' cities in Europe. Therefore you'll also want to bring a waterproof/umbrella.
This said, in my experience, the rain passed quickly and actually provided the perfect excuse to stop for a coffee in one of the cities adorable cafés.
---
Beware Of Attraction Closures –
One downside of visiting Copenhagen in winter is the fact that several of the cities 'main attractions' close down or have shorter opening hours. Although this is common practice in most destinations, I found that some of the opening hours advertised in Copenhagen were not accurate. This said I still found plenty of things to do in Copenhagen in winter:
---
Things To Do in Copenhagen in winter-
1) Christmas Markets –
If you visit Copenhagen in December then you're in for a real treat as the city has some of the best Christmas markets in Europe! Picture gorgeous wooden stalls, lined with festive foliage, selling everything from fudge and mulled wine to Christmas ornaments.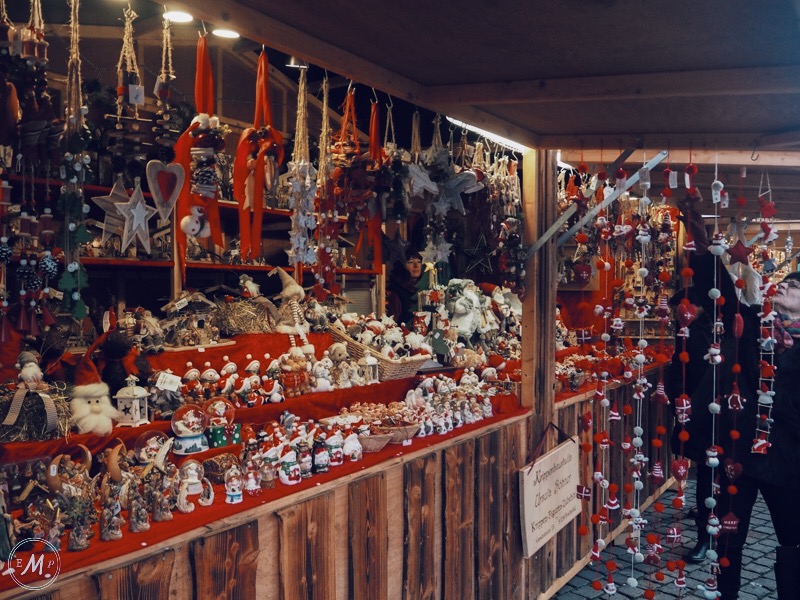 In this way, the following Christmas markets are all Copenhagen highlights, and a visit to one is all you'll need to get into the festive spirit:
1) The Christmas market in Nyhavn harbour (my personal favourite).
2) Freetown Christiania Christmas market.
3) the Strøget Christmas market.
4) Tivoli Gardens at Christmas.
2) Trivoli Gardens –
Christmas market aside, a trip to Tivoli Gardens is one of the best things to do in Copenhagen in winter.
Thought to be the oldest theme park in the world, Tivoli Gardens is packed full of fun rides, restaurants and attractions. Although its open all year round, I found that the lights that decorate the park in winter make the whole place even more magical and heartwarming.
I will say however that a trip to Trivoli can get quite expensive. This is because you have to pay for each ride on-top of the £15 entry fee. This means a visit might not be top of your list of 'what to do in Copenhagen in winter' if you're visiting the city on a budget…
Buy your tickets to Tivoli Gardens here
3) Nyhavn (New Harbour) –
You haven't been to Copenhagen if you don't visit the iconic Nyhavn area. This colourful waterfront is what most people picture when they think of the city! Although touristy, its the part of Copenhagen I found most beautiful. Thus, its somewhere you really don't want to miss, even in the cold!
Side note: whatever time of year you visit, 2 days in Copenhagen (or a weekend) is the perfect amount of time to spend in the city!
4) The Strøget –
If you're anything like me, and love to do a bit of shopping, then another of Copenhagen's attractions worth visiting is 'The Strøget' – one of the longest pedestrian shopping streets in Europe.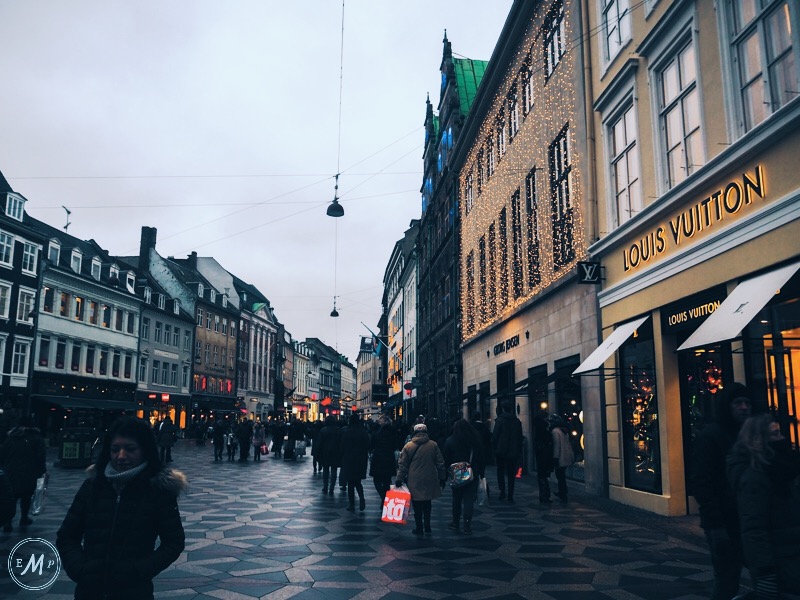 Filled with a vast variety of shops, from cheap independent stores to some of the world's most expensive brands, I found it to be the perfect place to do some Christmas shopping and escape the cities cold winter weather. Thus, if you're visiting Copenhagen in December then The Strøget is a must visit!
5) The Royal Palaces/Castles –
Denmark has one of the oldest Monarchies in the world, thus it's no surprise that some of the top things to see in Copenhagen are castles and palaces. The most notable of which are: Amalienborg Palace, Rosenborg Castle and Christainborg Palace. I've written about each of these in a detailed post, which you can read here.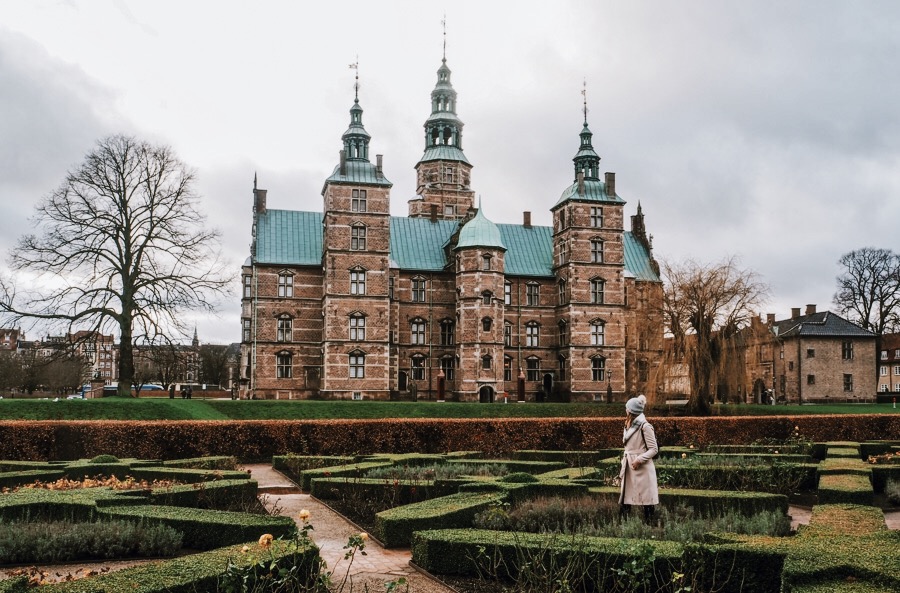 5) The Round Tower –
The 'Rundetaarn' or round tower is a 17th-century astronomy tower located in the heart of Copenhagen. For the very affordable price of Kr. 25, you can climb the towers spiral core and observe spectacular views of the city from an encircled outdoor platform.
This said, if you're visiting Copenhagen in winter, the strong winds felt at the top of the tower make the cities cold winter temperatures feel even colder, so you'll really want to wrap up warm before climbing up!
None the less, I found that the views are certainly worth the freezing temperatures and would, in fact, say that the Round Tower is one of the top things to see in Copenhagen.
6) Copenhagen's Many Museums
Another suggestion of what to do in Copenhagen in winter is to visit one or more of the cities museums. Although I personally didn't visit any on my trip, they provide the perfect place to keep warm in winter. I've heard fantastic reviews about the Museum of Modern Art and The National Gallery of Denmark.
7) The Little Mermaid In Winter –
Many people will say that Copenhagen sightseeing isn't complete without a visit to the cities most famous attraction, the Little Mermaid statue. However, I've left it till last on my own list of what to see in Copenhagen, because the statue is actually quite a walk away from the city centre.
Therefore, a visit is probably not one of the top things to do in Copenhagen in winter, unless you want to freeze walking to view it! Therefore, since I'd also heard many people say that they were underwhelmed by the statue, I decided to give it a miss on my own visit to the city.
♦♦♦
All in all, was Copenhagen in winter cold and rainy? Yes… But its also pretty magical. 🙂 As a top tip, I would recommend visiting Copenhagen in December for the added bonus of the Christmas Markets because these were simply adorable!
Lik this post? PIN FOR LATER:
Thanks for reading my 'Guide To Visiting Copenhagen in Winter' remember to subscribe if you'd like to join me on my journey to all of
'Earth's Magical Places':
[blog_subscription_form]