One of the best things about my recent trip to Corsica was the food. If you think Pizza, hearty French dishes and seafood will tickle your taste-buds, then the island is definitely somewhere you'll want to visit!
Staying in the town of Porto Vecchio for around two weeks allowed my family and I to sample such foods from many of the town's restaurants. I have to say that all the meals we had were delicious! But, if you forced me to recommend somewhere, I'd suggest one of the five restaurants below.
Thus, here's my opinion on 'The 5 Best Restaurants in Porto Vecchio Corsica':
♦♦♦
1) Le Refuge –
Porto Vecchio's highest rated restaurant on Trip Advisor is Le Refuge. It's actually located about 20-minutes away from town's center, but since a drive into the mountains should be top of your 'to do list' anyhow, it's a spot you really don't want to miss!
Make sure you check out my post on the 'best things to do in Porto Vecchio'.
Le Refuge's menu offers authentic Corsican cuisine, with the restaurant's speciality being roast pork. Although I couldn't quite bring myself to eat piglet, I have to confess that the smell coming from the next table was pretty mouth-watering!
Whatsmore with mains being reasonably priced at around €20, you may even have some change to spare at the restaurant's shop, where you can purchase many of the cured meats and cheeses featured on the menu!
To summarise I'd say that Le Refuge is a very charming and rustic hidden gem.
---
2) Le Lodge –
Out of all of Porto Vecchio's restaurants, I might go as far to say that this next one was my favourite…
Located in the towns beautiful harbour area, Le Lodge offers 'a taste of home' amongst the more traditional restaurants in Porto Vecchio. A wide burger selection was just the thing my dad and I were looking for after a day of lazing in the sun! The waiter was even kind enough to accommodate my gluten-free needs.
As a dessert lover, however, the restaurants melt in the middle chocolate pudding was the crowning jewel!
---
3) Tropicana – 
Also located in the harbour, Tropicana mainly makes this list due to its amazingly strong cocktails… The accompanying food isn't too bad either! 😉
This restaurant is somewhere you'll definitely want to visit if you're a fish lover. This is because my mum and I both had the most amazing seafood dishes! For one, my mum was served the most generous (and delicious) portion of muscles I've ever seen.
This said I'd recommend trying to get to Tropicana in the early evening as by the time we arrived at around 8pm they had run out of quite a few things on the menu!
---
4) Sous La Fannelle – 
The fourth of my best Porto Vecchio restaurants is Sous La Fannelle. We stumbled upon this little gem whilst stupidly trying to find somewhere to eat on Bastille day. Despite being nearly full the staff kindly squeezed us in…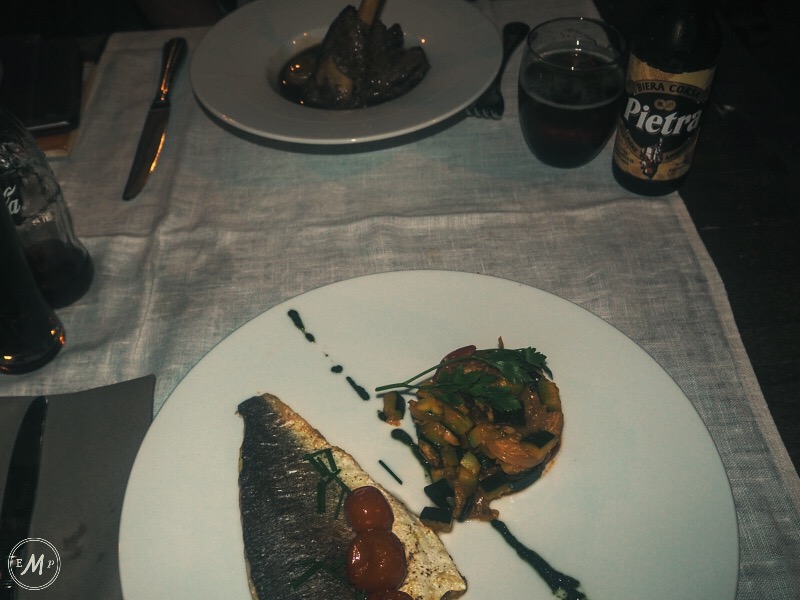 Rather than having a menu, the waitress brought us over a board and ran through the dishes of the day. Not only did this mean we didn't have to translate, it also added a personal touch which we much appreciated.
What's more, the atmosphere of this restaurant was simply charming! Its located in a cobbled backstreet and has vine-covered walls, making it the perfect location for couples or even families that just want to eat somewhere a little cosy. 🙂
SIDE NOTE:  at all of the Porto Vecchio restaurants we visited, the menus were in French. Therefore I'd highly recommend downloading the google translate app whereby you can use your phone's camera to translate the menus to English!
---
5) Les Jardins De La Paresse –
Last but by no means least is Les Jardines De La Paresse, a pizzeria located in the centre of the old town, which also has fantastic views out over the harbour.
Having a varied menu of not only pizza but also fish, meats and risotto meant that this restaurant was the only one we returned to.
The service and food were excellent each time we visited – with the added bonus of an English waiter which made it much easier to order and communicate what we wanted!
The restaurant itself is idyllic…. Situated down some steep steps, its multiple garden terraces are cut out from the rock. This means that despite being in the centre of town, the restaurant is miles away from the craziness of the main streets.
Because of this, Les Jardins De La Paresse has the perfect combination of gorgeous food, kind waiting staff and breath-taking views, meaning that it for sure deserved a place on my list of the best restaurants in Porto Vecchio Corsica.
♦♦♦
PIN FOR LATER:
 [blog_subscription_form]