Wondering what to do in Sliema Malta? The lively and bustling city sits opposite the island's capital, Valletta. Therefore, it's one of the best places to stay in Malta as it's ideally situated for exploring all that the small country has to offer. However, this is not to say that visitors should skip over the city itself, as I discovered there's plenty to keep you busy! Thus, here are 10 of the best things to do in Sliema Malta:
Best Things To Do In Sliema Malta:
1) Wander Along The Promenade –
Walking along the city's seafront promenade is an obvious first choice for Sliema Malta things to do. Stretching for just over 2km, it provides continuous and uninterrupted views out across the Mediterranean. In addition, it's lined with highly rated gelaterias, cafes and restaurants meaning there's plenty of opportunities to take a break as you enjoy a leisurely stroll along the promenade.
Furthermore, if you don't feel like walking, Sliema is filled with Electric Bolt Scooters which are a fun and effort-free way to explore the town! Simply download the Bolt app to find a ride!
2) Visit Sliema Beach –
Even though Malta is blessed by a typical Mediterranean climate, it might surprise you to learn that all the Sliema Malta beach options are little more than narrow rocky stretches of limestone. This is the same at other popular nearby resort towns like St Julian's and Valletta. However, this is not to say that you can't go swimming. In fact, all along the Sliema coast, you can simply jump off the rocks (or climb more gracefully down the many carefully placed ladders) into the stunningly warm sea. In fact, this creates a quite unique experience, especially if you bring a snorkel to discover the bustling marine life that can be found amongst the rocky outcrops.
Alternatively, Sliema is also home to several beautifully positioned beach clubs. For example, when staying in the city for myself, our hotel (the 1926 Hotel and Spa) had its very own beach club complete with a seawater infinity pool, and plenty of sunloungers whereby you could sit back and enjoy the fantastic sea view with a cocktail in hand. The 1926 Beach Club actually accepts day visitors who aren't staying in the hotel. Therefore, I'd definitely suggest a relaxing day by the pool is one of the best things to do in Sliema.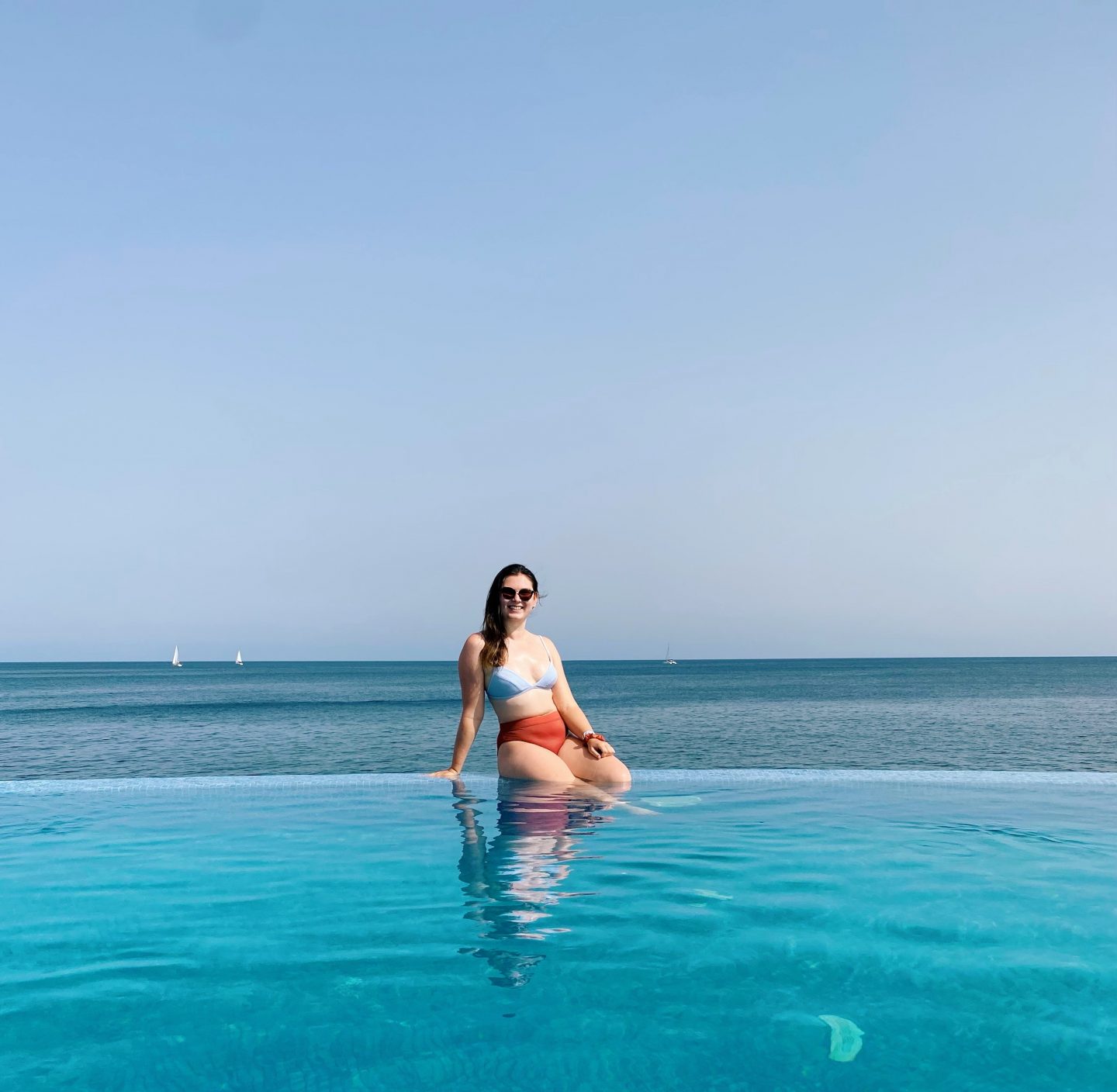 TOP TIP: Malta has a fantastic public transport infrastructure. So, if you're disappointed by Sliema beach options, then it's relatively easy to travel to the beautiful sandy beaches which can be found along Malta's northwest coast. The most popular include the aptly named Golden Bay Beach and Ghajn Tuffieha Bay.
3) Swim in Victorian Tidal Pools –
Leading on from the above, another way to enjoy the Mediterranean Sea whilst in Sliema is by visiting the 'Roman Baths'. Found along the city's promenade on Fond Ghadir Beach, historians aren't entirely sure when the baths were created, but it's largely believed to be around the 1600s or much later in the 19th century by visiting Victorians.
Whenever they were created the so-called Roman Baths are a series of square pools that have been delicately carved into the rock. All carved next to one and another, and linking to the sea via clever drainage systems, they are quite a unique and exquisite sight. This definitely makes them one of the best things to see in Sliema Malta! What's even better is that both visitors and locals can still enjoy these tidal pools today. So, make sure you pack a towel when visiting to literally take a dip into history.
4) Discover Amazing Views At Sliema Harbour –
If you wander along the Sliema promenade, you'll soon come across Marsamxett Harbour. Here you'll be able to enjoy amazing views of Malta's capital city of Valletta, which sits on the opposite side of the harbour. Founded in 1566, its honey coloured stone walls, and domed churches, have remained unchanged for centuries. The view is particularly beautiful at sunset… So, take a seat on one of the promenades benches and watch the bustling harbour in action.
5) Catch the Sliema Ferry to Valletta –
Rather than just admiring Valletta from across the water, one of the best things to do in Sliema Malta is actually to catch the Sliema Ferry. The journey across the harbour only takes 5-10 minutes, with ferries departing every half an hour. Plus, as you approach one of Europe's smallest capital cities, the views only get better! Couple this with the fact that the journey only cost €2.80 for a return ticket, and it's hard to think of a reason not to take the Sliema Ferry.
Once in Valletta you could easily spend a whole day exploring the charming cobbled streets. Filled with history, much of the city still has a strong Baroque character. Therefore, it's extremely picturesque and you'll struggle not to pull your camera out every time you turn a corner. In addition, Valletta is filled with some of the very best Malta attractions, such as the stunning Upper and Lower Barrakka Gardens, St John's Co-Cathedral and Tritons' Fountain.
In other words, if you don't want to miss out on arguably the best sightseeing in Malta, then catching the Sliema Ferry to Valletta is really a must-do!
6) Explore Sliema's Quiet Backstreets –
When compared to Valletta, Sliema has a very modern and contemporary appearance since it's dotted with new developments and renovated buildings. However, if you take the time to explore Sliema's web of backstreets you'll soon stumble across charming traditional limestone facades and colourful Maltese balconies. In this way, spending some time discovering the old town centre, is surely one of the best things to do in Sliema.
7) Take a Day Trip (Comino Blue Lagoon & Gozo) –
Thanks to Marsamxett Harbour, Sliema is ideally situated for bucket-list day trips to some of the best places to visit in Malta by boat! Whether you want to hire a private boat all to yourself or join a larger cruiser, countless tours leave from the harbour daily.
One of the most popular day trips you can take is to the stunning Blue Lagoon, which is located on the west coast of the tiny neighbouring island of Comino. The azure-coloured waters of the lagoon are simply spectacular! It's a great place to spend a day relaxing, swimming and snorkelling. However, it can get extremely busy during the summer months.
When visiting for myself, I actually much preferred exploring Malta's sister island of Gozo. From Sliema, it's super easy to hop on the Gozo Fast Ferry service which regularly shuttles visitors between Valletta and Gozo's port of Mgarr. Once you arrive in Gozo there's an abundance of Malta top sights to enjoy such as the cliffside Basilica of Lady of Ta' Pinu, an ancient Citadel and the remarkable Ggantija Temple which is over 5,000 years old.
8) Visit Manoel Island –
Back in Sliema, another must-visit attraction is Manoel Island. Sitting in Marsamxett Harbour it can easily be reached via a short bridge from Gżira on the edge of the city. Comprising mainly of large green spaces, the island is most notably for its 18th century fort. Now a World Heritage Site, it's gradually being restored to its former glory after suffering extensive bomb damage in WWII.
Further, on the south side of the small island, you can still discover the shell of a 17th-century plague hospital used by the original Knights of St John. In this way, there's so much history to uncover on Manoel Island that it should be included in any list of things to do in Malta – Sliema.
9) Hire a Malta – Sliema self-drive boat –
Whilst I've mentioned taking the Sliema Ferry, in truth the very best way to explore every scenic corner of Marsamxett Harbour, and the adjacent Grand Harbour in Valletta, is by hiring your very own boat. Malta Self Drive Boats can be found just opposite The Point Shopping Mall, and they offer the opportunity to enjoy Sliema and Valletta by boat for as little as €50 for an hour.
10) Tour Sliema's churches –
Throughout my travels around Europe, I've discovered that most destinations are home to at least one beautiful church… Sliema is no expectation to this! In fact, it has several charming churches which are open to everybody to visit such as the baroque styled basilica of "Our Lady Star of the Sea". Built in 1854 it's small but full of character!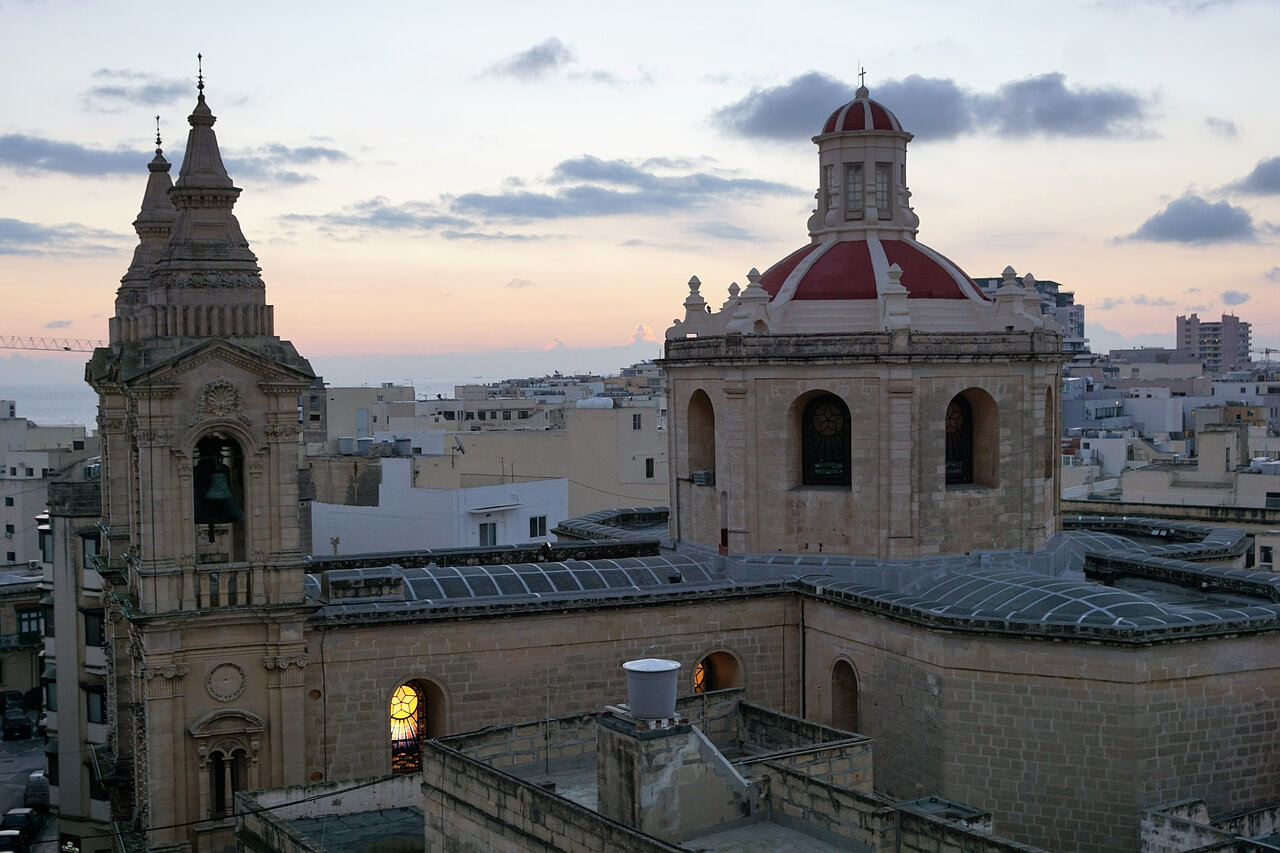 ♦♦♦
So, overall is Sliema worth visiting? I hope you can see from this list of the top 10 things to do in Sliema Malta that the town has a lot to offer travellers. From its unique Roman Baths to modern beach clubs and easy access to the wider places of interest in Malta, there are countless reasons to visit this charming town. I certainly wouldn't hesitate to return for another lovely week in the Mediterranean sun!
Like this post? PIN FOR LATER: