*Updated January 2021
Without a doubt, the most beautiful destination on my trip to Italy was the stunning Cinque Terre villages: Riomaggiore, Manarola, Corniglia, Vernazza and Monterosso al Mare.
Gaining popularity thanks to Instagram, these 5 ancient fishing villages are as picturesque as it gets. After seeing countless amazing photos of the wonderfully scenic region, I just knew I had to visit! So, I spent five days enjoying the delights of Cinque Terre, and here's all you need to know:
♦♦♦
How to get to Cinque Terre – 
The first thing you need to know is how to get to Cinque Terre! Although seemingly isolated, the region is very well connected to the rest of Italy by train.  All the Cinque Terre villages are linked on a simple line that starts at the larger town of La Spezia and ends at Levanto.
Additionally, La Spezia is then well connected to most of the countries major tourist cities such as Rome, and Venice. However, Florence is by far the closest well-known destination.
Florence to Cinque Terre: 
I myself travelled from Florence to Cinque Terre! The journey only takes around two hours and the scenery along the way was breathtaking. Ideally, try and secure a seat on the right-hand side of the train for the best views.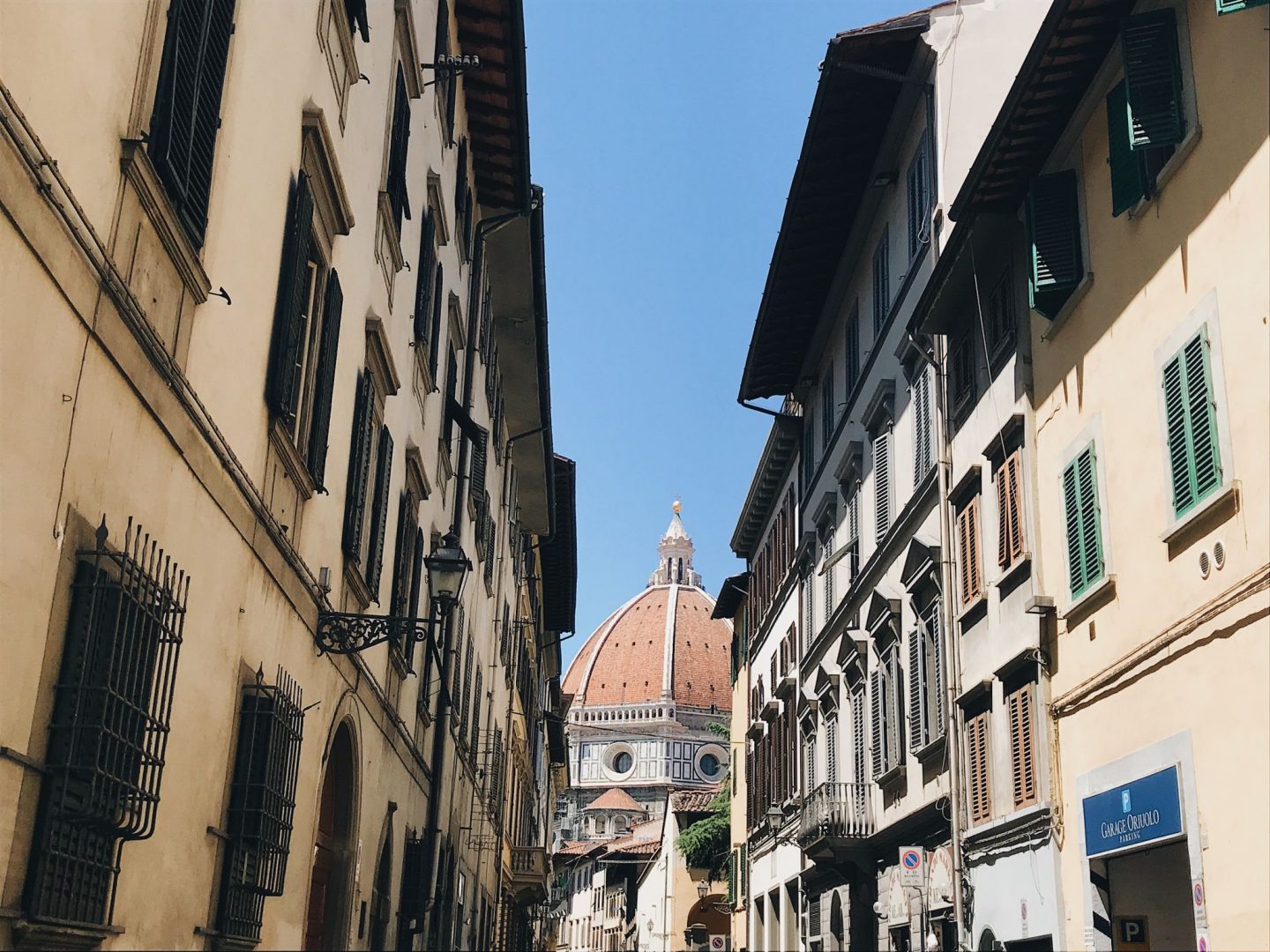 Expanding on this, there are usually around 15 daily trains from Florence. Ticket prices vary but you can book them online in advance! Because of this, many people choose to visit Cinque Terre from Florence on a day trip.
However, I found it was far better to enjoy all the best things to do in Florence, before leaving to stay for several days in Cinque Terre. In my opinion, the region simply deserves more than a rushed day trip.
TOP TOP: The roads to Cinque Terre are very narrow and parking is limited! So it's advisable to avoid travelling to Cinque Terre by car. This said, it's much easier to drive to La Spezia, where you can leave your car. 
---
More about the Cinque Terre Villages –
Often compared to the Amalfi Coast, Cinque Terre translates into English as the 'Five Lands'. This is a simple reference to its 5 separate villages, which are all perched on the rugged coastline of the Italian Riviera.
Despite no doubt having similarities, each village in Cinque Terre has its own charm, character and history! Thus, you'd be a fool not to visit them all… From South to North the Cinque Terre villages are as followed:
Riomaggiore Cinque Terre: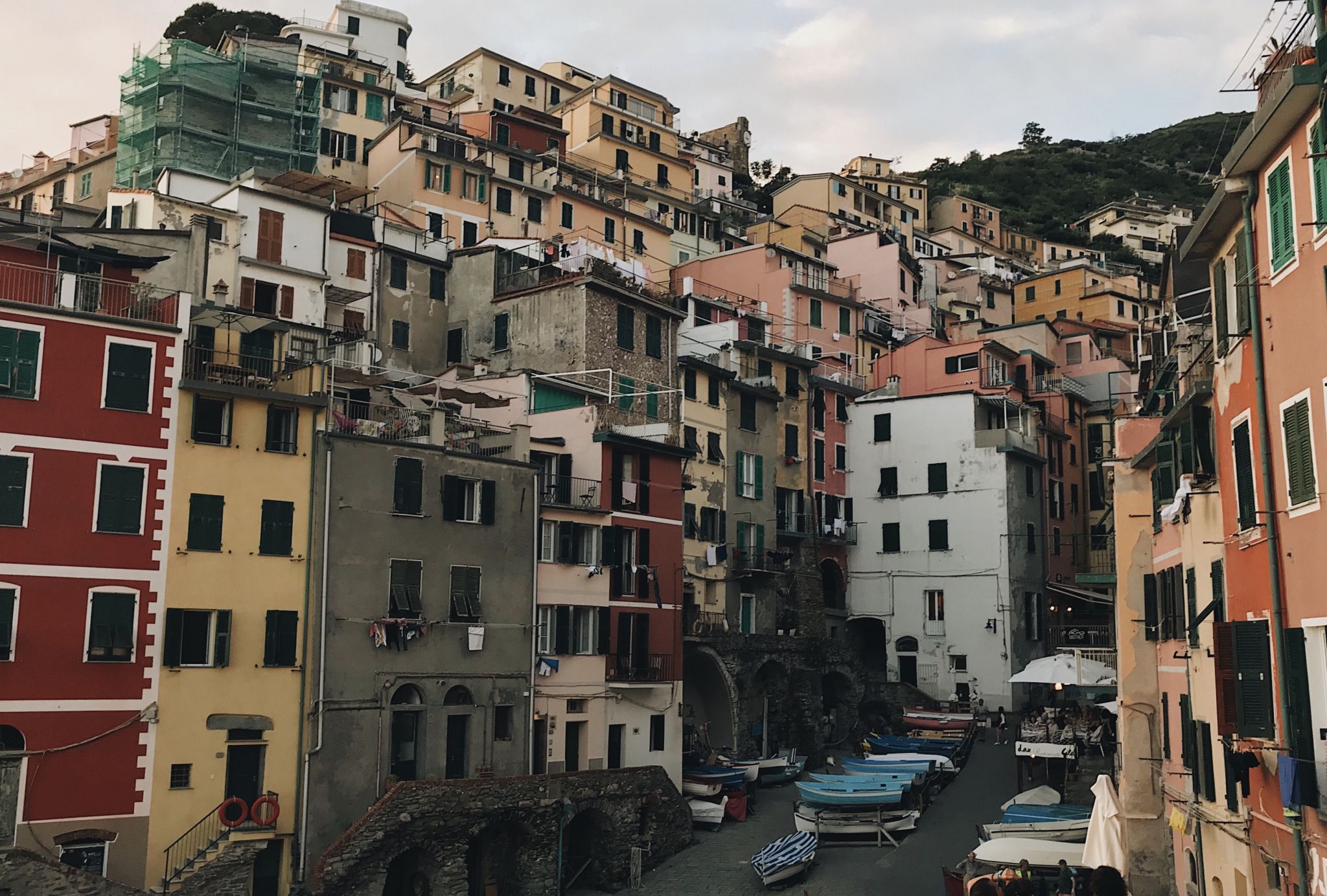 Taking the train from La Spezia, the first village you'll reach is Riomaggiore. It has one main street, either side of which narrow passageways lead up to the villages stacked buildings.
However, Riomaggiore's crowning jewel is its tiny harbour. From here you'll get a picture-perfect view of the village.  It's best enjoyed at sunset as the fading lights casts a beautiful orange glow over the buildings.
Manarola Cinque Terre:
My favourite of the Cinque Terre Towns, Manarola offers the most stunning panorama. You can get the 'money shot' of this gorgeous village by simply walking down past the harbour and along the rocky coastal path. 
Corniglia Cinque Terre:
Corniglia is the rebel of the Cinque Terre villages. Not only is it the smallest, but it's the only one that sits far above the water on top of the cliffs.  To reach the village you have to climb 365 stairs… Thankfully you can also take a shuttle bus up to the town centre for €2.50.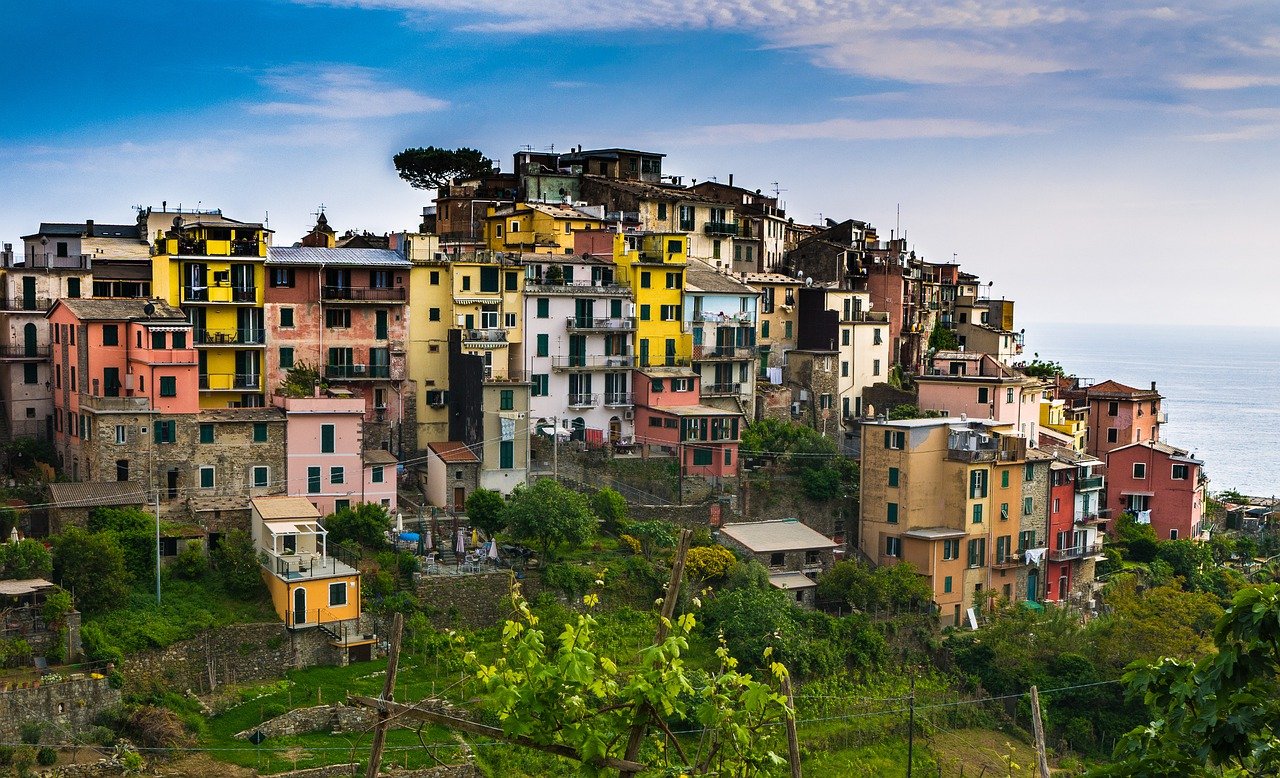 Vernazza Cinque Terre:
Perhaps the busiest village because of its small 'beach', Vernazza Cinque Terre is characterised by its amphitheatre shape. Pastel houses curve around a relatively large harbour, meaning that every building seems to have a wonderful view of the sea.
There are several different spots around the village that provide great views. But, the best vantage point that I discovered requires a slight climb towards Monterosso al Mare. Once in the hills, you'll spot a clear viewpoint that provides an amazing birds-eye view over the village.
Monterosso al Mare Cinque Terre:
The final of the 5 Cinque Terre villages is Monterosso al Mare. Although not as vertical, and therefore less photogenic than its neighbours, Monterosso is still very charming.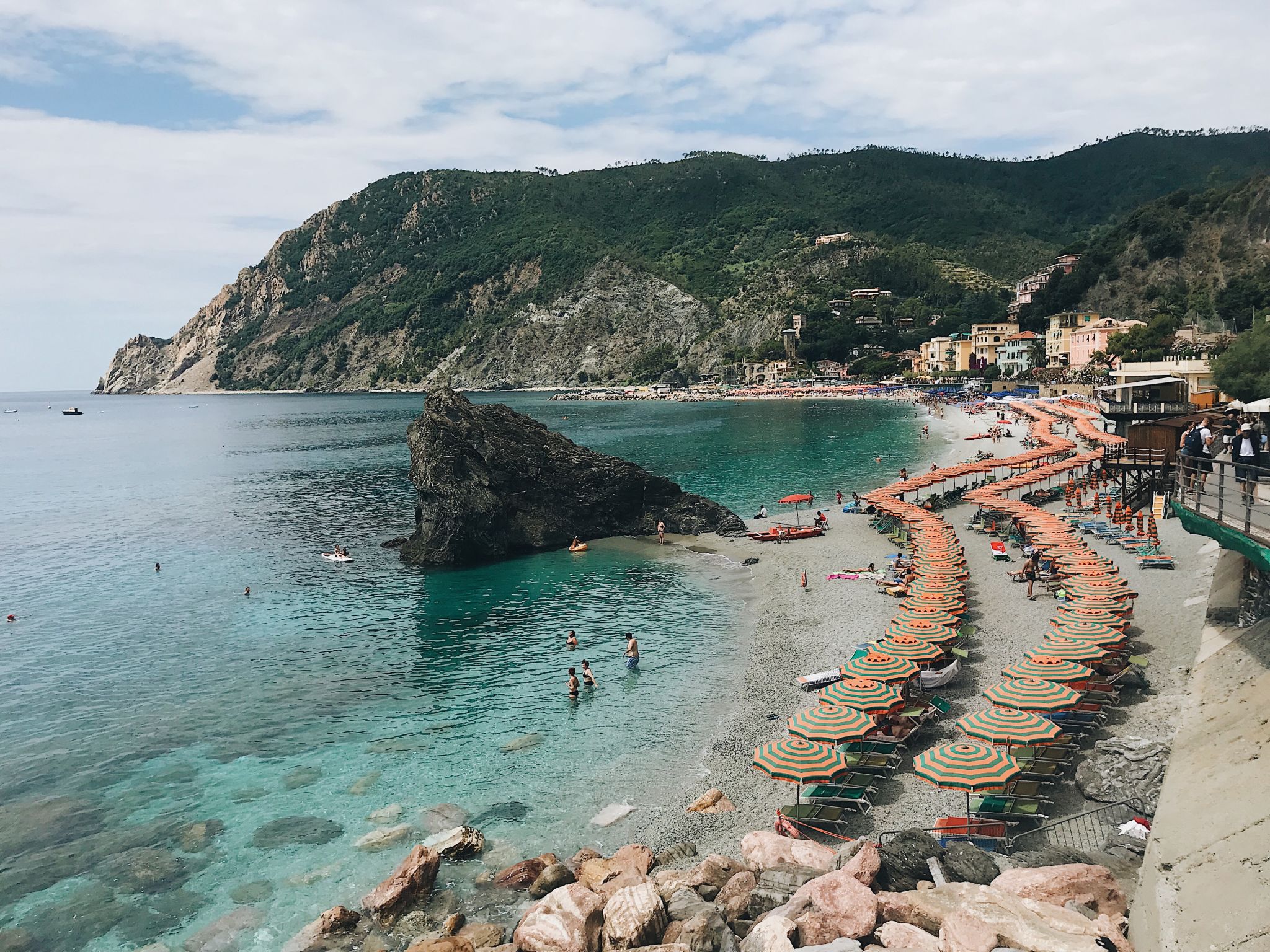 Known mainly for its gorgeous stretch of beach, the town offers a more modern vibe. The beach's 'promenade' is home to many cafes, gelato stores and restaurants. Meanwhile, if you cross the pedestrian tunnel into the 'Old Town' you'll be met with traditional coloured houses and winding backstreets.
---
Staying in Cinque Terre – 
As I previously mentioned, I'd highly recommend staying in Cinque Terre. Beautiful scenery, good food, and friendly locals are enough reasons to stay the night… But I found that the biggest draw was that most of the 'crowds' leave the region as the sunsets. As a result, the villages are much more peaceful in the evenings, making the whole environment feel more authentic!
Staying for five whole days, I almost felt like a local by the end of my visit and the evenings were definitely my favourite time to explore.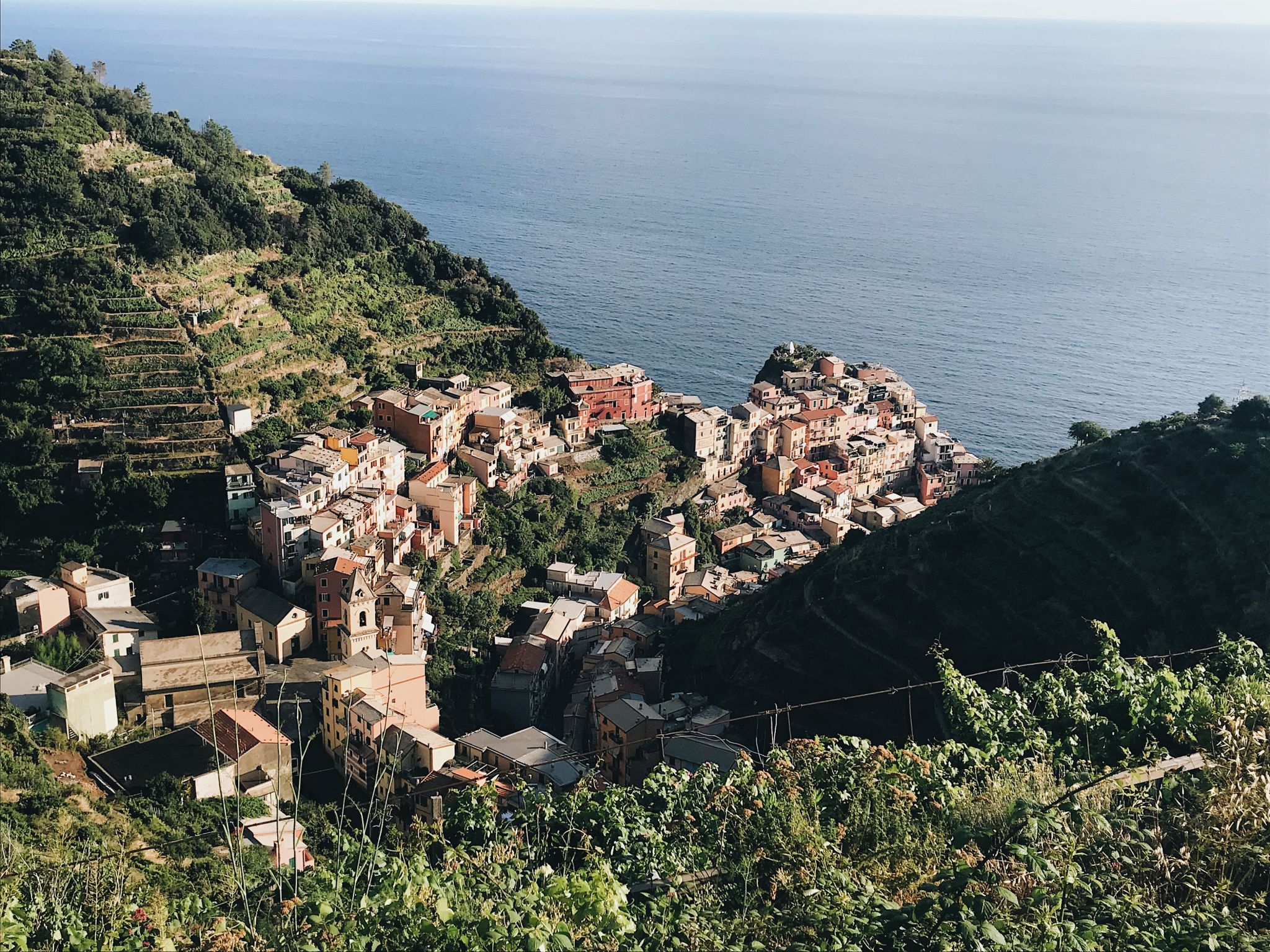 Where to stay in Cinque Terre:
Everyone has their own opinion on the best choice of where to stay in Cinque Terre. However, personally, I'd suggest Monterosso al Mare, which is where I opted to stay for the majority of my own visit.
I think that many people overlook this village because it doesn't have the postcard good looks that people come to Cinque Terre to see. However, this is a big mistake! Monterosso is cheaper than the other villages, has more amenities, and tends to be quieter.
TOP TIP: It's so easy to travel between each of the Cinque Terre villages that it doesn't actually matter too much where you choose to stay…
Airbnb Cinque Terre:
I stayed in a wonderful Airbnb apartment a short walk from the beach in Monterosso.  It had amazing views of the Cinque Terre coast and I would definitely recommend it as an accommodation option if you're looking to save some money while staying somewhere that offers cleanliness and Mod-cons.  
I did also stay for one night in another Cinque Terre Airbnb in Riomaggiore. But, it was much more expensive, cramped and didn't even have a view. I also found the amenities lacking in the village. Therefore, the night reasserted my love for staying in Monterosso al Mare!
Hotels in Cinque Terre:
Due to its small size, there are only a few decent hotels in Cinque Terre. Because of this, visiting in summer, I found that their prices were outrageously high. However, if you're willing to spend a fair bit of money, there are a handful of hotels in Cinque Terre that offer stunning views, especially in Vernazza and Corniglia.
---
Things to do in Cinque Terre – 
Although I've already mentioned key information about each of the Cinque Terre Villages (and answered where you can stay), no guide to the region would be complete without highlighting the best things to do in Cinque Terre:
1) Hiking in Cinque Terre: 
Hiking in Cinque Terre is often seen as the top thing to do! The villages are all connected by a series of trails that provide pristine views over the coastline and the villages themselves.
Some people, come all the way to the region just to hike its rugged trails! While it's possible to walk between them all in one day, it's hard work.
Therefore, if you only have time for a short Cinque Terre Hike, I'd recommend walking the section from Monterosso al Mare to Vernazza. For me, this bought the best views, and most of the path was in shade. Something which is a true blessing during the hot Italian summers. 
2) Enjoy the Cinque Terre Beaches: 
Cinque Terre is not well known for being a beach destination, and with good reason. Monterosso is the only village with a proper beach! But it does have sun-loungers that you can rent along with facilities such as showers and toilets.
Additionally, I discovered that Manarola's harbour is a nice place for a swim thanks to its concrete ramp that steadily leads into the ocean. It also provides the perfect sun-spot to dry off in.
TOP TOP: While there is a small stretch of sand in Vernazza's harbour, it was always packed when I visited! So I'd recommend going to the other mentioned 'beaches' instead. 
3) Visit the Nessun Dorma restaurant:
As previously mentioned, Manarola is arguable the most beautiful village. Thus, one of the best Cinque Terre things to do is purely to take in the splendid backdrop…
Luckily, Manarola is also home to a restaurant with one hell of a view: Nessun Dorma. Located in a prime position on the hillside, the restaurant's terrace looks back onto the village. So you can sit and eat excellent Italian meat/cheese platters while sipping on a cocktail and watching the sun-set over Manarola.
4) View the Cinque Terre Villages from the sea:
Although the easiest way to get between the villages is by the train (each is only about 4-5 minutes apart), a great way to get another perspective of the villages is by taking the scheduled ferry. This travels regularly between the villages and provides the opportunity to view them from the sea.
5) Explore:
Above all else, one of the best things to do in Cinque Terre is to wander around the villages while trying not to get too overwhelmed by their beauty. There's simply something delightful about exploring the tiny maze of backstreets and stumbling upon hidden viewpoints. 
♦♦♦
That completes my guide of all you need to know about the Cinque Terre Villages! If you couldn't tell, I really loved the region. It's hard to put into words just how picturesque the villages are. Frozen in time, they've remained authentic despite the growing number of visitors. I only hope that as Cinque Terre becomes even more popular, that it holds onto its charm!
Like this post? PIN FOR LATER: