Elafonisi Beach was recently named by TripAdvisor as one of the 'Top 10 Most Beautiful Beaches in the world'. Therefore there's no doubt that this isolated beach, on the southwest coast of Crete, is a little slice of paradise that you'll want to experience when staying on the island. I recently visited for myself so here's all you need to know:
♦♦♦
What is Elafonisi Crete?
Elafonisi itself is actually an island which is connected to mainland Crete via a sandbar. Even at high tide, the sandbar is only submerged by around a meter of water, meaning that you can wade out to the island (which is actually an internationally recognised nature reserve) at any time.
---
What's so special about Elafonisi Beach?
There are hundreds of Crete Beaches so what exactly makes Elafonisi one of the best beaches off the beaten path? Well For one its a nature lovers paradise as its home to 110 plant species, many of which are very rare. Most notable is the Androcymbium rechingeri which is found nowhere else on the planet.
Top Tip: there are several paths on the island which you should stick to when exploring to avoid damaging any precious plants.
More than this, the shallow lagoon that surrounds the island is a safe haven for the rare Loggerhead sea turtle. However, these turtles are very shy so you would be lucky to see one!
Even if nature isn't your thing, there are plenty more reasons why people flock to Elafonisi Beach Crete:
1. PINK SAND: The remains of pink seashells wash up along the edges of the lagoon and along the sandbar, creating the illusion of a pink beach. Due to things such as the wind and the tide, you sadly won't always find the beach to be pink. But if you do it's spectacular!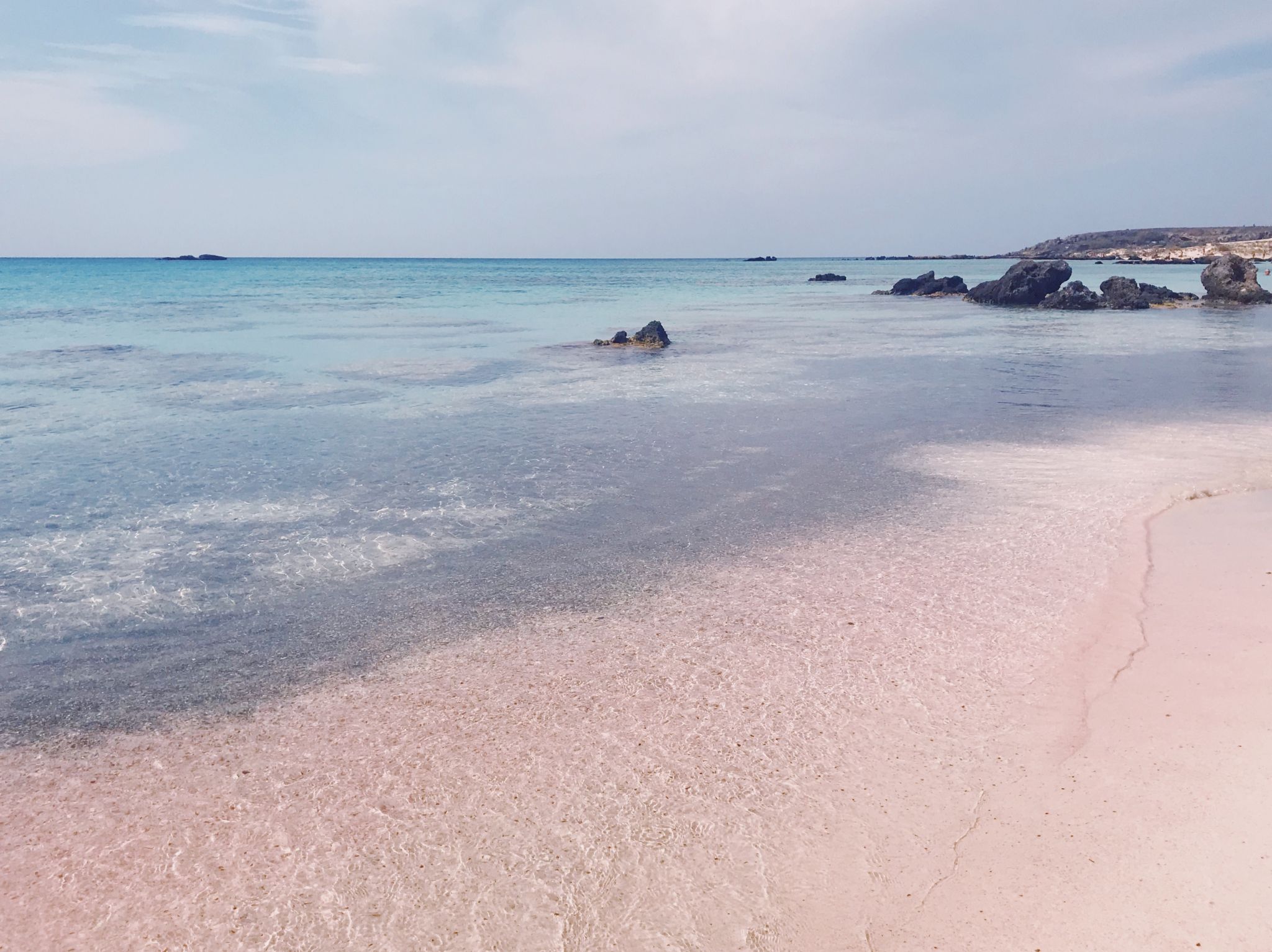 2. THE SOFTEST SAND: the areas of the beach that aren't pink are instead filled with the whitest and softest sand that wouldn't be out of place in the Maldives.
3. BEAUTIFUL WATERS: The water in the lagoon that surrounds Elafonisi beach is some of the clearest I've ever seen. What's more its shallow, warm and teaming with fish, making it perfect for families.
---
The Best Time to Visit –
One of the best things about Elafonisi Breach Crete used to the fact that it was relatively 'undiscovered'. However, since 2014 its become increasingly popular, meaning that if you visit in the summer months, you'll have to share the picturesque beach with hundreds (if not thousands) of other people. Even visiting in late September I found Elafonissi Beach to be crawling with people. 🙁
The part of the beach nearest the mainland is the most concentrated as its filled with deckchairs and umbrellas. But, if you cross over the sandbar to the island then there are many secluded spots where you might even be able to find a private outcrop.
More than this, if you visit early in the morning/later on in the evening you'll still be able to enjoy the Islands fascinating rock formation and pink sand in relative peace.
---
How to get to Elafonisi Beach –
Part of the reason Elafonisi Beach remained undiscovered for so long is its remoteness. The beach is located quite far away from any major towns meaning its relatively difficult to reach. Most routes to the beach take you along narrow and winding mountain roads. While the scenery is breath-taking, it's not the best drive for nervous drivers!
An alternative to driving is taking a coach tour. As Elafonissi beach has increased in popularity, more and more companies have arranged day tours. Therefore you're likely to find frequent coach tours to Elafonisi from most major towns in Crete.
SIDE NOTE: although taking a coach may be easier, this does mean you're likely to arrive at the beach at its busiest time!
---
Amenities at Elafonisi Crete –
Despite its increasing popularity, locals have tried to keep Elafonissi Beach as 'natural' as possible. This means that there are fewer facilities than you might be used to. This said, there are toilets and two small outdoor restaurants that provide light meals and refreshments.
Further, as I mentioned above, a section of the beach is kitted out with sunbeds and umbrellas (although I really would avoid this area if you want to experience the true magic of Elafonisi Beach). There are also lifeguards stationed across the beach in the summer months.
♦♦♦
So that complete's my guide to Elafonisi Beach Crete. It really is one of the most stunning beaches I've visited in Europe! I only hope it manages to remain so pristine. So while I highly suggest visiting this stunning destination, I urge you to be mindful of its delicate environment when you do!
Want to learn more about Crete? Check out this post on the wonferful town of Almyrida
Like this post on Elafonisi Beach Crete? PIN FOR LATER: