Located in the Western Lakes, Eskdale valley is one of the quietest parts of the Lake District, which can get busy with tourists and walkers on popular bank holiday weekends and throughout the summer. In this way,  a visit to Eskdale Valley allows you to find your own quiet and pristine corner of this amazing National Park. More than this, the views are sublime and there's plenty of things to do. So without further ado here's all you need to know about Eskdale Lake District:
Where to stay in Eskdale Valley – 
There's a wide variety of Eskdale accommodation on offer, meaning there's likely to be something which suits everyone!
To begin with, Eskdale Campsite is a great option. It was recently taken over by the National Trust, meaning its facilities have benefited from a 'top of the range' revamp, which included the introduction of several camping pods. More than this, while the site offers pitchings for tents and campervans, it's relatively small in size. This means that Eskdale Campsite has a cosy, friendly vibe, making it perfect for families or those travelling in larger groups.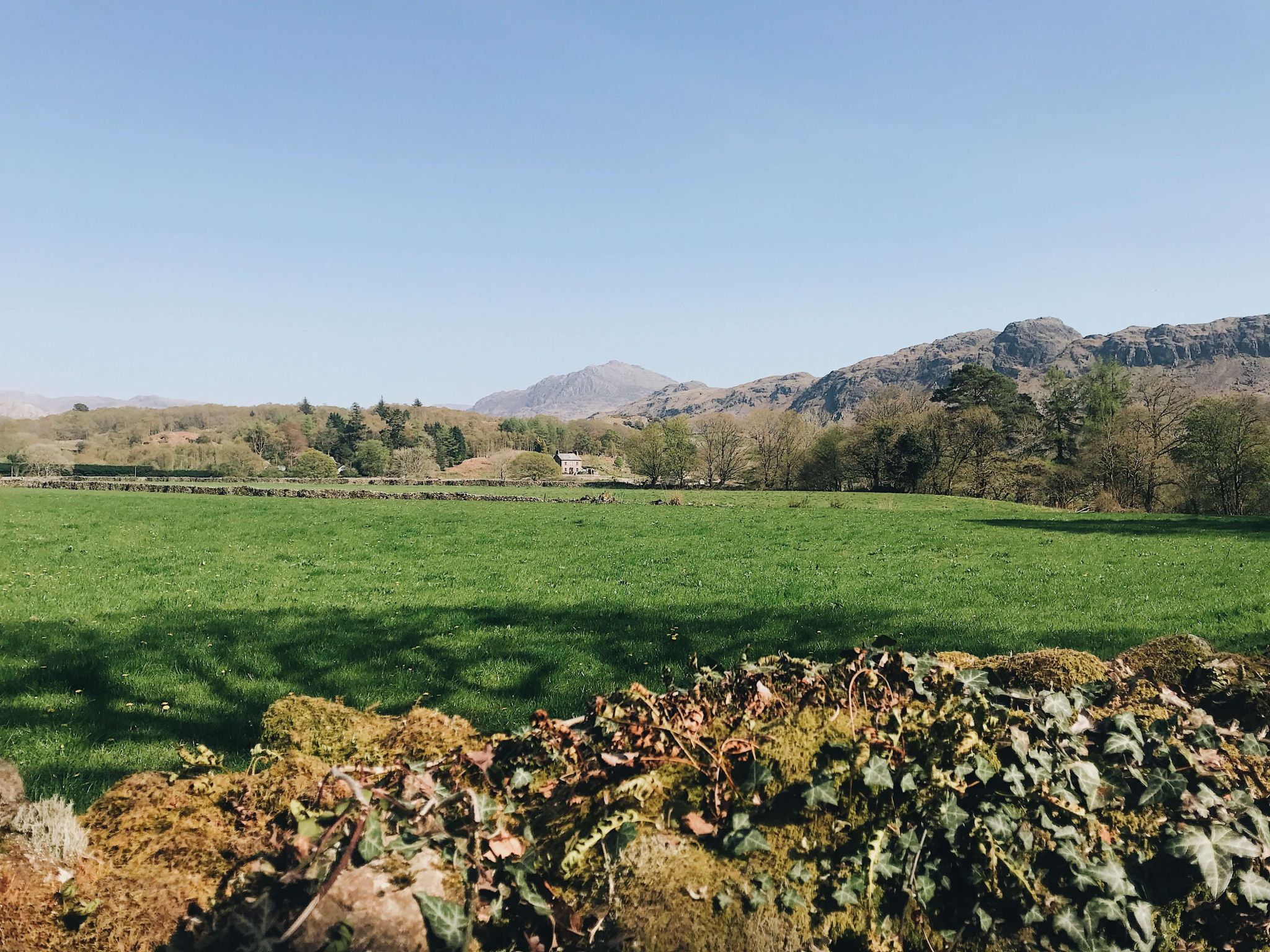 Alternatively, as the Lake Districts weather can admittedly be rather volatile, you may wish instead to stay somewhere with a roof over your head. There are several Inns within the valley which offer rooms to rent. These tend to have a typical English bed and breakfast feel and so are fantastic if you're looking to experience some Cumbrian hospitality. One of the best is the Boot Inn Eskdale, which is located a short walk from Eskdale Campsite and offers rooms from £60 per night.
One final Eskdale accommodation option is to rent your very own self-catering holiday cottage. This is a fantastic way to get your own space and enjoy a more secluded break. I thoroughly recommend the 'Chalets' as some of the best Eskdale Cottages. A five-minute walk from the small village of Boot, this small row of wooden cottages backs onto a picturesque garden. Further, they have all the facilities you could need for a comfortable and warm stay.
Wasdale Valley is another great option of where to stay in the Lake District. You can look at Wasdale Campsites/Accommodation in this post. 
---
Eskdale Lake District Amenities –
While it stretches from Gosforth to the foot of HardKnott pass, and therefore covers a relatively large distance, Eskdale valley only consists of the small village of Eskdale Green, and the hamlets of Santon Bridge and Boot (which are really just a handful of houses). This means that the amenities within the valley are limited! However, as you'll see below, the basics are covered:
Where to Eat/drink –
Boot is home to two wonderful pubs/restaurants. The Brook House Inn is fantastic at catering for larger groups. I visited Eskdale over the busy Easter weekend and ate here twice with a group of 15 people. We found the service to be quick, and the food to be a high standard, which is difficult to do when serving so many people!
The other restaurant in Boot is the previously mentioned Boot Inn, which is probably my favourite pub in the valley for food. The Boot Inn offers a more internationally inspired/modern menu. It also has a lovely pub garden, which is the perfect place to enjoy a beer on a rare sunny day!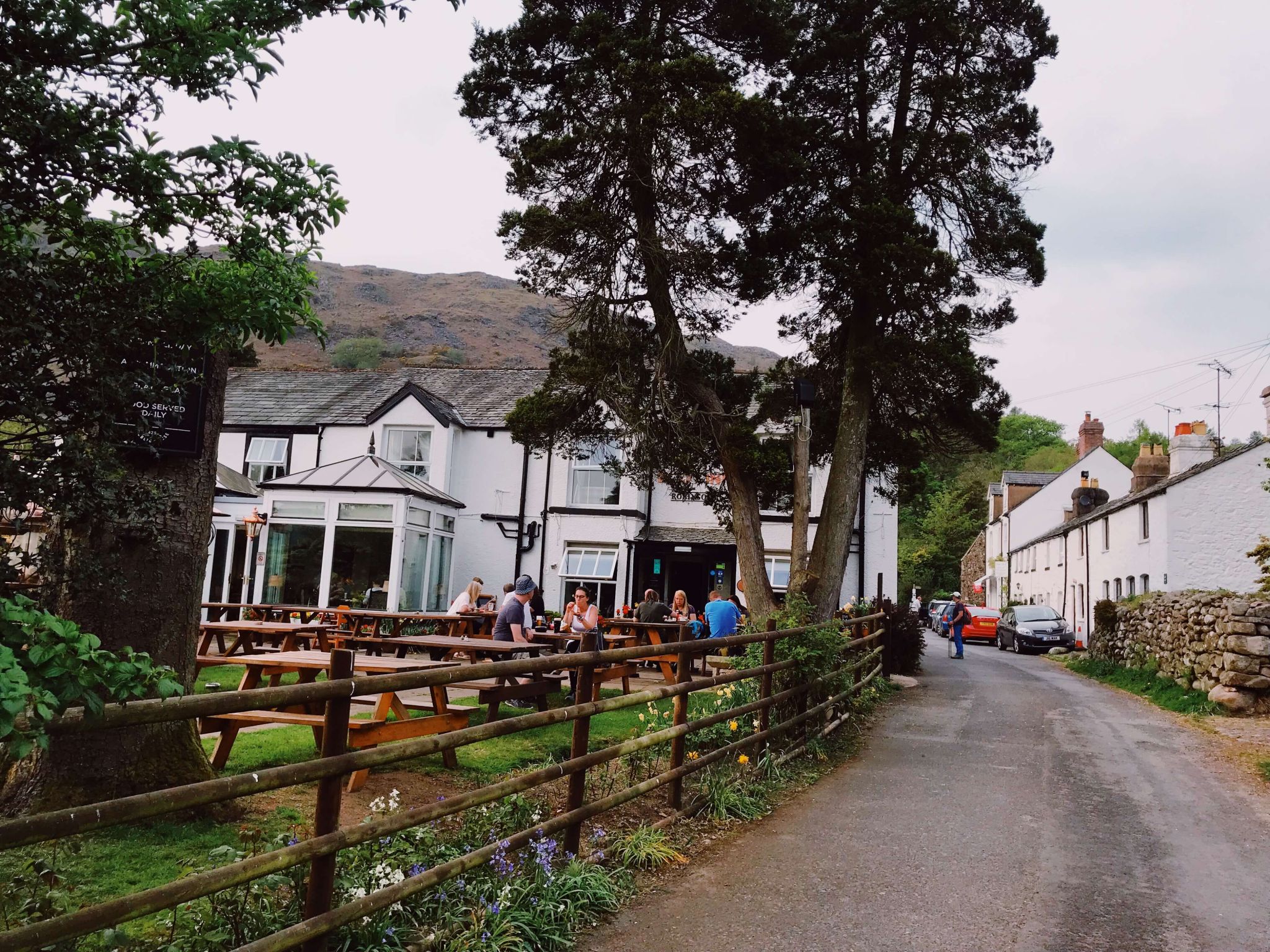 In addition, the King George IV Inn (Located in Eskdale Green) is another great option if you're looking for traditional pub grub.
Local Shops –
While you can see from above that Eskdale is not short on Pubs/Inns, there is only one shop in the whole of the valley. The Eskdale Green General Store stocks basic groceries and a small range of hiking/camping gear. Therefore, if you're planning on staying within the valley for several days, it's advisable that you stock up on food etc before entering the national park.
TOP TIP: Ambleside is the nearest town to Eskdale that has several larger shops. However, it's about a 45-minute drive away. 
---
Things to do in Eskdale Lake District –
Eskdale Walks –
One of the most popular things to do in the Lake District is to go for a walk, and Eskdale is the perfect place to do just that! The valley is littered with amazing waterfalls and fells. It's also close to many impressive mountains such as Scafell. More than this, the River Esk winds through the valley and provides the perfect path to follow. In this way, there are walks to suit people of all levels!
Ravenglass and Eskdale Railway –
The Eskdale and Ravenglass Railway is one of the top attractions within the Lake District as a whole. This miniature steam railway runs for 7 miles along the Eskdale valley, from Boot to the larger town of Ravenglass by the sea. More than this, it provides spectacular scenery along the way.
The Eskdale railway is a fantastic attraction for families, but it also provides a unique way to explore more of the Western Lake District that surrounds Eskdale. For example, on my own trip, my family and I rode the train all the way to the station in Ravenglass where we visited the towns wonderful Muncaster Castle.
We then enjoyed walking back to our Eskdale cottage from Ravenglass. The route we took is a popular one, as we walked over beautiful Muncaster Fell and then down along the Esk river. The views along the way were simply amazing as the valley opens up in front of you as you reach the summit of Muncaster Fell.
From this, it's no surprise that so many people enjoy the Ravenglass and Eskdale railway.
HardKnott Pass –
Another fun thing to do in Eskdale is to drive along HardKnott Pass, which is the steepest road in the UK. This road isn't for the fainted hearted due to this steep gradient and the fact that it twists down towards the valley, but it can be great fun!
In addition, the pass is actually part of an old Roman road, and a Roman fort (built between 120AD-138AD) is located at the beginning of HardKnott. This is a fantastic place to visit (or walk to) as the fort overlooks the road, meaning you get great views of it snaking up/down the valley.
A Pint at the Pub –
Finally, as there are so many pubs in Eskdale, it only seems right to take the time to drink with the locals and fellow visitors to the valley. Further, many of the pubs are set in spectacular locations, which adds to the fun of visiting!
SIDE NOTE: Of course, even if you're staying in Eskdale there's nothing to stop you from exploring outside of the valley! You can easily drive to places like Wasdale Head (home to Scafell Pike) and cute towns such as Ambleside, which are definitely worth visiting… Check out my post on the top Lake District activities for more ideas!
♦♦♦
That's everything you need to know about visiting Eskdale Lake District. To summarise, the Eskdale valley is a truly beautiful part of the Lake District National Park, and the perfect place to 'set up camp' for a visit to the area!
Like This Post? Pin For Later: