Growing up I regularly visited my Grandparents on the South Coast of England, and have many fond memories of its pebbled beaches and hilly terrain. However, despite being well aware of the charm of this region, it's taken me till now to visit its most well-known town: Brighton.
The town/city was first made popular by King George IV in the late 1700s, as his physician advised him to visit Brighton to benefit from the 'therapeutic properties of the sea air'. George's presence quickly turned the quiet seaside town into a popular and fashionable escape from London, and to this day a day trip to Brighton remains a firm favourite amongst visitors to the capital.
In this way, as I live so near to London (and consequently Brighton) I decided that it was well time I revisited the South Coast and spent a sunny day in Brighton…
♦♦♦
A Day Trip To Brighton: How To Get There –
The first important element of a Brighton day trip is actually getting there. If you're going from London to Brighton train is by far the easiest way to reach the seaside as the train connections between the two cities are excellent. You can either get the Gatwick Express train from Victoria (which runs every hour) or you can get an equally as frequent train from St Pancras International, although this does tend to be a little slower.
More than this, while the train is by far the most convenient way to travel to Brighton, it is also possible to drive, as the town has several centrally located car parks, which you can view here.
---
One Day In Brighton: Where to Eat – 
My mum accompanied me on my day trip to Brighton and since we arrived at around midday our first port of call was lunch! Luckily for us, Brighton has a fantastic food scene…
We opted for a touch of 'fine dining' at the beautiful Ivy in the Lanes. This restaurant was recently renovated from Brighton's old Post Office, and it's now filled with quirky art, plenty of greenery and stunning gold accents.
The interior alone warrants a visit, but the food is also amazing! It's most well known for its impressive Brunch (which is served every day till 11:30am) but we found that the lunch menu was equally as delicious!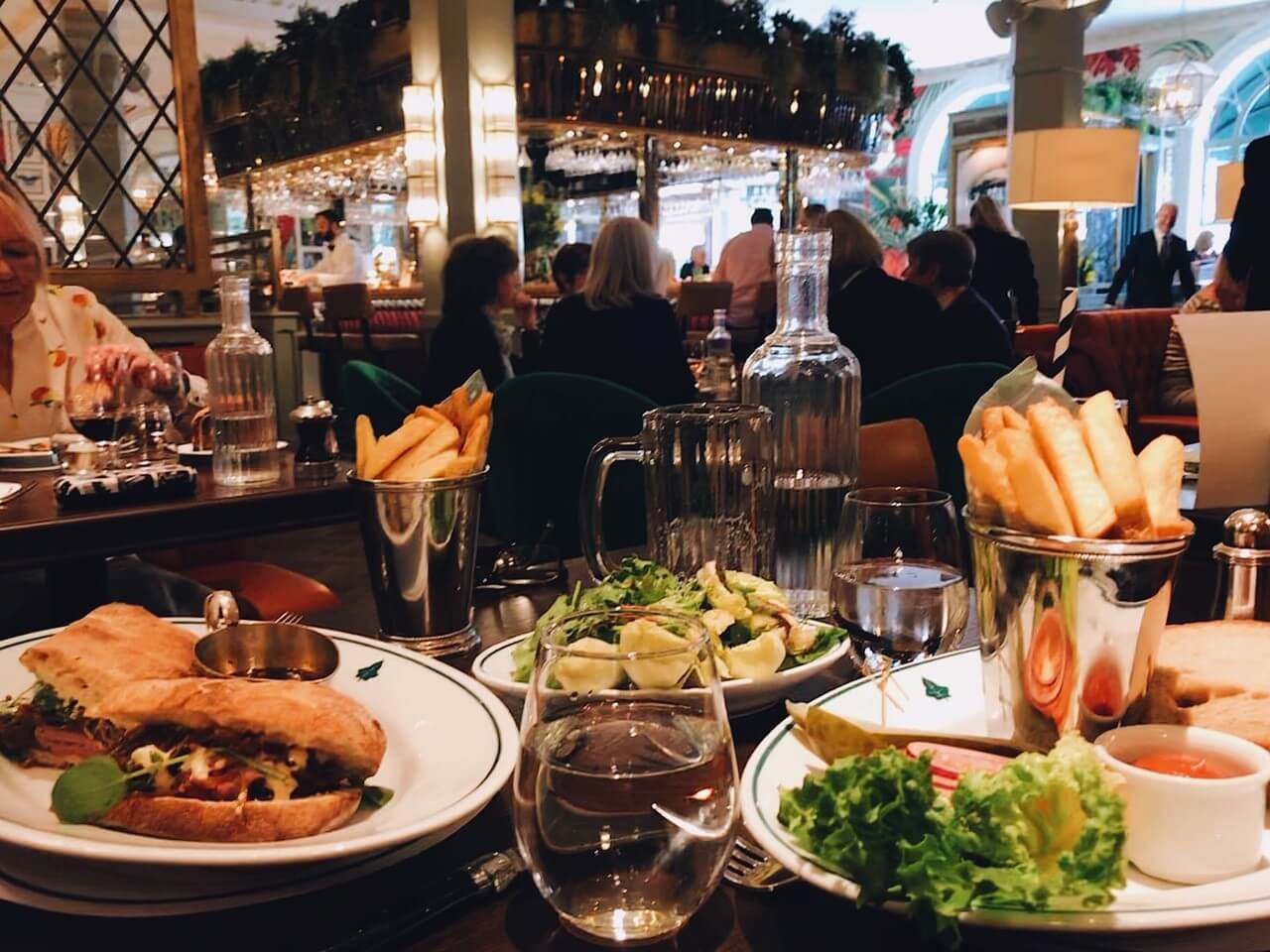 More than this, while the Ivy in the Lanes exudes luxury and sophistication, it's actually pretty affordable, with main dishes averaging around £14 (which is similar to most restaurants in the UK).
Other top spots in Brighton include Riddle and Finns, which is perfect for seafood lovers, and Food For Friends, which has been voted one of the best vegetarian restaurants in the country!
Further Brighton also has a fantastic range of more casual dining options. For example, you can always grab Fish and Chips on the beach or pop into one of its many cafes…
Interested in more day trip ideas from London? Why not consider visiting Cambridge or the Royal town of Windsor?
---
Things To Do On A Day Trip To Brighton – 
Brighton is rather unique, as it's technically a city but has no cathedral, and it's gritty and historic, yet modern and bursting with colour. What's more, its status as the Gay capital of the UK means its nightlife is electric, but by day the beachfront is a peaceful haven for families.
As a result of this, it's easy to see why Brighton is so popular with such a wide array of people: there's simply something to do that suits everyone! On our own day trip to Brighton, my mum and I were able to sample the best of these different aspects of the city by:
Shopping in the Lanes –
One of the best things to do in Brighton is to shop in its unique Lanes, which are an intricate network of charming narrow alleyways filled with independent shops, pubs and cafes close to the seafront.
So, after Lunch, we decided to explore the Lanes and I have to say that I fell in love with the unique charm and character of this labyrinth of shops. We especially enjoyed window shopping in the Jewellery sector, because a girl can always dream of diamonds. 😉
As well as The Lanes, we also walked back up towards the train station to explore North Laine (located on Kensington Gardens road). This is home to all things vintage and 'hippy' and it's another great shopping experience to have in Brighton.
Visiting The Royal Pavilion –
The next stop on our one day in Brighton itinerary was the Royal Pavilion (the summer residence of the previously mentioned King George IV). Located a short walk from the lanes, the Royal Pavilion was originally a small lodging house which was transformed into a magnificent oriental palace in 1815 by the architect John Nash.
The beautiful domes, minarets and pinnacles on the exterior of the Pavilion, mean the building has been called the Taj Mahal of England by some. While this statement may be a little bold, I definitely think that the exterior of the Pavilion is exquisite. We found that the best way to appreciate the building was simply by walking through the Pavilion gardens, which are free to visit and beautifully maintained.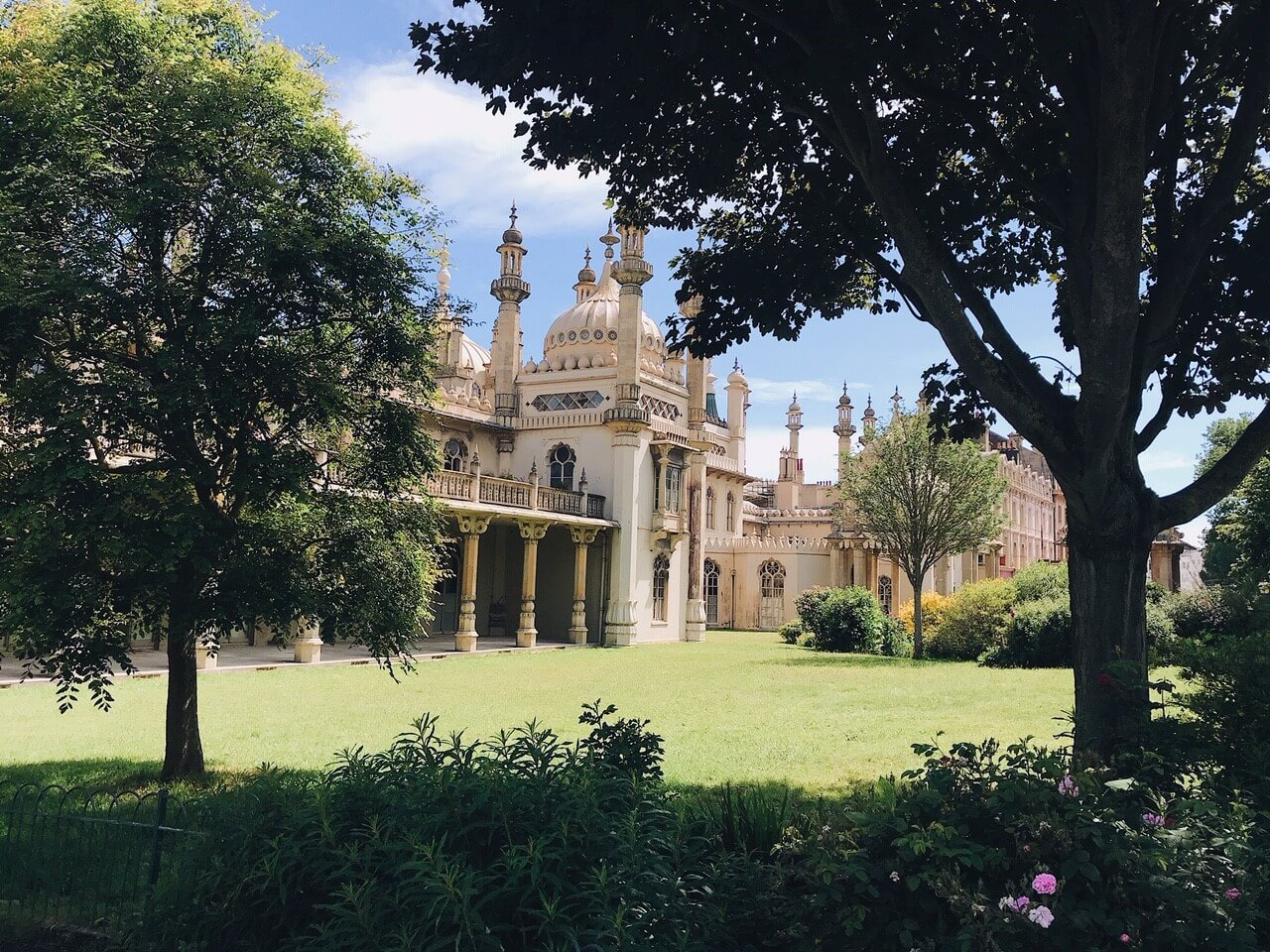 We also decided to take the time to tour the inside of the Pavilion, and this was definitely a great decision as the grandeur and opulence is taken to another level inside. With rooms that take inspiration from Chinese and Egyptian architecture, over the top decoration reigns supreme in this palace, and it's quite unlike any other royal residence in England.
As a result of this, I'd say that visiting the Royal Pavilion is probably at the top of my things to do in Brighton suggestion list, it's simply too grand and crazy to miss!
TOP TIP: Tickets for the Royal Pavilion cost £15 for adults and £10 for kids, but you can save 10% by booking online in advance.
Exploring the Brighton Palace Pier – 
While the Royal Pavilion is indeed spectacular, you can't go to Brighton and not visit its famous pier. So, after taking our time to tour the Pavilion, we wandered the 2 minutes or so down to the beachfront to explore this wonderful British attraction.
1760ft long, the pier opened in 1899 and it features lots of fun things to do. For example, you can visit one of two classic arcades, or the small amusement park at the end of the pier, where some rides take you high above the sea.
However, if you're looking for a more relaxing pier experience, you can visit one of its many food stalls which serve anything from Fish and Chips to Ice Cream and freshly made Doughnuts.
Personally, I found the views back along the coast to be the best part of the Pier, as on a sunny day you can see for miles!
Relaxing on the Beach – 
After taking in the sights and smells of the Pier we made our way down to the beach, which features two promenades, one at street level and one actually on the beach. We chose to wander down the latter of the two as the old fishermen's huts that back onto it have been converted into quirky shops and cafes that are fun to explore.
Further, as we were very lucky with the weather on our day trip to Brighton, we also ventured onto the pebbles and enjoyed a cocktail overlooking the sea. The beach is such a huge part of the charm of Brighton, that even if you visit in winter taking a stroll along it has to be one of the top things to do in the city.
---
More Things to do during a day trip to Brighton – 
After relaxing on the beach my mum and I decided to head to the station and take the train back from Brighton to London. While we had a wonderful day and I feel like we enjoyed most of the cities highlights, there are some other attractions that you might want to consider including in your own Brighton day trip itinerary:
The British Airways i360 Tower – 
The British Airways i360 is the worlds tallest moving observation tower. Standing at 162m and located on the former site of Brighton's West Pier, which sadly burnt down in 2003, the tower provides breathtaking views over Brighton and wider East Sussex. On a clear day, it's even said that you can see as far as France!
TOP TOP: The tower is cheaper if you book a pre-selected time online (£14.85). You can also purchase a ticket at the tower itself, but note that it only 'goes up' every half an hour.
Sea Life Brighton Aquarium – 
For some, a day in Brighton is not complete without a visit to Brighton's Aquarium, which is actually the oldest operating aquarium in the world as it was built in 1872. Not only does the aquarium feature dazzling sea life, but the original Victorian architecture is also quite stunning.
Therefore, overall a visit to the Aquarium is another of the top things to do in Brighton.
♦♦♦
So that completes my ultimate guide to a day trip to Brighton. However, while clearly a great city to visit for a day, I'd suggest you also consider spending a weekend in Brighton. This way you could experience the cities famous nightlife, or explore the beautiful nearby South Downs. None the less, if you just suddenly get an urge to spend a sunny day by the sea (like I did), then Brighton is surely the place to go!
Like this post? Pin for later: