When thinking about UK beach holidays, most people's minds tend to jump to Cornwall, or maybe Brighton, and the South Coast. However, I recently discovered that the Norfolk Coast is just as, if not more beautiful!
Found in the East of England (just about an hour from the historic town of Cambridge) Norfolk is quintessential English countryside at it's finest, where historic farmland meets the manmade waterways of the famous Broads and sublime soft sand beaches… In other words, there's nothing better than experiencing a North Norfolk coast holiday!
♦♦♦
Short Breaks in Norfolk (Where to Stay) –
My own visit to the Norfolk Coast was largely arranged by my best friend, who happened to choose one of the most amazing places to stay, next to the charming town of Wells-Next-The-Sea.
This pretty harbour town is in the perfect location for all North Norfolk Holidays. It's near some of the very best things to do, and home to an award-winning beach and lots of delicious places to eat!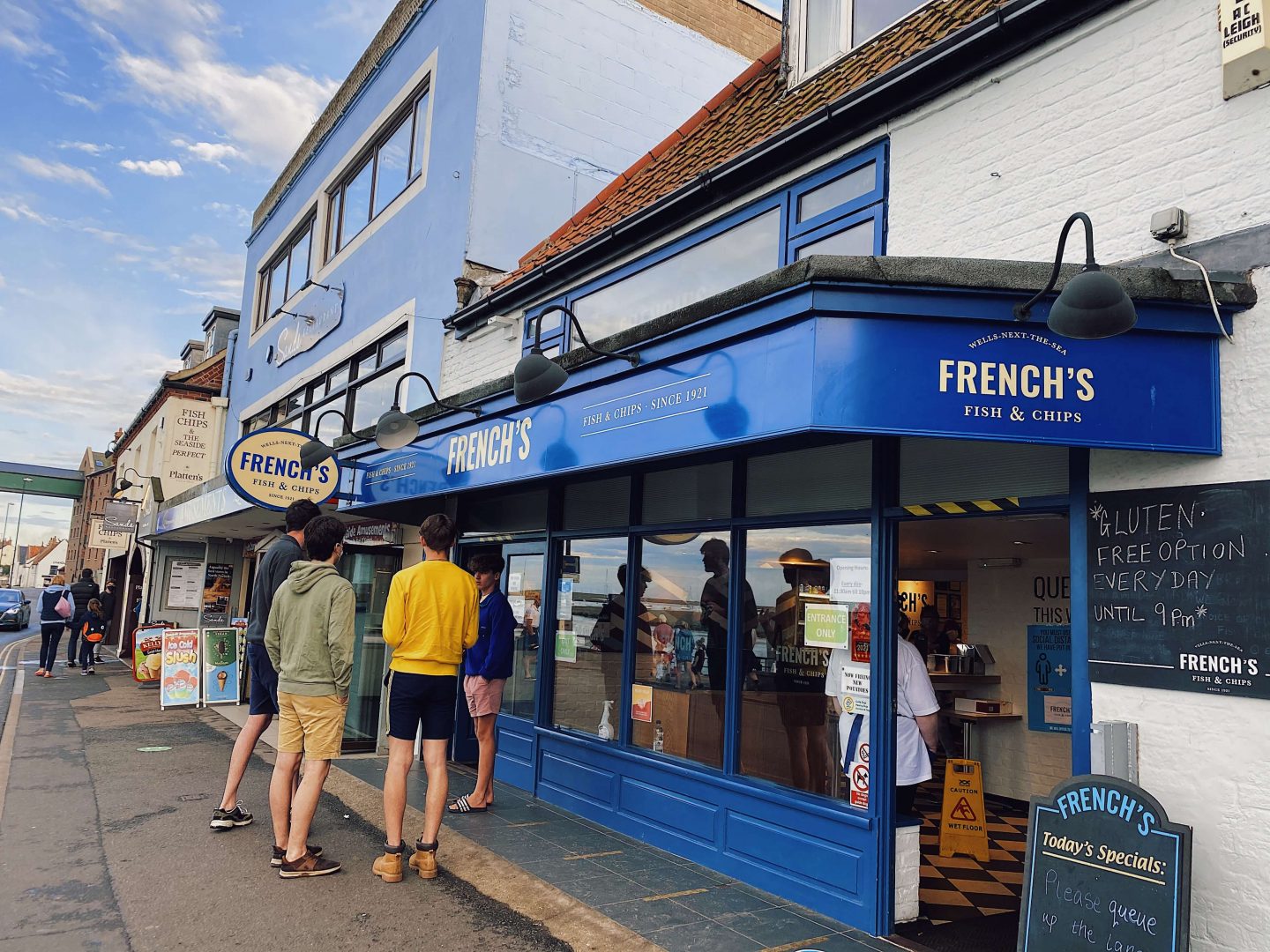 But where exactly should you stay?
Self Catering Norfolk Cottages –
While there are several fabulous hotels in Wells, (such as the Globe Inn) we opted to stay in a self-catering cottage a few minutes drive away in the picturesque village of South-Creake.
We booked a newly renovated small barn conversion on AirBnB and absolutely loved it, especially the outdoor hot tub! On top of this, it was pet-friendly, meaning we were able to bring my friend's dog along for the trip!
There's actually a lot of dog friendly cottages in Norfolk, and plenty of self-catering options, which is just another reason why the area is so fantastic to visit.
---
North Norfolk Coast Holiday (Things to do) –
1) Enjoy the magical beaches:
Of course, a Norfolk beach holiday has to include a trip or two to the ocean! Thankfully, as I briefly mentioned before, Wells-Next-The-Sea is home to one of the most beautiful beaches in the county… If not the whole of England.
Backed by shady Pinewoods, even the approach to the beach from the carpark is spectacular… This is because you have to climb a rustic wooden staircase, up the side of a sand dune, to reach the beach. Once at the top, the outlook onto the sandy shores below is impressive, to say the least.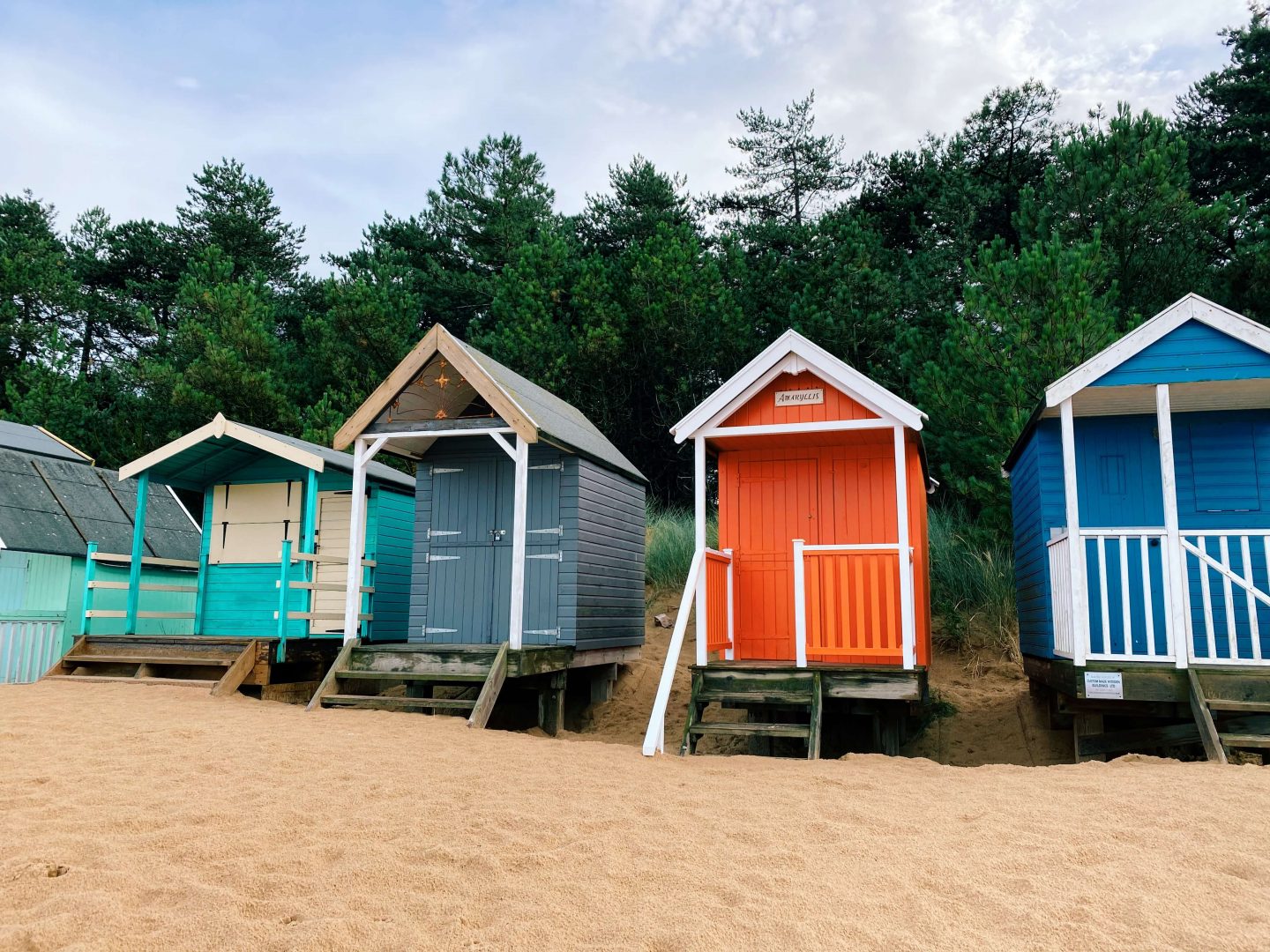 The beach itself is just as breathtakingly scenic. I was instantly drawn towards the colourful beach huts, which uniquely stand on stilts. You'll also want to bring a bucket and spade as the whole beach is covered in the softest sand… Oh, and did I mention it's dog friendly!
This meant we were able to introduce my friend's puppy to the beach for the very first time! It was so much fun seeing him running around and making friends with all the other dogs and their owners!
In this way, the Wells-Next-The-Sea beach is such a hidden gem. It's really no surprise that it's been named an area of outstanding natural beauty. I'd go back in a heartbeat.
However, if this isn't enough, the nearby Blakeney Point Beach is home to gorgeous grey and common seals (making it one of the best places to see seals in Norfolk). Plus, the unspoiled Holkham Beach is also just around the corner. This large expanse of sand is actually pretty famous, featuring in several films such as Shakespeare in Love (1999), which is a sure sign of its natural beauty!
The beach also makes up part of the Holkham Natural Reserve, where you'll find many rare species of plants and several popular walking routes, making it another of the best Norfolk beaches.
2) Explore Charming Villages –
While we would have been more than happy to spend our trip simply enjoy these outstanding Norfolk Beaches, we found that there's much more to discover on the North Norfolk coast, such as its many charming villages.
While there's plenty of places to visit in Norfolk, we particularly enjoyed the 'Burhams', namely Burnham Market. The small hamlet has lots of cute independent shops that you can browse in, and all the old cobblestoned houses create such a welcoming environment, which feels rich with history.
We mainly enjoyed just wandering around but did stop off at the Hoste Arms for lunch, which had an amazing outdoor courtyard seating area. Being so close to the sea, there was lots of delicious fish on the menu. For example, I had the Crab sandwich which was mouth-watering!
Therefore, I'd definitely recommend stopping here for a meal during your own Norfolk Coast Holiday. You could even opt to make the Hoste Arms your 'base', as the restaurant also rents out 5* rooms!
3) Visit Holkham Hall:
Out of all the things to do in Norfolk, Holkham Hall is probably the most recognisable. Built-in the 18th century, this grand stately home belongs to the Earl of Leicester and is surrounded by rolling parkland.
Visiting the 6000+ hectare estate feels like stepping onto the set of Downton Abby! I especially like the fact that you can walk around the deer park for free, and still get amazing views of the house.
We actually decided to hire bikes, and enjoyed riding around the estates well maintained cycle paths, with a dog in tow, who loved keeping an eye out for stray deer.
This said, there's much more to do at Holkham Hall! By prebooking you can tour the houses grand staterooms, visit the splendid walled garden, or explore the Holkham stories experience to find out all about the estate's 400-year past!
Further, it's one of the best things to do in Norfolk with kids too as there's a great woodland play area!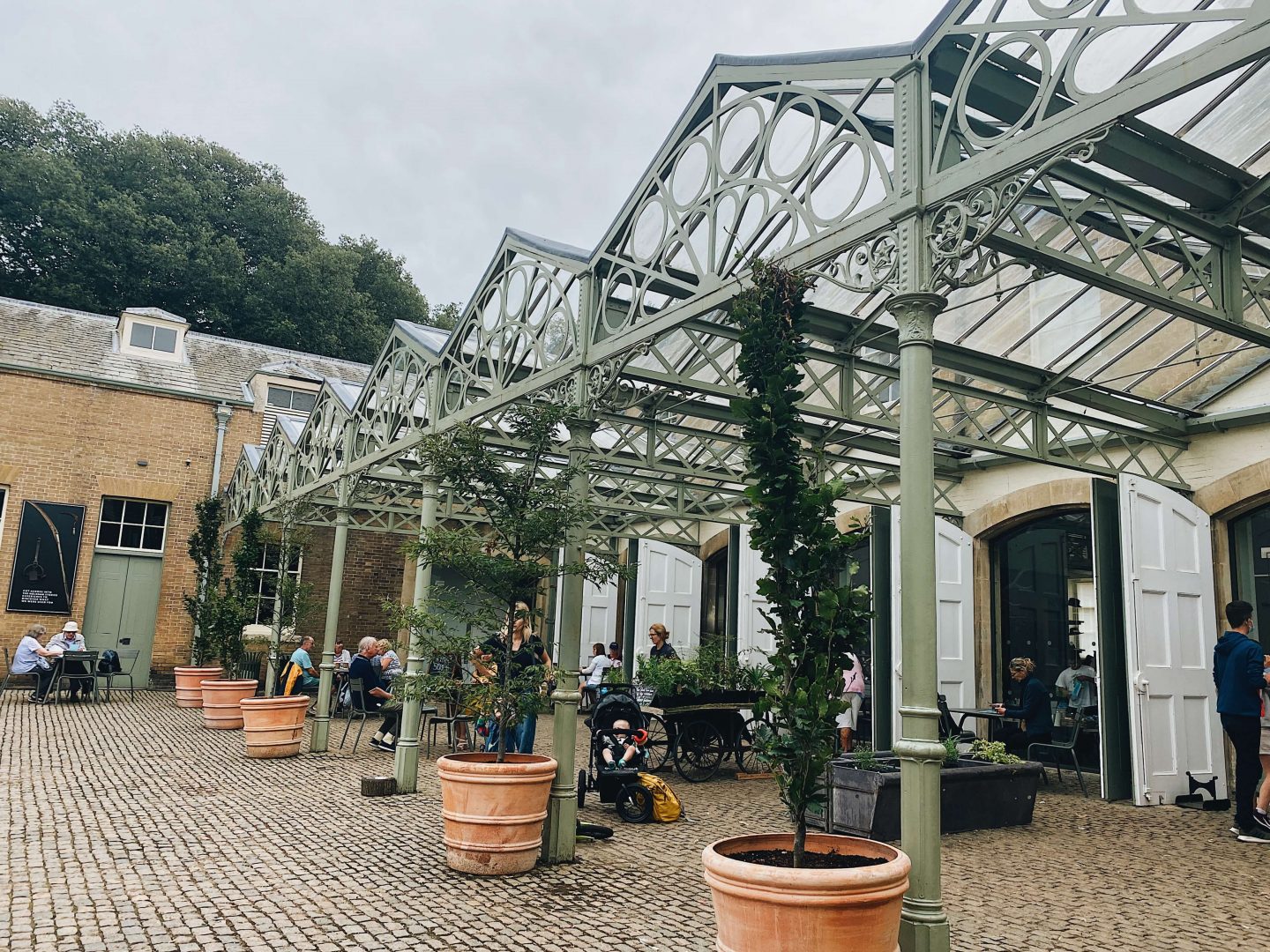 To summarise, all short breaks in Norfolk should include a visit to the amazing Holkham Hall!
♦♦♦
I hope you enjoyed this brief guide to a North Norfolk coast holiday, as you can probably tell an escape here is largely all about enjoying the beautiful and peaceful surroundings!
This said, when enjoying your own Norfolk holidays, you may also want to travel further afield to more of the best places to visit in Norfolk, such as the city of Norwich, or the Broads National Park…
Like this Post? Pin for Later: