Cornwall breaks have long been a top summer escape for many Brits! After all, its rugged coastline, idyllic beaches and endless charm make it one of the best holiday destinations in the UK… Over the last few years, I've been lucky enough to enjoy several visits to Cornwall and have thus discovered the very best of what it has to offer. So, here's my guide to the perfect Cornwall holiday:
♦♦♦
Where To Stay In Cornwall?- 
Each town/village in Cornwall is as picturesque and appealing as the next. Therefore, narrowing down the best places to stay in Cornwall can be a bit of a challenge… This said, one of my top suggestions has to be the charming fishing village of Portloe, which can be found on the Roseland Peninsula.
Tucked away in a small cove, Portloe is a true hidden gem that feels frozen in time. Tiny cornish lanes wind down to a quaint working fishing harbour which is flanked by traditional white stone cottages. In other words, if you're looking to enjoy traditional Cornish charm on your holiday to Cornwall then this little village is perfect!
To make it even better, the village is home to an amazing hotel. The Lugger Hotel Portloe Cornwall is located right on the edge of the harbour overlooking the sea. As a result, several of the rooms have a stunning sea view, and what could be better than waking up right on the beach?
If you're looking for somewhere slightly busier to stay, then larger towns such as St Ives, Falmouth, and Penzance do have more amenities in terms of shops and restaurants. But if you were going to ask me "where is the best place to stay in Cornwall?", above all else, I'd have to recommend Fowey.
Similar to the above, it's a well-established town meaning there's plenty of things to do Fowey! From relaxing on award-winning nearby beaches to enjoying afternoon tea in charming cafes. However, the real highlight of Fowey is its natural beauty. As it sits high on the banks of an estuary, there are breathtaking views to be found around seemingly every corner.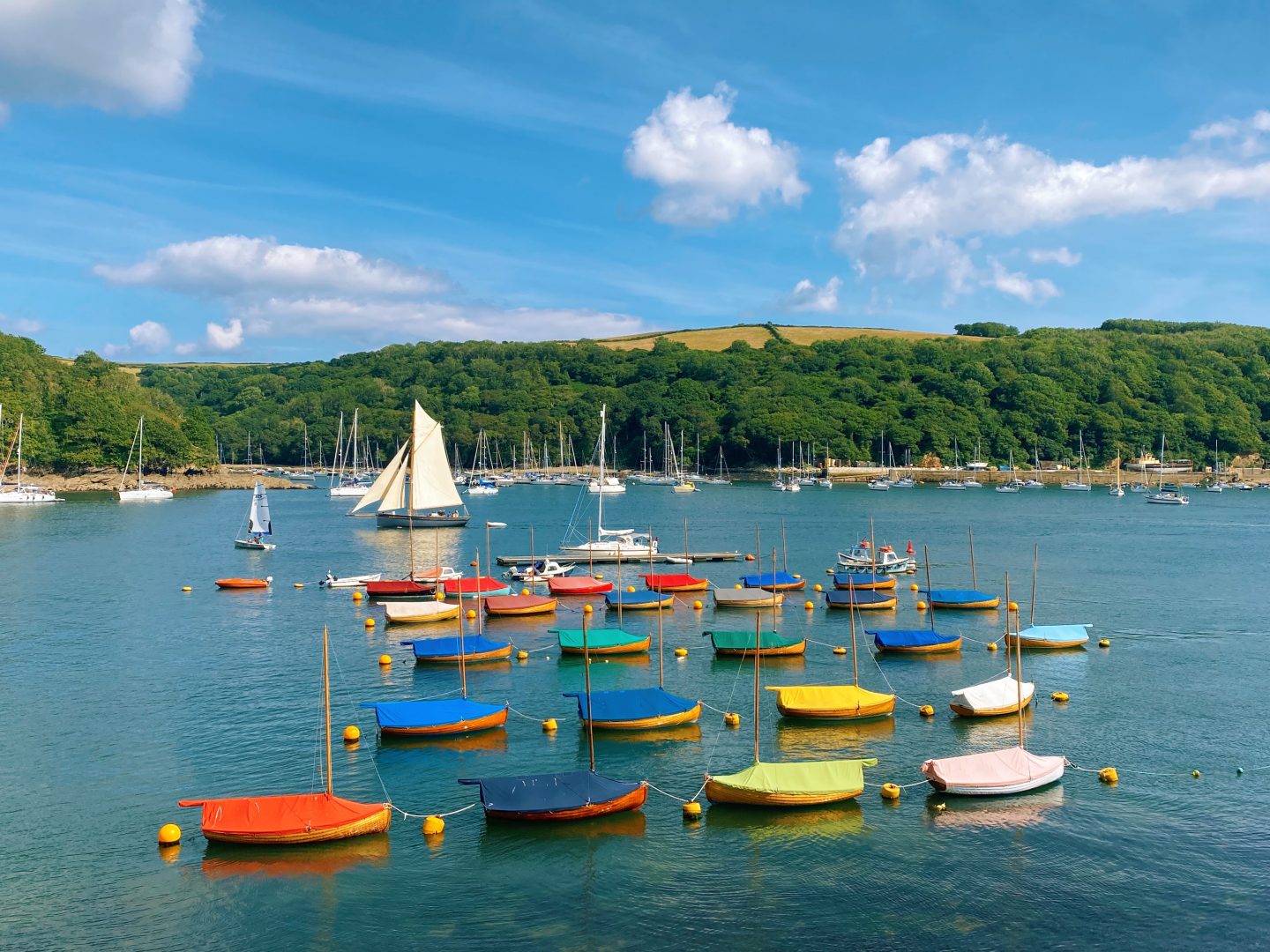 One hotel that makes the most of these views is the Old Quay House Hotel! Again located right on the harbour front, it's one of my favourite places to stay in Cornwall simply due to the premium service, views and amazing fine dining restaurant.
---
Magical Places To Visit In Cornwall – 
Wherever you decide to stay there are lots of fun things to do in Cornwall… In this way, a few attractions that should be included on every Cornwall itinerary include:
1) Cornwall Breaks (The Eden Project):
The Eden Project is a symbol of Cornwall breaks! It welcomes over a million visitors each year and is no doubt one of the best things to do in Cornwall. The main attraction is its spectacular biomes, which have become some of the most recognisable buildings in Britain.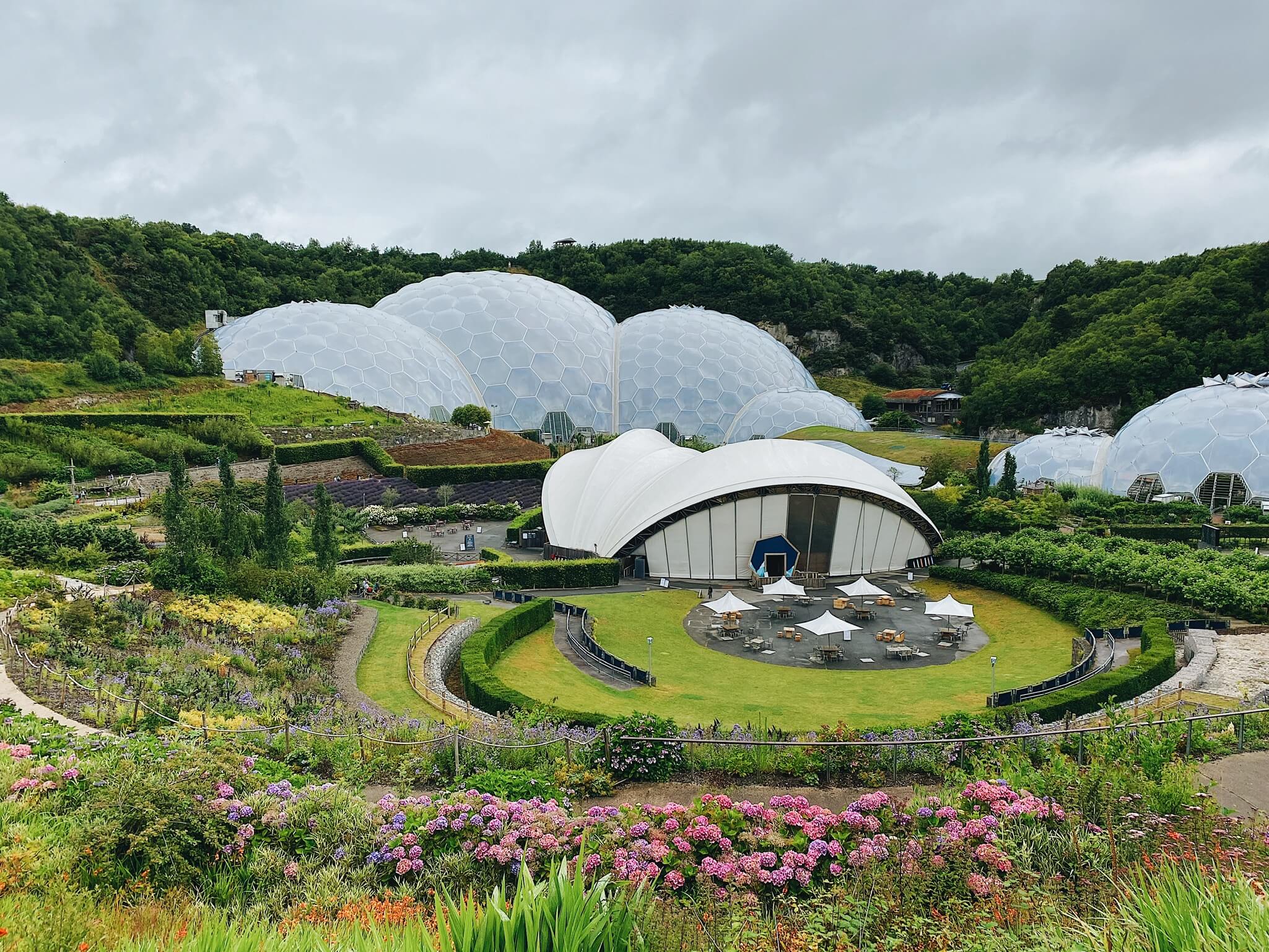 Built from the rubble of an old clay mining pit, construction of the Eden Project began in 1998, and it opened to the public just three years later in 2001. Following an unprecedented transformation, today the 'pit' is unrecognisable and (of course) full to the brim with lots of colourful plants and foliage.
For example, when visiting I was amazed by the sheer variety of trees and tropical plants on display in the Rainforest Biome. Meanwhile, I couldn't believe how the design of the Mediterranean Biome made it feel just like Greece or Spain… Perfect considering Cornavirus had stopped anyone from actually visiting Europe in 2020.
---
2)  Hangloose Adventure:
A great attraction to add to your Cornwall itinerary for a bit of an adrenaline kick is the Hangloose Adventure Park. Based on the same site as the Eden Project, there are lots of different activities available from an epic high wire course to a dramatic high swing. However, personally, I've only ever experienced the main attraction: the fastest and longest zip wire in England, which carries you right over the top of the Eden Project and its famous biomes!
Top Tip: Hangloose Adventure does offer package deals, but if you just want to do the zip wire it costs £35 per person. We booked spur of the moment on the day, after seeing others hurtle across from below! But, it's best to prebook online in advance to avoid disappointment. 
---
3) Land's End:
Another landmark that can't be missed on a holiday to Cornwall is Land's End, the most westerly point in mainland England!
I love the natural scenery here as all you have to do is walk a few meters along the clifftop trails to be treated to breathtaking views. When visiting, my family and I actually walked all the way along the coast to nearby Seenen Cove. Home to a beautiful large crescent-shaped beach, it's well worth a visit!
However, I have to confess to being quite underwhelmed by the point that actually marks where the 'land ends'. In truth, the official signpost (that you have to pay to take a picture with), and the adjacent small shopping area, just don't seem in keeping with the traditional charm you encounter elsewhere in Cornwall.
This said, once you step away from the commercial side of Land's End it's hard to be disappointed by the amazing landscape that has remained unchanged for centuries.
TOP TIP: Parking at Land's End costs £6 and it's best to prebook to guarantee entry.  
---
4) St Michael's Mount:
A short drive from Land's End you'll find the magnificent St Michael's Mount. A tidal island located in the small town of Marazion, it's like something plucked straight out of a Disney movie. With a castle perched on its highest point and a medieval stone causeway, the mount has a true fairy-tale appearance.
Amazingly, you can walk across the stone causeway to discover St Michael's Mount, which is complete with charming homes, shops and restaurants. Its history is also quite astounding, with the first recorded chapel being built on the mount way back in 1044. However, the castle you see today largely dates back to the 18th century when grand Victorian apartments were added.
Perhaps the crowning jewel of St Michael's Mount though is the beautiful terraced gardens. Now partly managed by the National Trust, the winding pathways and steep stone terraces are quite unique as a Mirco-Climate allows for all sorts of tropical plants to flourish. Meanwhile, the castle looms in the background, creating the perfect grandiose centrepiece!
Overall, St Michael's Mount is high on my list of favourite places to visit in Cornwall and thus deserves to be included in any ultimate Cornwall breaks bucket list.
---
4) Prettiest places in Cornwall (Coastal Villages):
Staying in Portloe inspired me to explore more of Cornwall's coastal villages. In fact, on one Cornwall holiday, my family and I decided to allocate a whole day to exploring some of the prettiest places in Cornwall! One of these aforementioned places is the quaint hamlet of Veryan, which is famous for its interesting 19th century thatched roundhouses. A Vicar built these quirky houses to protect his daughters, thinking that there would be no corners where the devil could hide in the round design…
Another endearing village is the old fishing port of Saint Mawes. It's filled with an abundance of traditional cob cottages, several delicious fish and chip shops, and a very good beach. In other words, Saint Mawes is the perfect place to visit for a quiet afternoon by the sea. You can also get the ferry to Falmouth from here for a fun day out!
I personally think there's something so enjoyable about discovering traditional villages on Cornish breaks. Wandering through their narrow alleyways, with the sea and ancient harbours hiding around every corner, it's hard to get bored! Moreover, there are so many villages to explore. With further hotspots including Port Issac, Charlestown and Boscastle (which is very nearby to the famous Tintagel Castle)…
---
5) Tintagel Castle:
Short breaks in Cornwall wouldn't be complete without a visit to Tintagel Castle. Surrounded by myth, the legend of King Arthur and stunning scenery, Tintagel is set high on an isolated headland on Cornwall's rugged north coast. There's not actually much left of the 13th-century stronghold built by Richard, the 1st Earl of Cornwall, yet a visit is still more than worthwhile!
To begin with, one of the first things to do in Tintagel is cross the new cantilever bridge which recently opened to the public in 2019. Previously visitors had to climb hundreds of steep stone steps to reach Tintagel, which was quite the workout! However, now the bridge effortlessly reconnects the castle with the shore.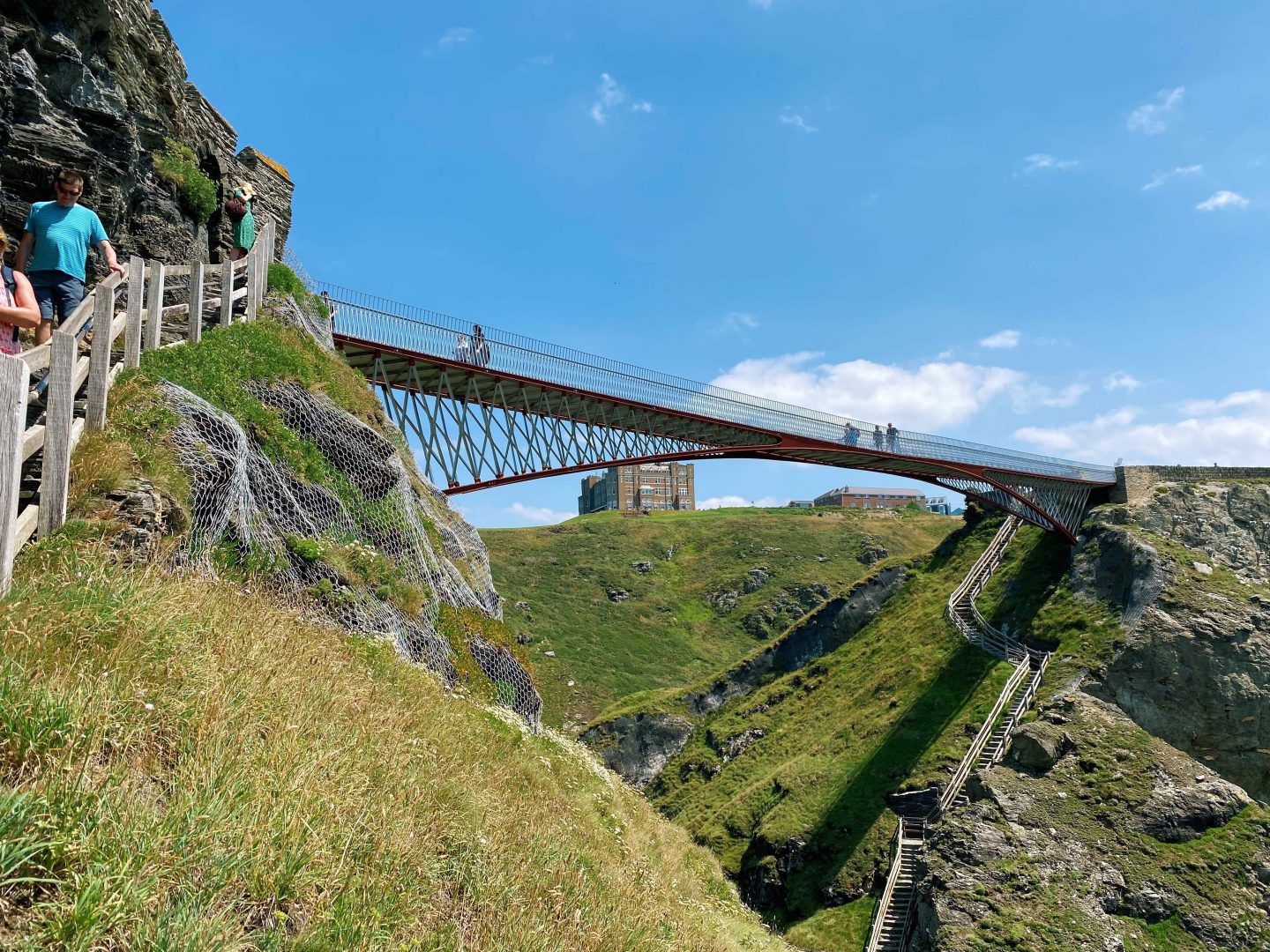 The bridge's eye-catching design brings a new dynamic to Tintagel. Yet, what I loved most about visiting was simply the stunning scenery… It features rolling waterfalls, hidden caves and crystal-clear water. In fact, if you're lucky enough to visit on a warm summer's day I would definitely recommend packing your swimming gear to enjoy the castle's very own small beach!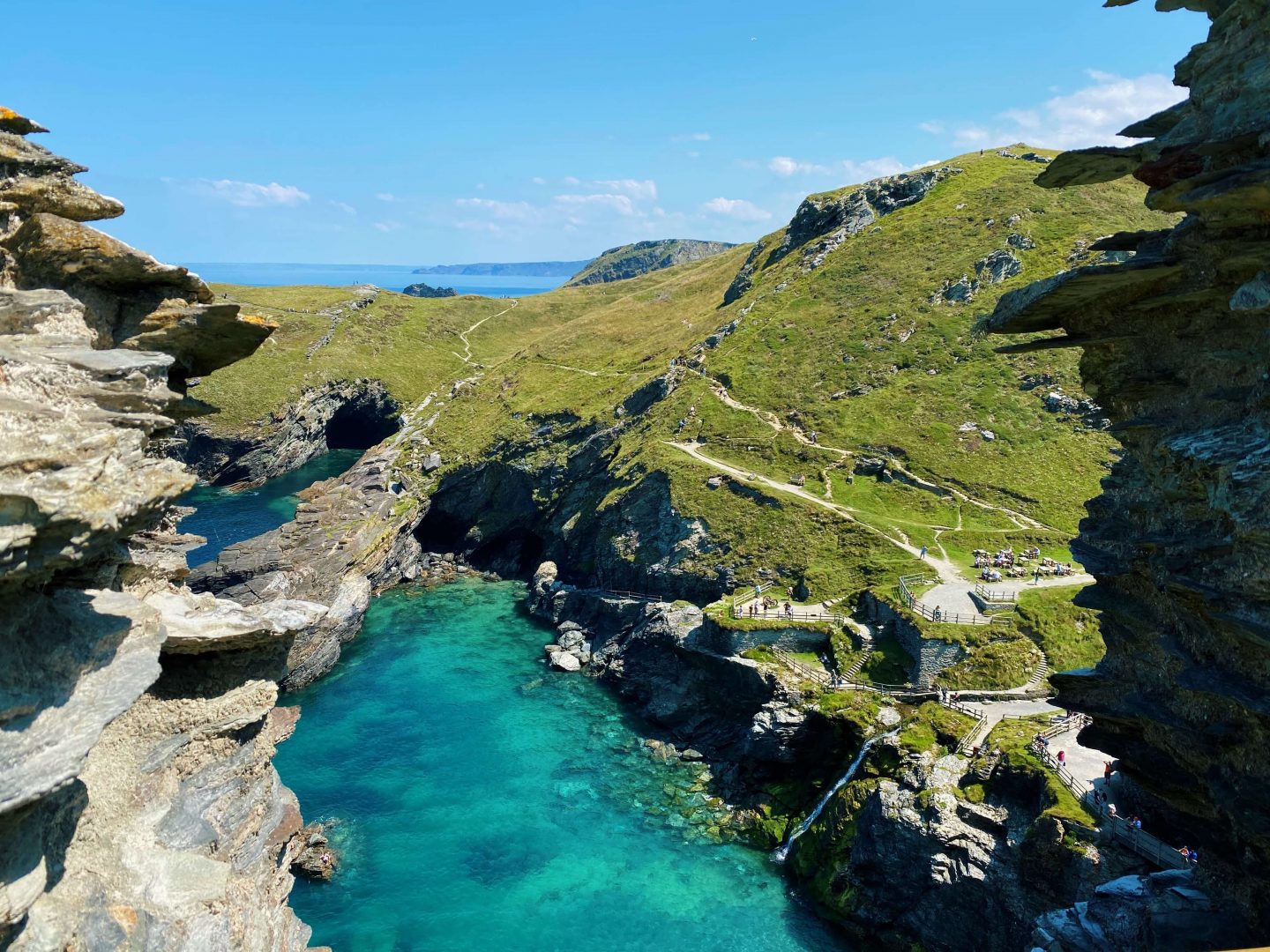 Top Tip – As with most of the mentioned places to visit in Cornwall, Tintagel is very popular and tickets to visit often sell out. So, again, it's best to prebook online in advance.
6) Cornwall Beaches:
No Cornwall holiday is complete with a visit to the beach! The county is home to some of the clearest water, and softest sand beaches in England. From sheltered coves such as Porthcurno beach and Lantic Bay to long exposed stretches of sand, there's something for everyone… Whatever the unpredictable British weather.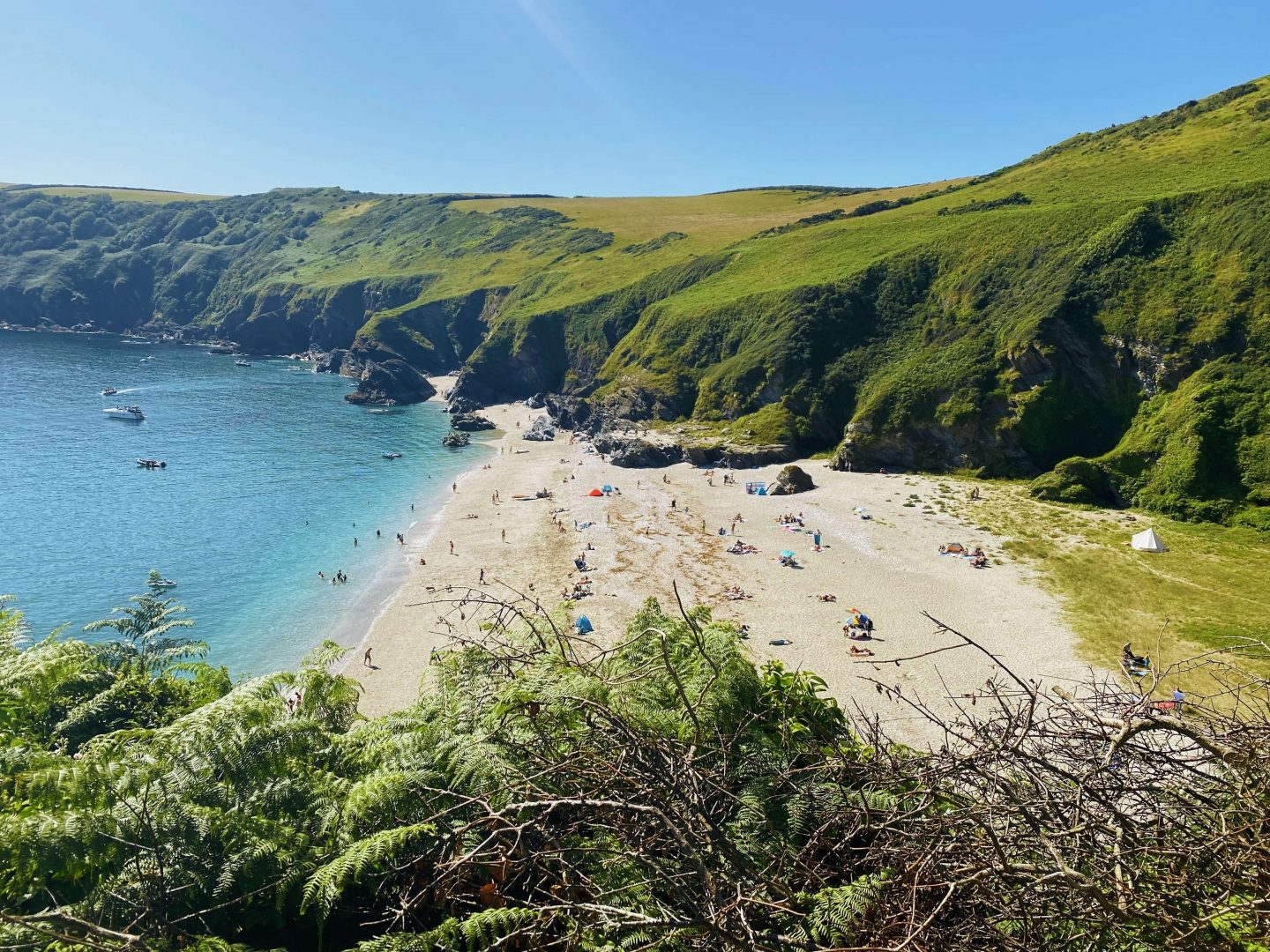 Sometimes when visiting Cornwall spending the day on the beach can make you feel like you're somewhere truly tropical. However, if you're facing bad weather, you can still experience a beach day, just one with a difference! For example, as a horse lover and owner it's always been on my bucket-list to go horse riding on a beach. I, therefore, took the opportunity to book with Reen Manor Stables and galloped along the sand at Perranporth beach on one rather rainy day in Cornwall.
Perranporth is probably one of the longest beaches I've ever seen! The golden sand stretches for miles, creating a truly fantastic experience. But, if horses aren't your thing, other wet weather beach activities to try include surfing and paddleboarding.
TOP TIP: Looking for more UK Beach holiday ideas? Brighton, Norfolk and the South East Coast also have a lot to offer!
---
6)  The Coast Path:
The final of my top things to do in Cornwall is a simple one, walk a section of the South West Coast Path. The whole path amazingly stretches 630 miles, running all the way from Somerset and along the coasts of Cornwall and Dorset.
Completing the whole loop is therefore pretty unlikely on most Cornwall breaks, but the breath-taking scenery and heritage of the coast path makes walking a mile or two well worthwhile! For example, I've walked a small stretch from Portloe and I was amazed by the spectacular sea views.
---
Holiday to Cornwall Itinerary – 
As you can see there's an abundance of amazing places to visit in Cornwall. As a result, there are countless different itineraries that you could plan. This said, for a few tips I'd recommend:
1) Start by spending at least 1 week in Cornwall, especially on your first visit, as this will give you plenty of time to both relax and enjoy some of the top things to do! For example, attractions like the Eden Project will likely take a whole day to explore.
2) It's worth bearing in mind that Cornwall is a large county, and navigating its narrow winding lanes can be difficult. So, when travelling around it's best to take it slowly and visit with a confident driver.
3) And finally make sure you have a reason to go home because after a few days in Cornwall you'll probably never want to leave…
♦♦♦
Enjoying Cornwall breaks over the last few years has really made me realise how beautiful parts of England can be. There are so many magical places to explore right on our doorstep that can often get overlooked. So, I hope this post inspires you to enjoy your own amazing holiday to Cornwall!
Like this post on Cornwall Breaks? PIN FOR LATER: