Although Morocco is still relatively new to large scale tourism, it's been on my travel list for a while. This is mainly thanks to Instagram pictures of its gorgeous tiled palaces and amazing scenery. Therefore, when I had a week free from university in January, it seemed the perfect place to visit for my 21st birthday. Thus, here's my one week in Morocco Itinerary, which contains all you need to know about visiting this North African country.
♦♦♦
What you need to know before visiting Morocco:
Bordered by both the Atlantic Ocean and the Mediterranean Sea, Morocco is just a three and a half hour flight away from the UK, my home country. Despite its proximity to Europe, Morocco feels like a world away. Therefore, there are a few things that you need to know when planning a trip to Morocco:
The Currency: 
The Morrocan Diram is the primary currency used in Morroco, although some establishments do accept Euros. However, the Diram is a closed currency, meaning you can only buy or exchange it within the country. In other words, you cannot bring any Diram's in or out of Morroco.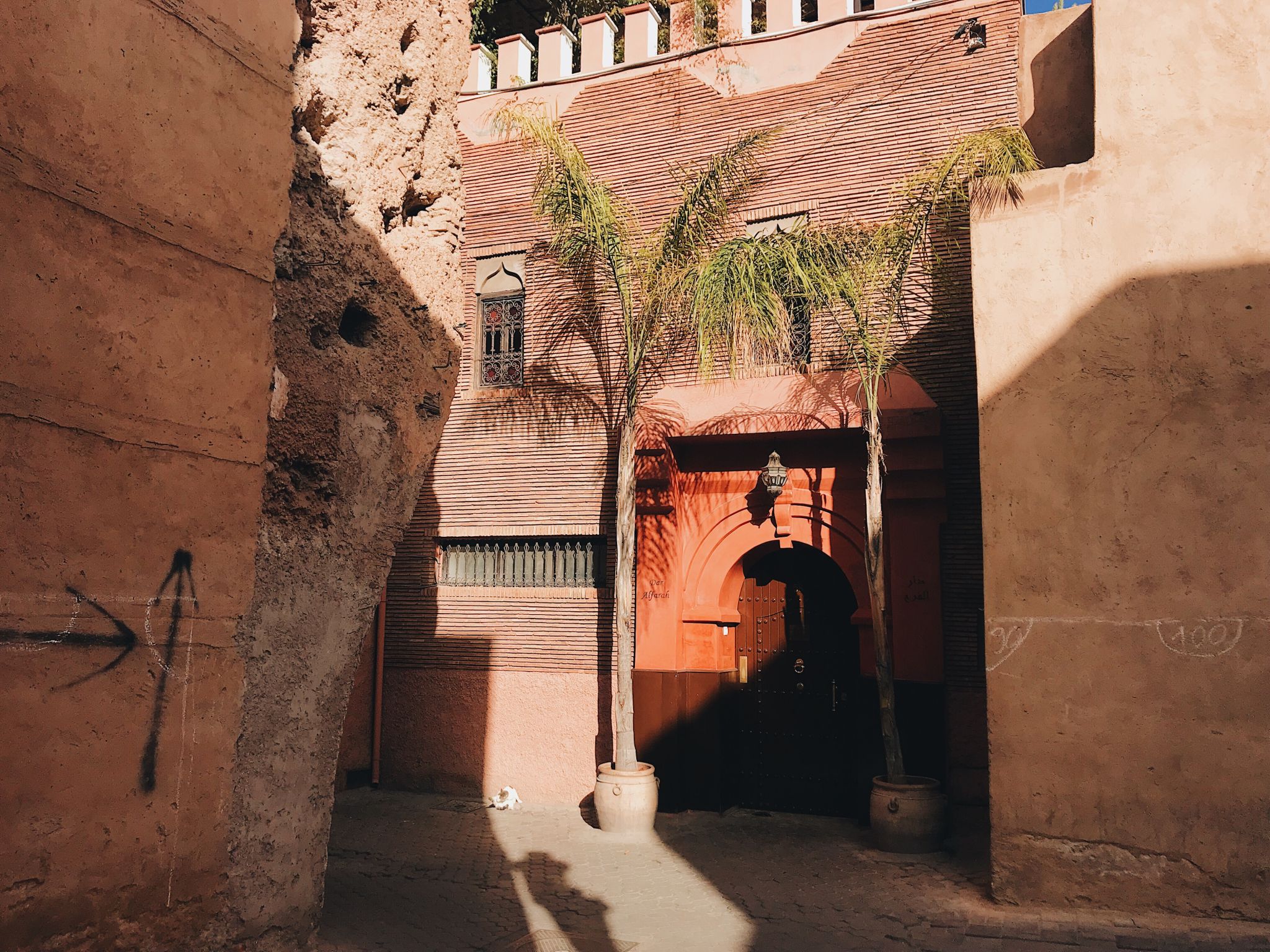 This said you can get your hands on some Morrocan Dirams relatively easily once you arrive in the country. I'd suggest exchanging some money at the airport. However, there are also exchange booths and ATM's throughout Morroco's major cities.
TOP TIP: I'd advise keeping a small bundle of Diram's on you at all times as many places in Morocco don't accept card!
The Temperature: 
Something that shocked me once I arrived in Morocco was the diversity of its weather. When I visited in January, the day time temperatures peaked at around 20°C (although it felt much warmer in the sun). However, at night, this dropped to around 2-3°C.  If you visit in summer, the night time temperature won't be so extreme, but I definitely learnt the hard way that when visiting Morocco, layers and warm jackets are needed!!
Religion and Language: 
Morocco is a predominantly Muslim country, with the majority of inhabitants practising the religion. Because of this, its official language is Arabic, although you'll find that most people speak French.
This Arabic culture also means that you should dress conservatively to respect the people's beliefs. For example, When considering their Morocco packing list women should ensure that their knee's and shoulders are covered… More than this, I'd stay away from floaty dresses, even if they meet this protocol, as although I felt completely covered up when wearing a long-sleeved maxi dress, I drew a lot of unwanted attention from creepy men!!
---
Is one week in Morocco enough?: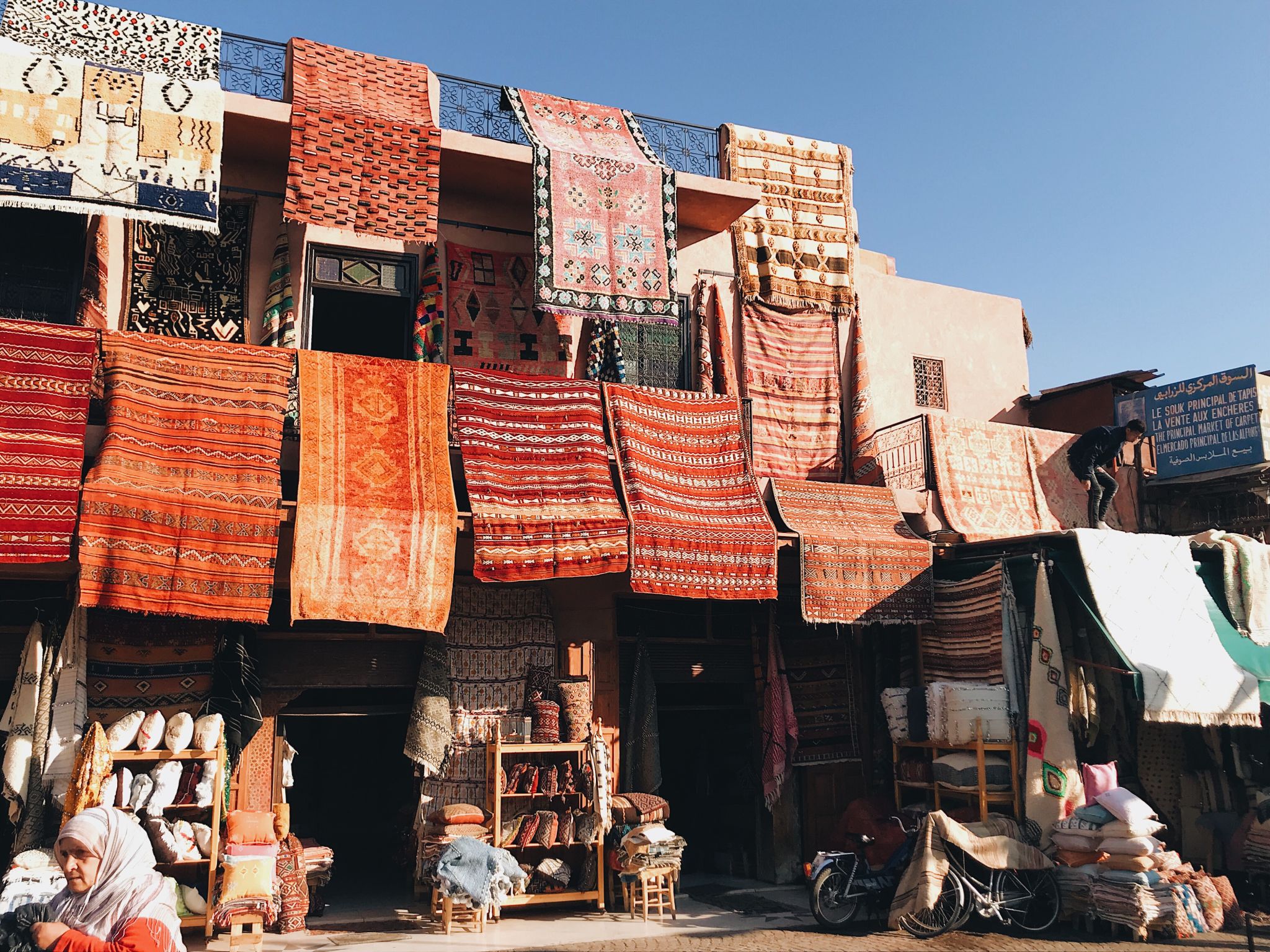 Another thing you need to understand about Morocco before visiting is the fact that it's a very large country (over 400,000km²). Whatsmore, its major cities are spread out amongst this large area. For example, if you wanted to travel between Marrakech and Fes (two of the countries most visited cities) it would take over 5hours.
In this way, if you want to visit all of Morocco's cities and regions then a week in the country probably isn't enough… This said, while I didn't see all the country's famous attractions during my 1 week in Morocco, I left feeling that I had seen enough to understand the culture and appreciate the country's beauty. Therefore, I'd say a week in Morocco is enough, but you may want to add a few more days to your own itinerary if you're desperate to see all its highlights.
---
One Week in Morocco Itinerary: 
After researching where to go in Morocco, I discovered that there are two main options if you only have time to spend one week in Morocco like I did. The first is a northern Morocco itinerary which includes visiting sites such as Casablanca, Fes, and the Instagram famous blue city of Chefchaouan.
However, as Marrakech was the city in Morocco I'd read the most about, I decided to centre my trip around it, and instead explore the central region of Morocco:
DAY 1: Marrakech 
I travelled to Morocco with my mum, and our flight left London insanely early in the morning, meaning we landed in Marrakech at around 11am. It's widely quoted that taxi drivers at Marrakech's airport charge an absurd amount to take you to the city, which is only about 10 minutes away. Therefore, we'd prearranged to be picked up by our hotel/riad. This proved to be a great decision as it was hassle free, and the comfort of the air-conditioned SUV made the madness of Marrakech's roads more bearable.
SIDE NOTE: when staying in Marrakech, most people opt to stay in a 'riad'. These are essentially townhouses built around a central courtyard in the medina/walled part of the city. However, they tend to be beautiful!
Our transportation took us as far as Jemaa el-Fnaa, the cities main square. Beyond this point, the alleyways of the medina become far to narrow for cars to pass through. Luckily, our riad sent someone to show us the rest of the way to our accommodation, something I'm very grateful for, as I'm certain my mum and I wouldn't have found the riad on our own!
After checking into our room (and having the first of many Morrocan mint teas) we headed back out to the Jemaa el-Fnaa square for lunch. We chose to eat in L'Adresse, which quickly became our favourite spot to eat in the city, both because of its fantastic food, and rooftop location, which allows you to people watch and observe the craziness of the square below.
Following this, we began to seek out some of Marrakech's famous attractions, starting with the Koutoubia Mosque, an impressive structure which dominates the cities skyline. Although non-muslins are prohibited from entering the mosque, it's still amazing to see from the outside.
From here we attempted to walk to El Badi Palace, a ruined palace from the 16th century, the name of which translates to the 'incomparable', hinting at its grandeur. However, we got insanely lost on the way, due to the medinas confusing labyrinths of streets, which seemingly all lead to dead ends!!
Instead, we stumbled upon the Bahia Palace, and as it's another must-see building in Marrakech, we decided to pay the 70 Dirham entrance price and take a look around. The palace is filled with amazing courtyard gardens, and insanely detailed tiled ceilings, walls and doors, meaning I'd highly suggest visiting.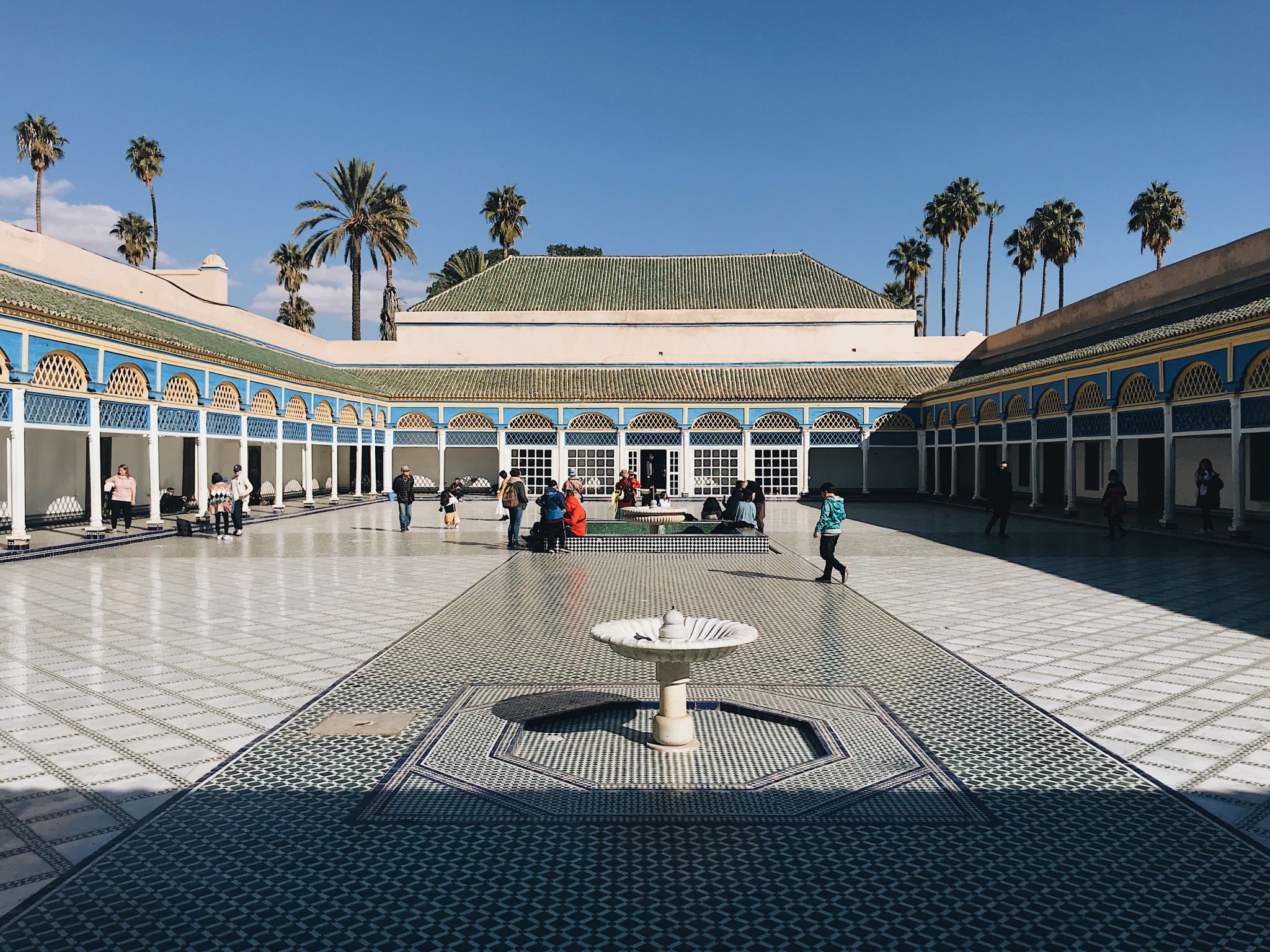 Emotionally exhausted after getting lost, and physically exhausted after getting up at 5am for our flight, my mum and I decided to call it a day after this and headed back to our Riad to relax on its rooftop terrace, and have an amazing 3-course Morrocan meal.
DAY TWO: MARRAKECH 
Following our misadventure the day before, we decided to get a guide to take us around the cities famous Souks (markets) on our second day in Marrakech. Our guide was the loveliest lady who told us many amazing facts about the city, and she knew the connecting alleyways of the Souks like the back of her hand, taking us to all the best areas and stalls: from the house of spices to the house of carpets!
TOP TIP: Marrakech's Souks are a must visit, however, I'd thoroughly recommend hiring a guide to take you around. This way you can appreciate their craziness without the fear of being scammed or getting lost.
After purchasing some handmade goodies in the markets, our guide took us to the Museum of Marrakech which displays many amazing pieces of Berber jewellery and weapons. However, the building itself is really the star of the show, as it features yet more amazing tiles and mosaics. I don't hear many people talking about this museum, but I definitely suggest adding a visit to your Morocco Itinerary!
SIDE NOTE: located next to the museum of Marrakech is the amazing Ben Youssef Madrasa, an Islamic college with a fantastic interior. However, it was sadly closed for refurbishment during my visit to Marrakech. (UPDATE: the collage reponed in March 2020 so you can now visit!).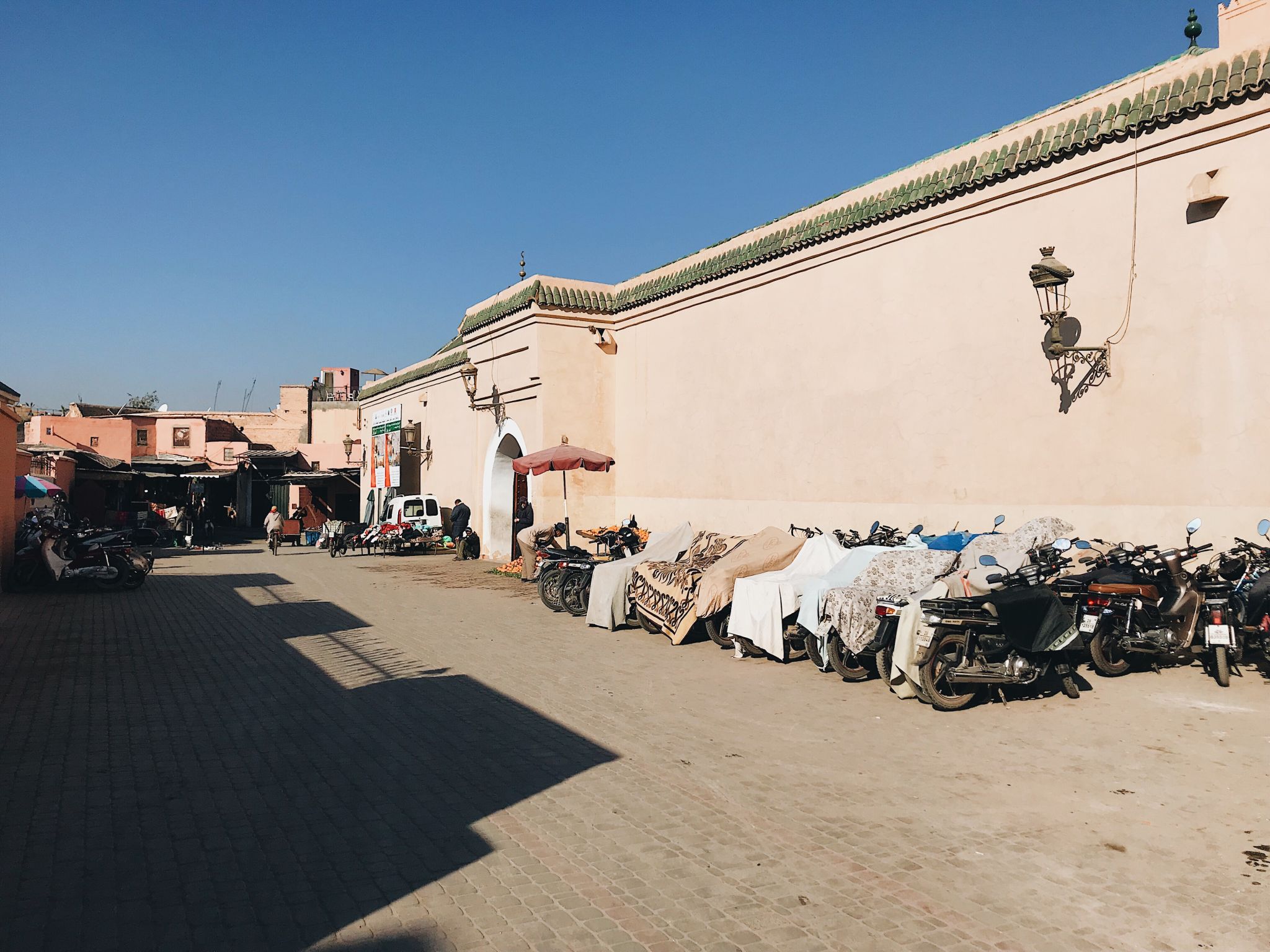 Next, we left the medina and headed to the modern part of Marrakech to tour the cities most visited attraction: the Majorelle Gardens (or the gardens of Yves Saint Laurent). Having a guide to take us here was again fantastic as she knew the best places to get a taxi from, and had a season pass to the gardens, meaning we got to skip the long queue to get in!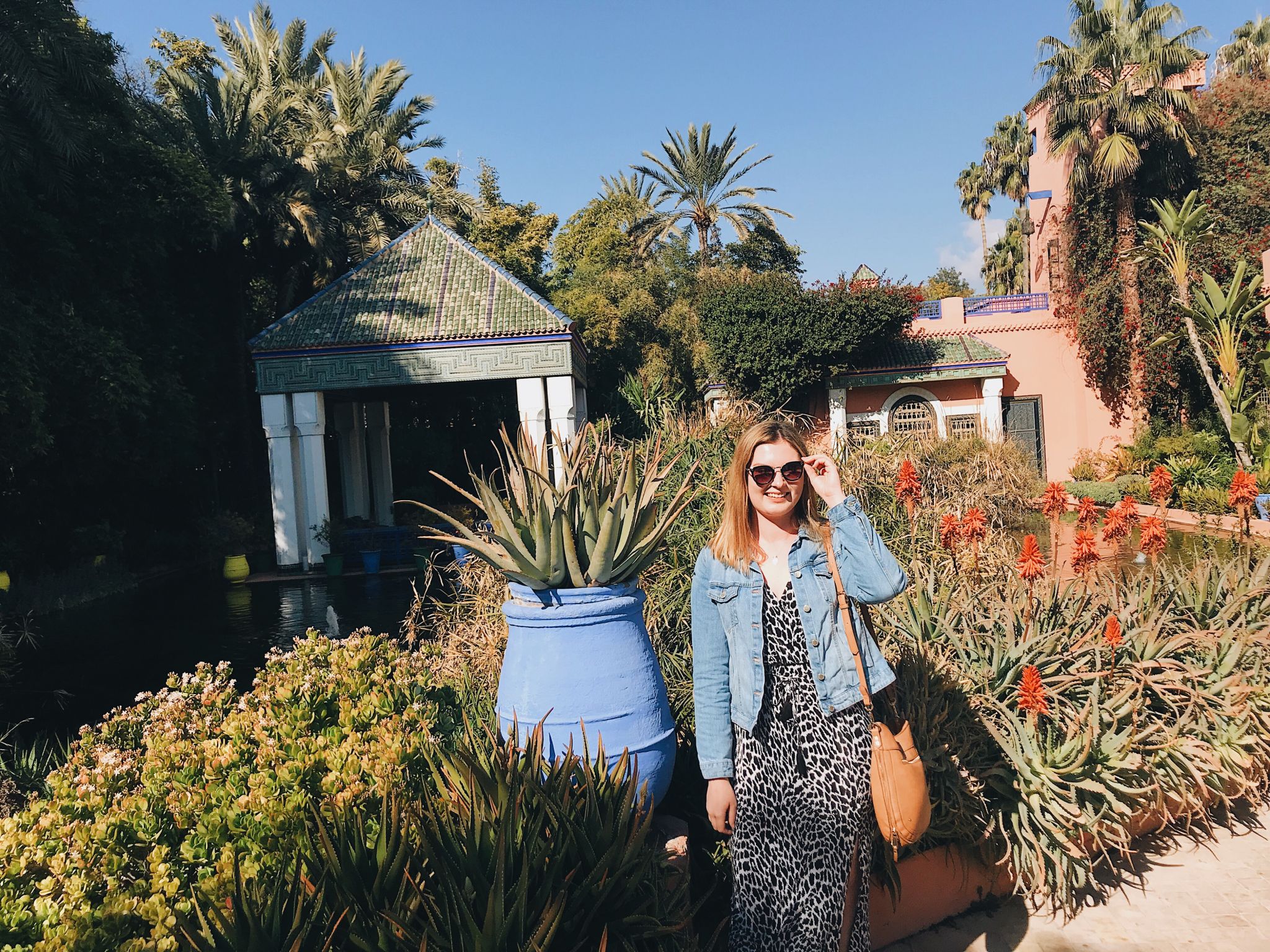 The gardens proved a tranquil escape from the madness of the city. Its centrepiece is an electric blue villa, which many visitors seemed to crowd around. However, I much preferred wandering between the many exotic plants and fountains, while taking in the sweet smell of the many lemon and orange trees in the garden. I could have easily spent my whole one week in Morocco in the garden, so it's really no surprise that it's so popular!
TOP TIP: Our guide suggested that you should pay no more than 40 Dirhams for a taxi from the medina to the Majorelle gardens.  
Following our trip to the gardens, our guide kindly showed us the way to El Badi Palace (which we'd frustratingly walked straight past the day before)!! The visit was more than worth the wait though as the palace, although largely ruined, was spectacular. Impressive walls and well-preserved mosaics offer an incredible insight into medieval Moroccan life!
TOP TIP: both the Bahia and Badi Palaces are located off of the Bab Elmellah Square. To get to El Badi, you want to walk down the street opposite the square's roundabout and turn right. Alternatively to get to Bahia palace, head to the top left-hand corner of the square, and follow the road around until you find it!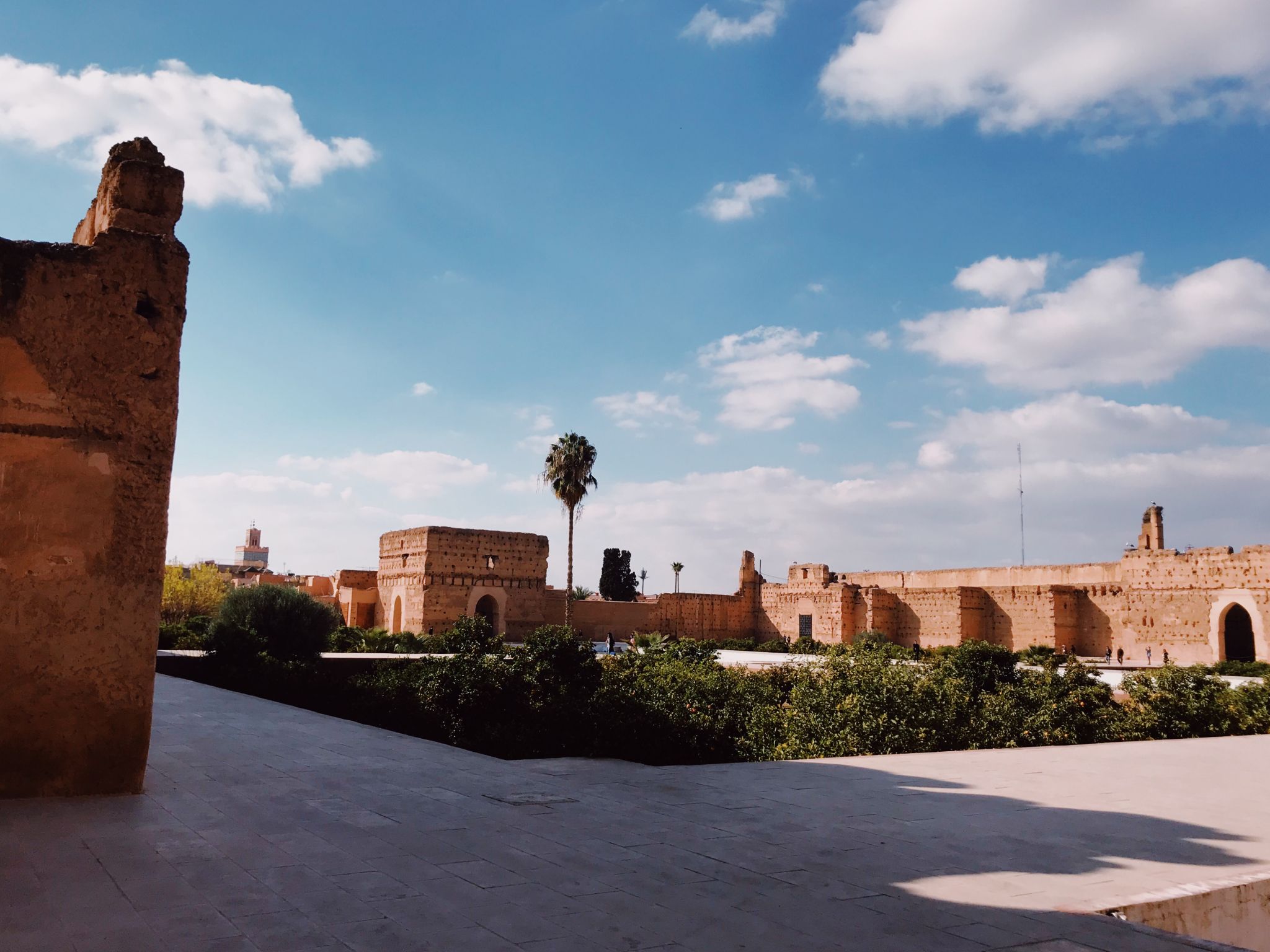 DAY THREE: ATLAS MOUNTAINS DAY TRIP
After spending almost two full days in Marrakech, we were happy that we'd seen and experienced the best of what the city has to offer. Therefore on the next day of our one week in Morocco, we decided to go on an Atlas Mountains Day Trip. 
The Atlas Mountains span over 2,500km and the terrain is incredibly diverse. Closer to Marrakech, the scenery is quite lush, as vast canyons feed water into the area. Comparatively, as we ventured deeper into the mountains the landscape changed dramatically, with red rocky expanses resembling the surface of Mars.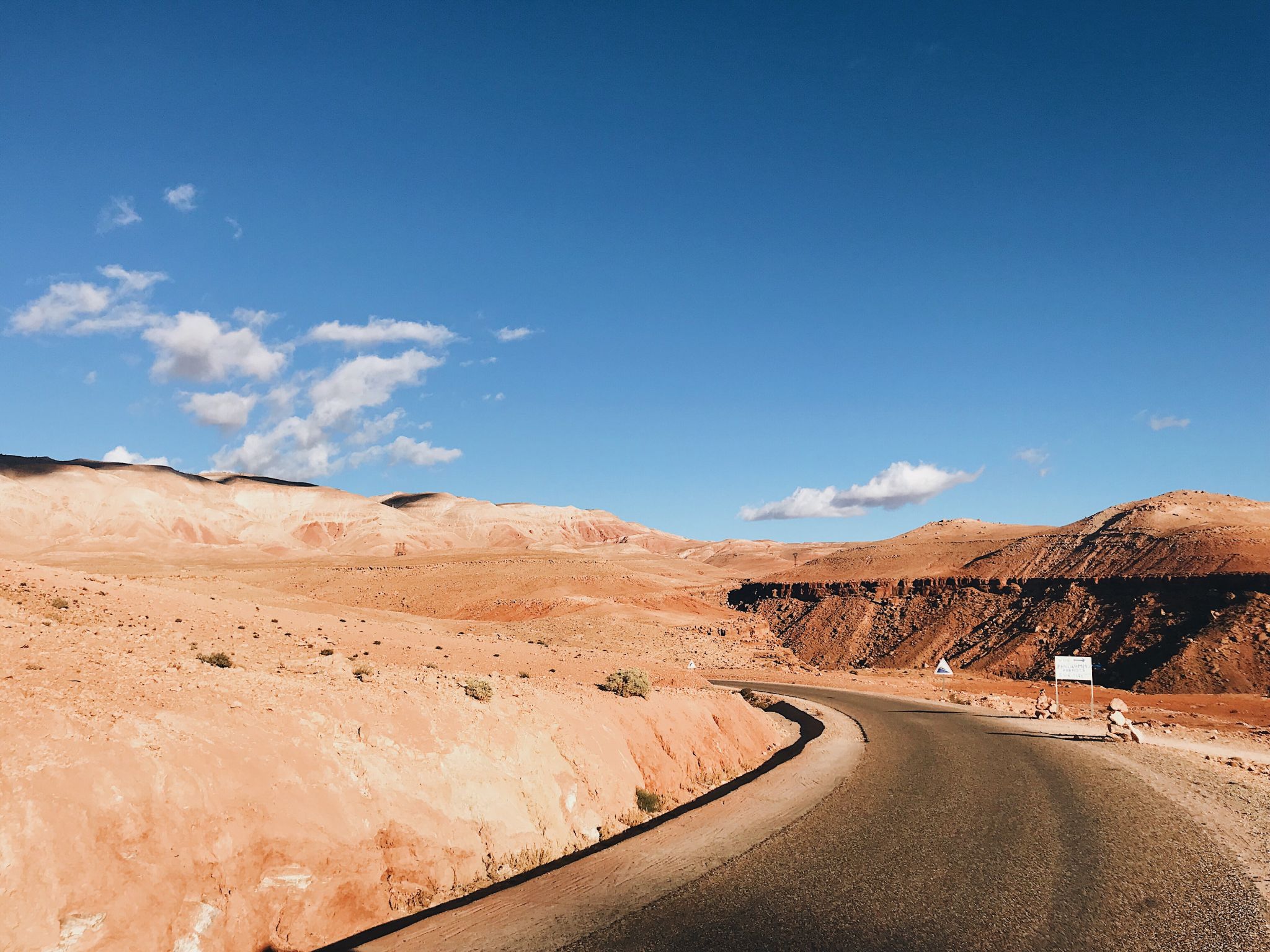 TOP TIP: we booked our Atlas Mountains day trip with Click Excursions, through GetYourGuide. I would thoroughly recommend them as our driver was superb!
More than this, dotted throughout the mountains are Berber villages, all seemingly untouched by the modern world. The most famous of these is Aït Benhaddou, a fortified village, the history of which stretches back over a thousand years. More recently, it's famed for providing the backdrop for many famous films and TV shows, such as Gladiators and Game of Thrones.
However, the village is more than just a movie backdrop! Walking through its mud houses was like stepping back in time, and the view from its hilltop fortress is magnificent. It's really no surprise that the village is now considered a UNESCO world heritage site!
Before heading back to Marrakech, we made the most of our Morocco road trip by also visiting the nearby town of Ouarzazate. This more modern city is home to the Atlas Studios, the largest movie studios in the world! Another highlight that you can take a tour of is the Kasbah Taourirt, the ancient home of a once powerful leader.
I won't lie, although I'd say a visit to the Atlas Mountains is definitely one of the best day trips from Marrakech, it's a long day that involves at least 8hours of driving, along roads that are often badly maintained. However, the scenery more than makes up for this, and there's plenty of places to stop along the way to break up the driving!! Therefore, when people ask me what to see in Morocco, my top answer will be the beautiful Atlas Mountains.
DAY FOUR & FIVE: THE AGAFAY DESERT 
A lot of people visit Marrakech and then continue onto the Sahara Desert. However, a trip to the Sahara takes at least 2-3 days. As we were limited to just 1 week in Morocco, I decided that this simply took up too much time of our Morocco itinerary. Instead, we opted to do the next best thing and visited the Agafay desert, which is just an hour away from Marrakech. Although the desert here is rock, the scenery is still breathtakingly beautiful.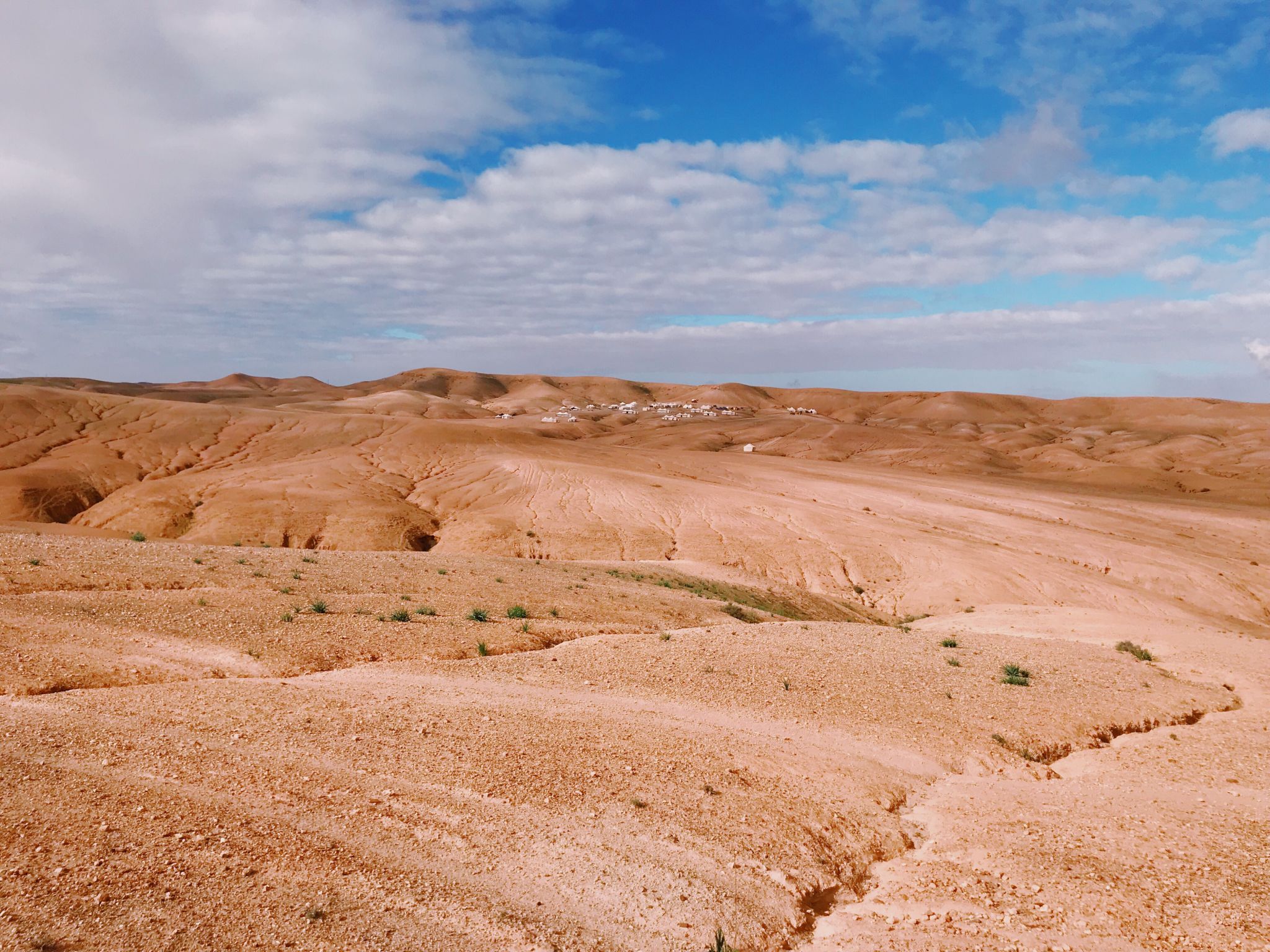 You can opt to visit on a day trip, however, we decided to stay overnight in a luxury desert camp and enjoyed the most relaxing two days in pure comfort!! As a result of this, my time in the Agafay desert was my favourite part of my one week in Morocco itinerary. 🙂
What to learn more about staying in the Agafay Desert? then check out this post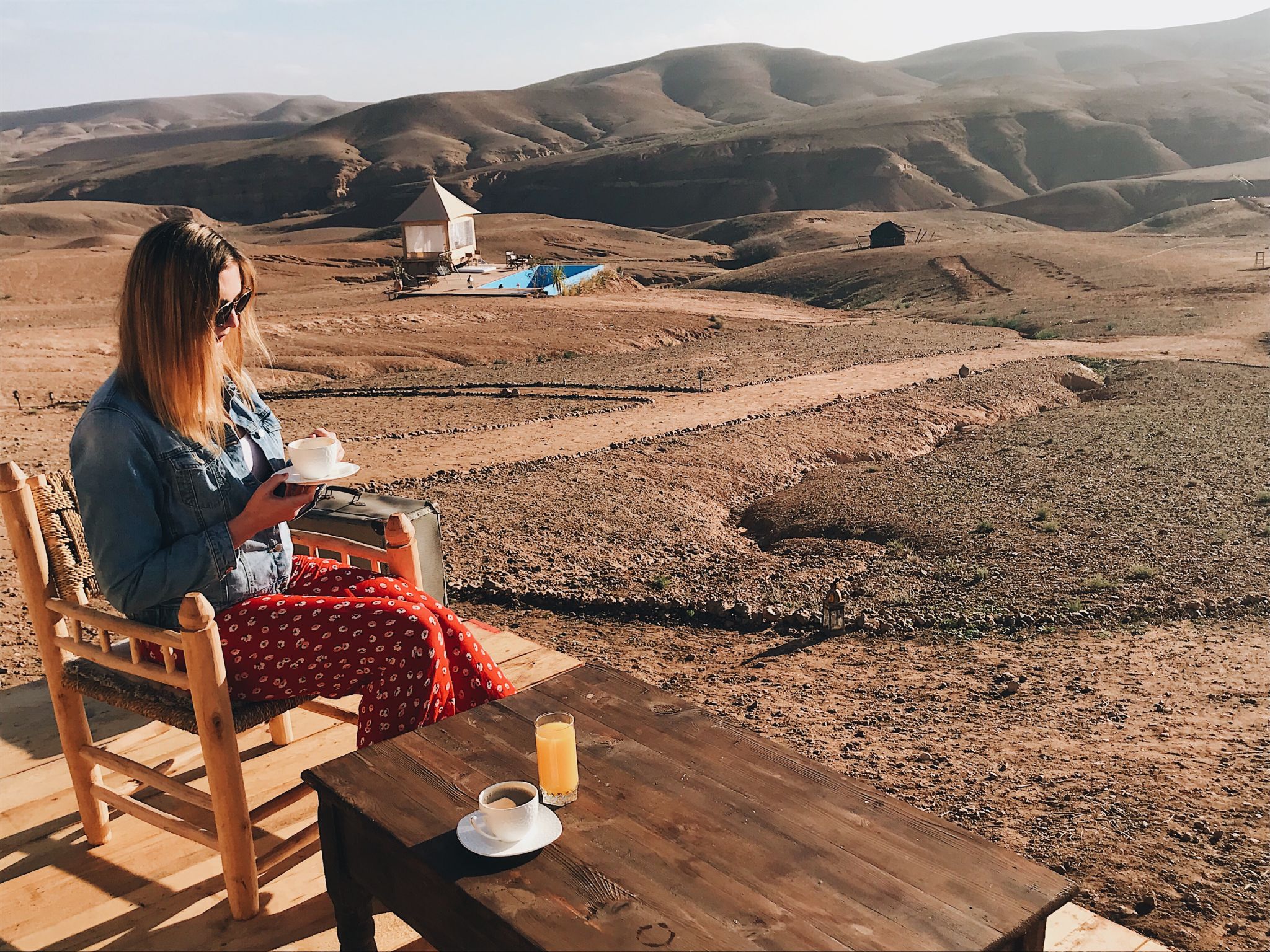 We arrived back in Marrakech, from the desert on the evening of our fifth day and had dinner overlooking the Grande Bab Doukkala Mosque, as for our final two nights, we opted to stay further away from the centre of the Medina.
I have to say that I much preferred the location of our second Riad (which was close to El Badi Palace) as the chaos of Jemma el-Fnaa was all a bit too much for me. Away from the square, the locals didn't seem to harras us as much and there was generally a more laid back vibe which I very much enjoyed!
SIDE NOTE: Riad Dar Alfarah was our mentioned second accommodation option and I'd definitely recommend it as one of the best Riads in Marrakech! Our room was beautiful, just like the entire Riad (just take a look at breakfast)!
DAY SIX: DAY TRIP TO ESSAOUIRA 
We ended our Morocco vacation by joining another day tour, this time to one of the best cities to visit in Morocco, Essaouira. Located on the Atlantic coast, Essaouira is nicknamed: the 'windy city of Africa', a name it certainly lived up to on our visit!
From Marrakech, the drive to the city takes about three hours. We hired a driver through GetYourGuide, and I felt very safe and relaxed on the journey as our driver had clearly driven the route countless times! More than this, the scenery along the way was, yet again, picturesque as the land is virtually flat as far as the eye can see.
The beautiful views continued within Essaouira, as my mum and I began our time in the city by climbing its 'ramparts', which provide a fantastic outlook over the city and coast. These walls, that surround the city, are so impressive that they were used to film scenes in Game of Thrones, meaning that I felt like Daenerys walking along them.
After this, we tucked into some delicious Morrocan seafood and then took the time to explore Essaouria's harbour and Medina. The harbour was a hive of activity, and its electric blue fishing boats, that have become synonymous with the town, are a must see. Comparatively, we found that the Medina had a laidback vibe, which provided us with a welcome break from Marrakech's busy streets.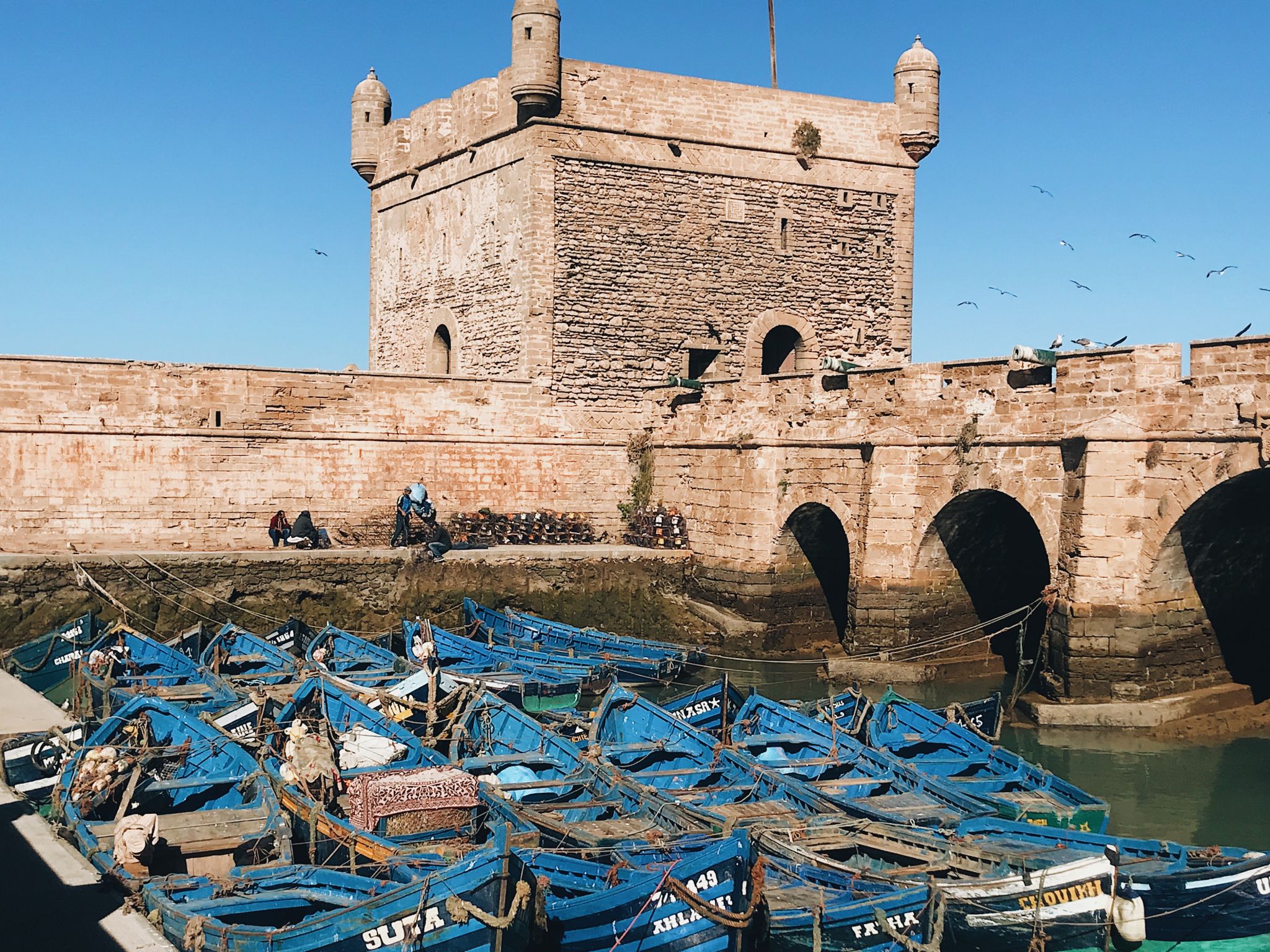 As a result of this, I felt much more relaxed in Essaouira, not only did the locals seem less inclined to harras you, but its small size meant we could confidently explore backstreets, and gorgeous alleyways, without the fear that we'd never find our way back out!!
Overall, although I only spent a day in Essaouira, I fell in love with its charm, relaxed nature and seaside vibes. Therefore, even if you're only spending 1 week in Morocco, I'd say it's a must visit!
♦♦♦
That completes my 1 week in Morocco itinerary, I hope it provides you with all the Morocco travel tips that you could need to plan a trip to this wonderfully unique country! Like I said, I personally found that a week in Morocco was enough time, and I think that my itinerary allowed me to see the best parts of rural Morocco: the desert, the Atlas mountains and the coast, which are definitely the most beautiful parts of the country…
Like this one week in Morocco itinerary post? PIN FOR LATER: