The first stop on my Bali two week itinerary was the beautiful laid back province of Sanur.  After a long 17 hours of flying, I was looking forward to nothing more than hitting the beach for a relaxing few days in the sunshine, and Sanur looked to be the perfect place to do just that!
♦♦♦
Is Sanur Beach Bali worth visiting?
Home to a 5km long beach, that is backed by a splendid paved cycle-path! Sanur's sandy shores offer shallow water, and cultural charm, thanks to the many traditional fishing boats that rest on the sand.
Meanwhile, grand Sanur resorts and hotels back onto the main section of the beach, and it's here you'll find the best facilities and soft golden sand that Bali is famous for.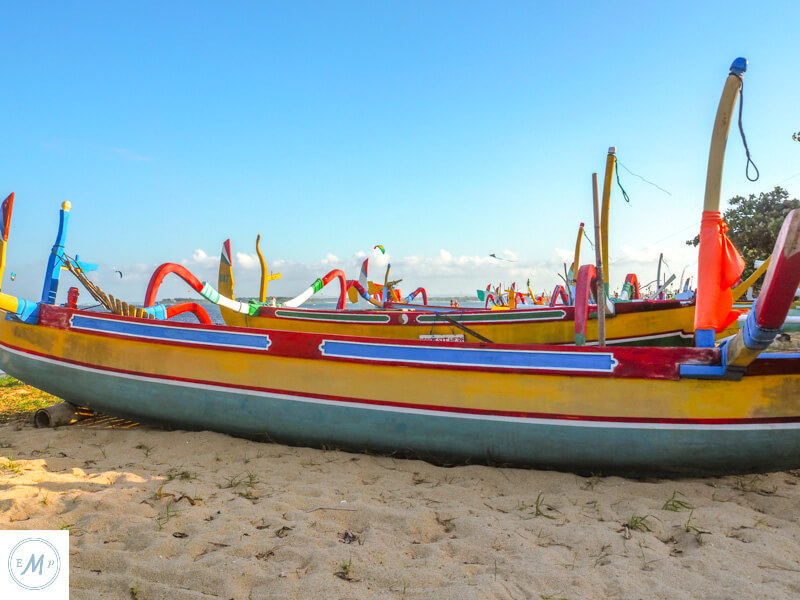 The first time I visited, I quickly felt at ease surrounded by fellow holidaymakers and the apparent natural beauty of one of Bali's most popular beaches!
In addition, finding somewhere to eat and drink along the beach couldn't be easier. In fact, visitors are spoilt for choice! I decided to set myself up for the day at one of the many boho styled bars and loved watching the world go by from the prime beach location.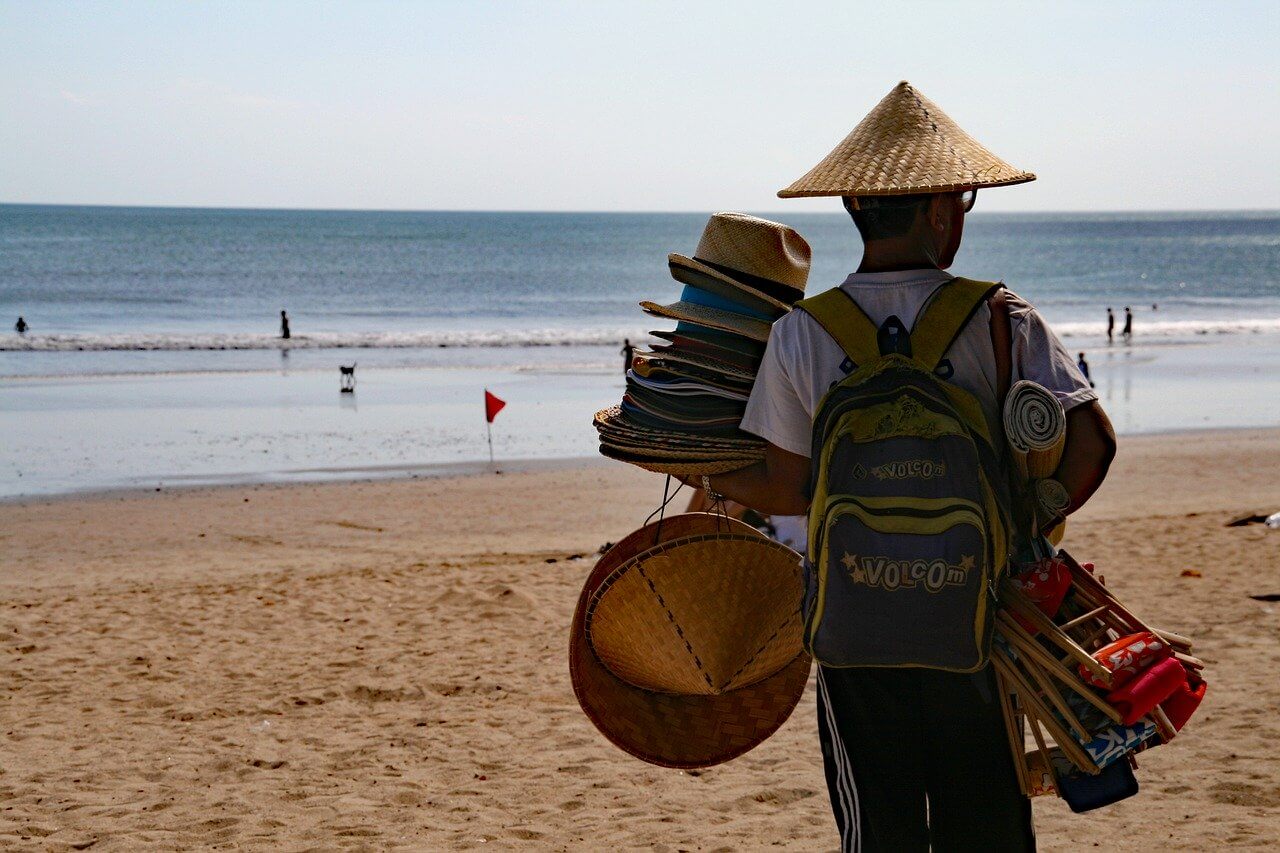 ---
The other side of Sanur Beach – 
In this way, it would appear that Sanur is the perfect place for beach lovers to visit and stay. After all, I found the beach to be a little slice of paradise. However, unfortunately, Sanur beach stretches beyond the small section described above…
If you walk further along the beach, passed the luxurious hotels, and beyond the paved cycle path, you'll find that the beach quickly changes. What instantly struck me was sheer amounts of litter washed in by the tide, it was a heartbreaking sight!
I also noticed that the sand was different! Almost grey in colour, it was rough on my feet. It almost felt a bit like walking on glass. Given Bali's volcanic history, looking back, this really shouldn't have been a surprise. However, I was taken aback by the contrast between it and the sand on the developed section of the beach.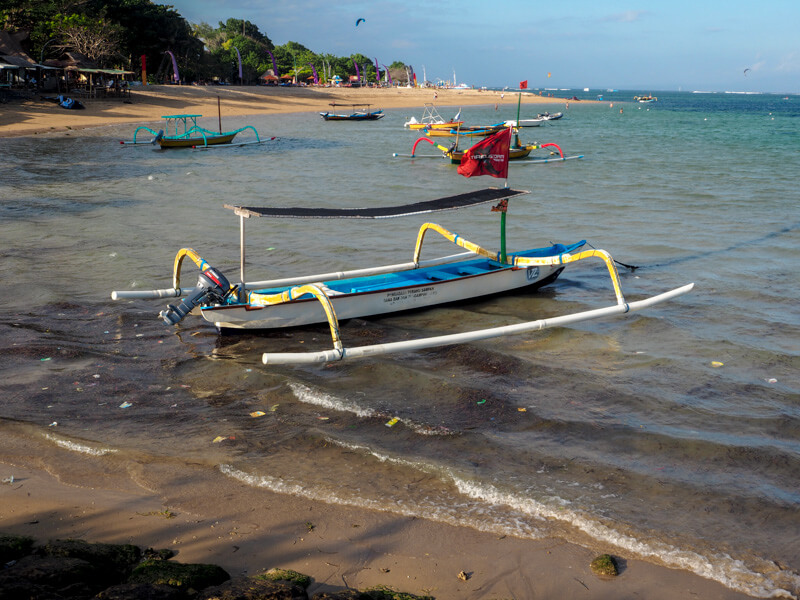 ---
The Harsh Truth –
I've since discovered that the soft golden sand found by Sanur's resorts is imported and raked daily by staff, who also vigorously litter pick their 'section' of the beach to create the picture-perfect paradise visitors (myself included) expect to see.
Because of this, for the rest of my time in Sanur part of me was constantly nagged by guilt! I was very well aware that the only reason the part of the beach I was enjoying was so perfectly manicured was due to the big resorts which backed onto it!
Sadly this story is the same in Seminyak, Kuta, and other popular vacation areas in Bali.  Resorts go to great lengths to protect the pristine image of Bali's beaches, but really they're just shielding visitors from a major environmental problem!
The harsh truth is that litter is a huge issue across Bali, and not just on its beaches. In fact, the problem spreads across the whole of Southeast Asia, and yet no-one seems to talk about it online!
An image has been created, largely thanks to Instagram, that Balis beaches (including Sanur) are unspoilt. However, this is clearly not the case, and while visitors aren't to blame for the problem, I still think it's important to highlight the issue, rather than hide behind filters!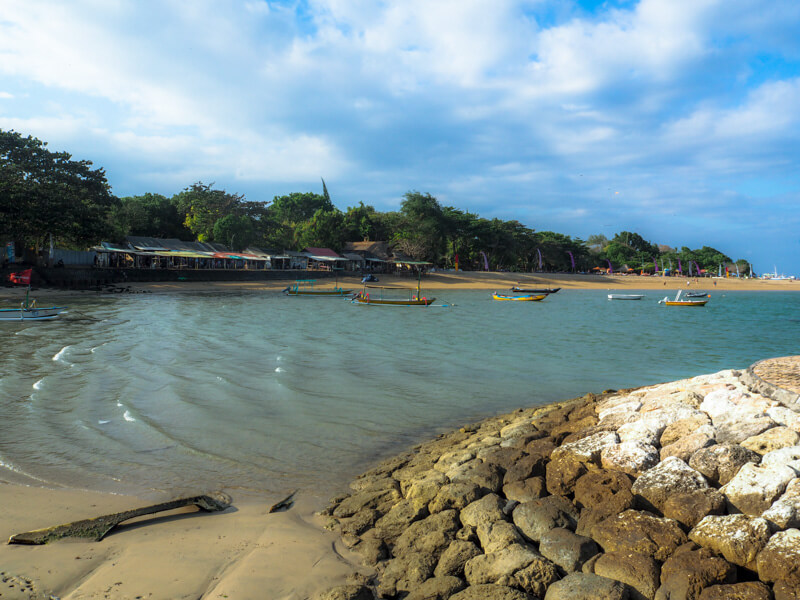 I myself am guilty of taking photos that only show the 'nice' side of destinations, as you can see above. It's easy enough to do, even subconsciously! Which just proves that photos shouldn't be taken at face value!
♦♦♦
I didn't write this post to dissuade visitors from going to Sanur, or from enjoying Bali's beaches! But I simply felt that I should use this blog to try to educate my fellow travelers, so others aren't as naive as I was!
Sadly hotel chains in Bali and even the island's government seem to have little interest in cleaning up the beaches. In fact, Indonesia is the world's second-largest producer of plastic waste after China!
However, there are several organisations striving to make a positive environmental impact in Bali: 
Get involved in helping clean Sanur Beach! Trash Hero Sanur organise regular clean up missions!
The ROLE Foundation is a great charity to support, they are working towards a sustainable future for Indonesia's islands and oceans!
Avani also aims to help rehabilitate Bali by offering sustainable, eco-friendly alternatives to hazardous products that locals and tourists use every day.
2020 Update: Since writing this post the government in Indonesia are finally taking steps to improve plastic pollution in the country! They have Pledged to reduce waste by 70% by 2025, and have plans to ban single-use plastic!
Spread the word! Share on Pinterest!