Before heading to the final destination of my Indonesian Adventure, Ubud, I decided to take a detour to the island of Lombok, which is famed for having spectacular marine life and pristine beaches. You could easily spend a week or more on this beautiful island, but sadly I only had time for a Lombok day trip. This said, I made the most of my time, and have thus compiled a Lombok itinerary of all the best things to do on the island:
**Post Updated February 2020
♦♦♦
How to get to Lombok on a day trip- 
There are several different ways to travel to Lombok. For example, from mainland Bali, you could take a ferry for under £5, or catch a quick flight! However, if you want to visit Lombok on a day trip, it's best to travel from the Gili Islands. While a boat ride from Bali can take 3-4 hours, Lombok is only around 15 minutes away from Gili Trawangan (which itself is a must-visit).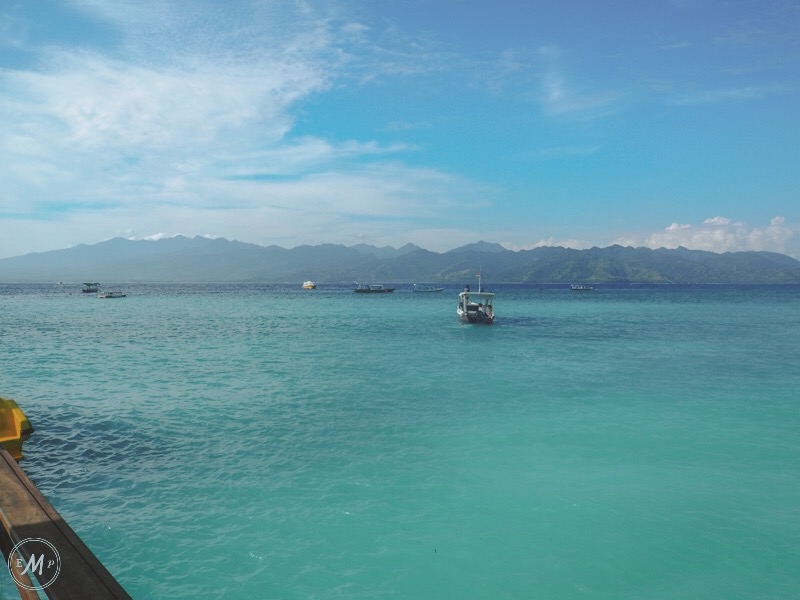 Traveling to Lombok from the Gili's therefore means you'll have more of the day to explore!
There are several different fast boat companies on the Gili Islands that will take you to Lombok for a very decent price… However, I decided it was most convenient to organise the journey through my hotel: Villa Ombak.  The staff were amazingly helpful and even arranged for a local guide to meet me once I arrived! Most hotels will offer a similar service, so travelling to Lombok from the Gili Islands really couldn't be easier.
---
More Information for your Lombok Itinerary  – 
Lombok flies relatively under the Radar in Indonesia, however it's often seen as Bali's 'unspoilt counterpart'  and some even suggest it's a better alternative to Bali all together. Less populated than the tourist hotspot, but around the same size, I would have to agree with this statement after my Lombok day trip.
Everywhere you look is spectacularly beautiful.  As soon as I arrived on the island I was blown away by the views… the coast is full of picture-perfect beaches, which are replaced by endless green rice fields, and towering mountain peaks as you head inland! Basically what I'm trying to say is that however you decide to plan your own Lombok itinerary, you'll be treated to the most amazing scenery and the friendliest locals! But below are my top things to do…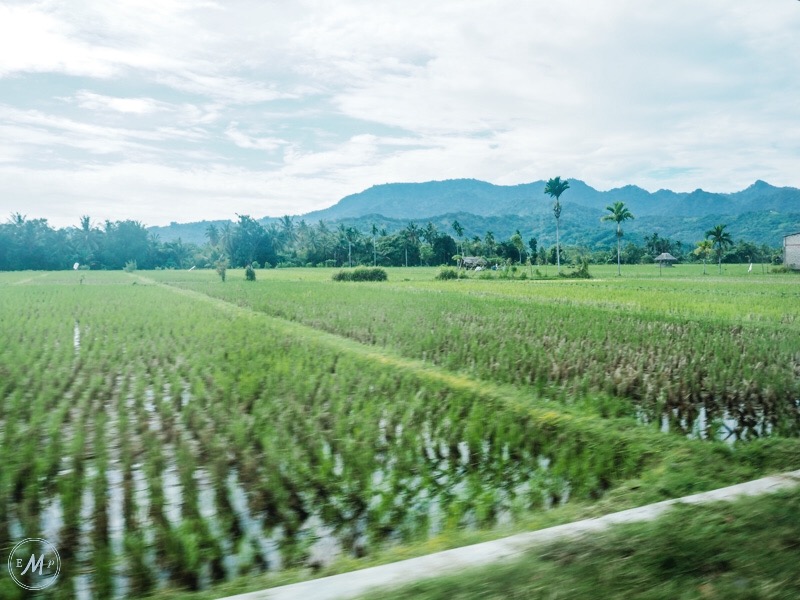 ---
Things to do on a Lombok day trip  – 
1) Visit a traditional Market –
On my own Lombok day trip, my first port of call was Ampenan Market, a traditional market selling: fresh veggies, spices, fish and so much more. The market wasn't actually on my original to-do list,  my guide (Nurul) suggested…  But, I'm so glad he did because it turned out to be one of the best places to visit in Lombok if you want to get a true sense of the islands authentic culture!
SIDE NOTE: I highly suggest hiring a driver/guide to show you around the island. Nurul was super passionate and had so much information to share about the islands history. There's really no better way to tour Lombok. 🙂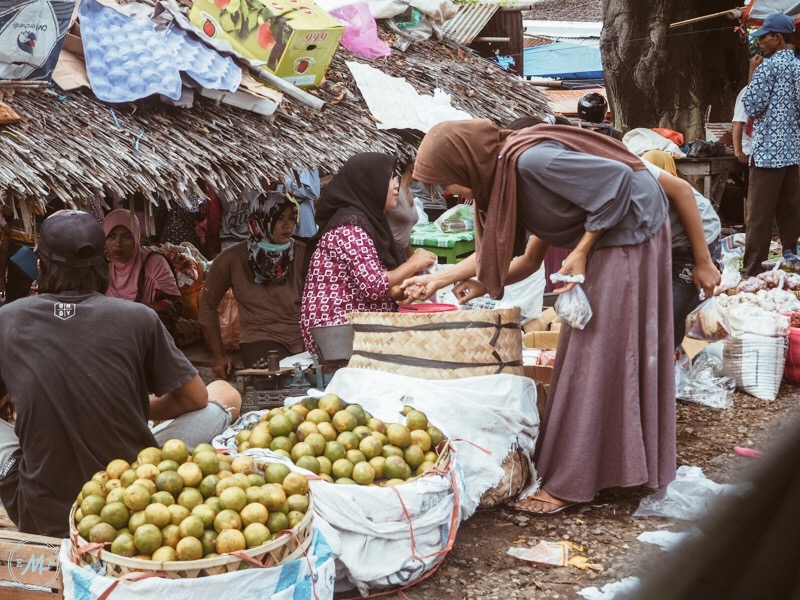 2) Trek to Tiu Kelep Waterfall –
Without a doubt, one of the best places to visit in Lombok is the Tiu Kelep Waterfall. Located near the small village of Senaru, the waterfall is quite a drive from the island's main towns and coastal areas. However, even when you're only spending a day in Lombok, you should make time for the journey!! Plus, you can't really complain as you get to see a lot of Lombok's beauty on the drive!
Located within lush a forested part of the island, the Tiu Kelep waterfall is about half an hour walk from the road. But the path is well laid out, and pretty easy going! What's more, about 15 minutes into the walk, you can take a detour to a smaller waterfall: Sendang Gile.
SIDE NOTE:  It's free to visit Tiu Kelep Waterfall, but we did have to pay 10,000 IDR to park.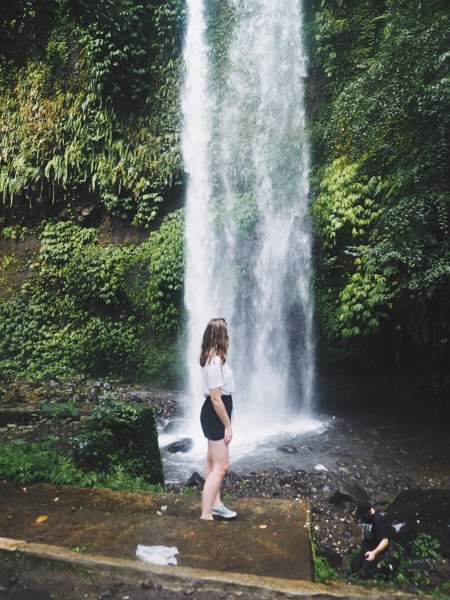 Seeing this waterfall alone would have been enough for me. It's so beautiful and perfect that it almost looks man-made! However, my guide assured me that it's nothing compared to the main sceptical, so we headed deeper into the 'jungle' to discover the wonders of Tiu Kelep 
Along the way, I discovered that there are several bridges and rivers to cross, as well as a bit of ambling over rocks. But, I wouldn't let this put you off as I don't believe the hike is something an averagely fit person would struggle to do.
SIDE NOTE: there's no signage to Tiu Kelep and there are a few different forks in the path. I was lucky enough to have my guide with me who knew the way. You can, however, also hire a guide from the site's entrance/carpark
Colossal, yet seemingly gentle and all together breath-taking, the Tiu Kelep waterfall is certainly worth the hike.
I spent the majority of my precious Lombok day trip (around 3 hours) exploring these two waterfalls. Although I could have seen more of the island, if I'd given it a miss, I have no regrets as seeing Tiu Kelep was something I'll never forget and I would thoroughly recommend you add a visit to your own Lombok Itinerary.
3) Senaru Traditional Village –
After exploring the Tiu Kelep waterfall, I didn't have long left of my Lombok day trip. However, I was able to tick one more thing off my list of things to do in Lombok: visit a traditional village.
 Senaru Traditional Village is only a short drive from the waterfall, and it's situated next to the Rinjani Trek Centre. The village's inhabitants are descendants of the islands indigenous Sasak people (who still make up about 85% of Lombok's population today).
Only connected to electricity 5 years ago, the village has maintained its ancient structure, with the Sasak's still living in traditional thatched houses. However, what's most fascinating is the fact that you're allowed to step inside the villager's homes, watch them prepare meals, and even learn ancient crafts such as weaving. All they ask for in return is a small donation when you leave!
The Sasak culture is fascinating, and as a visitor, I definitely appreciated learning more about the people of Lombok.
4) Hit the Beach: 
Hiking isn't everybody's cup of tea. Therefore, when you tour Lombok for yourself, you may wish to spend your time on one of the islands many beautiful beaches instead. I quickly stopped at Senggigi beach, on my way back to the harbour, and thought its soft sand, lined with palm trees, would be the perfect place to spend a relaxing day in Lombok. It much reminded me of the stunning beaches you'd find in Sanur or Seminyak in Bali!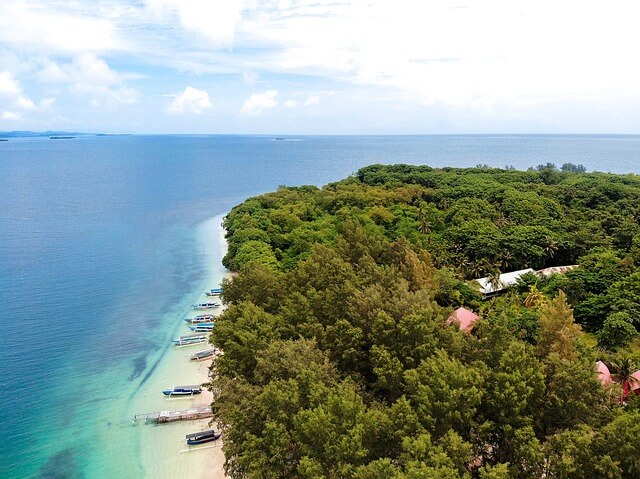 This said the island is also home to several other picturesque beaches that you may consider adding to you Lombok itinerary such as: Mawun Beach, and the so-called 'Pink Beach' located near to Ekas Peninsula, which surprise surprise has magical pink sand!
So when it comes to beaches, you're really spoiled for what to do in Lombok!
♦♦♦
That pretty much summaries the things to do in Lombok in a day. Although I had a truly magical experience (and one I'm not likely to forget) I did feel slightly cheated of time.
Amongst other things, I would have loved to have joined a trek up Mount Rinjani, (the second highest volcano in Indonesia). This brings breathtaking views, hot springs, an exquisite crater lake, and the best sunrises in all of Indonesia. However, unfortunately, the trek takes at least 3 days and it's therefore not possible to do when you're only on a Lombok day trip.
Therefore, when planning your own Lombok Itinerary I highly suggest staying on the island for a few days. There's simply so many amazing things to do and places to visit in Lombok that a day isn't enough to see it all! But, if like me, a day trip is all you can squeeze in, then I hope this post helps you make the most of it!
Interested in reading more about Indonesia? Check out my two week Bali Itinerary!
Like this Lombok Itinerary post? PIN FOR LATER: