Who could say no to a long weekend discovering one of the oldest cities in Europe? Well, not me! Therefore, I recently spent 3 days in Lisbon, and soon learnt that it's a city of many sides. Unique architecture meets twisty lanes and climbing hills. Meanwhile, charming rickety trams perfectly summarise the character of Portugal's capital. With such a rich history & bustling nightlife, there's a seemingly endless number of things to do… Yet, I managed to put together the following Lisbon itinerary which (I think) perfectly captures everything you must see in Lisbon!
Where To Stay In Lisbon? –
As with any big city, choosing where to stay in Lisbon can be challenging. Therefore, it's the first hurdle in planning a weekend getaway. Ideally, if you only have 3 days in Lisbon you'll want to stay as close to the historic city centre as possible. Thus, there are four distinct areas to choose from:
Baixa/Chiado
Bairro Alto
Alfama
During my own recent trip, I stayed within the Bairro Alto district, overlooking the beautiful Basilica da Estrela. Known for its lively nightlife and bustling bars, the area is actually extremely quiet during the day. Plus, pick a backstreet and you'll soon be away from any noise at night! For example, whilst in a central location, my Airbnb apartment was charmingly peaceful!
Compared to other historic areas of Lisbon, I also found accommodation in Bairro Alto to be considerably more affordable. This said, it was quite a walk (up steep hills) to reach a lot of Lisbon's attractions. In this way, with hindsight, I would have actually preferred to have spent a bit more money and stayed within Chiado.
Located within the valley between Lisbon's famous hills, Chiado is home to a lot of the things to see in Lisbon. It's also conveniently positioned in-between the other neighbourhoods, making it a fantastic central base for exploring the city for the first time.
TOP TIP: Hotels in Lisbon can be very pricey! Instead, take a look at Airbnb, as I was able to find a fantastic apartment for half the price of a small hotel room for my 3 days in Lisbon!
How To Get Around –
Before visiting, I read a lot of posts/articles that called Lisbon a very walkable city. However, in my opinion, this isn't really the case! Whilst it's certainly possible to walk around, with limited time to check out all the best places to visit in Lisbon, you'll no doubt need to hop on and off public transport like a Tram or the Metro.
In addition, since some popular attractions, such as those in the district of Belém, are over an hour and a half's walk from the city centre, if you're anything like me, you'll also find yourself booking an Uber or two (which is thankfully surprisingly cheap in Lisbon).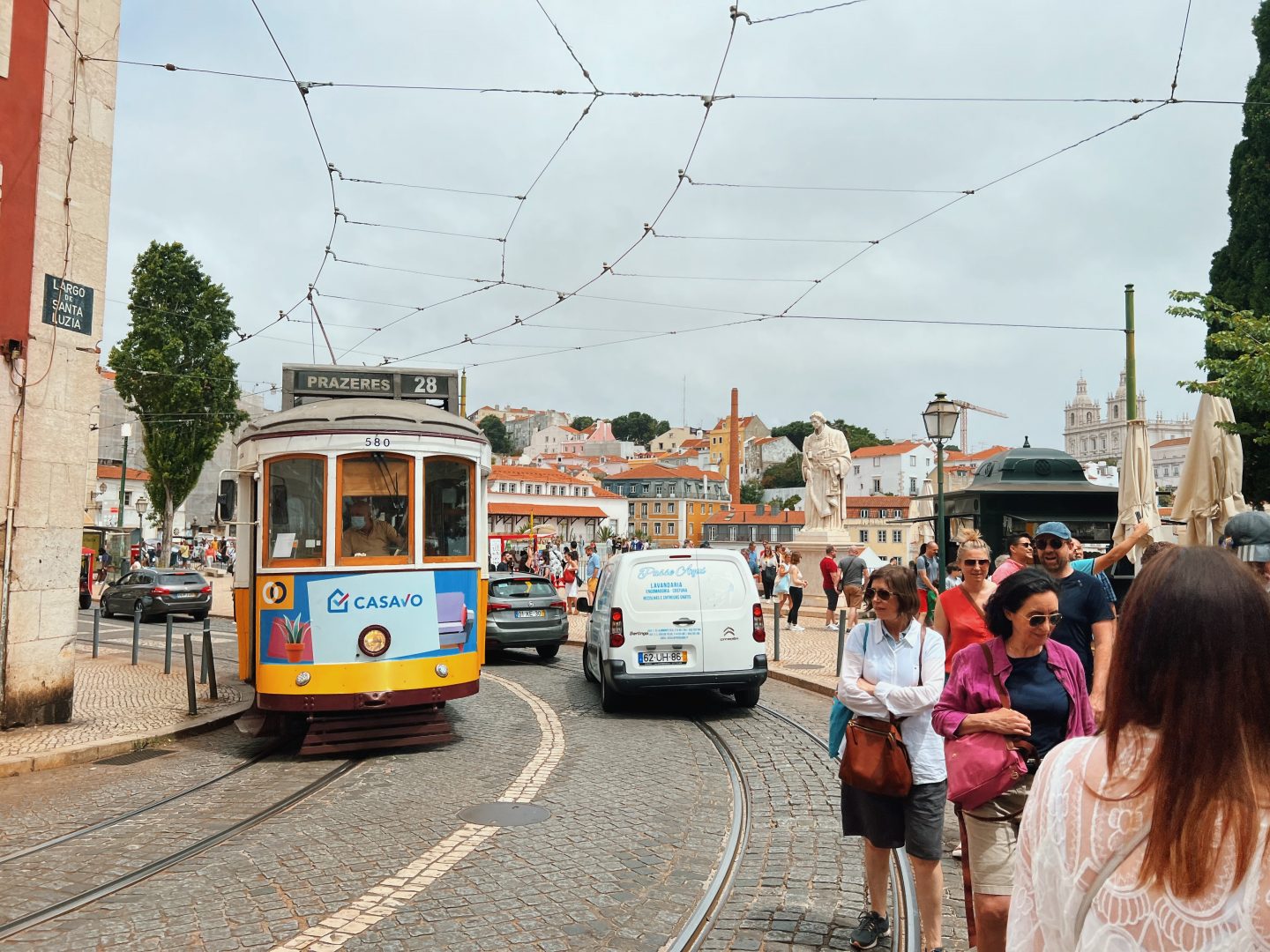 For ease, I recommend either purchasing a Metro Card or the Lisboa Card. A 24-hour Metro Card (which also covers all Trams and Buses) costs €6,45. This is well worth it for a busy day of exploring when a single journey costs €1.50.
However, when visiting for myself, I instead purchased the Lisboa Card. Along with free public transport within the city, and trains to popular day trip destinations Sintra & Cascais (more on this below), the card grants you entry into some of the city's top attractions.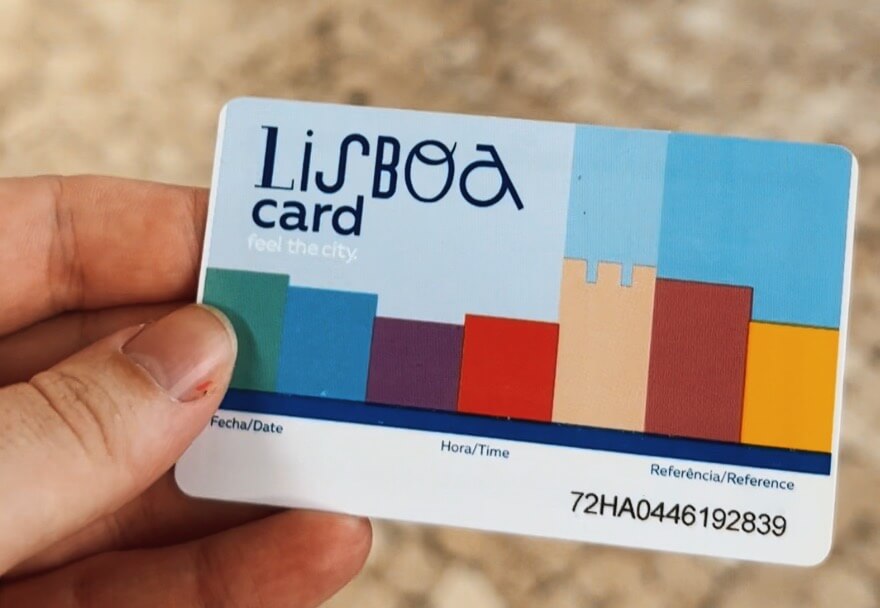 Further, it's ideal for a Lisbon 3 day itinerary, as it's available to purchase either for 24, 48 or 72hours, where the three-day pass is the most cost-efficient at €41,80. Having the Lisboa Card made travelling throughout the city effortless and I'd definitely recommend purchasing it as a result. This said I didn't end up visiting all of the included attractions, so this is something to bear in mind when you're working out its value compared to simply purchasing several Metro cards.
3 Days In Lisbon Itinerary: Day One –
Now you know where to stay in Lisbon, and how to get around, let's delve into the actual itinerary:
Discover the Baxia/Chiado Neighbourhood:
After dropping my bags off at my Airbnb, I decided to kick off my 3 days in Lisbon itinerary by walking through the city's oldest district: Baxia. There is lots to discover here, but despite being founded around 200 BC, most of the area's main attractions are relatively 'new' in comparison.
This is because a devastating earthquake occurred on November 1st 1755, which to this day is still one of the world's deadliest natural disasters. A subsequent tsunami and uncontrollable fires went on to destroy 90% of the city and claim an estimated 75,000 lives.
The damage was so severe that many thought about simply abandoning the city. Thankfully though, Lisbon was rebuilt by Prime Minster Marquis Pombal and his army. They used experience gained constructing towns in Portugal's colonies to create impressive uniformed boulevards and magnificent plazas, that today remain largely unchanged.
Thus, I found that the best way to experience the 'new' grandeur of Baxia was to first head to the picturesque Praça do Rossio square from which you can walk down the striking Rue Augusta (Lisbon's main shopping street) towards Praca Do Comercio.
Better known by locals as Terreiro do Paço, since it was once home to the Royal Palace (Paço) before the earthquake, Praca Do Comercio is now one of the largest squares in Europe. Framed by an imposing arch, and dominated by a statue of King José I, the plaza has become a symbol of the city and as a result, is a Lisbon must see!
The area surrounding the square is also filled with cafes and restaurants, making it ideal for grabbing lunch before continuing the day with some more Lisbon sightseeing! In this way, after refuelling, I myself walked to the nearby Elevador de Santa Justa.
Another of the best things to see in Lisbon, this cast iron structure is reminiscent of the Eiffel Tower and stands at 47 meters high! Whilst built as a practical solution to link Baxia with the hills of Bairro Alto, today it's largely a tourist attraction that provides fantastic views of the city.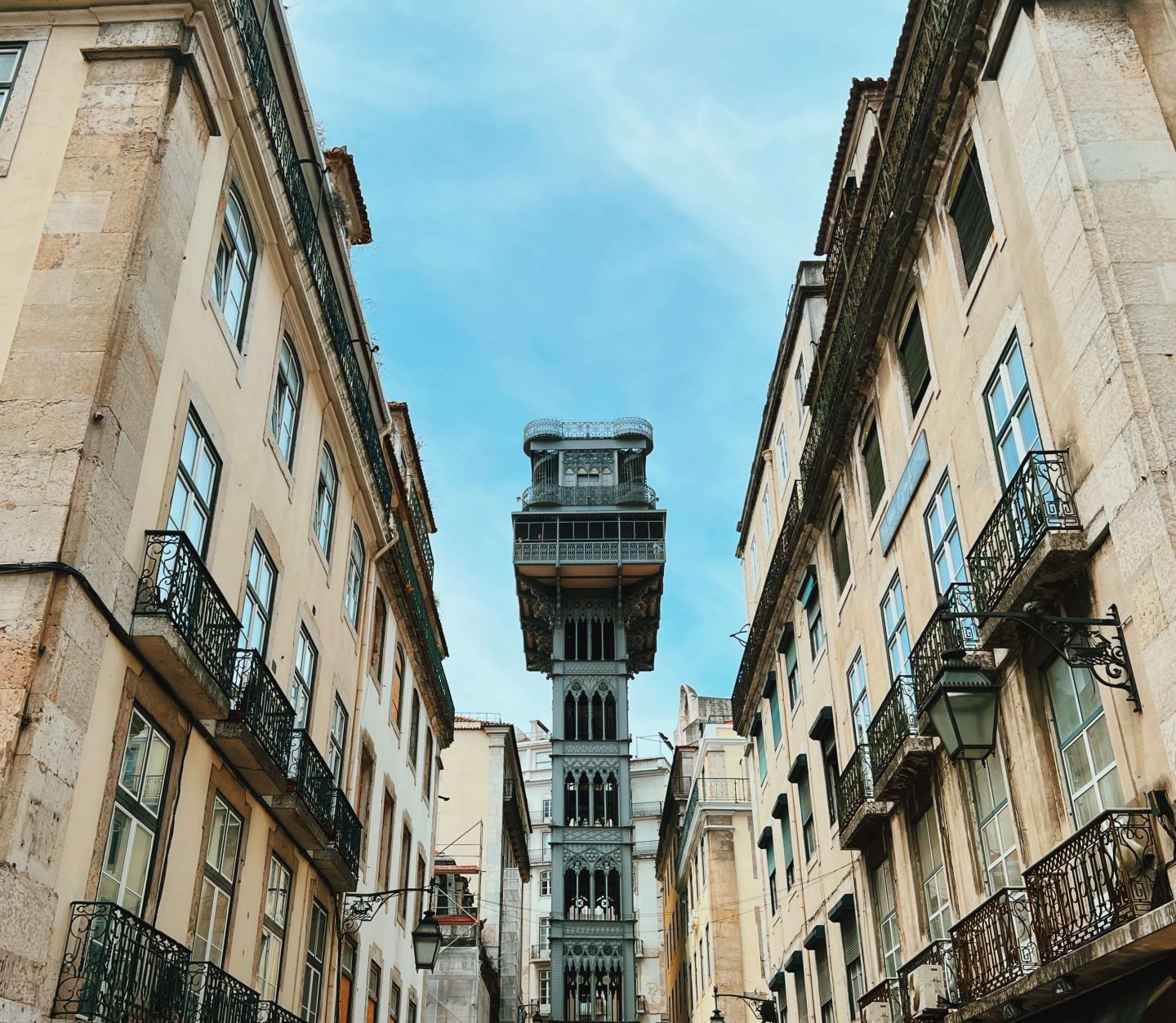 TOP TIP: The Elevador de Santa Justa was one of the attractions included in my Lisboa Card that I ended up not actually utilising. Visiting around midday meant that the queue to use the lift was incredibly long, and it simply didn't seem worth wasting several hours of the day waiting in line. I did try returning to visit around 9am the next day, but even then, the queue didn't seem to move...
Close to the base of the elevator, you'll also find the ruins of Convento do Carmo. Once the finest Gothic church in Lisbon, it was never rebuilt following the earthquake. As such, it serves as a poignant reminder of the devastation. Yet, even in its ruined state, the church is striking! Its pointed arches and remaining pillars create a truly unique backdrop within the modern city.
Visit Jerónimos Monastery & Torre de Belém:
After a busy morning exploring Baxia/Chiado, I took some time to relax before travelling out of the city centre to Belém, home to two of the very best things to do in Lisbon!
Since it's quite far to reach on foot, I chose to catch an Uber to the district and was impressed that it only cost €9. However, you can also hope on Tram E15 or take the train from Cais do Sodré station.
I got dropped right outside one of the oldest surviving buildings in the city, the beautiful Jerónimos Monastery. Built by King Manuel I in 1502, it sits close to the banks of the Tagus River and is a real testament to Portugal's Age of Discovery. For example, it commemorates Vasco Da Gama, who successfully navigated the first sea route to Asia.
That said, the Cloisters are the star of the show! Framing a square courtyard on two levels, magnificent vaulted ceilings, open arches and columns are all decorated with intricately-carved sea motifs such as coils of rope. Walking through the pristine hallways, I felt like I was exploring Hogwarts… Which is always fun to imagine however old you get.
TOP TIP: Entry into Jerónimos Monastery is free with the Lisboa Card! Alternatively, the price for a standard ticket is €10.00. Whilst you can purchase these at the gate, I'd advise pre-booking in advance to avoid disappointment during your own Lisbon 3 day Itinerary.
From the Monastery, I then walked towards the Instagram famous Torre de Belém, making sure to pass the impressive Monument to the Discoveries (Padrão dos Descobrimentos) on the way. Built to mark the 500th anniversary of the death of Henry the Navigator, it celebrates (as the name suggests) Portugal's golden age and the sailors who made it possible.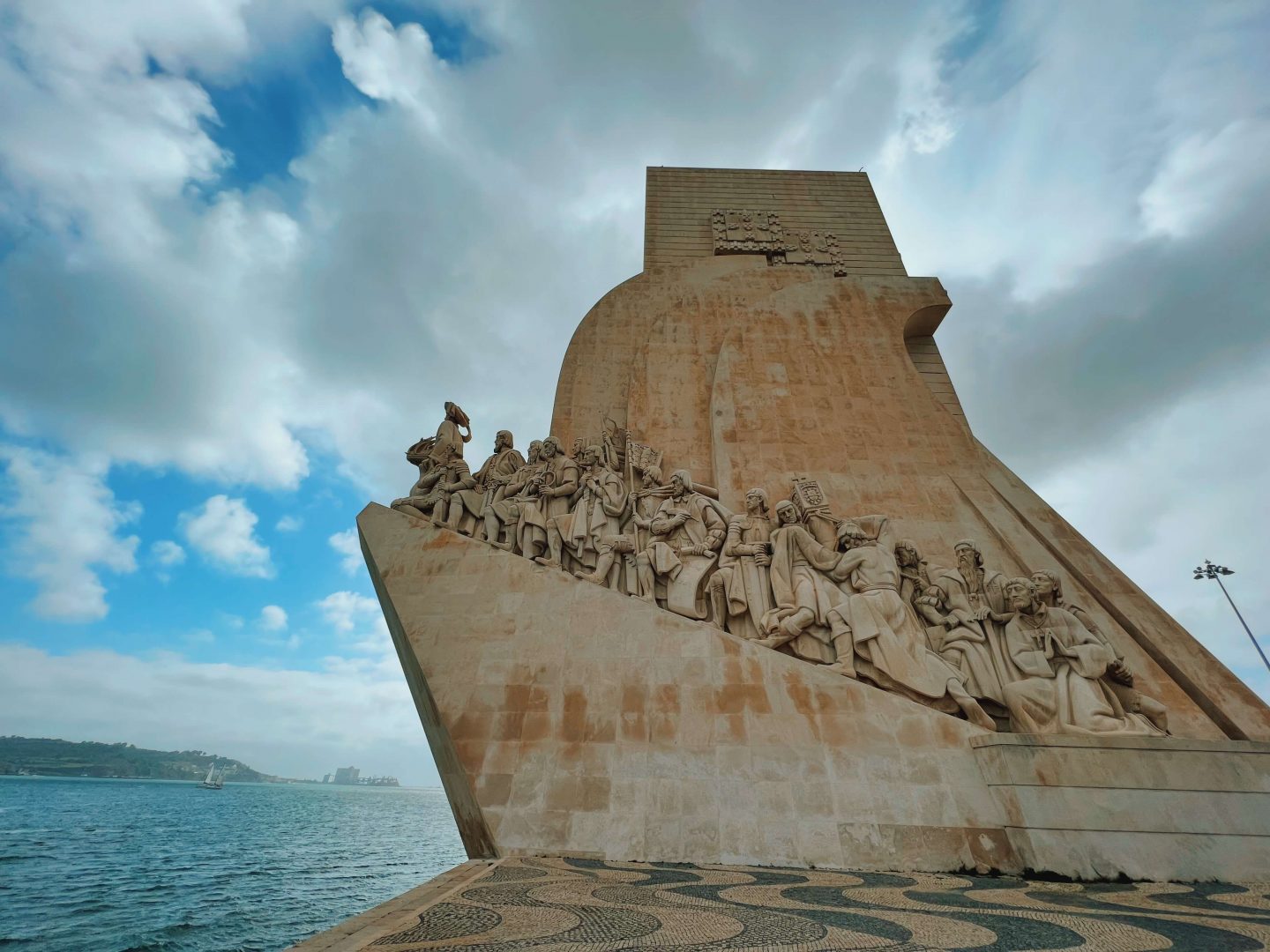 As briefly mentioned, the next of my things to see in Lisbon in 3 days is the Torre de Belém. Also built by King Manuel I in 1514, the small fortification is charmingly ornate and very much matches the beautiful architecture found at Jerónimos Monastery.
Personally, I was a little underwhelmed by the defensive tower. However, the atmosphere of the surrounding park was joyous! Talented buskers and groups of all ages set up picnics in the park to enjoy the evening sunshine, making it the perfect place to end a busy day of exploring.
TOP TIP: Again, the Torre de Belém is another attraction included with the Lisboa Card, but you have to show and exchange it for a ticket at a booth found at the park entrance. This is quite a walk from the tower, so don't make the same mistake as me and miss it. Without the card tickets cost €9 and can also be brought online in advance.
Lisbon Itinerary: Day Two –
Discover Top Things To See In Alfama:
I decided to wake up early for the second day of my Lisbon itinerary to catch the iconic Tram 28 from Bairro Alto and through to the charming streets of Alfama. Trundling through the old town on this iconic tram has become one of the most popular things to do in Lisbon. As a result, it's often packed to the brim… For example, in peak season, queues can sometimes be two hours long!
In comparison, by catching one of the first trams of the day, I only had to wait for a few minutes before one pulled up virtually empty. I loved being able to sit next to one of the open windows and enjoyed slowly rolling past Lisbon's attractions and narrow streets. Plus, seeing all the hills I otherwise would have had to walk up to reach Alfama was an added bonus.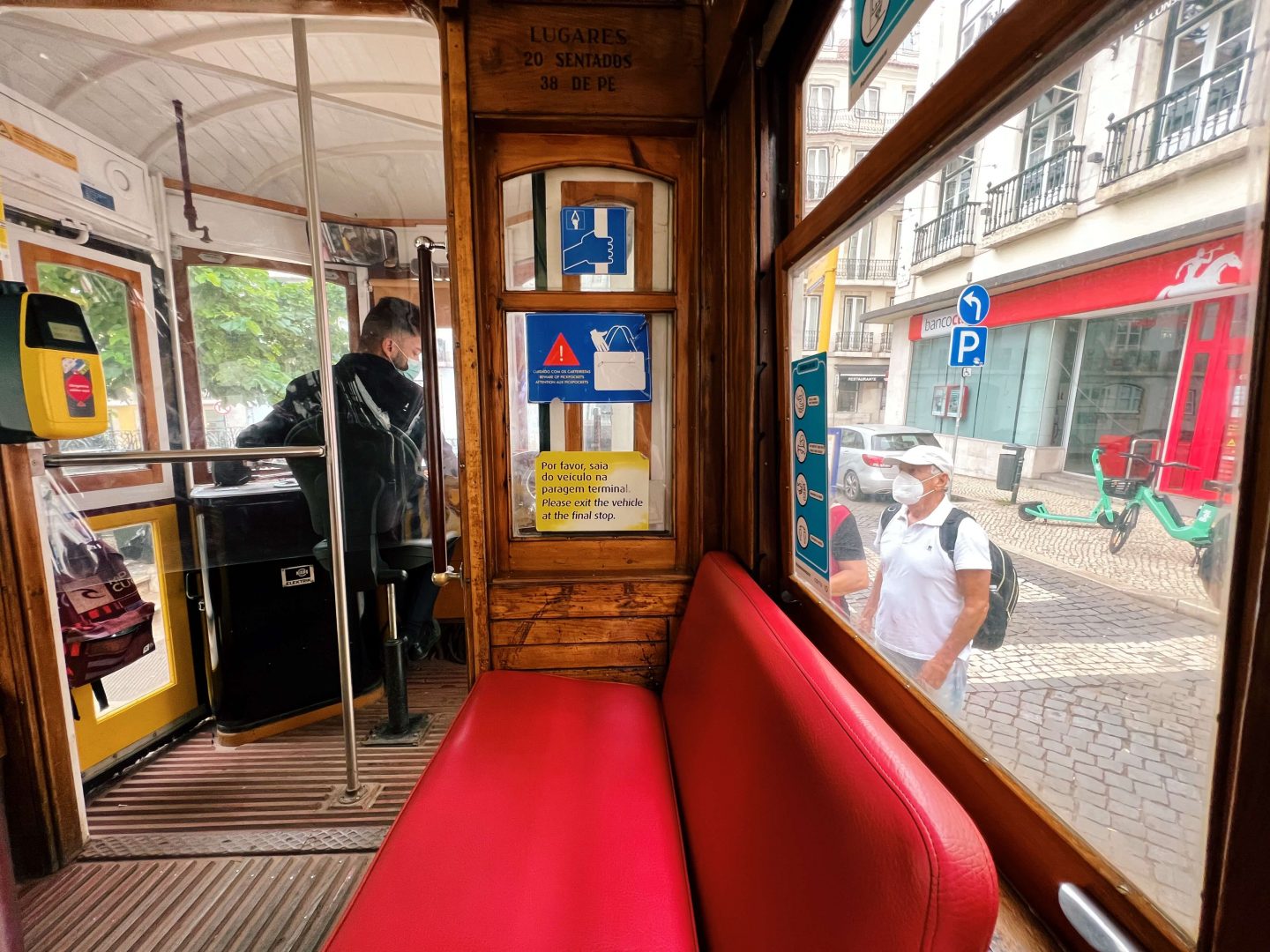 Top Tip: You can buy a ticket from the tram driver for €2.90, or just tap and go with a Lisboa Card (which I found far less stressful).
I hopped off the tram at Miradouro das Portas do Sol and instantly knew that Alfama was going to live up to its reputation as Lisbon's most enchanting neighbourhood. The hilltop panorama provides a fantastic outlook over the area's terracotta rooftops, and thus makes for a breath-taking first impression!
I decided to enjoy the view further by stopping at the Miradouro's cafe for a coffee and one of the city's famous custard-filled tarts (Pastel de Nata). A staple for many locals, this pastry is a must-try during your 3 days in Lisbon… I certainly wasn't disappointed and went back for seconds.
Just a few steps away from here is another equally, if not more, beautiful viewpoint: Miradouro de Santa Luzia. Providing another perspective over Alfama, the terrace is easily recognisable thanks to the striking blue tiles that cover its walls and benches.
Visiting first thing in the morning, the terrace felt like a relaxed and shady oasis. However, later in the day, I noticed that it was packed with people… As one of the top Lisbon places to visit this isn't surprising, but it definitely kills the atmosphere. So again, I recommend making sure you get there early to beat the crowds.
Moving on, another of the best things to do in Lisbon is simply to get lost discovering hidden corners of Alfama. Filled with endearing cobblestone alleyways and historic tiled buildings, it's one of the only parts of Lisbon to survive the earthquake! I relished walking through the winding streets towards the next stop on my Lisbon 3 day itinerary: Castelo de São Jorge (Castle of St George).
Sitting on top of the city's tallest hill, the castle has a rich history. First built in the mid-11th century during Moorish occupation, it was later turned into a Royal Palace and inhabited by several Kings of Portugal. Restored in 1938, visitors can now tour the castle's famous 11 towers, fortified courtyards and towering walls.
However, for me, the highlight was the historic ramparts surrounding the castle. They're said to provide the best view in all of Lisbon, and I agree! Looking down over the city, there's a spectacular new vista to enjoy every few steps along the outer walls. Couple this with the ancient gardens (and resident Peacocks) and a visit to the castle truly feels like you're stepping back in time! Therefore, I think it's a must-visit during any Lisbon Itinerary.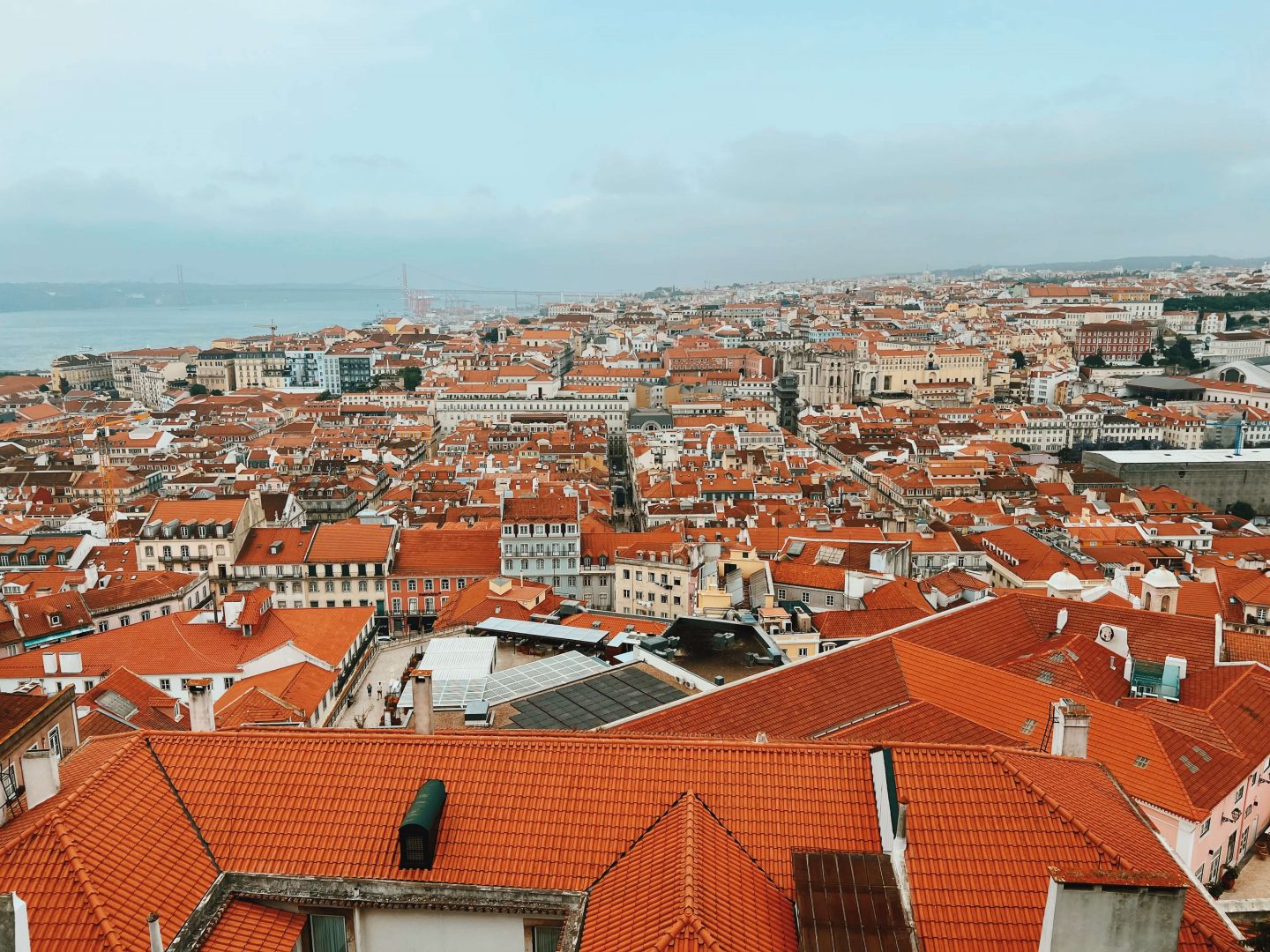 TOP TIP: Tickets for Castelo de São Jorge are €10. Whilst you can buy them online, the website doesn't seem to work! So, on this occasion, I think it's best to buy them at the gate where luckily the queue moves quickly.
After stopping for some lunch (the food in Lisbon is delightful wherever you choose to eat) I decided to visit one last site before heading back to my Airbnb: Lisbon Cathedral. Located right on the main tram route, you can't miss the impressive 12th-century cathedral which has survived not one but seven natural disasters.
The Cathedral, which I found beautiful, is free to enter. However, I would recommend buying a combined ticket to visit the cloister and treasury for €4. This includes access to a small balcony which uniquely opens up right next to the cathedral's main window.
3 Days In Lisbon Itinerary: Day Three –
Head To The Beach:
Did you know that Lisbon is within close proximity to some of Portugal's finest beaches? Therefore, after two busy days of discovering all of the best things to do in Lisbon, it only seemed right to finish my itinerary by spending a relaxing day on the beach.
Since there are countless easily accessible and unspoilt beaches to choose from, it can be difficult to decide where to go… For example, there's the gorgeous hidden cove of Praia dos Galapinhos or the surfer's paradise Praia do Guincho. However, probably the most popular beach, and where I ended up spending the day, is Praia da Conceição.
Found in the charming wealthy seaside town of Cascais, Praia da Conceição has powdery golden sand and offers picturesque views out over a marina. Positioned within a sheltered inlet, it's also ideal for swimming. With sunloungers to rent and beachside bars to enjoy, there's nowhere better to spend a day in the sunshine!
Moreover, the town of Cascais is worth visiting in its own right. Made popular by Portugal's Royal Family during the 1800s, the historic town centre still has a regal and upmarket feel. Here patterned tiled mansions meet more traditional quaint white houses on winding streets. Thus, Cascais is a delight to explore after you've spent enough time topping up your tan on the beach.
If you're wondering how to reach Cascais from Lisbon, it couldn't be easier! Simply head to Cais do Sodré station within the city centre where trains depart every 20 minutes to the town.
It should be easy to find the right train since Cascais is the last stop. Therefore, it's named on the front as the final destination. Plus, thanks to the Lisboa card, I didn't even need to worry about getting a ticket as travel to the seaside town (and Sintra) is included in the price. I simply tapped the card to get through the barriers, but alternatively, you can buy tickets at the station or online in advance (where you can also check the train times).
The train journey to Cascais takes around 40 minutes, then it's just a short five-minute walk to the beach!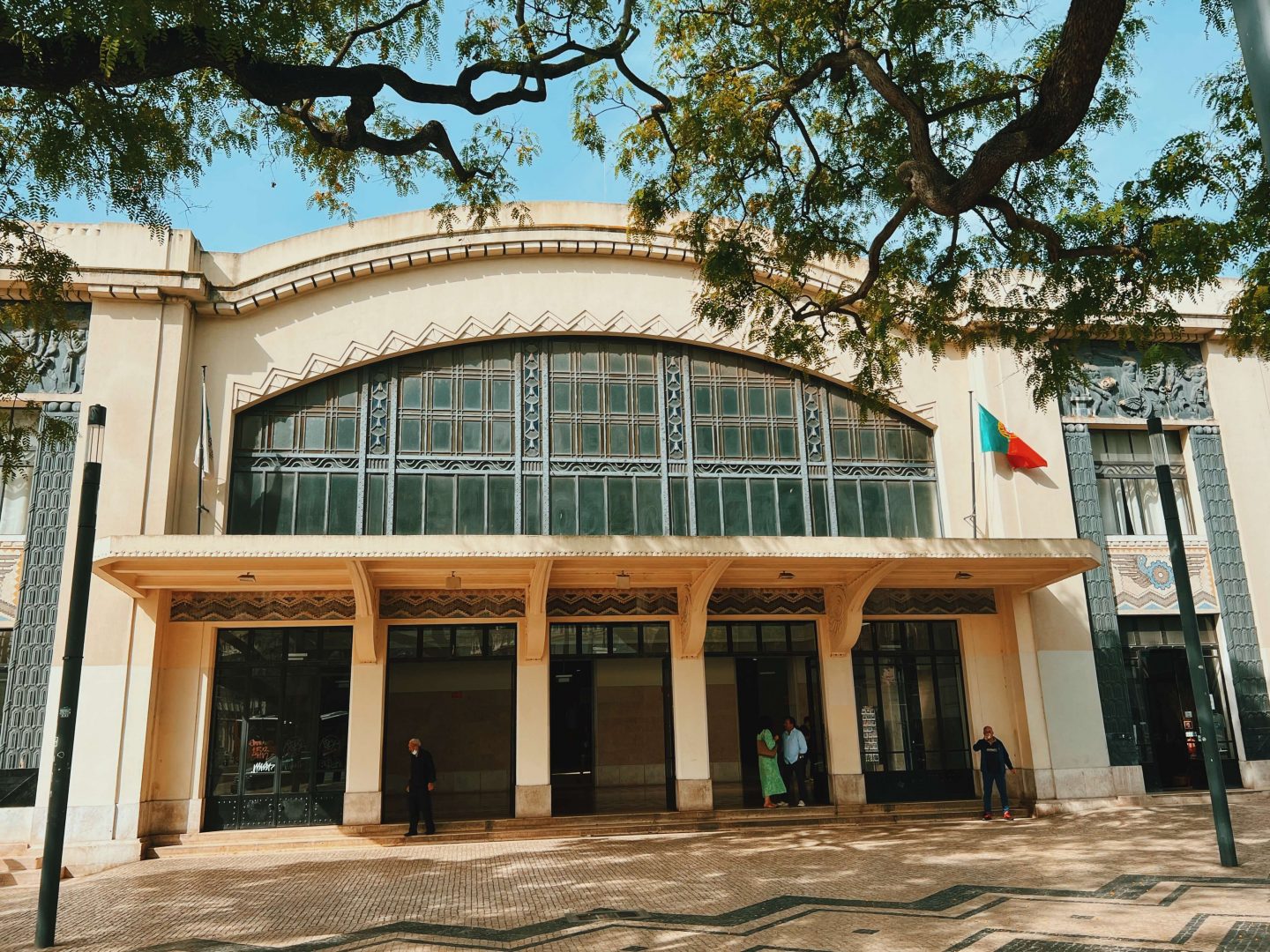 TOP TIP: For me, the only downside of Praia da Conceição was that the seawater felt a little dirty… I saw a plaster/band-aid floating in the water which really put me off going in for more than a paddle. This said, the beach has been rewarded Blue Flag status, which means that the cleanliness of the water should actually be very high.
Alternatively – Explore Palaces & Castles In Sintra:
If beach days aren't your thing (or if you can spare an extra day to create a Lisbon Itinerary 4 days) you could instead visit Sintra, a historic town nestled in the scenic central mountains of Portugal. Dotted with fairytale palaces and former residences of the Portuguese Royal Family, Sintra is incredibly picturesque.
As a result, a day trip here has no doubt become one of the most popular things to do in Lisbon, if not the whole of Portugal. In fact, the whole town became a UNESCO World Heritage in 1995. Top attractions include the Instagram famous colourful Pena Palace, the enchanting villa Quinta do Regaleira and the historic National Palace.
Similar to Cascais, Sintra is easily reached via train, this time from Rossio train station. Again the journey takes around 40 minutes and is included with the Lisboa Card.
♦♦♦
That completes my 3 days in Lisbon Itinerary! As you can see there are lots to see in the historic city, especially if you want to squeeze in visits to the coast or beautiful scenic mountains. This said, three days in Lisbon did feel like the perfect amount of time to enjoy the highlights.
Like This Post? PIN FOR LATER: