Nestled in Portugal's scenic central mountains, just 25km from Lisbon, lies the historic town of Sintra. Dotted with fairytale palaces, this small town is not only incredibly picturesque but also rich in history. Therefore, a Sintra day trip is usually a central part of any Lisbon Itinerary… So, here's how to enjoy a Lisbon to Sintra day trip:
Why should you visit Sintra?
Firstly, you might be thinking, why would I want to take a Lisbon day trip To Sintra? Well, the town just so happens to be one of the most popular tourist destinations in Portugal. In fact, the whole area became a UNESCO World Heritage Site in 1995. With grandiose palaces (belonging to the Portuguese Royal Family), beautiful exotic gardens and Moorish castles to discover, it's easy to see why!
Traveling to Sintra From Lisbon:
Before you can discover all the popular things to do in Sintra, you first need to get there. Whilst you may be tempted to drive, it's important to note that the area's old and winding roads weren't built to handle mass tourism and the traffic that comes with it. In this way, the quickest, and by far the easiest, way to visit Sintra in a day from Lisbon is to instead take the train from Rossio station.
Located right in the city centre, trains depart to Sintra from here approximately every half an hour. The journey only costs €4 for a return ticket and takes 40 minutes. Thus, it's not long before you're transported from Lisbon right into the picturesque forest-covered mountains that surround Sintra.
With only one day in Sintra to explore everything it has to offer, on my own visit, I decided to take the earliest possible train (at 7am) to make the most of the day and beat the crowds.
How Busy Is A Sintra Day Trip From Lisbon?
Another important thing you need to know before enjoying a Lisbon to Sintra day trip is that the small town can get extremely busy, especially during the summer months. For example, queues can be up to 2-3 hours long for the most popular sites.
Therefore, it's worth visiting early and independently since organised coach tours will start arriving around 10am-12pm. So, starting your day earlier than this will definitely help you stay one step ahead of the majority of the crowds.
In addition, I suggest pre-booking your tickets in advance to popular Sintra attractions. This will give you a 5% discount and it also means you won't have to queue on arrival.
Sintra Day Trip Itinerary (How To Get Around)
The most convenient way to get around during a Sintra visit is via the 434 Tourist Bus. From the train station, it follows a circular route stopping off at most of the popular attractions. From the driver, you can purchase a single ticket for €7.00, or a hop-on hop-off pass for €15.20. I recommend the latter as this will allow you to travel the whole route.
This said, the bus doesn't start running until 9:15am and can get extremely crowded. Therefore, on my own trip to Sintra, I decided to take a taxi from the train station to my first stop of the day (Pena Palace). Taxis are quite expensive in the town, but they're definitely worth it if you're travelling in a group. I also enjoyed the benefit of getting to Pena Palace before most other visitors…
TOP TIP: The 434 bus is often standing room only. In fact, I noticed on multiple occasions throughout the day that it was completely full. This said, during peak times, several buses did come one after another, and often completely emptied at the Pena Palace stop.
Weather in Sintra:
Something I didn't see mentioned when I was doing my own research for a Lisbon day trip to Sintra was the weather… Located quite high in the mountains, light clouds in the capital can turn into thick fog and cold winds when you reach Sintra.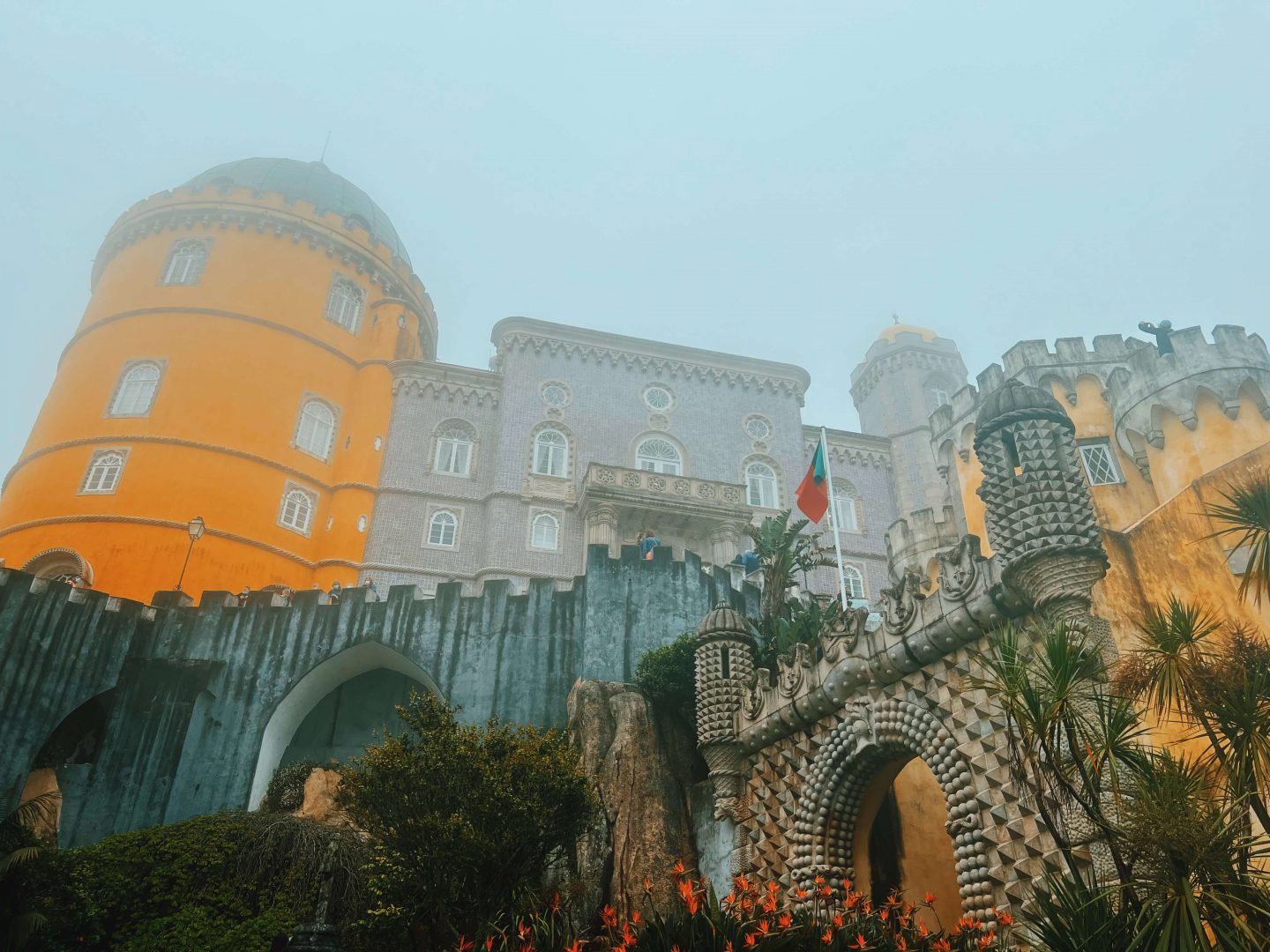 For example, when I visited at the end of May, I could barely see 5m in front of my face for the whole day! Therefore, I think it's important to manage your expectations, as the beautiful blue skies and spectacular accompanying views that you see of Sintra on Instagram are not always guaranteed.
What To Do In Sintra In One Day:
Now you know all the important information about visiting, let's delve into the best places to visit on a Lisbon to Sintra day trip:
Pena Palace:
As mentioned, the first stop on my own Sintra itinerary was the striking Pena Palace. This romanticist castle was created by King Ferdinand II in 1842 when he ordered the ruins of an old monastery to be turned into a summer palace for the Portuguese Royal Family. With a striking appearance, both in terms of its vibrant colour and mix of architectural styles, the palace later became the most popular place to visit in Sintra after it was opened to the public in 1910.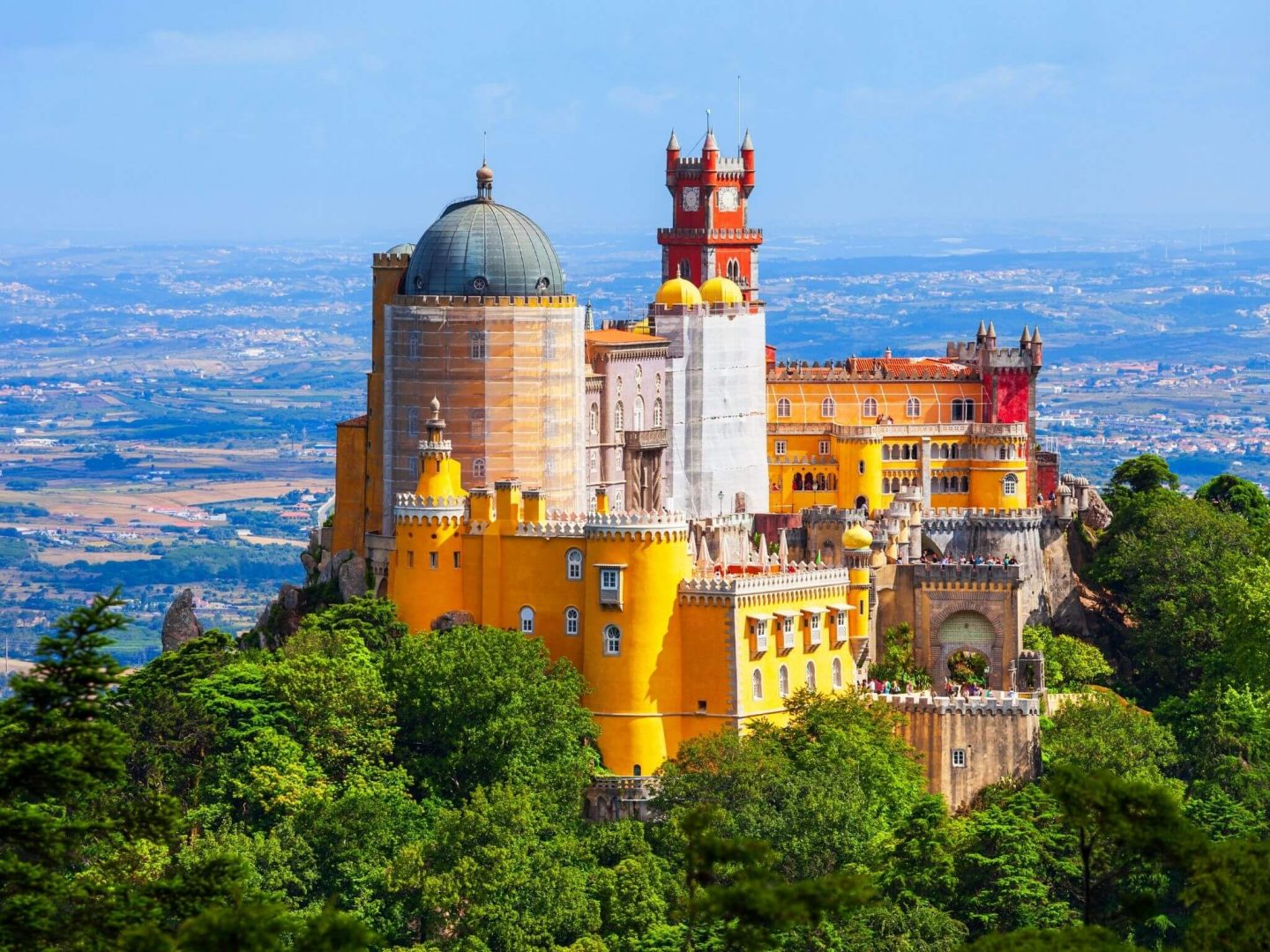 Personally, I pre-booked my ticket for the earliest possible time slot (9am), but made sure to arrive around half an hour before this as it's quite a long and steep walk from the palace gates to the actual building. There is a shuttle bus that travels regularly between the two (for an extra €3), yet I chose to walk up the hill as the surrounding gardens are quite beautiful! Plus, it proved much quicker than waiting for the bus.
Once at the palace I suggest exploring the famous exterior first before it becomes packed with people. Walking along the ornate battlements, gazing at the vaulted Islamic arches and climbing the fantastical watchtowers are all a must-do! Further, the views from the palace's outer courtyards are said to be spectacular. Unfortunately, the poor weather on my visit meant I couldn't see anything other than endless fog!
With the weather not on my side, I instead moved quickly to tour the palace interiors. Overall, I thought the rooms were a little disappointing (and extremely crowded), especially when compared to the grandiose exterior. So, to make the most of your own visit to Sintra in a day, I'd perhaps advise giving them a miss in favour of spending more time exploring the exquisite gardens.
This said I did find the intimate Manueline Cloister to be quite charming. Largely unchanged since it was built by the monastery monks in 1511, its Islamic influence is clear to see. Likewise, the more modern so-called 'Grand Hall' was also rather impressive, and more what you'd expect from a European royal palace.
TOP TIP: I didn't have to wait long to enter the palace interior in the morning, but even with a ticket, later in the day this often isn't the case and you can expect long queues. Plus, as mentioned, even at 9:30am the largely small rooms felt very overcrowded.
Sintra Itinerary – Moorish Castle:
Whilst I felt rather underwhelmed by Pena Palace (in no small part due to the weather), the next stop on my Lisbon to Sintra day trip on the other hand exceeded my expectations… Just a short walk away you'll find the entrance to the historic Castelo dos Mouros (Castle of the Moors).
Sitting on top of another of Sintra's hills, the castle was built in the 8th-9th centuries by the Moors (hence its name). Largely ruined by the great earthquake of 1755, not much is admittedly left. Regardless, I still found it captivating. The remaining medieval walls lace up and down the hill, making it look somewhat like the Great Wall of China! What's more, several restored turrets usually provide excellent views over the area's breathtaking landscape. But, for me, these vistas yet again sadly proved elusive in the fog.
Instead, one of the things I enjoyed most about visiting the Castle of the Moors was how relaxed and peaceful it felt, especially after the chaos of Pena Palace! The walk from the main ticket office takes you through ancient woodland, which to me very much felt like an enchanted forest thanks to the moss-covered stones and foggy atmosphere. Whilst it's again a bit of a walk up to the castle, there are lots of Muslim Iberia archaeological finds to discover along the way, including old houses, food stores and a chapel, which was restored by King Ferdinand II in 1839.
I found it fascinating to learn more about this often overlooked time period, and whilst a lot of people choose to skip the Castle of the Moors during a Lisbon day trip to Sintra, I actually think it's a must-visit!
Sintra Old Town:
After leaving the Moorish Castle, I caught the 434 bus from just outside the ticket office and headed into the old town. I soon learnt that Sintra's historic centre is surprisingly small compared to the countless mansions and palaces that it serves. As a result, it was extremely busy and felt quite like a tourist trap.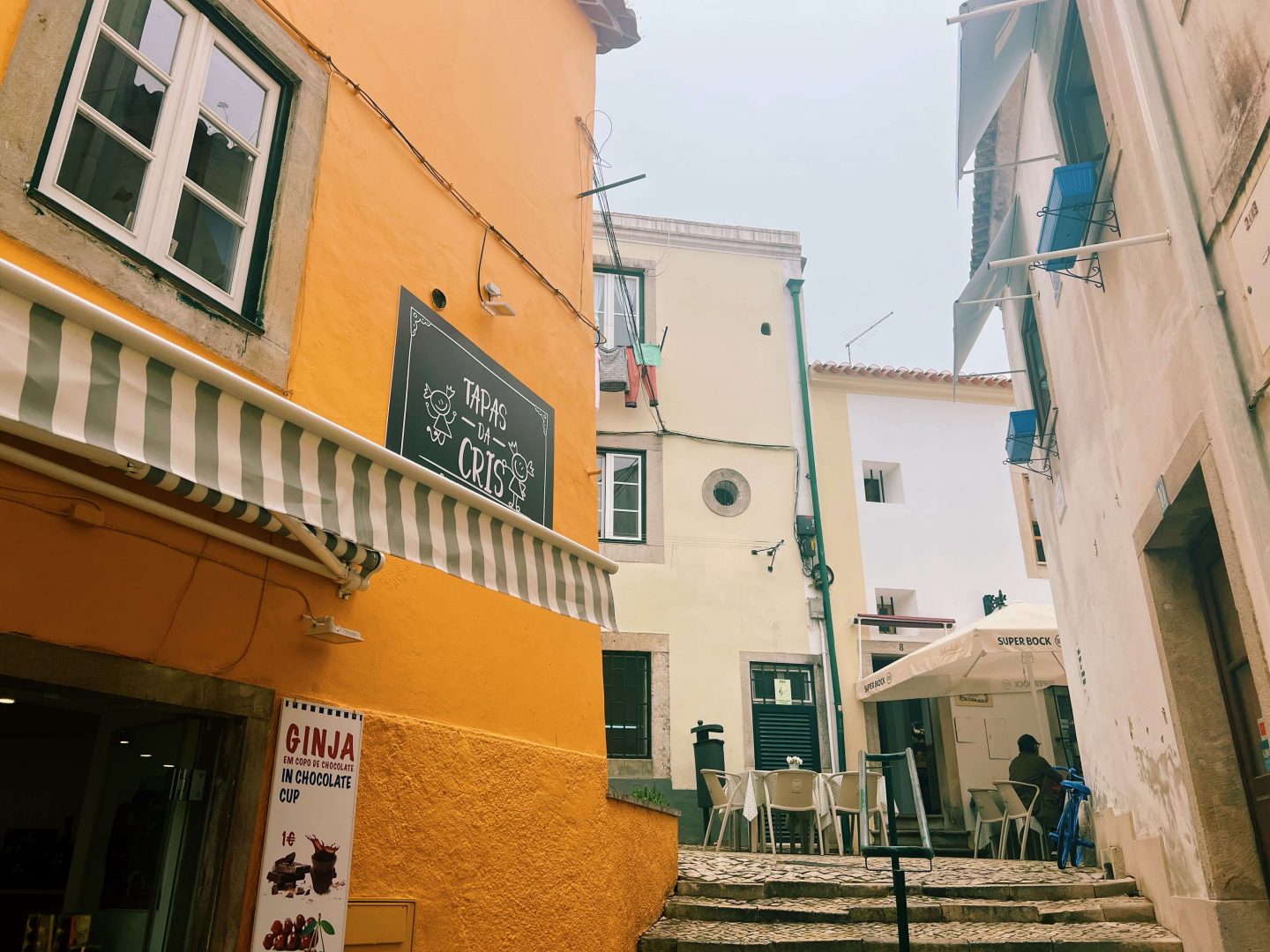 Nonetheless, if you can look past the crowds, you'll soon notice that the narrow cobblestone streets and ancient townhouses have managed to retain their charm. In addition, there are some great places where you can stop to grab some lunch. Well-rated options include Tascantiga which is famous for its delicious sandwiches and tapas, along with Piriquita where you can pick up all your favourite Portuguese pastries.
Sintra Must See – National Palace of Sintra:
After lunch, visiting the National Palace of Sintra (Palácio Nacional de Sintra) should be next on your to-do list during a Lisbon to Sintra day trip. Located right in the heart of the old town, the National Palace is pretty unmissable thanks to its two conical chimneys. Whilst perhaps not as fanciful as some of Sintra's other attractions, it's said to be the only palace that spans the entire history of Portugal. Meaning there's lots to discover!
Home to almost all the country's Kings and Queens, the National Palace is so old that historians haven't been able to calculate exactly when the first building was constructed. However, it's thought to be sometime between the 10th and 11th centuries when Sintra was still under Moorish occupation. Suitably, many of the rooms, and cooling courtyards, that you can visit today still have a strong Islamic influence.
As a result, touring the palace is like taking a walk through Portugal's history, making it a unique place to visit and a must for any Sintra day trip itinerary.
TOP TIP: The National Palace of Sintra is open from 9:30am to 6:30pm. Tickets aren't timed and cost €10 for an adult. Again, I recommend buying your ticket online in advance to save time during your one day in Sintra.
Quinta da Regaleira:
I had planned to end my own Lisbon to Sintra day trip by visiting arguably the most magical attraction in the area: Quinta da Regaleira, a flamboyant palace built in 1910. The real highlight here however is said to be the romantic gardens, which have a hidden gem around every corner. For example, you can expect to find luxurious lakes, fountains and peaceful grottos. The grounds are also home to the famously photogenic Initiation Well.
Whilst the gardens at Quinta da Regaleira are no doubt a highlight of Sintra, the weather took a turn for the worst when I was visiting so I decided to give them a miss. After all, wandering through the grounds in the rain would surely have put a dampener on my time in Sintra…
TOP TIP: Quinta da Regaleira is just a 15-minute walk from the National Palace making it an ideal last stop. Alternatively, you can take the 435 bus but this would require purchasing a separate €7 ticket on top of the hop-on-hop-off service.
♦♦♦
Overall, planning a Lisbon day trip to Sintra can be difficult as there are so many amazing places to visit in such a small area! I would recommend picking a few favourites since this will allow you to have more time to appreciate each attraction you visit.
Admittedly, I did find my own Sintra visit to be a little underwhelming, especially the famous Pena Palace… But, as I said, my opinion was probably affected by the bad weather! So, since the area is so iconic, I would still say that a Sintra day trip is a must during any visit to Lisbon.
Like This Lisbon To Sintra Day Trip? PIN FOR LATER: