Straddling two continents Istanbul is unique and vibrant. Now the largest city in Europe, it has a rich culture and immense history which dates back over 3000 years. As a result, the city is littered with important historical and religious sites making it an impossible challenge to see everything during one day in Istanbul…
This said, with a well-planned itinerary, I was able to visit a lot of the city's highlights in just 24 hours. So, from timeless mosques to charming local neighbourhoods, keep reading to discover everywhere that you can visit with the perfect 1 day in Istanbul itinerary.
What you need to know before visiting Istanbul:
Best time to visit Istanbul –
Istanbul is a fantastic city to visit year-round! However, the summer months can be very hot and humid. Plus, you can expect large crowds during this peak time. Therefore, I personally chose to visit in the shoulder season (September) as it's also the perfect month to discover more of the country – as seen in my wider two week Turkey itinerary!
TOP TIP: I was surprised by the number of tourists even in the off-season. So, when you're planning a day in Istanbul, make sure to factor in time for queueing, and getting through the inevitable crowds…
Religion (What to wear in Istanbul as a woman) –
Turkey is a Muslim-majority country, meaning the culture in Istanbul can feel very different when compared to most western countries. As a female, unwanted male attention can be an issue, especially in more touristy areas. During my time in Istanbul, some men did try to approach/follow me (mainly when trying to sell things), which was a little uncomfortable. This said Turks have been welcoming travelers for centuries! And overall, I found them to be very genuine and welcoming.
Because of the above, whilst women can absolutely wear whatever they like in Istanbul, I would advise dressing slightly more conservatively. For example, I opted for wearing a long skirt and t-shirt to ensure that both my knees and shoulders were covered. Long summer dresses seemed to be a popular choice with other female visitors too.
TOP TIP: Like any large metropolitan city, it's important to be cautious whilst exploring Istanbul, as popular areas are known to be prone to pickpockets.
Where to stay during one day in Istanbul –
Even if you're only planning to spend 1 day in Istanbul, I'd recommend spending the night (if possible) so you can enjoy an entire 24 hours exploring the city… Home to over 15 million people, there are countless different areas of Istanbul that provide a wonderful place to stay. This said, as my itinerary focuses on discovering the old city, and its Byzantine secrets, I opted to stay within the Sultanahmet Neighbourhood.
Here a lot of the best places to visit in Istanbul are within walking distance. Plus, the ancient streets are lined with endless restaurants and local shops, making it an ideal home base.
How to get around in Istanbul –
Whilst a large and sprawling city, as mentioned above, a lot of the best things to do in Istanbul are actually located extremely close together. In this way, the most popular way to get around (within the historic centre at least) is simply by walking! Thus, comfortable shoes are a must, as you're bound to rack up a high step count when exploring Istanbul in a day.
In addition to this, Istanbul has an incredibly cheap and reliable metro/tram system, which is a fantastic option to use if you have time to get out and explore more areas of the city.
Personally, I'd avoid using taxis as drivers are known to try and scam Tourists. Yet, if you do need to use one, make sure the meter is on and don't agree to pay any fixed fees. Alternatively, Uber is also available in Istanbul, but I found that it can be a little unreliable and difficult to connect to a driver.
One day in Istanbul things to do:
Without further ado, let's get into what to do in Istanbul in one day:
1) Sultanahmet Park –
With only one day in Istanbul, an early start is needed in order to see as many top attractions as possible. In this way, I woke up early to kick off my own Istanbul itinerary and headed straight to Sultanahmet Park. Found in the heart of the old city, it's a common gathering point since Istanbul's historic landmarks border its manicured lawns on all sides.
Yet I found Sultanahmet Park to be one of the best places to visit in Istanbul in its own right… Filled with pretty flower beds, fountains, and an aesthetic white fence, it's the perfect place to sit and watch the city come to life in the morning.
2) The Blue Mosque –
Whilst I could have sat people watching all day, Istanbul waits for no-one! So, in order to beat the crowds, I headed to the edge of the park to see the famous Blue Mosque (Sultan Ahmed Camii). Instantly recognisable by its six minarets, the mosque was completed in 1616 and has to be one of the most beautiful buildings in the world.
Unfortunately, the interior was closed for renovations during my visit. This was extremely disappointing since the Mosque gets its name from the exquisite decoration of over 20,000 turquoise İznik tiles, which are said to be immensely beautiful.
TOP TIP: Now reopened, entrance to the Blue Mosque is free. Whilst avoiding prayer times, it's best to visit early in the morning since it gets extremely busy as the day progresses.
3) Topkapi Palace –
A short walk from the Blue Mosque (on the opposite side of Sultanahmet Park) is another of the top things to see in Istanbul: Topkapi Palace. Now a UNESCO World Heritage site, Ottoman Sultans governed their empire from the palace until the middle of the 19th century. Originally built in 1456, it acted as a center of power for hundreds of years. As such, it has an incredibly rich history and is very interesting to tour.
Spreading over 700,000 square meters, the scale of Topkapi Palace is immense, as is the display of former Ottoman wealth. By far the most opulent part of the palace is the Harem (the Royal Family's living quarters) which features endless marble hallways and gorgeous blue tiles.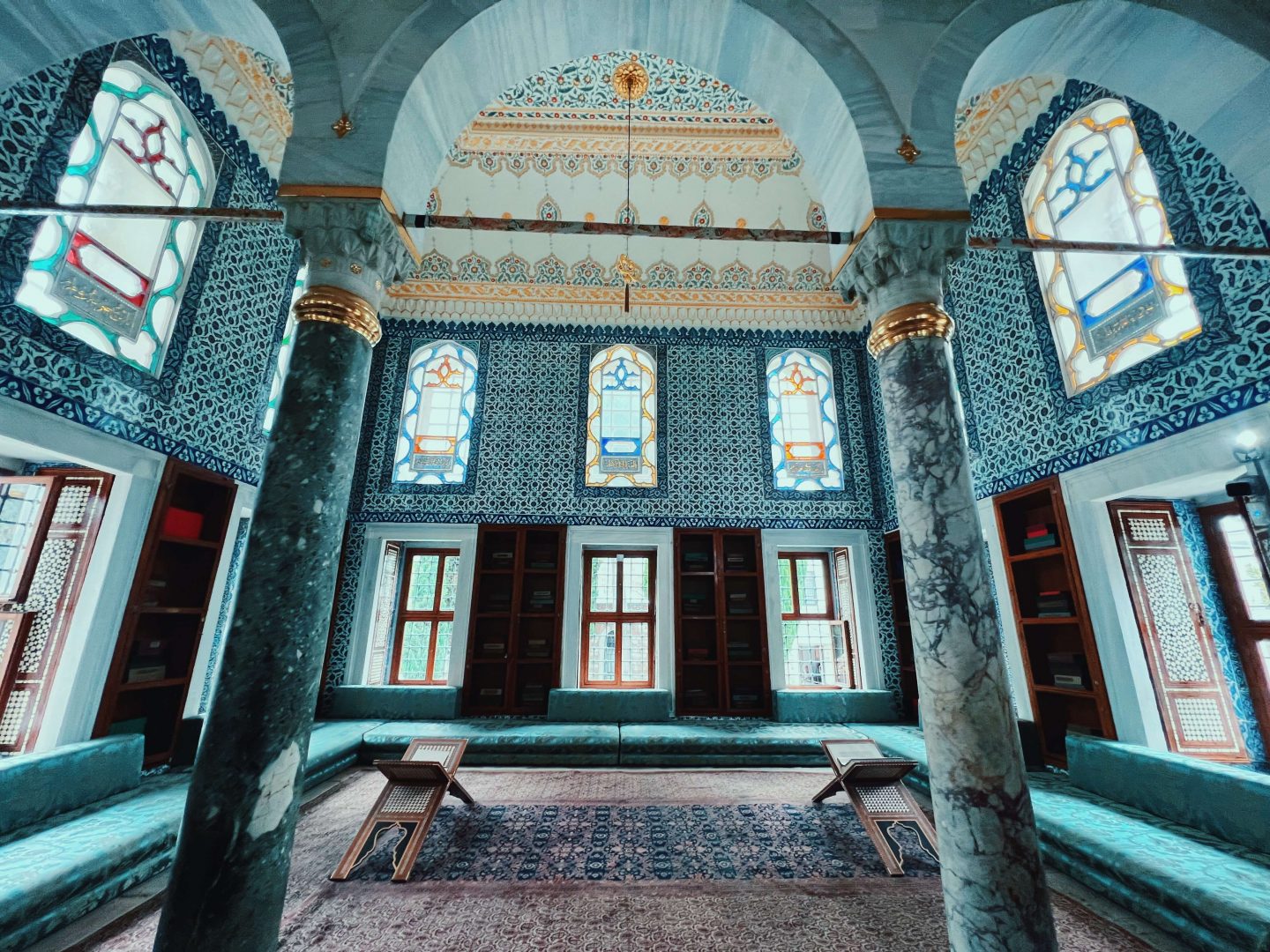 Given its sheer size, it's impossible to visit each part of the palace if you only have 1 day in Istanbul (since it would take the whole day)! Therefore, I recommend picking whatever you're most interested in seeing. For me, it was the Haram, but the armoury is also world-renowned. I also couldn't resist taking a quick look around the treasury, as it's home to the most expensive weapon in the world… The Topkapi dagger is made of gold and encrusted with large emeralds.
Even if you decide to simply spend some time exploring the beautiful gardens and courtyards, Topkapi Palace is definitely a must-visit during any Istanbul itinerary.
TOP TIP: Topkapi Palace is open from 9am and it's easy to buy tickets from the main entrance. The price varies, but the most expensive combined ticket only cost 420 Turkish Lira.
4) Sultanahmet Square (Ancient Hippodrome of Constantinople):
Leaving the grandeur of Topkapi Palace behind, I'd recommend heading back through Sultanahmet Park, to a nearby square of the same name, where you'll find an ancient Hippodrome from the late Byzantine (Eastern Roman) Empire.
Dating back to 200 AD, not much actually remains of the former chariot-racing arena since the Ottomans let it fall into ruin. However, the original layout is still clearly visible in the shape of the square. Plus, at the southern end, you'll find three surviving columns. The most impressive of these is a 3500-year-old Egyptian Obelisk, which despite its age is in pristine condition.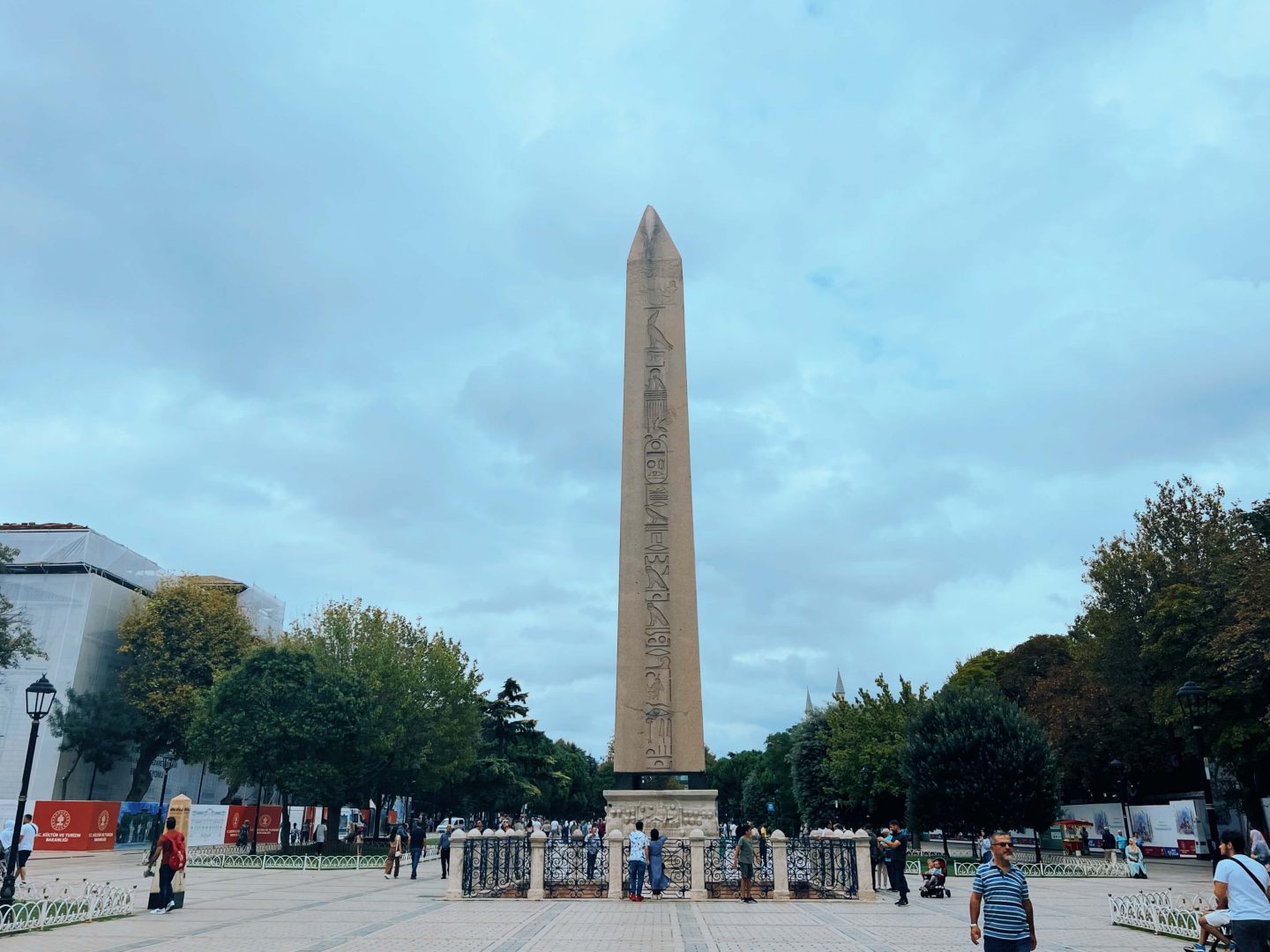 I found it fascinating to peer down to the base of the Obelisk, which still sits at the original street level, and wonder about the manpower and ancient engineering that it must have taken to bring it all the way from its original place in front of Luxor the Temple in Egypt.
5) Basilica Cistern –
Sultanahmet square is on the way to the next destination on my 1 day in Istanbul itinerary, the Basilica Cistern. Built-in the 6th century by Emperor Justinian I, this "sunken palace" originally served as a water reservoir for the Byzantine city.
Covering 9,800 square meters, there is undoubtedly a mystical beauty to the Cistern along with an untouched feeling that instantly takes you back over a thousand years. Prominent are 336 supporting marble columns that are arranged in 12 uniform rows. These were collected from older structures throughout the Eastern Roman Empire, and as such, are all unique.
Often overlooked by most visitors if they only have one day in Istanbul, the Basilica Cistern actually became my favourite attraction. Therefore, I highly suggest visiting.
When visiting, make sure you look out for two columns near the back of the Cistern that famously feature carvings of the snake-haired Medusa at their base.
TOP TIP: the Basilica Cistern recently reopened in July 2022 after undergoing an impressive restoration. Thus it's best to buy tickets online in advance, or even better book with a guide, so you can skip the long queue.
6) Bosphorus River Cruise –
After enjoying some lunch, I recommend spending some time in the afternoon exploring outside of the historic center of Istanbul. After all, the city has far more to offer…
For example, Istanbul is home to the world's narrowest natural strait, the Bosphorus. As the only passage between the Black Sea and the Mediterranean, it has always been strategically important. For example, control of the strait brought trade and wealth to ancient Constantinople, allowing it to thrive.
Today, the Bosphorus is still a busy shipping route. Yet many pleasure boats also sail along the shimmering water. Therefore, another of the top things to do in Istanbul is to take an afternoon 'river cruise'. Personally, this was another highlight of my day in Istanbul, since it allowed me to see how big the city actually is!
More than this, a cruise along the Bosphorus allows you to see Istanbul from a different perspective. In particular, I loved seeing the Blue Mosque from the water, as it somehow made the structure even more beautiful. This said, there's a lot more to discover along the waterway including fabulous Ottoman mansions and more dazzling mosques such as Ortaköy.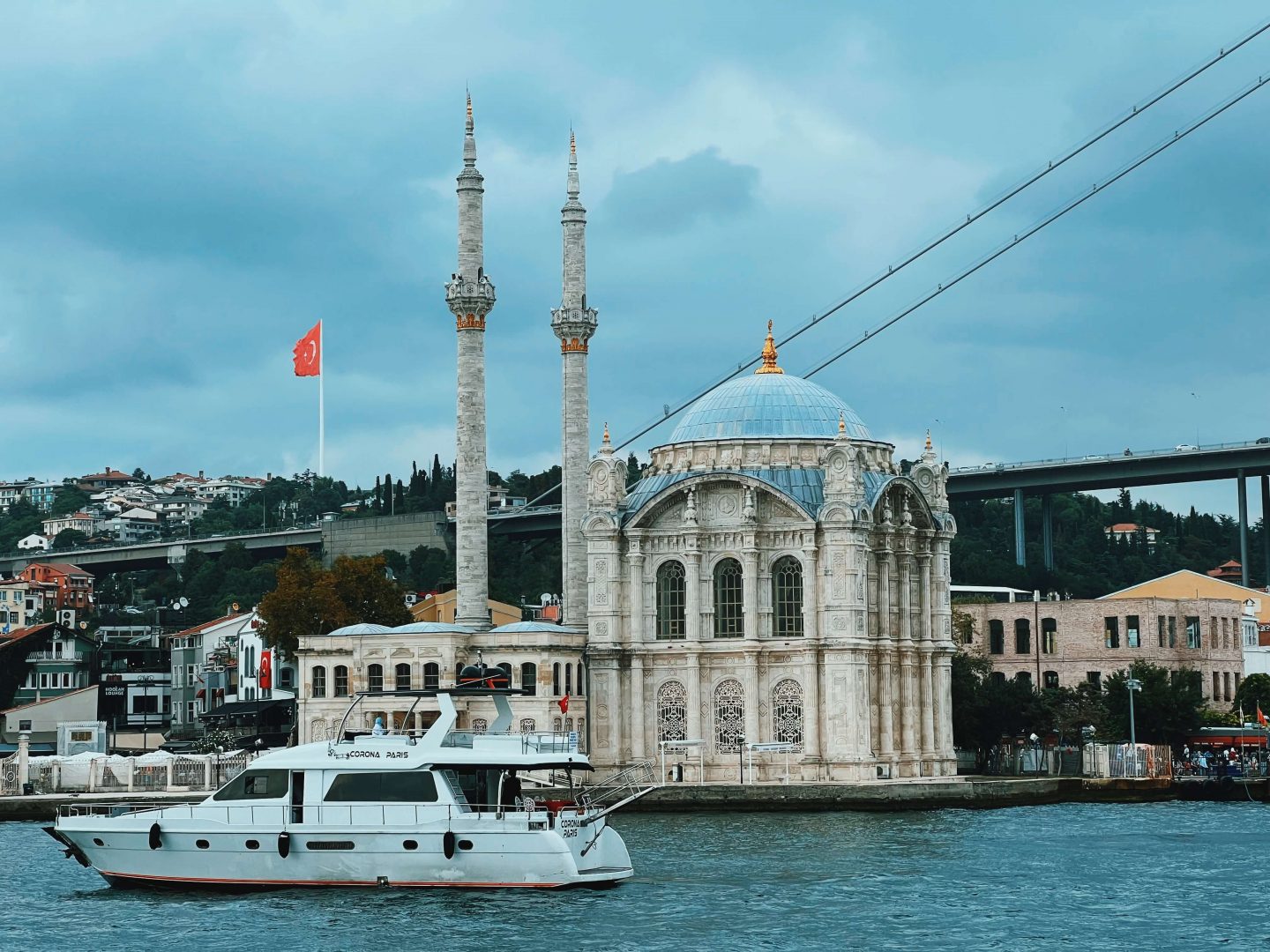 There are countless Bosphorus cruises available so it's worth researching exactly the style you want before you 1 day in Istanbul. I opted for a relatively cheap two-hour cruise which started near the Golden Horn and sailed down to the Fatih Sultan Mehmet Bridge, before turning around. For me, this was the perfect length and a fantastic way to see both the European and Asian sides of Istanbul.
7) The Grand Bazaar –
No trip to Istanbul is complete without a little bit of shopping, so after cruising along the Bosphorus I headed to the Grand Bazaar for a quick look around. One of the largest and oldest covered markets in the world, the Grand Bazaar was built in 1455 and houses over 4,000 shops that sell everything from jewellery and clothing to traditional spices.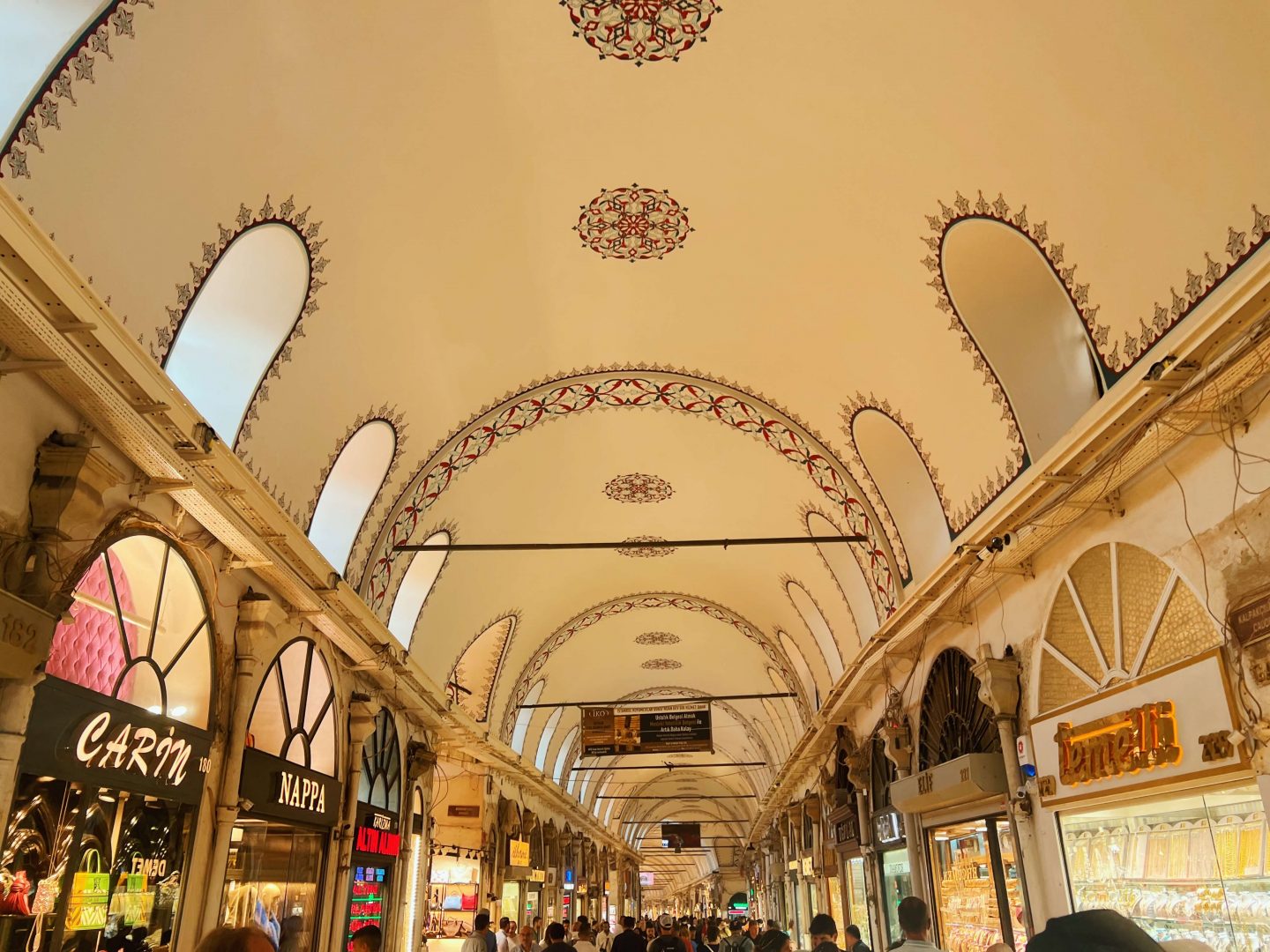 Unfortunately, the shops at the Grand Bazaar have become increasingly touristy and expensive. As a result, I didn't spend much time exploring the different stalls. However, I did still find the grandeur and history of the building impressive.
TOP TIP: it's incredibly easy to get lost within the Grand Bazaar as it's essentially a maze of tiny alleys. I'd recommend sticking to the main streets as this will mean you're never too far from one of the major gates/entrances.
8) Hagia Sophia –
It's only a short walk from the Grand Bazaar to the final of my things to see in Istanbul in one day, the captivating Hagia Sophia. Very much leaving the best to last, Hagia Sophia is simply incredible. Its sheer age, size and magnificence are hard to comprehend.
In fact, it's one of the oldest fully intact buildings in the world (and by far the largest). Built-in 537AD it's around 1,500 years old. Originally constructed as a church by Emperor Justinian it served the Christian community of Constantinople for 916 years before being converted into a mosque following the Ottoman invasion.
Turned into a museum in 1934 due to its unique and culturally diverse history, the centerpiece of Hagia Sophia is no doubt its 30m wide central dome. When walking in, my eyes were instantly drawn upwards. Reaching 56m above the floor the engineering it would have taken to even design such an impressive structure is astonishing! In this way, whatever else you decide to do when visiting Istanbul in a day, you simply cannot miss Hagia Sophia.
NOTE: Controversially Hagia Sophia was turned back into a mosque in 2020. Visitors are still welcome, but make sure you dress respectfully (you can buy gowns to cover up at the entrance). As a mosque, it's now also free to enter. Yet this means the queue is often insanely long.
I was recommended by an Istanbul local to visit Hagia Sophia in the late evening, and was incredibly glad that I took the advice! Throughout the day, the line was several hours long. However, by evening, I was able to walk straight in.
♦♦♦
I hope you enjoyed my guide on what to do during 1 day in Istanbul. As stated at the beginning 24 hours in the city is nowhere near enough time to see everything. However, with this itinerary, I found that I was able to tick off most of the must-visits, whilst taking the time to appreciate the rich culture and history.
Keen to explore more of Turkey? The wonderful sites of Cappadocia should be next on your list.
SAVE THIS ONE DAY IN ISTANBUL ITINERARY FOR LATER: