Just a 30-minute speedboat ride away from  Sanur, in mainland Bali, the small island of Nusa Lembongan is a little slice of tropical heaven that features everything from stunning white sand beaches and coral reefs, to friendly locals and delicious seafood. This means that there's plenty of things to do in Nusa Lembongan, and below you'll find a list of my favourites! 
♦♦♦
1) Enjoy the views at
Panorama Point –
One of the most spectacular things to do in Nusa Lembongan is to visit 'Panorama viewpoint'. Here, a gap in the trees offers breathtaking views of the bay below. What's more, on a clear day, you can make out Mt Agung in the background – The highest point in Bali.
SIDE NOTE: the best way to get around the island is by hiring a bike. If you're doing a Nusa Lembongan day trip this can be done on arrival at Jungut Batu Beach. However, as I was staying overnight on the island I opted to rent a bike through my hotel, but prices should average around 100,000 IDR a day!
---
2) Gaze at Devils Tears – 
No list of what to do in Lembongan would be complete without mentioning the 'Devils Tears' which can be found on the islands west coast.  This rocky outcrop has been eroded in such a way that seawater now gets sucked inwards before dramatically exploding upwards into the sky (often creating a rainbow in the process):
It's said by the locals that the exploding water droplets are the tears of the Devil, hence the name of this spectacular display! I even saw my first wild Sea Turtle battling the waves at this truly brilliant spot. 🙂
---
3) Lounge on Dream Beach –
A short walk from the 'Devils Tears' outcrop you'll find the pristine white sand of Dream Beach, possibly my favourite of all the places to visit in Nusa Lembongan:.
Dream Beach Lembongan is the only beach on the island free of boats, making this hidden cove a truly tranquil escape! There's even an adorable swing for those 'island vibes' Instagram shots… 😉
Honestly, I could have spent all day lounging in the sun here! A quaint restaurant at the top of the stairs is enough to meet all your refreshment and toilet needs. Meanwhile, the beach itself is slightly off the main 'tourist' track, meaning you'll often get the cove all to yourself!
However, Dream Beach is not one for swimming as a strong swell and massive waves make it quite dangerous. Luckily the island has several other more sheltered beaches where it's safe to take a dip, such as the equally as picturesque Mushroom Beach. 
Wherever you decide to visit, hitting the beach is no doubt one of the top things to do in Nusa Lembongan
---
4) Cross the Yellow Bridge to Nusa Ceningan –
If you venture to the South East of Nusa Lembongan you'll come across a yellow suspension bridge which is actually a lot sturdier than it looks! This is just as well, as it's the only land crossing to Lembongan's sister Island Nusa Ceningan.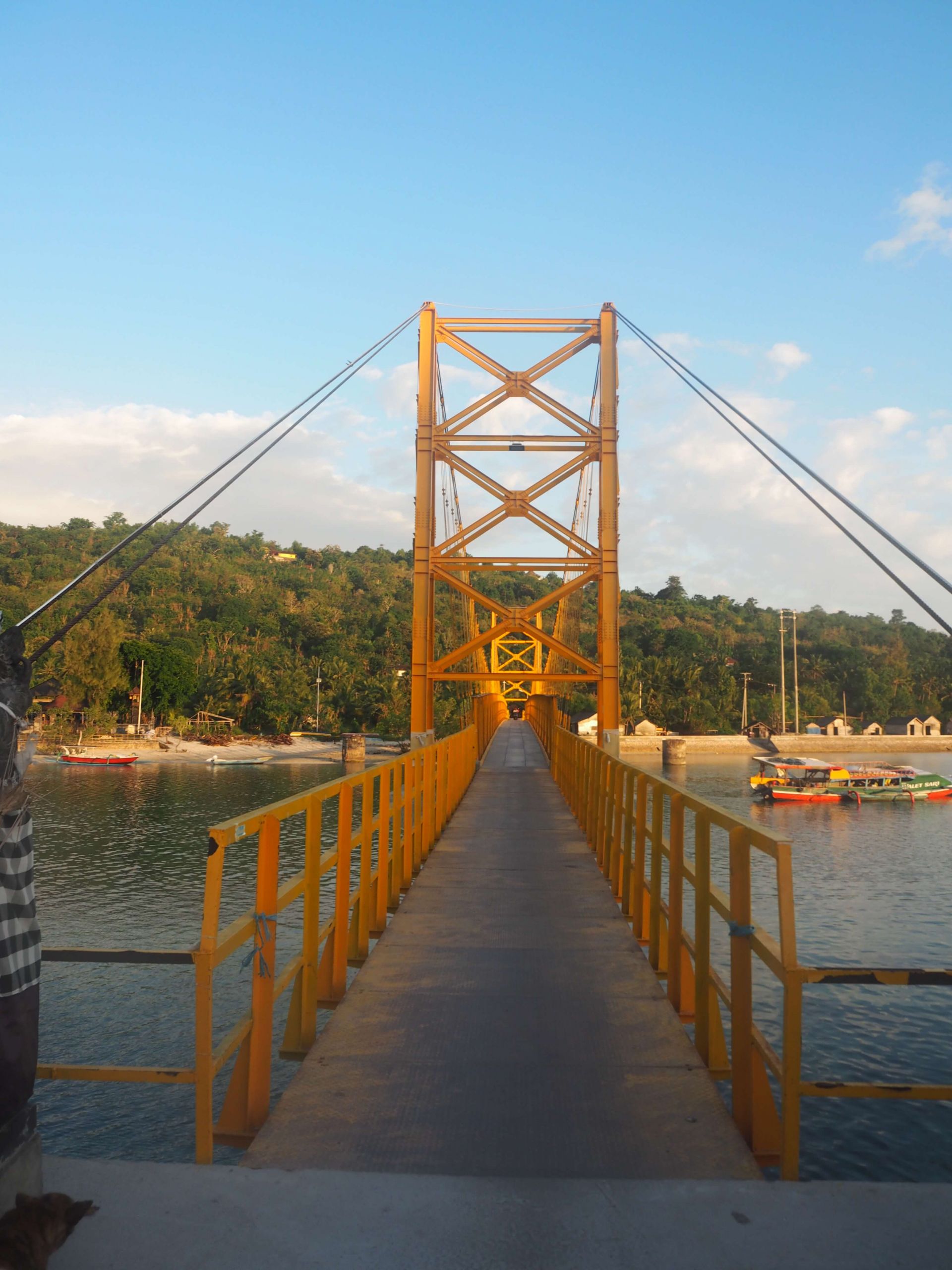 Being the only passage to Nusa Ceningan you can imagine that this little bridge is a busy place! This does, however, make it great for people watching, and if you visit in the evening, you might just be treated to one of the best sunsets in Indonesia…
With amazing views and its important link to local life, it's no surprise that the 'yellow bridge' makes it onto my list of the top things to do in Lembongan!
---
5) Explore the Mangrove Forest –
The next of my Nusa Lembongan things to do is to explore the islands Mangrove forest.
This relaxing and magical landscape takes up much of the islands North East coast, and is a great place to visit if you get bored of the beach!
You can hire a local guide to show you round in a classic Balinese boat for less than 100,000 IDR (although you may have to haggle). There's also plenty of places to rent Kayaks and Paddle Boards for the more adventurous souls out there…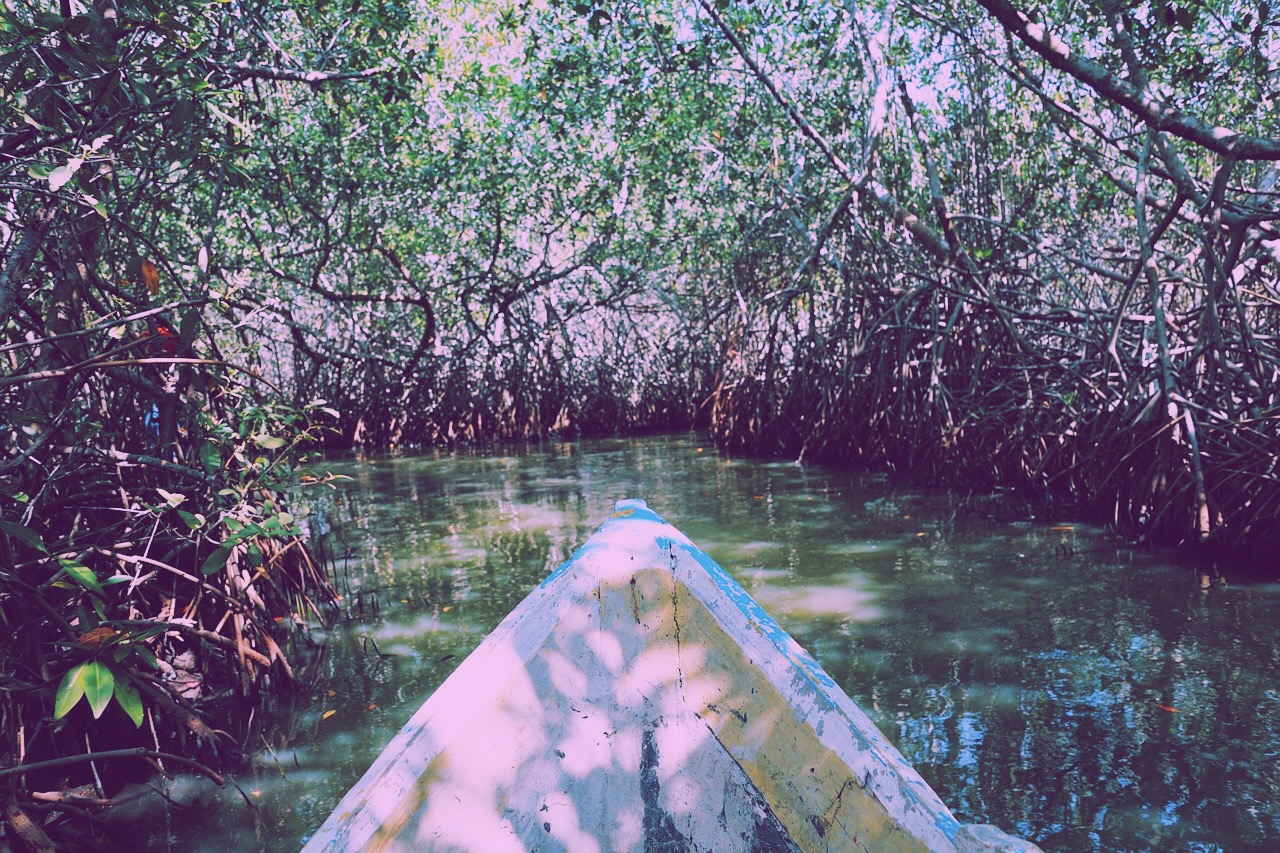 However, for me, the Mangrove really comes alive under the water! It's unique sand base (rather than mud) means that the water is surprisingly clear, and teeming with hundreds of different fish. Thus, hiring some snorkeling gear may be the best money you ever spend!
---
6) Nusa Lembongan snorkeling – 
Further to above,  the beautiful waters around the whole island actually offer some of the best diving in Bali/Indonesia. For one, they're famous for offering the chance to swim with wild Manta Rays. Therefore Nusa Lembongan snorkeling is a must-do! 
This can be done straight from the shore, from beaches such as the previously mentioned Mushroom Beach. But, for the best experience, you'll probably want to take a full or half-day snorkeling trip!
♦♦♦
So, there you have it! My top things to do in Nusa Lembongan… While it would probably be possible to experience most of the above things to do on a Nusa Lembongan day trip from Bali, I highly suggest that you take the time to stay a day or two on the beautiful island, because if you're anything like me you'll never want to leave…
Like this post? PIN FOR LATER: 
Comment below if you're planning a trip to this island paradise! Or, if you've already been I'd love to hear what else can be added to the list