With its sun-soaked white sand beaches, Southern Thailand is a dream destination for many. So, being a shameless sunseeker myself it only seemed right to pack my bikini and fly halfway around the world to explore the best of what it has to offer!
But, with over 300 hundred islands to discover, planning a one week in Thailand island hopping itinerary can be quite daunting. The options are quite simply endless. However, I think the below itinerary manages to include visiting the most sought-after destinations, whilst allowing for enough time to relax and enjoy island life…
♦♦♦
One week in Thailand: Day 1&2 Phuket – 
Flying into Phuket – 
Most people tend to arrive in Thailand via Bangkok. However with limited time, and a desire to spend as much time on (or near) a beach as possible, I decided to fly directly into Phuket, which is well-connected thanks to its very own international airport.
Located in the Andaman Sea, Phuket is actually Thailand's biggest island, although it's connected to the mainland via the Sarasin Bridge. Phuket has its own unique feel and character, plus with 36 beaches and a lush jungle interior to explore, it's no doubt the best place to start any Thai island-hopping adventure!
Day One: Seeing Phuket's Highlights  – 
From its magnificent Big Buddha to the stunning Wat Chalong temple, there are so many exciting places to visit in Phuket. So, on the first day of my one week in Thailand, I decided to book a Phuket City Tour through GetYourGuide. This allowed me to see most of the island's highlights, with the added bonus of hearing about its rich history from a local guide!
Plus, the tour ended in Phuket's historic old town, which is a hive of activity! Here the Colourful Sino-Portuguese style houses are a photographer's heaven. I happily spent the evening looking around its various shops and markets, which sell all the homemade souvenirs you could ever need.
The charm and history make a visit to the old town one thing you really don't want to miss off your Phuket itinerary!
Day Two: Phuket Elephant Sanctuary – 
After a busy first day exploring the sites of Phuket, my second morning was spent by the pool, because any good Southern Thailand itinerary should include some downtime to relax in the sunshine.
In the afternoon, however, it was time to tick a big thing off my bucket list… Visiting an Elephant Sanctuary. While most people suggest visiting the sanctuaries in Chang Mai, in the north of Thailand, Phuket also has some great ethical and worthy centers for animal lovers to visit.
I chose to visit the Phuket Elephant Jungle Sanctuary which is dedicated to creating an environment where the gorgeous elephants are happy, healthy, and thriving! They also only allow visitors to interact with the animals in totally natural ways, which was really important to me.
Knowing they were so well cared for made walking the elephants into the jungle even more special! I also got to feed them their favourite snacks, and got a bit muddier than I would have admittedly liked during bath time!!
All in all, it was such an amazing and unique experience that I'm not likely to forget.
TOP TOP: There are other ethical sanctuaries in Phuket, but make sure you do your research before visiting! As unfortunately, some are not always what they seem… 
Where to Stay in Phuket –
Measuring in at 543km² means there's quite a few different regions/areas of Phuket, and thus somewhere to stay that suits everyone! From backpackers on a budget to couples and families looking for a bit more luxury.
For high-end resorts and a more relaxed pace, the best places to stay can be found in Karon, or Kamala. However, I opted to stay right in the heart of Phuket's hustle and bustle in Patong.
This region has a bit of a bad reputation, but I found that there's plenty of affordable hotels that come with a touch of luxury, and the conveniences of the area can't be beaten… I stayed at the Sawaddi Patong Resort & Spa. With two pools, excellent service, and newly renovated rooms, it was the perfect home base for my time in Phuket!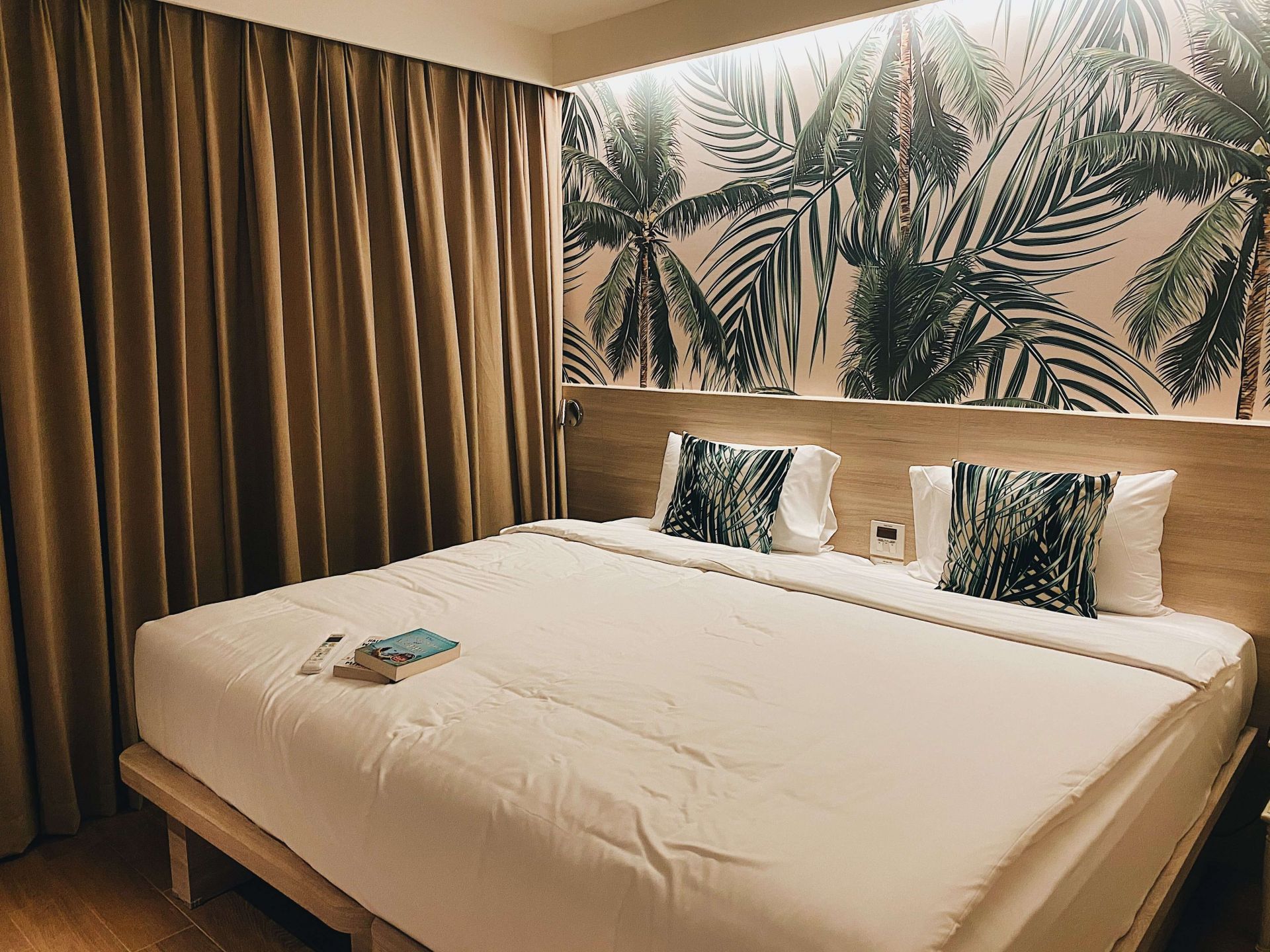 ---
Thailand island hopping: Day 3&4 Koh Phi Phi – 
After enjoying the best of Phuket, the only logical thing to do was start island hopping! So the next stop on my 7 days in Thailand Itinerary was the breathtaking island of Koh Phi Phi.
Part of a small archipelago that is home to vibrant coral reefs, some of the most beautiful beaches in Southeast Asia, and bays worthy of a Hollywood movie, Koh Phi Phi and its neighbouring islands are a truly magical place to visit!
Getting to Ko Phi Phi –
The most convenient and popular way to reach Ko Phi Phi is by ferry. The journey takes around two hours and the ferries are decently comfortable.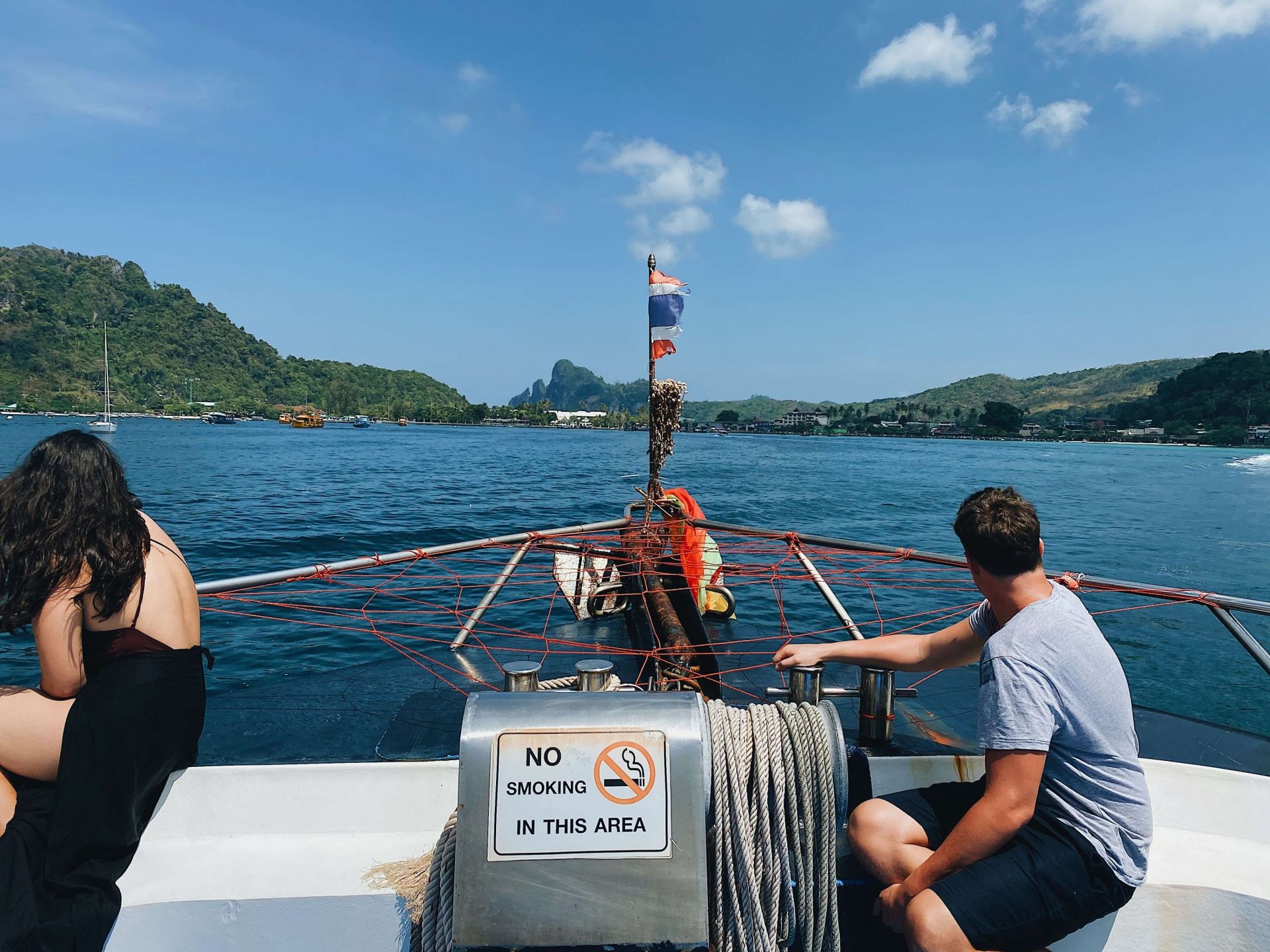 Most of them have a similar layout, with a sundeck (to take in the views) and an air conditioned cabin or two, where you can buy snacks, drinks and enjoy a film played out on the tv – mine was Jumanai in case you were wondering…
From this, it's easy to see why traveling by ferry tends to come out on top when Thailand island hopping. I for one have no complaints! However, you could also opt to book a private speedboat transfer. Although more expensive, speedboats are obviously much quicker and an excellent option if you're traveling in a bigger group! More than this, the departure and drop-off points will be much more flexible.
For ferries, all boats leave Phuket from Rassada Pier (which is located about an hour from Patong) and arrive at Tonsai Village in Koh Phi Phi.
TOP TIP:  You can check ferry timetables and book your ticket in advance on the website Direct Ferries. Tickets only cost around £25 or 1,000 Thai Baht. This said it tends to be cheaper to buy your ticket on the day at the pier. 
Day 3: Exploring Koh Phi Phi:
To make the most of my time in Koh Phi Phi, I woke up early in the morning to catch the first ferry leaving Phuket at 8am, which meant I arrived on the island with most of the day left, and thus plenty of time to explore. 
Well, I say explore, I struggled to leave the breathtakingly beautiful beach in front of my resort! Still, that's surely what Island hopping in Thailand is all about…
In the evening, however, I did hike up to the famous Koh Phi Phi viewpoint, which provides a breathtaking outlook over the island's crescent-shaped center, and out onto the surrounding bay.
I won't lie, the hike to the top is quite brutal, especially in the unforgiving heat. But, it's thankfully quite short, and the views that await at the top are more than worth the effort.
Although beautiful whenever you decide to visit, the most spectacular views can be appreciated at sunset! I was blown away by just how wonderful the panoramic views looked when basked in the orange glow of the setting sun… There are certainly worst ways to end the day!
TOP TIP: As it's only two hours away from Phuket, taking a day trip to the Phi Phi Islands is doable. However, my Thailand 7 days itinerary included spending several nights on the island, and I couldn't recommend doing so enough!
Day 4: Phi Phi Islands Boat Tour – 
I could have easily spent another day simply enjoying the picturesque surroundings of Koh Phi Phi from the beach. However, what makes it one of the best islands to visit in Thailand, is the stunning bays, and lagoons that surround it. Thus, taking an island boat tour is a must.
There's plenty of different companies on the island that offer such boat tours! For the authentic Thai experience, you could even hire a traditional longboat for the day. Yet, I'd avoid tours which take you to places like 'monkey beach'. As while I'm sure it was once a pristine paradise, it's sadly fallen victim to overcrowding. I myself made the mistake of visiting and hated every minute of it!
Instead, I'd stick to visiting places like Palong bay, where you can go snorkeling with wild sea turtles! The pristine Pileh Lagoon is also amazing, I've never seen so much marine life, which is thriving on the protected coral reef. Or, If you're really brave, shark point is also a highlight.
In this way, monkey beach aside, my Phi Phi island boat tour was no doubt a highlight of my 1 week in Thailand.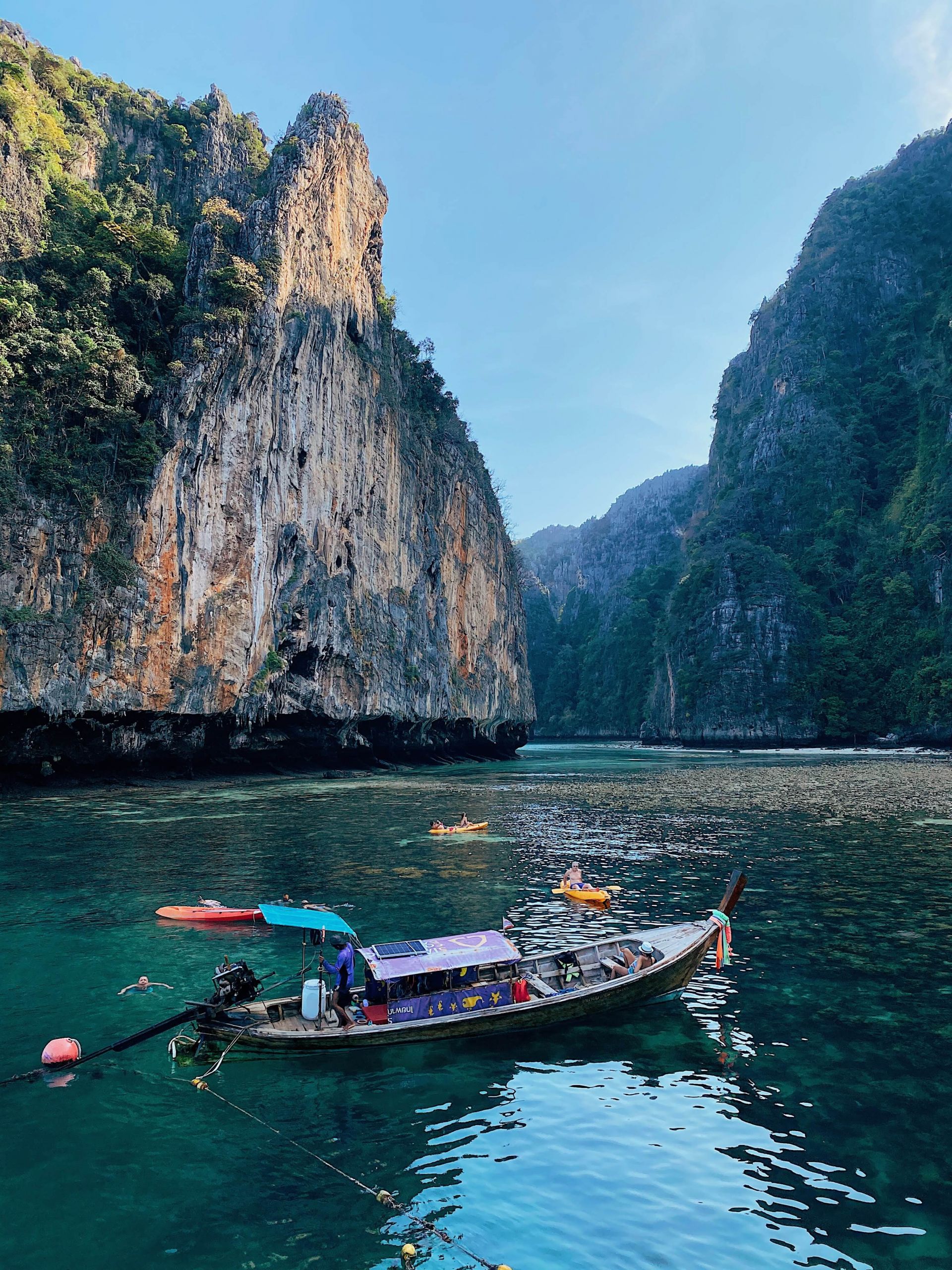 SIDE NOTE: One of the most famous places to visit in the whole of Thailand is Maya Bay, which was made famous thanks to the movie: The Beach. Unarguably the top thing to see from Koh Phi Phi, it was closed to visitors during my visit. Yet, after careful conservation, it's now reopened!
This said careful measures are still in place to ensure damage to the pristine bay doesn't reoccur. As such, boats are not allowed into the lagoon and will instead drop you off at the other side of Phi Phi Leh island. 
Staying in Ko Phi Phi – 
There are lots of amazing accommodation options to choose from on Koh Phi Phi, but resorts, and even hostels, are much more expensive than on the Thai mainland. This said, when you think about the fact that everything on the island has to be imported, the higher prices make sense.
Bearing this in mind, for luxury, nowhere is better than the stunning Phi Phi Island Village Beach Resort. Traditional but stylish bungalows house the resort's rooms, and with 4 onsite restaurants, a private beach, and a stunning pool, you may never want to leave!
---
Thailand Itinerary 1 week: Days 5&6 Krabi – 
After Koh Phi Phi, my one week in Thailand continued on the mainland, at the scenic southern province of Krabi. Characterised by giant freestanding limestone cliffs, and yet more idyllic white-sand beaches, Krabi is an adventure lovers paradise. Rock climbing, snorkeling, kayaking, and jungle trekking are just some of the activities on offer.
Travel from Koh Phi Phi to Krabi – 
Much like if you were to go Phuket Island hopping, the best way to get to Krabi is either via ferry or speedboat. Again the journey takes around two hours, and the arrival point is Klong Jirad pier! I'd recommend heading to the sundeck towards the end of the journey, as the scenery as you approach Krabi is quite stunning.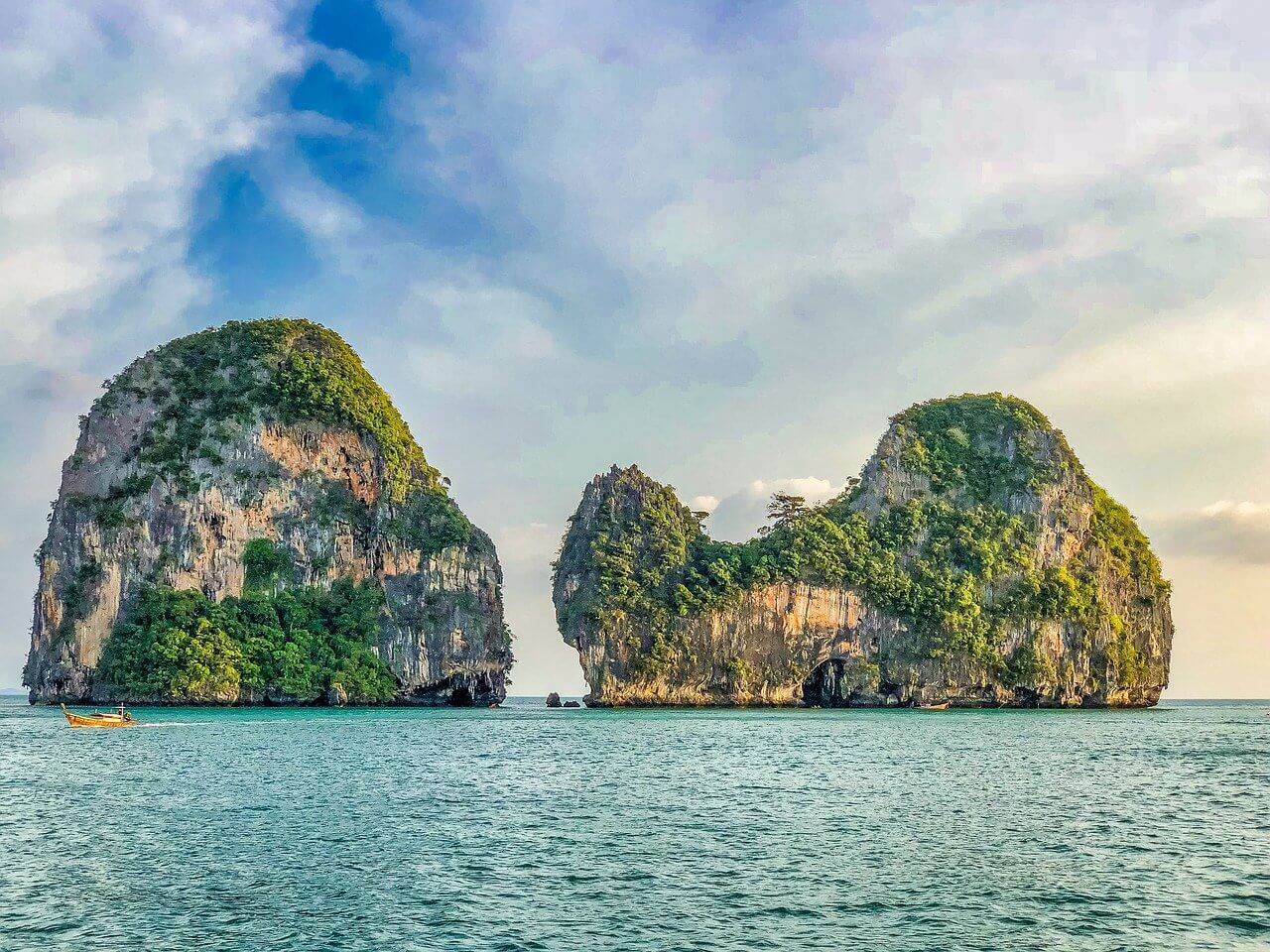 Day 5: Discovering Ao Nang and Railay Beach  –
I arrived in Krabi in the early afternoon and quickly set about exploring the town of Ao Nang, where I'd chosen to stay! The town is small (mainly concentrated around one road), but there's a superb selection of restaurants and shops.
Some home comforts, such as a Starbucks and Macdonalds, means Ao Nang has a slightly more westernised feel than the other places I visited in Thailand. This said there is something charming about its quiet relaxed atmosphere and palm-lined streets.
I also enjoyed some of my favourite Thai meals in the town, meaning I think it's managed to find a perfect balance between convenience and authenticity!
This said, one part of Krabi that is even more laid back and authentic is Railay Beach, a small peninsula just south of Ao Nang. I spent my first evening in Karbi here and fell in love with its spectacular beauty and tranquil feel.
While it's technically part of the mainland, Railay is surrounded by soaring cliffs and steep jungle valleys which means it's only accessible by boat! Therefore, there's no roads or cars which just adds to the feeling of being in a true tropical paradise.
The west of the peninsula is home to one of the most scenic stretches of sand in Thailand. So, I started my evening by spending a bit of time unwinding on the famous beach. Visiting in the evening was perfect because most day-trippers had left, meaning I basically had the whole beach to myself.
While this was amazing, there's so many more things to do in Railay beach that I wanted to experience as well! In fact, my main reason for visiting was actually because my tour guide had arranged for us to go and see some Thai Boxing, at the Yaya Muay Boxing club.
I was initially a little hesitant as to whether I would enjoy the boxing, but I was soon captivated by the sport. The atmosphere at the competition was amazing! It felt like a true celebration of Thai culture, and I loved how respectful the boxers were to each other.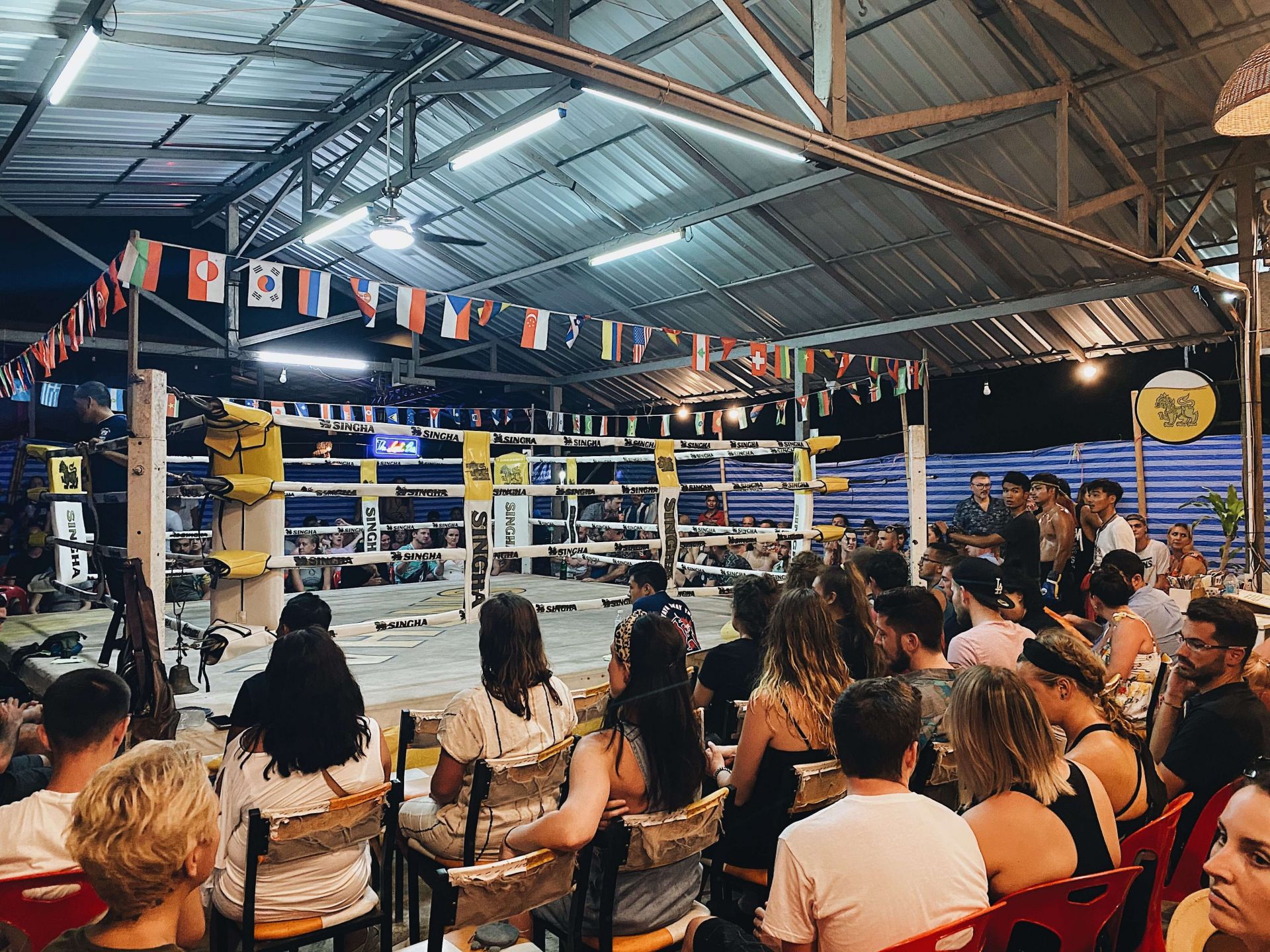 The evening was only made better by the 'after party' which consisted of spectators gathering on the beach for a fire show, followed by drinks at The Last Bar, which turned out to be the perfect place to enjoy a nice refreshing cocktail.
Day 6: Day Trip to Phang Nga Bay
Deciding how to spend my last full day in Krabi was difficult. I knew I wanted to do some more Thailand island hopping, but having limited time makes the fact that there are so many amazing islands to visit a slight curse!
In the end, I opted to take a day trip to the beautiful Phang Nga Bay which is home to yet more sheer limestone karsts, emerald waters, and an abundance of tropical islands.
My day on the bay was mainly spent taking in the scenery, and enjoying several stops for kayaking and swimming! However, I also made sure to visit Phang Nga's most famous attraction: James Bond Island, which has become one of Thailand's most well-known locations thanks to the 1974 Bond film 'The Man With The Golden Gun'.
Today James bond island is just as scenic as it appeared to be in the movie. It's a great example of the diverse and breath-taking landscapes you can expect to find in Phang Nga Bay!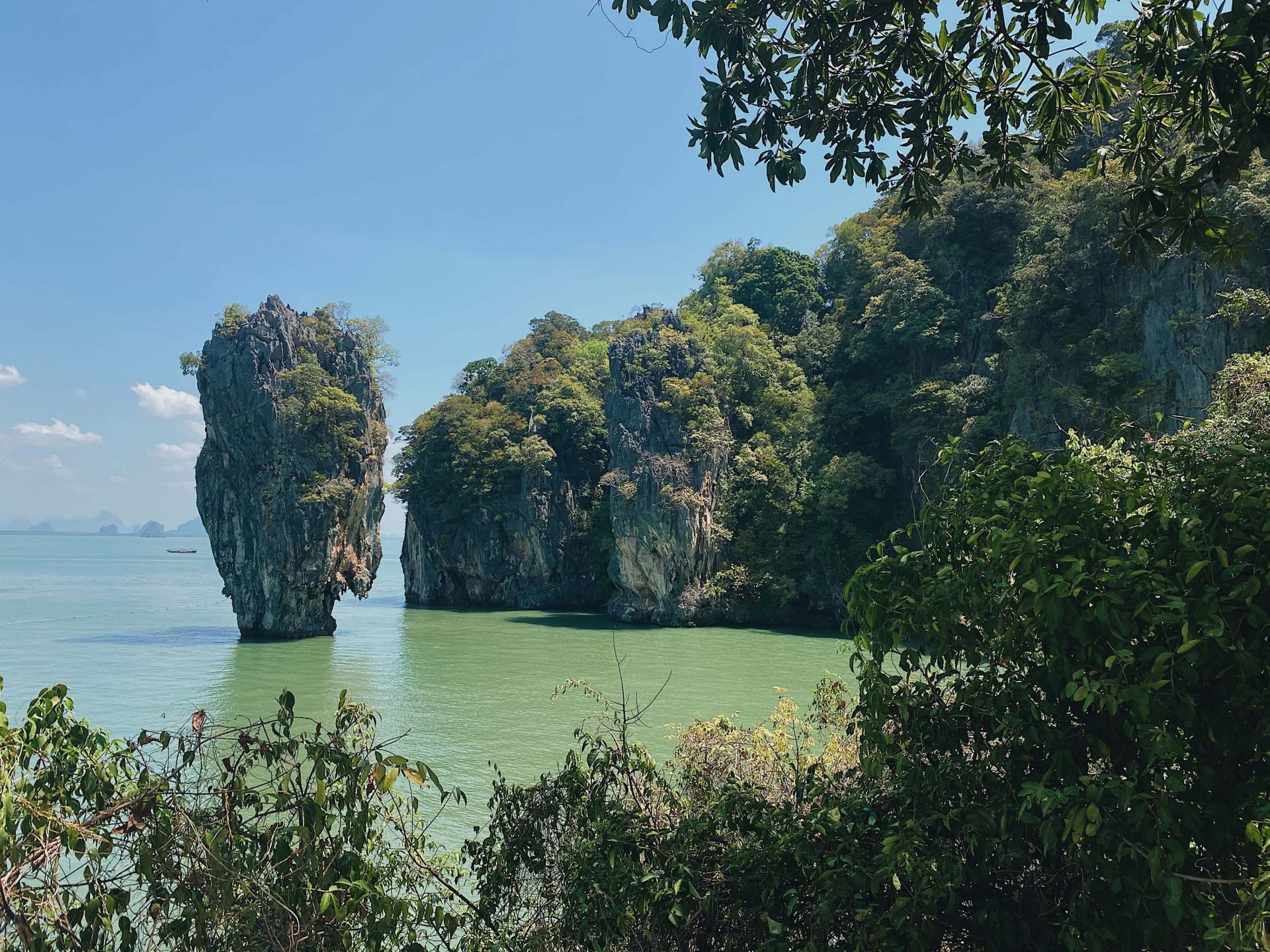 I loved discovering the wonders and sights of the bay. However, I did come very close to choosing to spend the day on the heavenly island of Ko Lanta instead. Known for having alluring coral beaches, and a diverse mangrove rainforest, you may want to include a day trip to Ko Lanta in your own Thailand island-hopping itinerary. Especially if you're looking for a more relaxed day, as exploring Phang Nga Bay can be quite 'full-on'…
Where to stay in Krabi – 
As mentioned earlier, I stayed in Ao Nang for the duration of my time in Krabi. Specifically at the Ao Nang Cliff Resort. Set against the backdrop of lush green hills, the hotel has one of the most breath-taking rooftop infinity pools I've ever seen!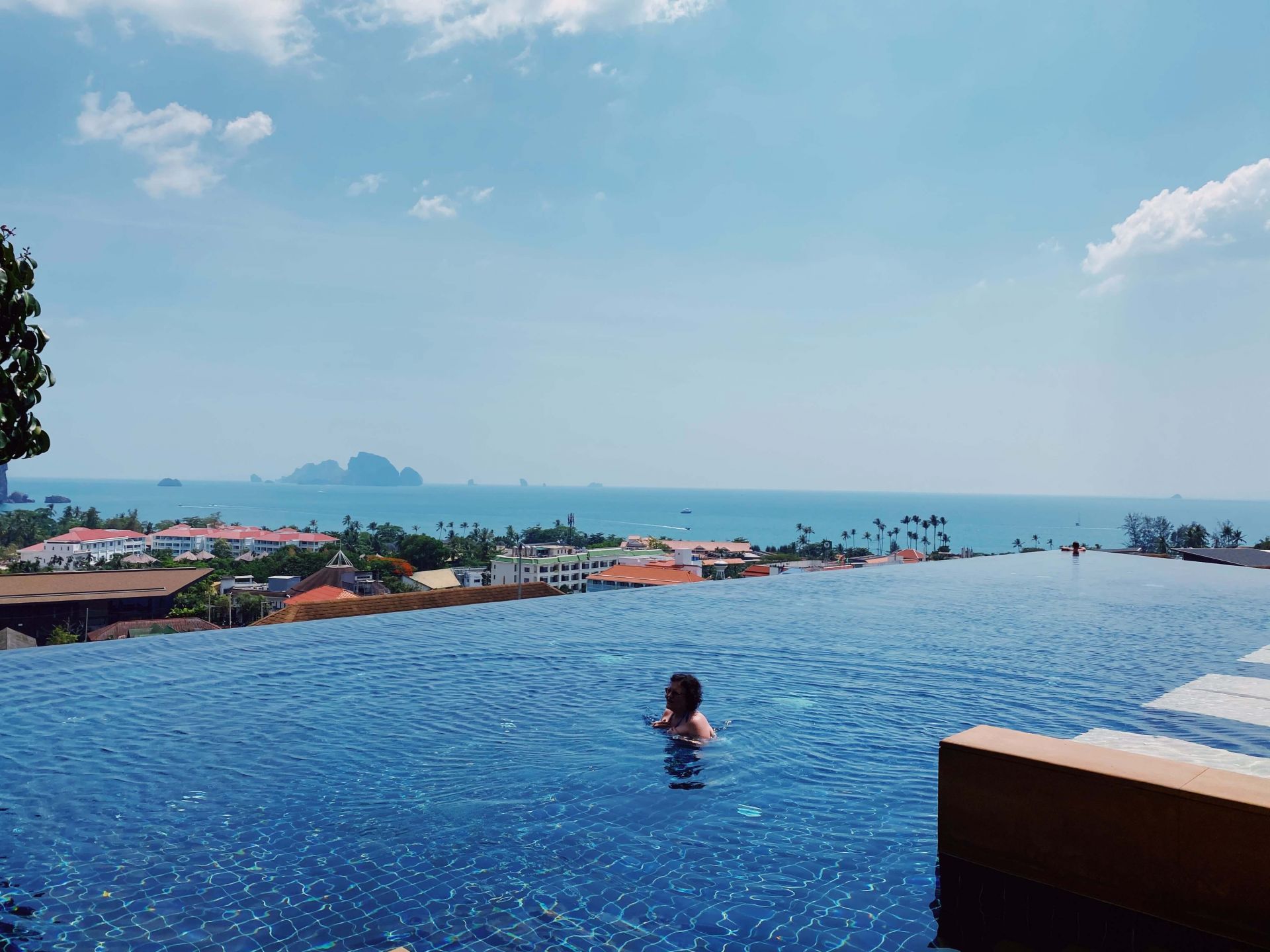 Plus the rooms are beyond spacious (I even got a free upgrade to a Jacuzzi Suite), and I couldn't rave enough about the delicious included breakfast and the optional buffet that are served at the hotel's restaurants.
However, there are also other amazing places to stay in Krabi. For example, some of the most secluded and picturesque resorts can be found in Railway. Meanwhile, Krabi's old town is a great option for those seeking true Thai authenticity, as it's also where most locals live.
---
One week in Thailand island-hopping itinerary: Day 7  –
On your own trip, you might be able to squeeze in one more day of exploring! Options could include: kayaking around Krabi's limestone cliffs, Rock climbing in Railay, or heading into the jungle to discover hidden waterfalls!
However as I had to be back in Phuket, and the airport 5pm, I decided it was best to spend the day in Ao Nang, where I took full advantage of all the wonderful facilities at my hotel. And who doesn't love a good pool day?!
Travel from Krabi to Phuket – 
While there is a ferry that travels between Krabi and Phuket, it's best to make the journey via a taxi or shuttle bus, which can be organised through your hotel. By car the journey is much quicker, taking around two hours depending on traffic. There's also the added bonus of being able to get dropped off directly at the airport or your next destination!
♦♦♦
However you choose to spend your time in Thailand it's sure to be remarkable! The southern region and its islands have a captivating charm that makes you never want to leave. After visiting myself I can certainly see why many people are drawn back to visit time and time again.
But is one week in Thailand enough? Honestly, I don't think it is! I would have loved to have had more time to visit additional destinations such as Ko Samui, and other islands located in the Gulf of Thailand. With hindsight, at least two weeks would be ideal! This said I'm happy that my Thailand 7 days itinerary allowed me to see as much as possible, and I hope it gives inspiration for those looking to do the same.
Like this post? Pin it for later!