Thailand is full of magical places to visit, but one of the most captivating has to be Phang Nga Bay! Home to the famous James Bond Island, it also features limestone Krasts, magnificent caves, and stunning turquoise green lagoons. In other words, it's a must-visit… So here's how to enjoy the very best Phang Nga Bay tour:
♦♦♦
Touring Phang Nga Bay from Krabi  – 
Phang Nga Bay is located between Phuket and Southern Thailand's coast, therefore it's easily accessible from both…. But, on the mainland, touring Phang Nga bay from Krabi really couldn't be easier.
Krabi is the main 'hub' for island hopping in southern Thailand and thus there's an abundance of boat tours available. GetYourGuide is a great option for pre-booking, as is organising a tour through your hotel, since most will have a good selection of trips available!
This said, during my own one week in Thailand, I found that renting a private boat and guide was the key to experiencing the very best Phang Nga Bay tour.
Doing this will be to be more expensive, but it provides the freedom to explore all corners of the bay, without the restrictions of a pre planned trip. There's also more flexibility in deciding when you want to leave Krabi, and how long you want the tour to be.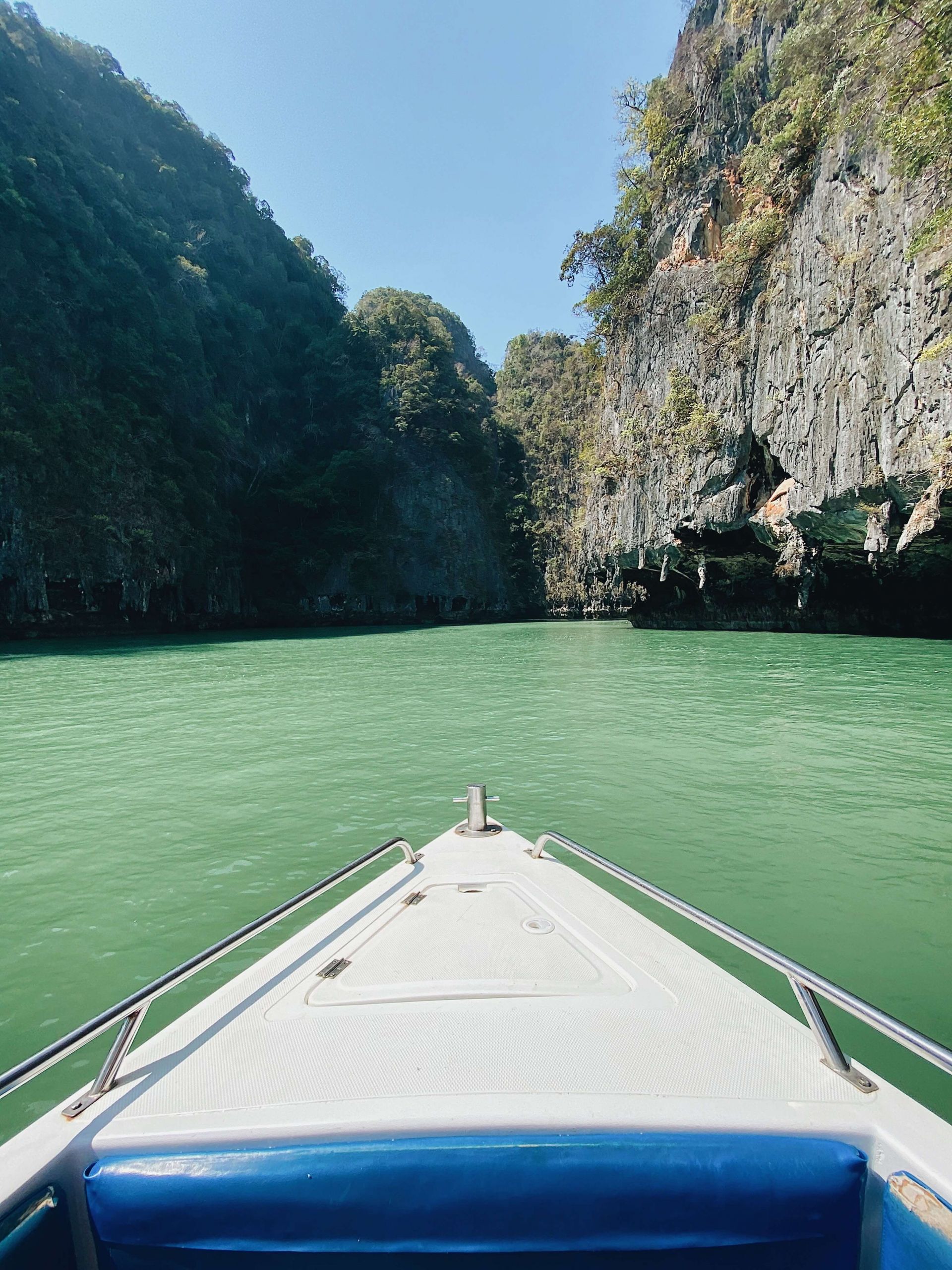 TOP TOP: I ended up hiring a boat for around 6-hours and found that this was the perfect amount of time to enjoy the Bay's highlights, so I would definitely recommend taking at least a half-day tour of Phang Nga bay from Krabi!
---
Phang Nga Bay James Bond Island Tour
Every good Phang Nga Bay day trip will include a visit to the famous James Bond Island. Known locally as Koh Phi Khan, the island was rarely visited before it featured in the 1974 Bond film 'The Man With The Golden Gun'.
Now a major tourist attraction it's almost obligatory to take a photo, in the iconic 007 pose, on the island. Therefore, hiring a private boat that can take you there before most other visitors arrive, is no doubt the best way to enjoy the island, and beat the crowds!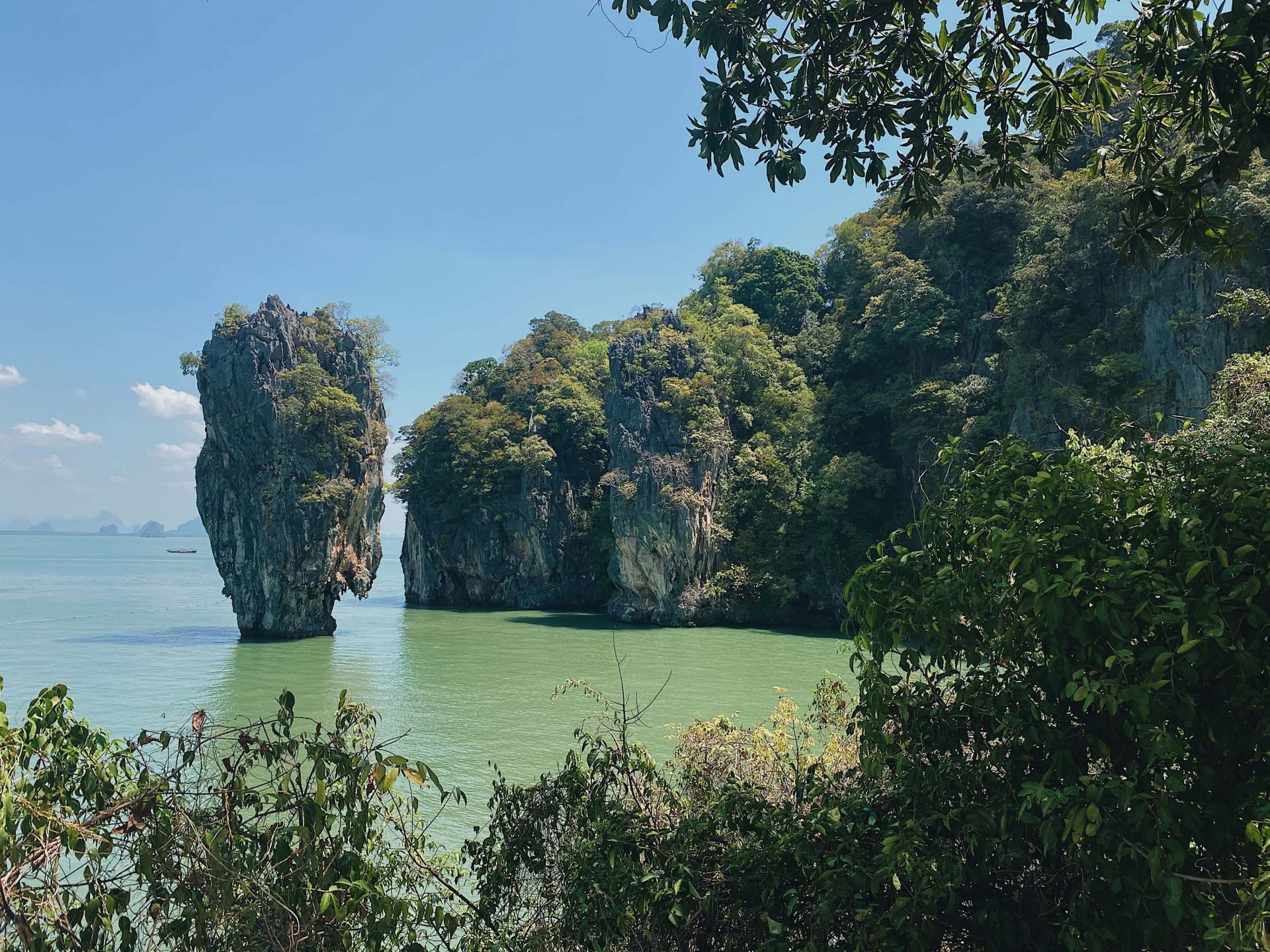 However, even with the crowds, the natural beauty of Koh Phi Khan makes a visit more than worthwhile. For example, there are gorgeous caves to explore, and I found that if you climb the small staircase just beyond 'the rock', you'll be treated to the most amazing views of the wider Phang Nga National Park. 
In this way, it's no surprise that a 'James Bond Island tour' is on everyone's Thailand bucket-list!
TOP TIP: When you first arrive on the island you'll be greeted by several vendors selling souvenirs. I'd avoid buying anything here as most items are extremely overpriced! Plus you'll easily be able to find them elsewhere in Thailand. 
---
Best Phang Nga Bay Tour (Other Things to do) – 
While you might want to just visit James Bond Island from Krabi, there's so much more to see and discover in the bay! Other highlights of my own private Phang Nga Bay tour included:
Koh Panyi Village – 
One unmissable place to visit is the floating village of Koh Panyi. Built entirely on stilts, so it appears to be floating, it's beautifully unique and offers a glimpse into local life on the bay!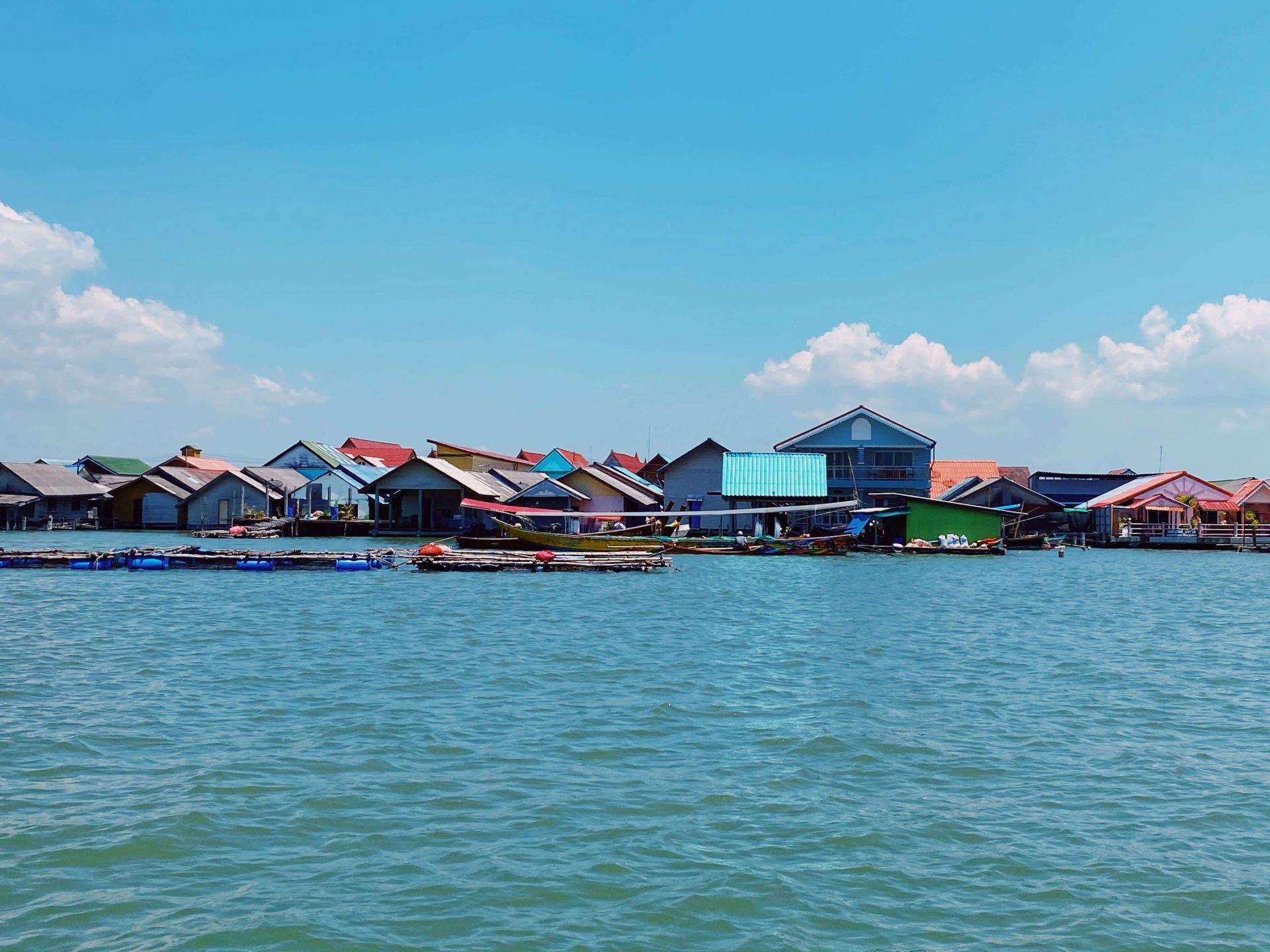 A lot of Phang Nga Bay tours actually stop here for lunch. Because of this, it's adapted to cater for a large daily influx of tourists at its waterfront restaurants. However, if you have the flexibility to visit later in the day, the village tends to be virtually deserted!
It's traditional network of narrow wooden streets are a charming place to explore. Plus, there's something quite magical about how it rises out of the water amongst the spectacular limestone rocks. 
For me, the biggest highlight in the village was it's one of a kind floating football pitch. Built right next to the school, it's an amazing experience to see the local children enjoying the classic game, with an added touch of excitement as they often had dive into the water to collect the ball!
Phang Nga Bay Kayak tour – 
Another of the top things to do in Phang Nga bay is to go Kayaking! After all, there's no better way to explore the bay than by paddling through breathtaking unspoilt lagoons, and intriguing cave systems!
During my day in Phang Nga, I stopped off at the wonderful Hong Islands to go on a guided kayaking tour. Here locals have set up a system where, for a small fee, they'll provide a kayak which holds two people, along with a guide.
Having a guide was great as mine pointed out parts of the limestone rocks that have naturally formed into humours shapes such as that of a Shark or even a Buddha! Plus he was a pro paddler, which meant we were able to discover fantastic sea caves… Where low ceilings and hidden lagoons created a real sense of adventure.
Overall, kayaking was probably my favourite part of exploring Phang Nga Bay so I'd definitely recommend doing it if nothing else!
TOP TIP: If you want to take a Phang Nga Bay kayak tour, make sure you bring a little bit of cash with you to tip the guides. 
Phang Nga Thailand Island Hopping –
Picturesque white sand beaches are also scattered throughout Phang Nga Bay. Often located at the bottom of sheer limestone cliffs, stumbling upon these hidden beaches is all part of the charm of touring Phang Nga.
One of the most beautiful I came across was a tiny stretch of sand, which was home to nothing but a monkey, and greenery cascading down from the rock.
In addition, larger beaches can be found on the many islands dotted throughout the bay! These bring the opportunity to hop off the boat and enjoy some time relaxing in the sun. Plus, the shallow island waters are also perfect for swimming.
However, such island hopping doesn't tend to be included in organised trips with a larger number of people, which is just another reason why hiring a small private boat makes for the best Phang Nga Bay tour!
Swimming in Phang Nga Bay Thailand – 
Finally, no Phang Nga Bay tour would be complete without a refreshing swim in the glistening water! But unfortunately, if you want to go snorkeling (like I did) you'll be disappointed…
This is because connecting rivers deposit vast amounts of silt and mud into the bay. This gives the water it's distinct and pretty greenish colour. Yet, while it provides a picture perfect backdrop, it sadly also makes it too cloudy underwater to see anything when diving or snorkeling. 🙁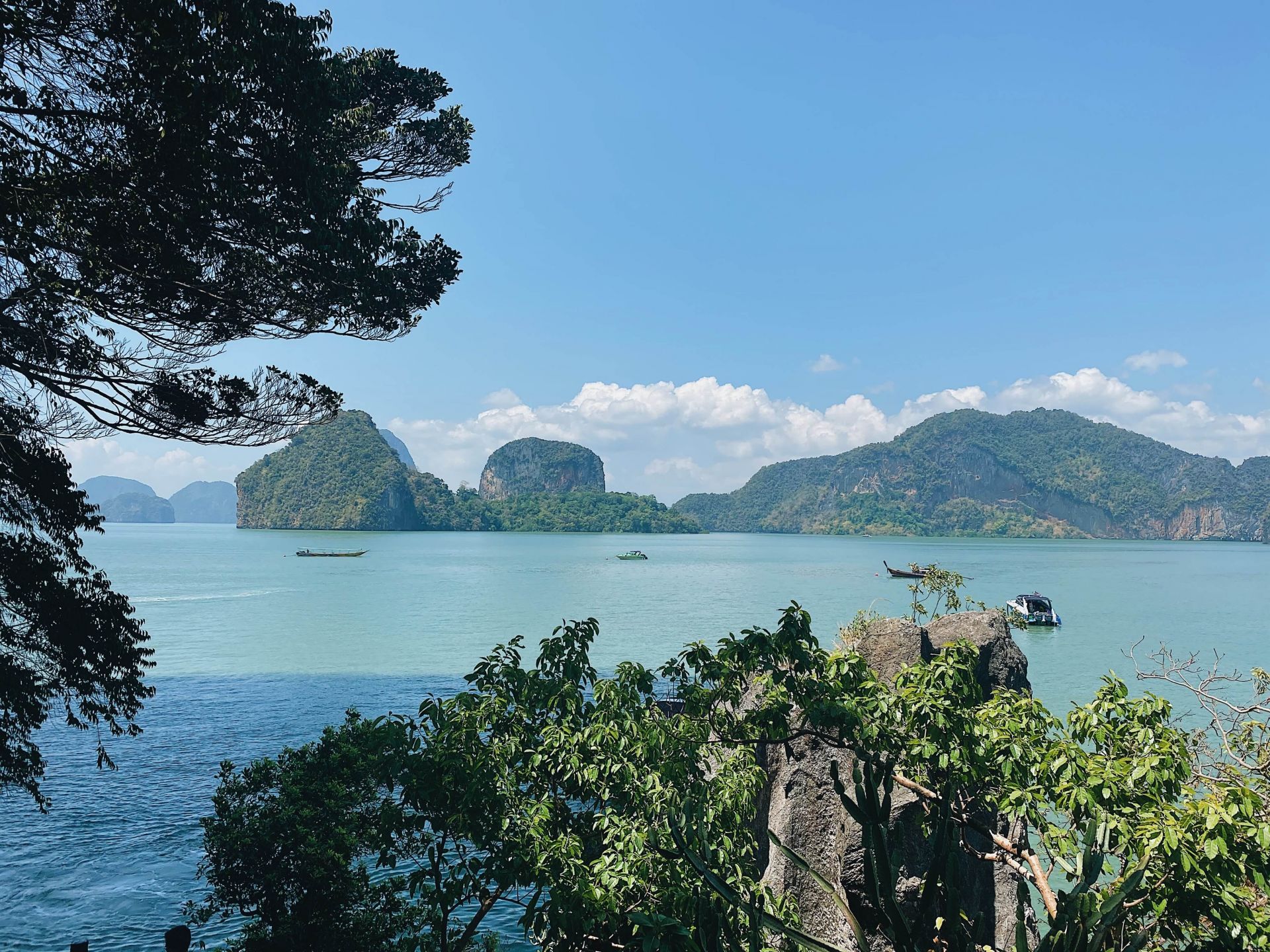 Nonetheless, a swim is still the perfect way to cool off and end any day on the bay.
TOP TIP: Near to Phang Nga Bay you'll find the Phi Phi islands! These are perfect for snorkeling thanks to clearer water and outstanding coral reefs. In fact, a day trip here is seen as one of the best things to do from Phuket. 
♦♦♦
As you can see there's lots to discover in Phang Nga! This said, it's worth noting that a large percentage of my trip was taken up by cursing to and from Phang Nga Bay from Krabi. However, with such spectacular scenery to take in the whole time, the journey was actually one of my favourite parts of the experience.
Again I'd reiterate that the best Phang Nga Bay tour can be created by hiring your own boat. There's simply nothing better than planning your own itinerary!
Like this post? PIN FOR LATER: