My Uncle is lucky enough to call The Algarve (Portugal) his home. Although this has resulted in envy-inspiring tales of his days spent in the sun, it's also meant my family and I have enjoyed many cheap and cheerful trips to this beautiful part of the world – yay!
Visiting Portugal's southernmost region countless times, I've learnt one thing: there's so much to see and do! Stunning Mediterranean style beach's, charming towns and water sports galore are all boxed together and wrapped with a bow of glorious weather…
As a result, narrowing down my favourite places to visit in the Algarve was tricky. But, I powered through 😉 … Below are my favourite four things to see and do, Because who doesn't appreciate a good list?
♦♦♦
1) The Town of Lagos
In my opinion, you shouldn't take a trip to the Algarve without visiting the small town of Lagos… Okay, so I may be biased on this one as it's my uncle's hometown, thus my base for all trips to the region! However, Lagos perfectly blends quirky charm with modern amenities and a traditional Portuguese feel, meaning its hard not to fall in love with it!
The 'Old Town' is home to a world famous indoor fish market – the smell, however, has thus far kept me from heading inside… Instead, on my many visits, I've tended to stick with browsing in boutique shops and dining in the towns many restaurants.
My personal highlight of Lagos, however, is the beautiful marine. Small in scale but mighty in terms of views, You'd be rather silly not to plan a day trip!
The whole Marina just has a certain charm about it. For example, palm trees line the pristinely clean cobbled path, while the marina's walls serve as a quirky playground. As kids, my brother and I would jump between the huge rocks, as we raced to the ice-cream shop… Looking back, it's hard to believe neither of us fell in! Still, it makes me smile seeing kids do exactly the same thing today 🙂
If amazing views and warm vibes aren't enough to entice you, the marina is filled with many excellent restaurants! A family favourite is the Cais Bistro and Bar.… which serves fantastic fish and traditional Portuguese dishes, as well as burgers for a taste of home!
I could spend this whole post rumbling on about how much I adore Lagos, it certainly holds a little bit of my heart! As much as I adore visiting new and exciting places, there's just something so special about knowing a destination inside out!
---
2) A Boneca –
The Algarve is famed for its rugged sandstone cliff's which overlook immaculate golden sand coves. No place is this stereotypical image more prominent than in A Boneca.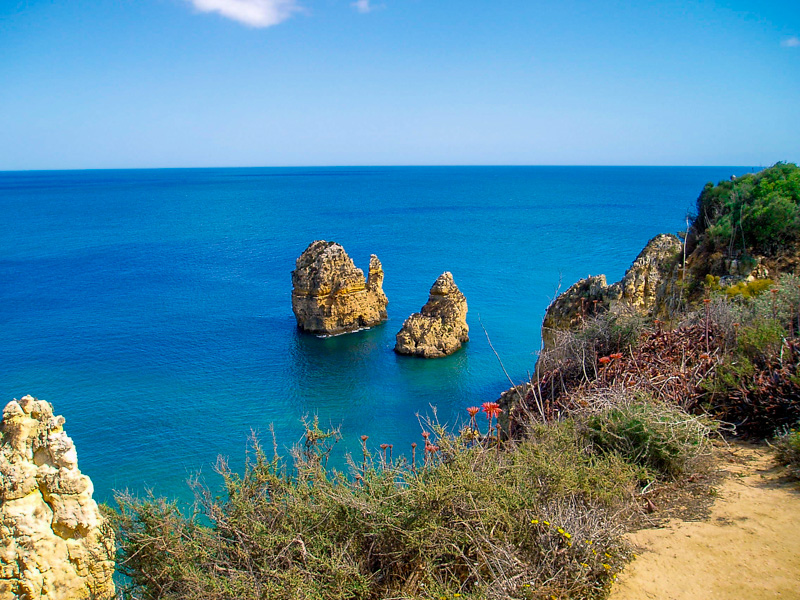 Just a short walk (along a cliff-top boardwalk) from the town of Carvoeiro, A Boneca is not only home to a restaurant with one hell of a view, but also several caves and pathways which have been carved out into the rock. This creates an interesting and breathtaking viewpoint!!
You can even head right down the steep cliff to sea level and explore its still relatively unknown diving/snorkelling spot. This is not one for kids due to strong currents! But, for experienced swimmers, underwater caves and perfectly clear water provide all the ingredients needed for an awe-inspiring dive…
Alternatively you should also consider visiting the Benagil cave, which has become famous in recent years thanks to its stunning hidden beach, and unique open air roof.
---
3) Amado Beach –
There are hundreds of beaches in the Algarve all as magical and beautiful as the next. This said, one beach which stands out from the crowd is Amado (Carrapateira).
One of the longest beaches in the Algarve, this wonderful stretch of golden sand is not only particularly beautiful but also a great surf location for beginners! Visit the beach, and you'll find several surf schools along its shores. Thus, Amado provides the perfect opportunity to try something new and break away from your standard beach day of sunbathing and sandcastle construction…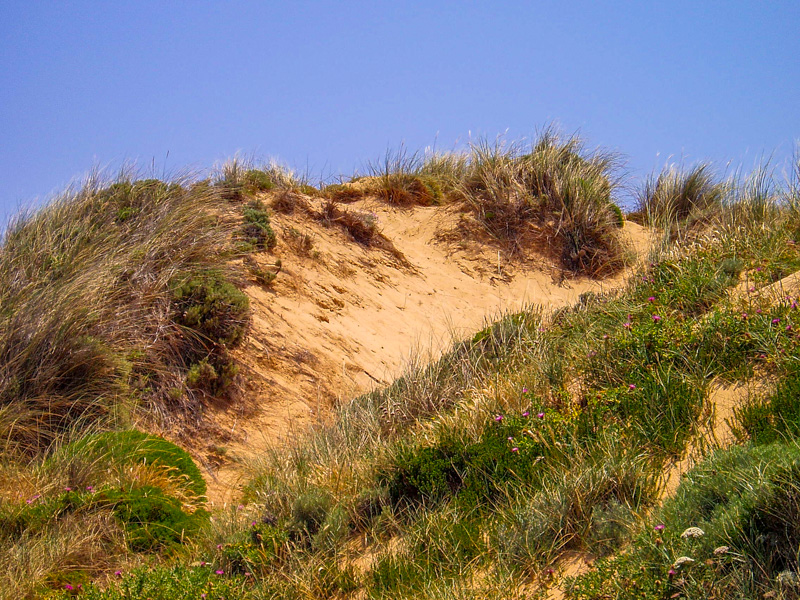 On my visit to the beach, I quickly realised that I wasn't going to be the next big thing in surfing. This said, with balance worse than that of a newborn giraffe, I should have known as much!! None the less, retiring to the safety of the sands is equally as rewarding thanks to the people watching opportunities – watching others fail at surfing somewhat help's to rebuild personal pride 😉
On top of this, a stroll to the top of Amado's red cliff's is the perfect way to end a day of adventure, thanks to the stunning views that will greet you: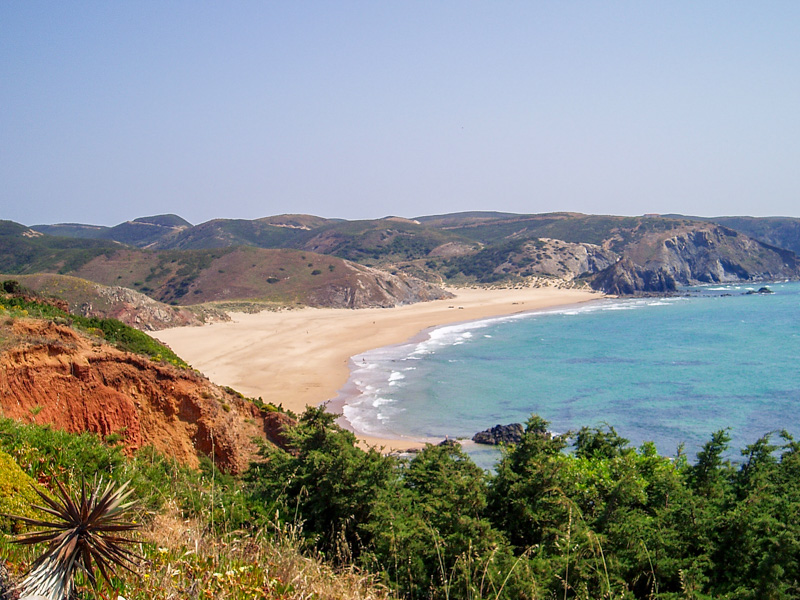 ---
4) Slide and splash –
Moving away from the natural beauty of the Algarve to a more 'touristy' attraction: Slide and Splash water-park, which is located just a 40-minute drive from Faro Airport.
Now my Uncle hates this places, as it's not 'Portuguese'. I, on the other hand, love it!! Sure it's not the place to go if you're looking for an authentic Portuguese experience but, its certainly a great day out for families and big kids alike… In other words it's my guilty, or not so guilty, pleasure.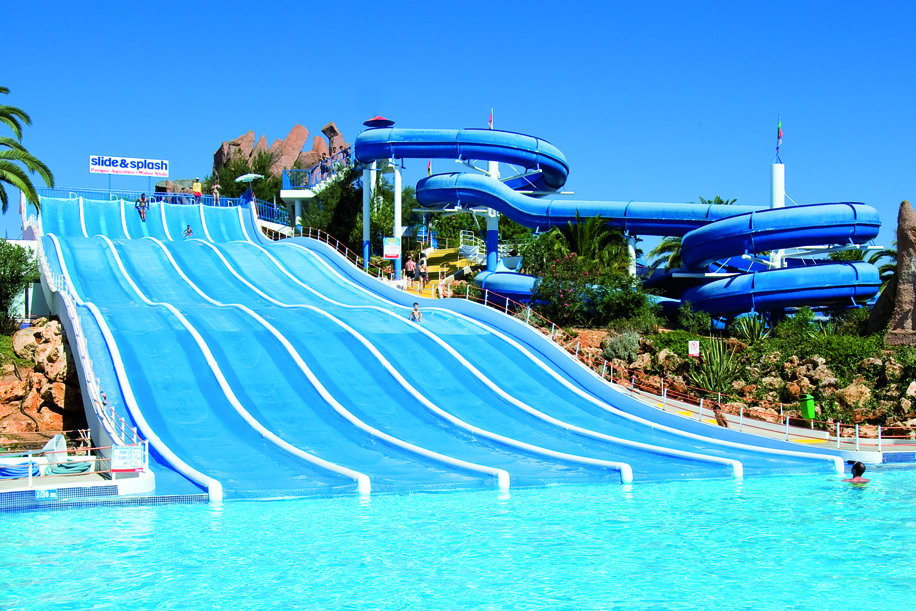 Why is this top? Because it brings out our competitive streaks! Sibling rivalry is never as strong between my brother and I as when racing down this slide! I'm ashamed to admit that he's got the technique spot on and always beats me to the bottom… However, I'll be limbering up before our next trip to take the crown 😉
Again I could be biased as Slide and Splash holds many childhood memories! However, despite having been to the water-park over 20 times, I still look forward to a trip, which must count for something! (probably that I'm easily entertained).
DISCLAIMER: I do not own any of the above photos of Slide and Splash – I've always been far to busy acting as a big kid to take pictures! Thus all are taken from their website.
♦♦♦
As I said at the beginning of this post, there's so much more to do in the Algarve! These are just my favourite places to visit… Have any destinations in the area worth checking out? Or just have a comment on this post? I'd love to hear from you below!
[blog_subscription_form]
Looking for my places to visit in Portugal? Check out this amazing Lisbon Post!
PIN FOR LATER: