Gili Trawangan is one of a small trio of islands that sits close to Bali and off of Lombok's North West coast. Simply put, the islands stunning white sand beaches,  amazing cocktail bars, and gorgeous hotels, make staying on 'Gili T' almost irresistible. So, below you'll find my Gili Islands Itinerary on the best way to spend 2 days in Gili Trawangan (also known as paradise)… 
♦♦♦
Gili Trawangan Itinerary – How to get there:  
There are several ways you can travel to Gili Trawangan from mainland Bali. In my opinion, by far the most comfortable and safest way to travel is by Ferry. The larger boats make the water crossing much smoother, and the onboard facilities are superior!
Plus, from the Padang Bai Port, near Ubud, the journey to the Gili Islands only takes around two hours.
I actually traveled to the Gili's on a fast boat, from another of Indonesia's must-visit islands: Nusa Lembongan. However my journey to Gili Trawangan was, how do I put this politely? An experience. The safety on the fast boat was somewhat questionable, and many of my fellow travelers were overcome by seasickness!
However, making the best of a bad situation, I spent the majority of the 50-minute journey on the roof of the boat, meaning I could enjoy the tropical sunshine and be blessed with the most magical first look at the Gili Islands.
As the pristine white beaches drew closer, there was no doubt in my mind that I was about to spend a few days in paradise!
Top Tip: There are several different boat companies that offer transfer from Bali's mainland and surrounding islands to the Gili's! Thus, make sure you have a look around for the best deals/service.
---
Where to Stay for 2 days in Gili Trawangan: 
I won't lie arriving on Gili Trawangan was a rather chaotic experience! As soon as we were off the boat, locals came rushing over offering to take our bags and escort us via Cidomo (traditional horse and cart) to our hotel.
Because of this, I was initially overwhelmed by the number of bikes, people and horses present on the small sand road that circles the island. Although I later learned to love the hustle and bustle, arriving at my hotel, Villa Ombok, was a welcomed escape from the chaos.
SIDE NOTE: I'd advise against taking a Cidomo to your hotel as many of the horses aren't well cared for. You can read more about this in my post: The suffering of Cidomo Horses. The Island is tiny, so it's easy enough to simply walk to most hotels.
However, I would recommend taking a backpack over a suitcase… For example, it was much easier to carry my trusty Osprey over the sandy terrain. After all, it has to be one of the best travel backpacks!
There are many fabulous resorts you can choose to stay at on Gili Trawangan, but I couldn't recommend Villa Ombak enough! It was just the little bit of heaven I was after. It's traditional bamboo bungalows, hammocks and pool bar made me never want to leave.
---
Things to do in Gili Trawangan:
1) Explore the Island: 
Whenever I first arrive at a new destination I always like to 'get my bearings'. Therefore the first thing on my Gili Trawangan itinerary was to simply explore the island. After five minutes of walking along its sandy paths, passed gorgeous beaches, I knew I wouldn't want to leave after just 2 days in Gili Trawangan!!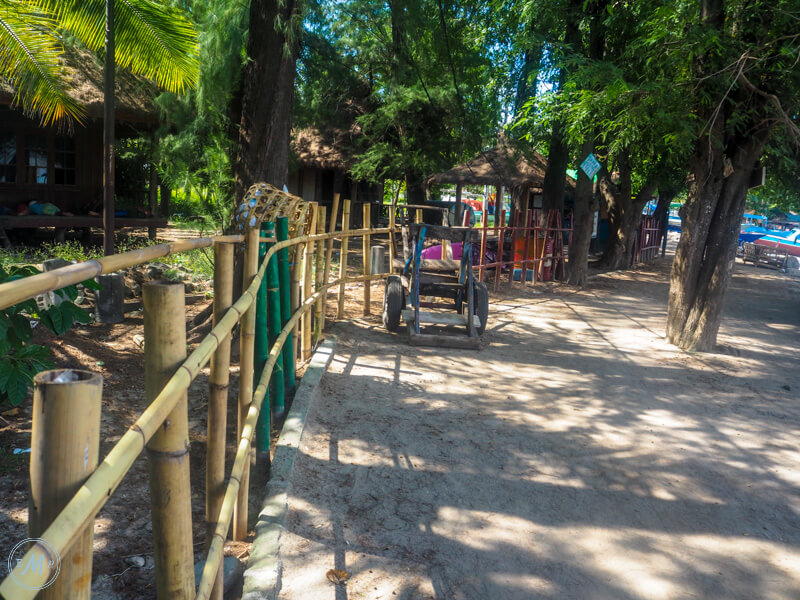 2) Laze by the pool:
Humbled by my outing, I decided to enjoy the evening sun by the pool… While I only had 2 days in Gili Trawangan, the best way to experience island life is by taking the time to relax! I mean it's almost obligatory to enjoy a freshly cut coconut poolside…
3) Night market:  
One thing you can't miss when Gili Trawangan sightseeing is the Night Market, a bubbling hive of open-air food stalls, which is famous for its seafood, and enjoyed by both locals and tourists!
As I wasn't in the mood for seafood, I enjoyed other Indonesian favourites which are also available at the market. I ordered Bakso Meatball Soup from one stall and Chicken Satays from another… Everything was delicious and the prices were eyewatering low!
However, my favourite part of the market was the atmosphere.  Locals and travelers all sit together eating, talking and enjoying life. Summed up, visiting the Night Market is no doubt one of the best things to do in Gili Trawangan.
4) Gili Trawangan Nightlife:
From one of the most authentic things to do in Gili Trawangan, to arguably the least… The Nightlife, which has become quite famous in recent years thanks to several fun beach bars!
Therefore, after visiting the Night Market we stopped off at Jiggy Jig bar on the way back to our hotel. Revered for its beer-pong tournaments, the rustic bar proved to be the perfect choice for a drink or two.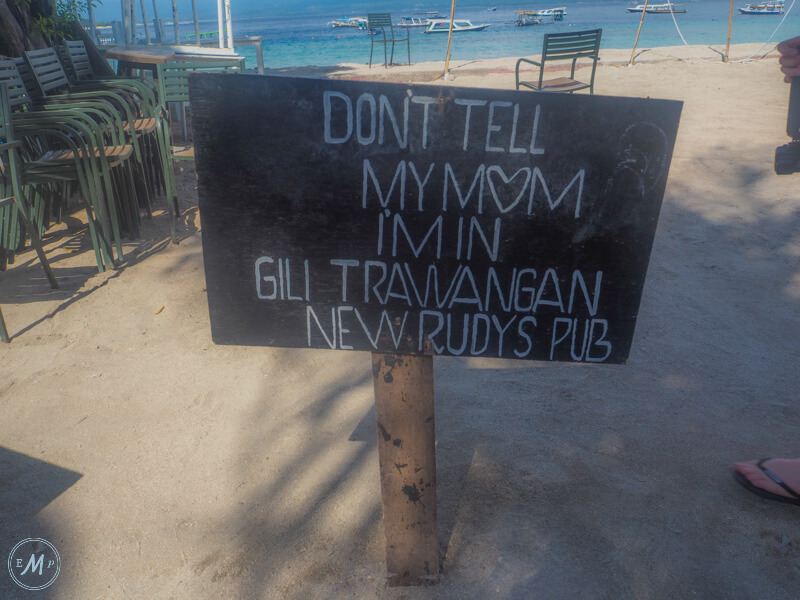 This said, I found that the Gili Trawangan Nightlife is actually pretty low key. In my opinion, the islands struck the perfect balance. There are several good clubs/bars, but they close relatively early, which gives other guests on the island the peace and quiet they probably visited for!
5) Gili Trawangan Snorkeling (Day Two):
Teaming with tropical fish and sea-life, the Gili islands are home to some of the best diving in Bali. Therefore, It'd be absurd not to spend some of my Gili Islands itinerary exploring the beautiful turquoise waters!
Through our hotel, we organised a day trip to three different snorkeling spots for just 120,000 IDR! The first of these was located just off of Gili Trawangan's coast: the very aptly named 'blue coral' reef. Here the ocean floor was filled with (yep you guessed) blue coral. This alone was incredibly beautiful, but the coral also provides the perfect habitat for many species of fish.
I'm not an expert on marina life; to be honest my knowledge stretches as far as recognising fish from Finding Nemo… But, you'll be happy to learn I spotted several Dory's, and loads of clownfish!!
The snorkeling spot also features a massive underwater statue. I was expecting it to have some incredible back story, but it turns out a hotel placed it under the water a few years ago to give tourists 'something to look at'… None the less it's still pretty impressive!
Two further snorkeling spots brought yet more fish and tropical coral. The highlight of my Gili Trawangan Snorkeling trip, however, was visiting the shallow waters close to its sister island: Gili Meno… Here you have one of the best chances in the world of seeing wild Sea Turtles!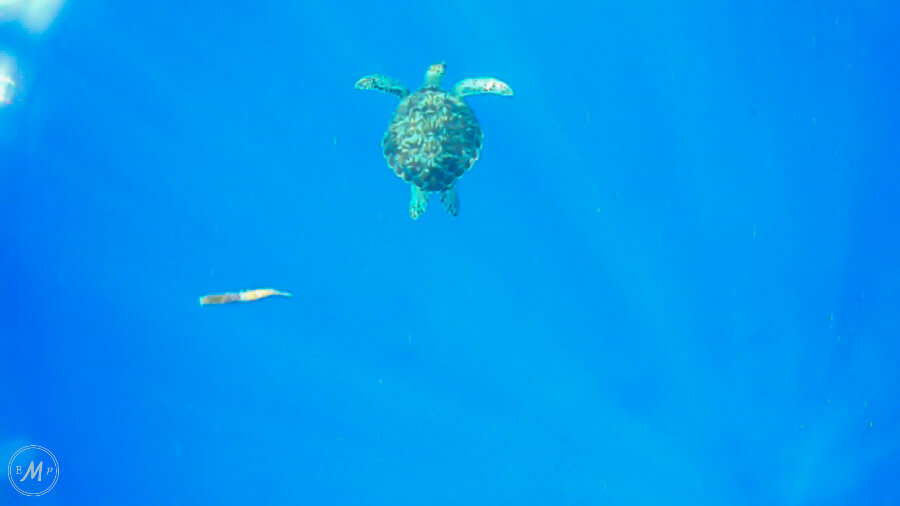 I certainly wasn't let down as I was lucky enough to see several different species of Sea Turtle swim passed me! Because of this, if you only do one thing during your 2 days in Gili Trawangan, then I suggest a snorkeling trip, as it was truly one of the best experiences of my life!
SIDE NOTE: the Gili islands are also fantastic for diving. Several shipwrecks and the ability to go further out will bring even more marine life including Manta Rays and Black Tipped Sharks. Learning to dive is on my to-do list, and once I have, I shall for sure be returning to these magical waters.
6) Explore the other Gili Islands:
The snorkeling trip also allowed me to explore the magnificent Gili Air, as we stopped at the island for lunch and a little wander.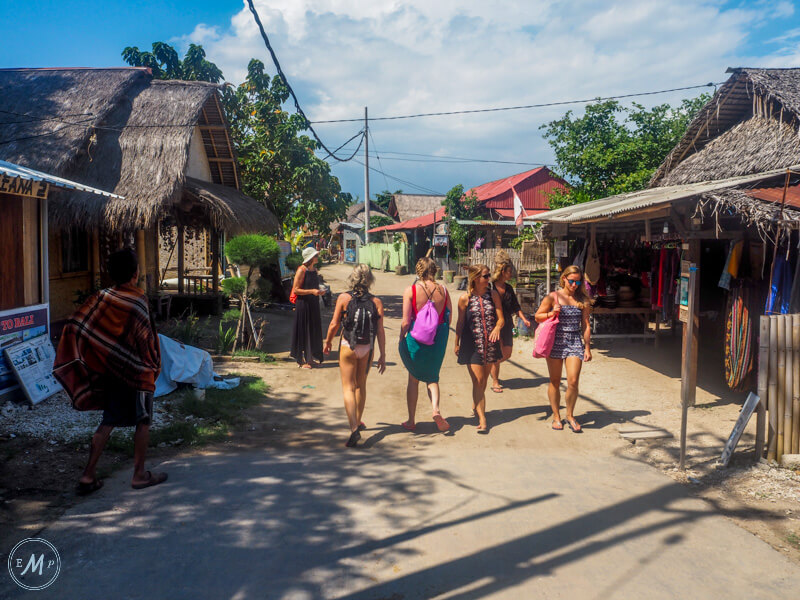 The closest of the Three Gili's to Lombok, Gili Air is the most overlooked in terms of development. Thus a 'grass route' atmosphere holds rank. The local feel is endearing, and as I tucked into delicious seafood at a beachfront Warung, I couldn't help but wish I could stay the night in one of the islands beach-fronted guest houses.
In other words, if you want a true escape from the hustle and bustle of the outside world, spending some time on Gili Air is a must!
7) Bike Ride Round The Island:
Inspired by the remote beauty of Gili Air, I returned to my hotel with an ambition to see more of Gili Trawangan than just the main west coast. As there are no motor vehicles on the island, the best way to do so was by hiring a bike (which cost just 35,000 IDR).
Cycling along the main sand road was a little nerve-racking! I certainly had a few near misses with pedestrians and horses alike… Thus, I thoroughly suggest hiring a bike with a bell, as I put mine into good use!
Before long, however, the crowds thinned and the bars and shops were replaced with locals going about their day. I found that the islands northern side and its interior are charmingly untouched and stunningly beautiful.
There were some sections of the 'road' that were topped with thick sand, which was hard to cycle through, but I simply got off and pushed my bike through these small stretches. Other than that the majority of the ride was easy going and flat, which was mercy in the humidity! Even with the heat, I found it hard to complain as I passed isolated beaches and smiling locals.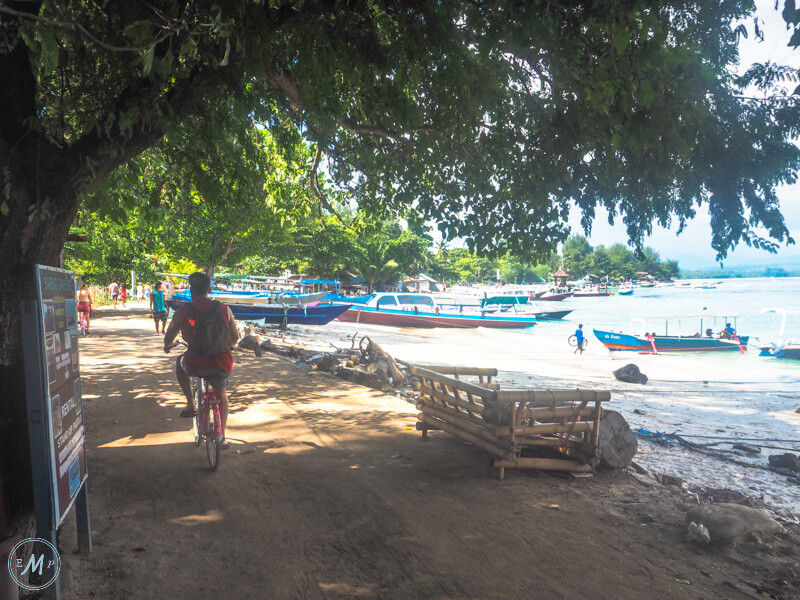 Without stopping, cycling around the perimeter of the island should take about half an hour. However, we took a welcomed break at Ombak Sunset Beach…
8) Instagram Heaven: Ombak Sunset:
When most people look for things to do in Gili Trawangan the first thing they'll find is the pretty wooden swings in the middle of the ocean. As I'm a sucker for the perfect picture when I cycled passed these famous swings I couldn't help but pull over.
Arriving just before sunset, my friends and I pretty much had the beach to ourselves. However, it did fill up later on in the evening, so I'd suggest trying to visit early!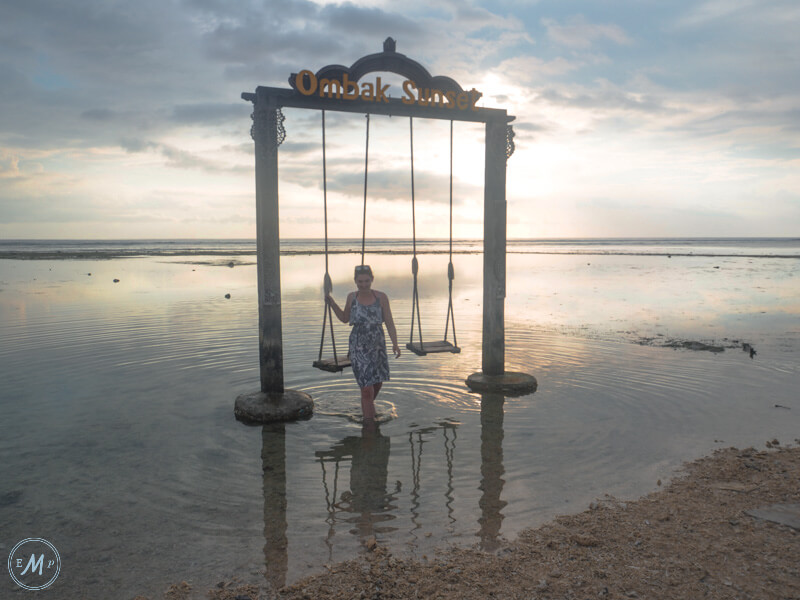 Even without the photo opportunity, the beach would still be worth a visit, simply because it was the stage for one of the most beautiful sunsets I've ever seen. Watching the amazing red and orange tones reflect off the shallow water, as a local man washed down his horse, was the perfect end to my Gili Islands Itinerary!
---
How many days in the Gili Islands? 
Honestly, 2 days in Gili Trawangan didn't feel like enough time! I was able to pack a lot into my Itinerary which meant I got to experience most of the best things to do on the Island. However, I could have easily spent a week or two relaxing on Gili T, and enjoying Island life!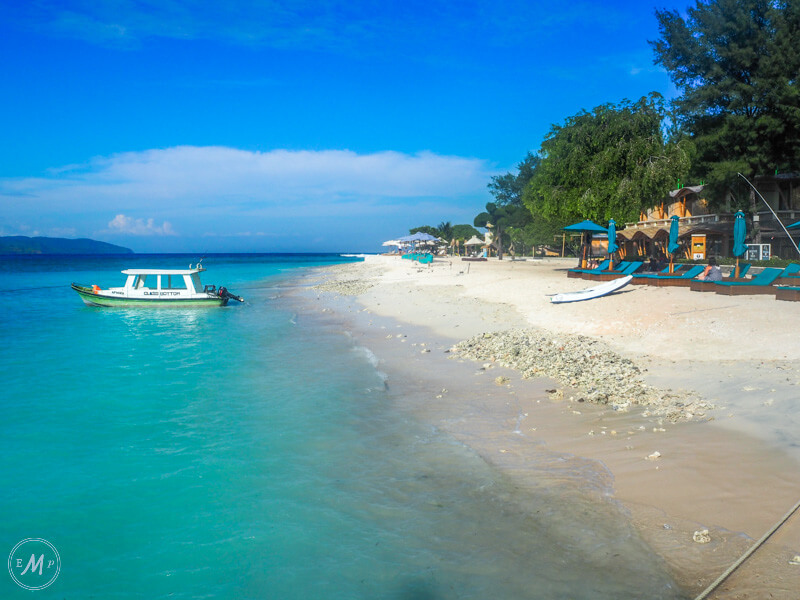 Further, I'd have loved to have added staying at either Gili Meno or Air for a few nights, onto my Gili Islands Itinerary, just because I only got to scratch the surface of what they've got to offer!
♦♦♦
Gili Trawangan captured my heart, and after visiting I totally understand why so many people rave about the little trio of islands island. Leaving however was made a little easier by the fact that my next day in Indonesia was to be spent exploring Lombok on a magical day trip…
Like this post? PIN FOR LATER: