Known for being a playground of the rich and famous, Marbella is of course filled with Luxury yachts and upmarket boutiques. However, after spending a week in Puerto Banus I soon learnt that there's far more to the resort town, which is located on southern Spain's Costa del Sol, than meets the eye. From its authentic and charming old town to the backdrop of the Sierra Blanca Mountains, there are many interest things to do in Marbella Spain! So here are my top suggestions:
♦♦♦
1) Hit the Beach – 
No holiday to the Costa del Sol would be complete without a trip to the beach! Thankfully, Marbella has several excellent ones that you can enjoy. My top pick would be Levante Beach in Puerto Banus because the surrounding scenery is stunning thanks to the Sierra Blanca Mountains, which loom in the background.
This said the beach has many additional selling points that make it one of the best places to go in Marbella.  You can hire a deck chair and umbrella for just €5 a day, and the sea remains shallow quite far out, meaning the beach is perfect for families with younger children!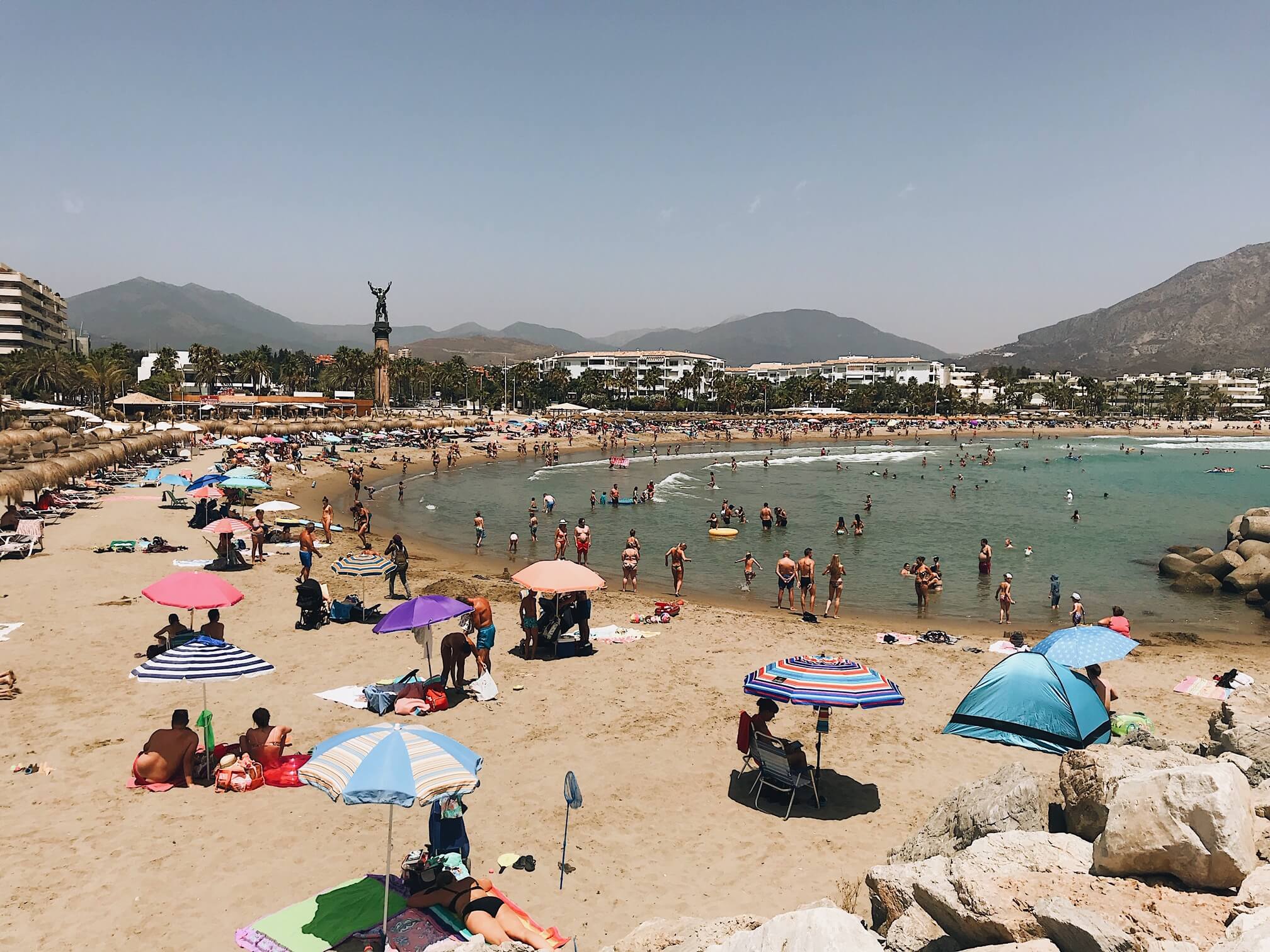 TOP TIP: I'd avoid getting food from the Levante Beach Club restaurant. While they'll serve you at your deck chair, the food is ridiculously overpriced and comes with mixed reviews! Instead, go to one of the many restaurants that back onto the beach if you get peckish!
---
2) Visit Puerto Banus Marina – 
When it comes to things to see in Marbella, one place that can't be missed is the Puerto Banus Marina! Because let's face it, you haven't experienced Marbella until you stare in awe at the luxurious yachts and the pure exuberance of the mega-rich!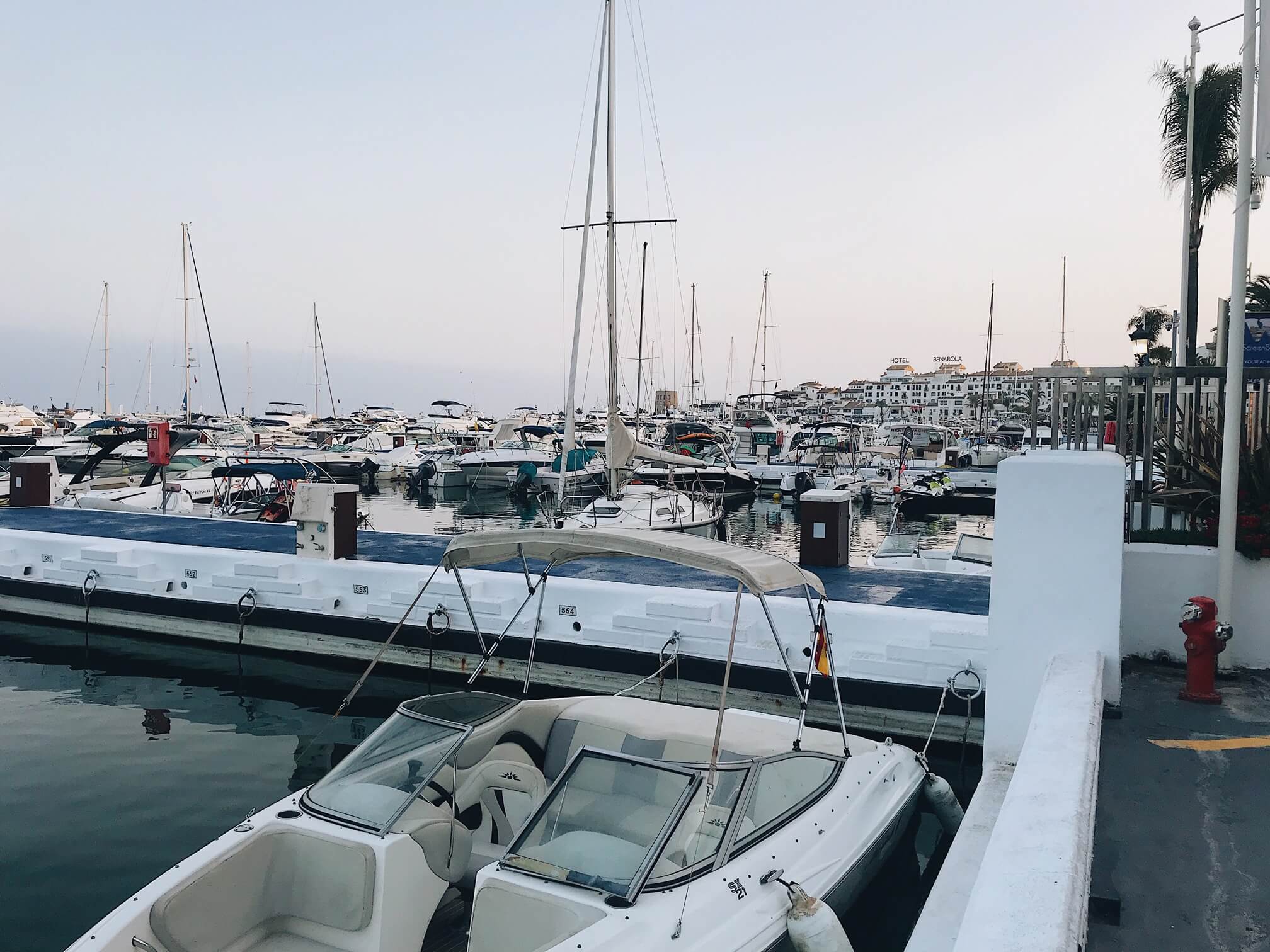 But don't fear, there are many things us mere mortals can enjoy at the Marina too. For example, you could visit one of its many Gelaterias (Gelateria Artigianale was my personal favourite), window shop at stores that belong to the worlds most luxury brand, or dine at some of the best restaurants in the Costa del Sol!
---
3)  Enjoy Fine Dining –
Speaking of some of the best restaurants in the Costa del Sol, Marbella as a whole is known for being home to some amazing eateries. Therefore, enjoying a delicious meal definitely counts as one of the best things to do in Marbella!
A lot of people swear that Pizzeria Picasso (located in Puerto Banus' Harbour) serves the best pizza they've ever had… Unfortunately, the queue to eat here snaked around the corner on my visit to the marina so I'm unable to confirm if this statement is true, but its popularity sure must count for something!
Villa Tiberio is another of the best restaurants in Marbella. It's a little on the pricey side but you won't find a more memorable dining experience! This is because the restaurant is set in the most beautiful gardens, which are decorated with countless types of flowers, fountains and statues.
---
4) Explore Marbella Old Town – 
My personal favourite of all the things to do in Marbella Spain was exploring its charming old town. Here some buildings date back as far as the 16th century, and you can easily get lost in its narrow winding streets.
Centred around the lovely Plaza de los Naranjos (Orange Square), traditional white buildings still reign supreme! Many are decorated with flowered balconies and feature a delightful restaurant or shop on the ground floor.
In other words, wandering the streets of the old town is Marbella sightseeing at its finest, and you're sure to be captivated by the authentic Andulican charm.
---
5) Enjoy 

La Alameda Park – 
Close to Marbella old town, you'll find the small but appealing Parque La Alameda, which is filled with countless tropical plants and flowers. The park is, therefore, a fantastic place to take a tranquil break, after exploring the hustle and bustle of the old town.
It also boasts an elegant central fountain and charming benches that are decorated in traditional Andalucian tiles, providing an excellent photo opportunity!
---
6) Take a day trip – 
Marbella is also in a fantastic location, with prime and easy access to more of Southern Spains must-visit towns and attractions.  Therefore if you find you've done all the best things to do in Marbella itself, you can always venture further afield for the day.
A Ronda day trip would be my top pick! But you could also easily visit Malaga, Granada, Seville, or even the British territory of Gibraltar.
---
7) Dance at a Marbella Beach Clubs – 
When thinking of what to do in Marbella, visiting one of its many beach clubs should surely be on your list! Whether you want to dance the day away, or simply enjoy the beach in a more luxurious way, Marbella is sure to have a beach club that meets your needs. 
Two of the most popular are Nikki Beach and Ocean Beach Club. But for a more relaxed pace, you'll want to head to Plaza Beach or La Sala by the sea. This said they can all get pretty lively so you'll want to plan your visit accordingly!
Spending a day at a beach club is undoubtedly one of the best things to do in Marbella, but be prepared for it to set you back several hundred euros! On my own trip, my friends and I rented a bed at Plaza beach and it cost us around £400. On top of this, you can expect to pay even more on weekends…
---
8) Marbella Nightlife – 
From beach clubs, it's only right we move onto the famous Marbella nightlife. Most of the town's bars and nightclubs can be found in Puerto Banus, and it's previously mentioned harbour.
This makes a night out in Marbella exciting as the small area quickly becomes a hive of activity, and it's super easy to move from bar to bar. For a big night out you're bound to end up at clubs such as Pangea or Tibu, as they're typically seen as the best places to visit in Marbella!
This said, as with the beach clubs, drinks and entry to events in Marbella can be rather expensive… Because of this, my favourite bar was no doubt Astral Cocktail bar. Which, offers fantastic cocktails at a very reasonable price. On top of this, it's difficult to overlook the bars fun and quirky pirate ship theme.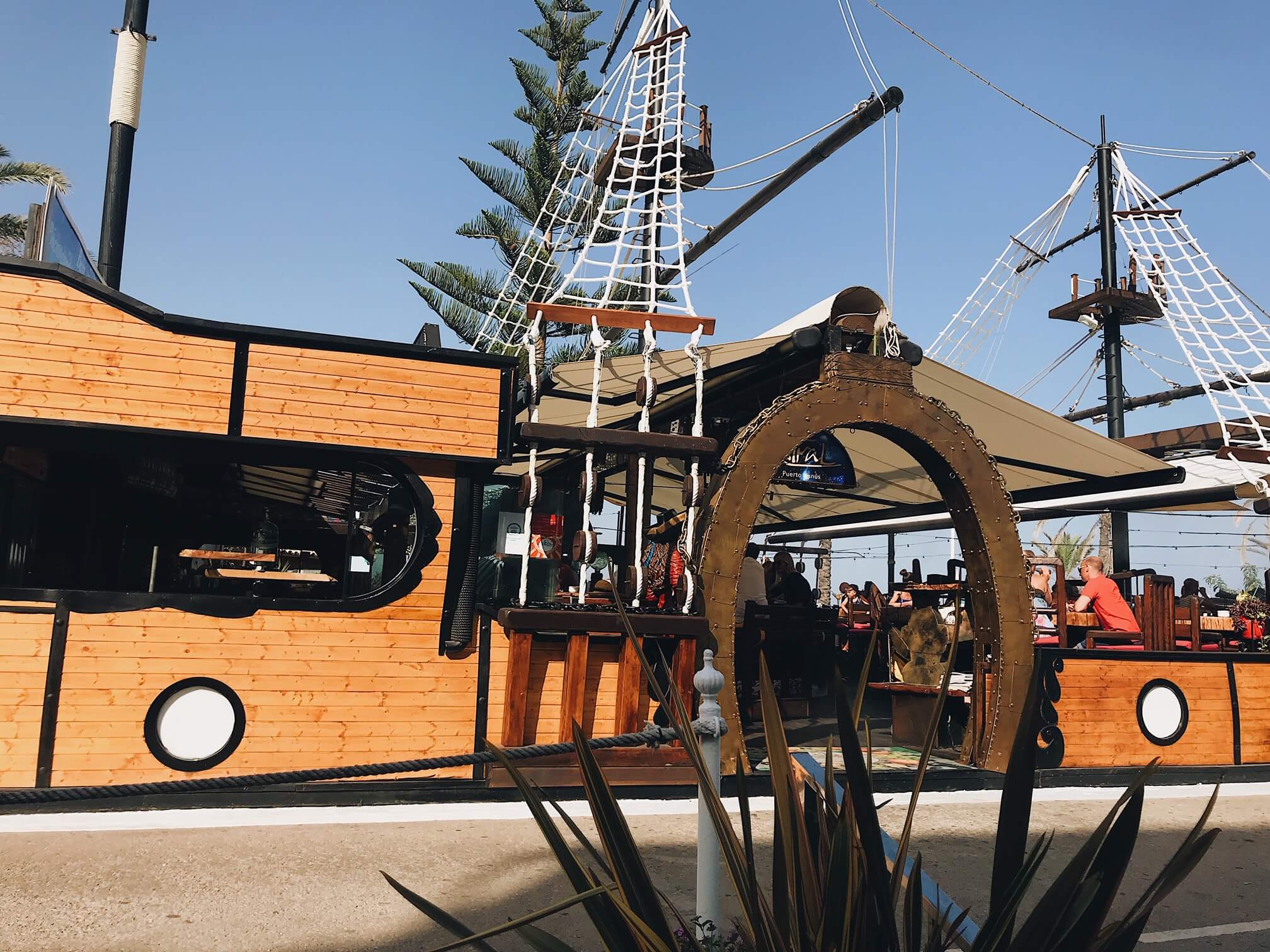 Top Tip: looking for a lively but more affordable destination in Spain? Why not consider spending a few days in Barcelona instead! 
---
9) Browse at the Market – 
As I said there are more things to do in Marbella Spain than meets the eye, so let's move away for reaffirming its image as a party town!
Something more 'cultural' that you can do in Marbella is visit one of its traditional markets. In fact, the Costa del Sol's largest flea market is held every Saturday from 9am in Puerto Banus. Here you'll find a range of goods from jewellery and souvenirs to local fruit, vegetables, spices and flowers.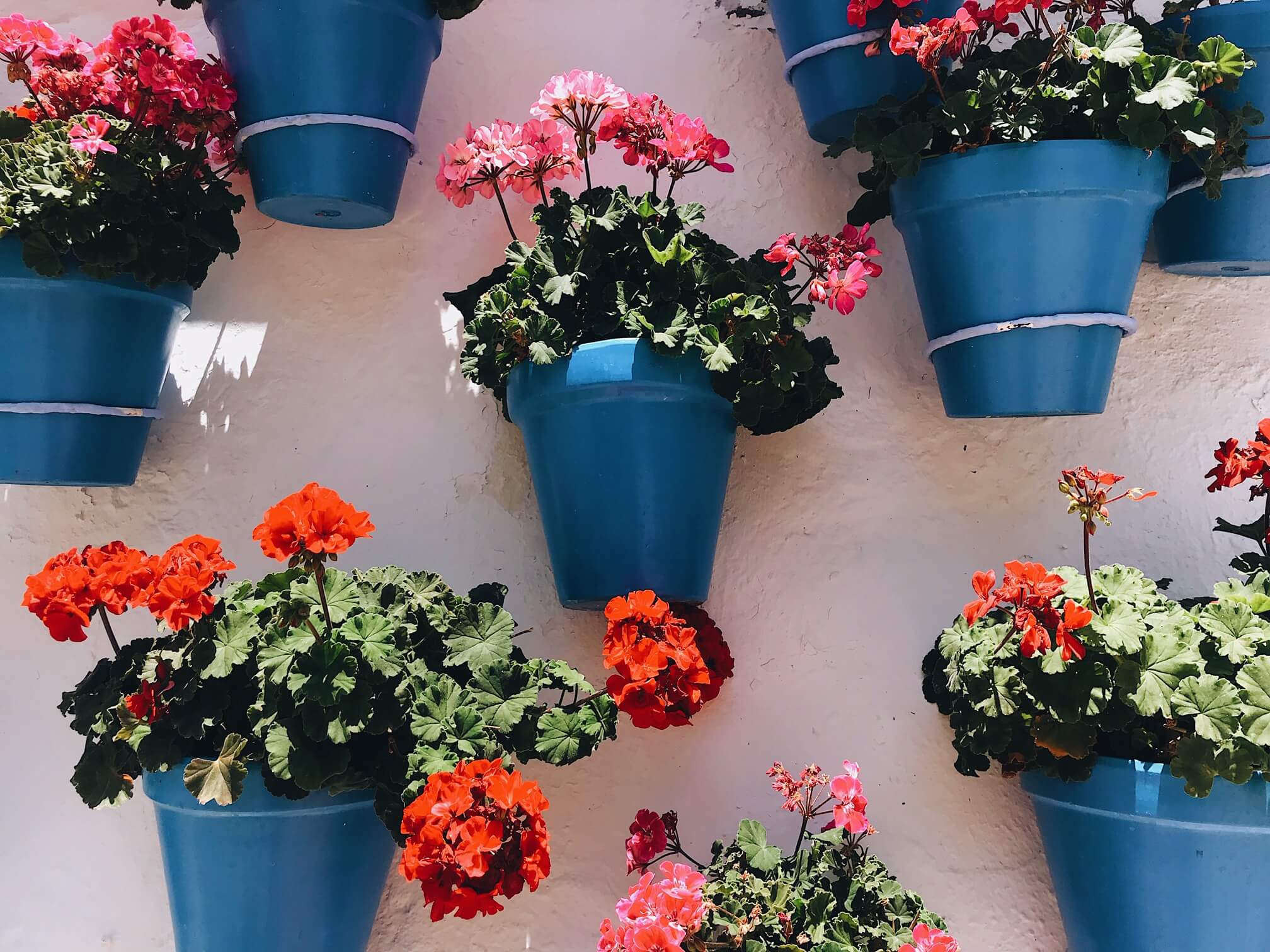 This market is enjoyed by locals and tourists alike, meaning a visit is a must when Marbella sightseeing.
---
10) Play a round of Golf – 
The Costa del Sol as a whole is well known for its many fabulous golf courses, and Marbella is no exception to this. In fact, there are 32 courses within half an hour of the town. These vary from extravagant and exclusive golf resorts to more affordable options that are great fun for novices to visit.
Therefore whatever your golf skill level, there's no better time for a round or two than when in Marbella.
♦♦♦
This 10th point rounds off my list of the best things to do in Marbella Spain. As you can see, the town is certainly geared towards providing a luxury party experience. But, if you know where the best places to go in Marbella for a more rounded experience are then there's no reason why you can't enjoy the best of both worlds!
Like this post? Pin these things to do in Marbella Spain for Later: